By Lambert Strether of Corrente.
2016
Clinton email
White House throws Clinton under the bus: "[Clinton] appears to have operated in violation of what the White House said Tuesday was 'very specific guidance' that members of the Obama administration use government e-mail accounts to carry out official business" [WaPo]. Oooooh, I bet Obama's been waiting for this moment a long, long time.

Clinton email server ran in her house (!): "The computer server that transmitted and received Hillary Rodham Clinton's emails — on a private account she used exclusively for official business when she was secretary of state — traced back to an Internet service registered to her family's home in Chappaqua, New York, according to Internet records reviewed by The Associated Press" [AP].

This is exactly what the Bush administration did with when it conducted official business on the RNC's gwb43.com account run on servers in Chattanooga, Tennessee. Big scandal then. But what could the problem be?

In theory but not in practice, Clinton's official emails would be accessible to anyone who requested copies under the U.S. Freedom of Information Act. Under the law, citizens and foreigners can compel the government to turn over copies of federal records for zero or little cost. Since Clinton effectively retained control over emails in her private account even after she resigned in 2013, the government would have to negotiate with Clinton to turn over messages it can't already retrieve from the inboxes of federal employees she emailed.

If you're a Democratic tribalist, IOKIYAD. If you want your government to have even a modicum of accountability, this matters. In the gwb43.com scandal, the Republicans destroyed millions of messages. Clinton could do just the same. This just isn't a hard call. Since when do "Mrs. Clinton's advisers" get to "review her account and decide which emails to turn over to the State Department" now that she's a private citizen? This is just wrong. And it's not a hard call.

Shorter Digby: This "scandal" is the Clinton-hating Village recycling narratives. Anyhow, Michael Tomasky says it could be legal [Digby's Blog]. Neither of which makes the narrative wrong, or the actions right.

Shorter Media Matters: It's not illegal. Anyhow, it's old news [Media Matters].

Shorter anonymous Clintonistas: Everybody who got mail from Clinton knew she wasn't using her official address [Business Insider].

"[H]ow this situation is handled will go a long way in determining how our government handles its records, and whether our accountability laws apply evenly to everyone" [Sunlight Foundation].

Emily's List president Stephanie Schriock: Clinton has "shown us how to shake off the setbacks, ignore the haters and keep focused…" [Bloomberg]. This is true; one of the reasons I'm not a Clinton hater is that I admire her resiliency and persistence. But still.
Clown Car
Ben Carson: Homosexuality is a choice because many people "go into prison straight — and when they come out, they're gay" [CNN].
The Hill
If Petraeus had been a whistleblower, Obama would jail him. Since he only give classified information to his mistress, he gets a wrist slap [New York Times]. Priorities! Petraeus is a "hero." His country "needs his advice." Besides, he has "a lucrative second career."
Stats Watch
ADP Employment Report, February 2015: Continued slowing, "private payrolls rose 212,000 which is 8,000 below consensus" [Bloomberg].
Gallup U.S. Job Creation Index, February 2015: 41% of employees say their employer is hiring workers, 12% saying their employer is letting workers go. Forty-two percent say no change [Bloomberg].
PMI Services Index, February 2015: "Service sector growth picked up noticeably" [Bloomberg].
MBA purchase applications, week of February 27, 2015: "A dip in mortgage rates failed to give much lift to the purchase index which slipped" [Bloomberg].
Herd on the Street
Driverless cars included as "risk factors" in corporate filings by three insurance suppliers [Wall Street Journal].
"The Fall of the Hipster Brand: Inside the Decline of American Apparel and Urban Outfitters" [Racked]. Here is a context in which "millenial" actually makes sense: Consumerism.
"Why Target lost its aim" [The Economist]. Multiple debacles.
Payment expert: "[I]t's not 'an anomaly' to see fraud accounting for about 6% of Apple Pay transactions, compared to about 0.1% of transactions using a plastic card to swipe [Wall Street Journal]. Here is the very geeky blog (!) post behind the WSJ story.
Emmanueldämmerung
"[City] records reveal just days before Emanuel awarded a lucrative red-light camera contract to Xerox State and Municipal Solutions, his former top congressional aide, John Borovicka, became a lobbyist for a government relations firm representing Xerox" [International Business Times]. Shocked, shocked.
"[A]dvisory measures calling for the school board to be elected instead of appointed by the mayor won overwhelming support from Chicagoans on ballots last week" [New York Times]. That's "the neighborhoods" voting against Rahm's key policy.
Chuy on the appointed school board: "[You get problems like] Mayor Emanuel appointing people ….with conflicts of interest. People like Dave Vitale who come from the banking industry engaging in exotic financing deals that can jeopardize the assets of the Chicago Public Schools" [Salon].
Gitmo at Homan Square: "The Chicago police department, in its only official statement on the swirling allegations, denied the Guardian's reporting [here] on Tuesday, without giving specifics. … [T]he Chicago Tribune characterized local attorneys' perception of the statement as 'laughable'" [Guardian].
Gitmo at Homan Square: 10 questions the press should be asking Chicago police [Crains Business Review]. Very good. Oddly, the majors haven't picked this up.
Gitmo at Homan Square: "Emanuel felt he could dodge the story only because major news organizations have been disappointingly slow to report on the topic" [Harvard Crimson].
Death of Blogging Greatly Exaggerated
History of the food blog, Eater, and how it scaled up [Lucky Peach].
"Lumber Liquidators Holdings Inc.'s stock plunge over the past week, fueled by allegations of excessive formaldehyde in its flooring, can be traced back to a blog post from an obscure 25-year-old short seller" [Bloomberg].
"Saudi blogger Raif Badawi, sentenced to 1,000 lashes over accusations he insulted Islam, could now be facing the death penalty" [Channel 4].
Medium's new product (called, internally, "Bloggy Medium" during development) bets that there's some juice left in the old [author's-]voice-driven web [Atlantic]. But is it Tumblr for rich people?
"[O]ur core discomfort with Medium—with most of online publishing—is we can't quite see how the money works no matter how hard we squint" [A Working Library].
Class Warfare
Larry Summers: "The core problem is that there aren't enough jobs" [Dean Baker, Al Jazeera]. Seven years after the crash, they admit education as not the solution (and at the Hamilton Project no less). But who knows what they'll do to solve the problem. Can they "right size" the population quickly enough, for example? Kidding!
"If you have eaten buffalo mozzarella in this country, there is a very good chance you have eaten the product of inmate labor" [Pacific Standard].
News of the Wired
* * *
Readers, feel free to contact me with (a) links, and even better (b) sources I should curate regularly, and (c) to find out how to send me images of plants. Vegetables are fine! Fungi are deemed to be honorary plants! See the previous Water Cooler (with plant) here. And here's today's plant, the third of Plants in Snow Week (Morak):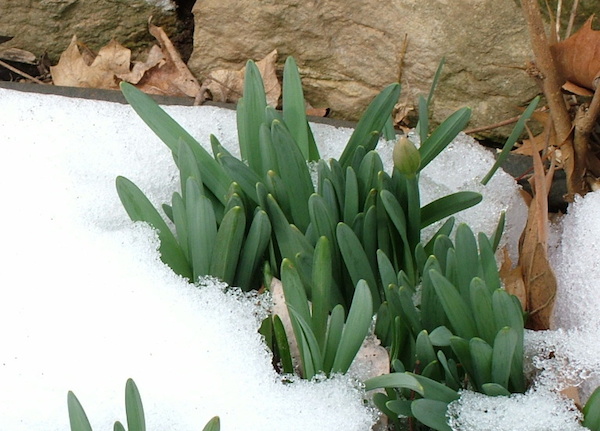 Can't wait…
Readers! How about sending me some plants under snow and/or ice? Seems appropriate? And if that doesn't sound like a good idea, how about some humorous vegetables?
If you enjoy Water Cooler, please consider tipping and click the hat. It's the heating season!
Yes, I've got to fix the hat! Thank you all for your generous help in the mini-fundraiser!
Talk amongst yourselves!