By Lambert Strether of Corrente.
2016
O'Malley: "Frankly, I'm a little sick of the email drama" [Wall Street Journal]. I'll have more on this tomorrow. I'm sick of it, too. See here, here, here, here, and here.
Bloomberg doctored an image of Hillary Clinton, taking her head from one shot and placing it atop her body from another [CNN]. Huh? They couldn't find an image of Hillary Clinton?
"As much as it advertises itself as the party of a rising generation, the Democrats' farm team is severely understaffed, and many of its leading lights are eligible for Social Security" [New York Times]. Too bad about that whole "50-state strategy" thing. The Democrats would have a bench if they'd kept up with it. Instead, in a classic case of the Iron Law of Institutions, they deep-sixed it. Now they have a bench of one: Hillary.
Sestak's walking campaign for Senate in Pennsylvania [Lancaster Online]. IIR
"The 2016 Election Could Be a Popularity Contest Between Two Introverts" [Bloomberg]. Jebbie's explicitly identified as an introvert, and the article points out several introverted characteristics in Hillary. As an introvert's introvert, I'm not entirely sure how I feel about this.
Establishment
Jebbie has sold his ownership stakes in his consulting and investment firms, "freeing himself from business entanglements" [Wall Street Journal]. He already gave up his board seats, chairmanship of two think tanks, and his partnership in a private equity firm.

Jebbie sold his consulting business, Jeb Bush & Associates, it to his son, Jeb Bush Jr. The [Tampa Bay Times]. Seems pretty "entangled" to me.

Rick Perry on his 2012 debacle: "I wasn't healthy. I wasn't prepared. This time I'm both" [Greenville News]. Well, why did you run, then?
Principled Insurgents
Unemployment rates are up in every Wisconsin county and major city [Wisconsin State Journal].

"During the 2014 race against Madison School Board member Mary Burke, Walker's campaign released an ad in which he spoke directly to the camera and said the decision to terminate a pregnancy should be made by "a woman and her doctor" [Wisconsin State Journal]. "Last week, however, Walker asked lawmakers to send him a bill that would ban all abortions after 20 weeks." And I bet his supporters are saying, of the 2014 ad, "He had to say that."

"Republicans champion bill to curb John Doe probes in political crimes" [Journal-Sentinel]. The bill, if passed and signed by Walker, would end an investigation into Walker's campaign. (Prosecutors have convicted both Democrats and Republicans using the John Doe law.)
Clown Car
Huckabee is back at Pizza Ranch, which he made an institution in the 2008 Iowa primary [Guardian].

Huckabee: "Do you know of anybody in America who's ever run against the Clinton machine and defeated it, not once, but repeatedly?" [Des Moines Register]. (The Clintons would campaign for his Arkansas opponents.) Stealing Walker's clothes, here.

Fall guy for Christie in Bridgegate now, it is to be hoped, singing like a canary to the Feds, had more extensive contact with Christie than first thought, calendar shows [WNYC].
The Hill
Defense Secretary Ash Carter "insisted that Congress leave in place an indefinite timeline for the war against al Qaeda, the Taliban and its affiliates, authorized in 2001" [HuffPo]. Don't want to break any rice bowls.
Herd on the Street
Cash-intensive startups [Bloomberg]. Well, with so much cash sloshing around, why not?
Dollar General forecasts full-year profit below estimates [Reuters].
Bank of America, Citigroup, Deutsche Bank, and the U.S. unit of HSBC Holdings PLC, provided access to the American financial system to Banca Privada d'Andorra, a European lender accused of laundering money for organized-crime groups, according to U.S. authorities [Wall Street Journal].
Seoul seeks to capitalise on China's drive to internationalise its currency [FT, "Samsung to trade renminbi in S Korea"].
Corruption
"[A] complicated trail where hundreds of millions of ringgit from 1MDB [the Malaysian Ministry of Finance-owned strategic investment company] went round the world before returning to Malaysia disguised as a much flaunted 'foreign direct investment' from the Middle East" [Free Malaysia Today].
Emanueldämmerung
Timing is everything. I had no idea that Rahm shouted "You're gonna respect me!" at mental health advocates after he made his warm and fuzzy sweater ad [In These Times]. Wowers, Tiny Dancer!
"In the last weeks of his campaign, Mayor Rahm Emanuel seems exhausted, spread thin" [John Kass, Chicago Tribune]. "You get the feeling there is too much toast and not enough cheese in him."
"A Chicago expat buddy of mine who's living in Chicago's Canada (Milwaukee) messaged me saying, 'I wish I was a Chicago voter right now. I can feel the atmospheric electricity from here.'" [RedEye]. Can any readers confirm?
"All told, the number of [Chicago] technology jobs has increased by more than one-third, or 12,000, to an estimated 40,000 since Emanuel first took office in 2011. The tech community could be a key voting block for Emanuel" [Forbes]. One tech firm made a Rahm app.
Black Injustice Tipping Point
Injuries to shot police at Ferguson protest serious but not life-threatening [Today].
"[T]he shooting, which occurred after midnight, took place as protests in the area were relatively quiet and after many demonstrators had left, according to police" [WaPo]. "EVERYTHING I have seen and heard from eyewitnesses is the shots did not come from protesters" [St Louis Public Radio].
"Faces of the Movement is a daily-release photo project that highlights the stories of everyday people who have joined together to fight for justice against police brutality in the United States" [Faces of the Movement].
"Just as in Ferguson, the primary mechanism for this new slavery [Jim Crow in the post-Reconstruction South], as recounted by journalist Douglas Blackmon in his groundbreaking book Slavery by Another Name, was two-bit charges designed to impose legal debts on blacks they would be required to work off" [Buzzfeed].
Big Brother Is Watching You Watch
"Child advocates want toymaker Mattel to pull the plug on a new interactive Barbie doll that records children's voices and uploads them to a cloud server" [Charlotte Observer]. What could go wrong?
Antibiotics
Resistance documentary on how "we" are squandering the resource of antibiotics [Vox].
Antibiotic-resistant bacteria found in West Texas feedlots [KCBD].
"How the pharmaceutical industry is contributing to antimicrobial resistance" [Pharmaceutical Journal].
Big Pharma stopped making antibiotics long ago, citing high costs of development and low returns [International Business Times]. Obama has proposed incentives, but behavior has not changed.
Merck bought antibiotic research company Cubist and then laid off 120 researchers [The Confluence].
A new meta-analysis from Princeton shows that antibiotics aren't as effective at promoting growth as they used to be [Mother Jones].
Class Warfare
"Why spy? Because it's cheaper than playing fair. Our networks have given the edge to the elites, and unless we seize the means of information, we are headed for a long age of IT-powered feudalism, where property is the exclusive domain of the super-rich…." [Cory Doctorow, Guardian].
Thomas Piketty interviewed by [Der Spiegel]. Read the whole thing for the combative tone of the Der Spiegel interviewer.
"The question is, does your next proposed political action hurt Rich Uncle Pennybags?" [Fredrik deBoer]. Word of the day: apoptosis (which is not a rhetorical form, even though it sounds like it should be). And while we're at it:
This on "critique drift" is really, really excellent [Fredrik deBoer].
News of the Wired
* * *
Readers, feel free to contact me with (a) links, and even better (b) sources I should curate regularly, and (c) to find out how to send me images of plants. Vegetables are fine! Fungi are deemed to be honorary plants! See the previous Water Cooler (with plant) here. And here's today's plant, the fourth of, er, Miscellaneous Week* (Furzy Mouse):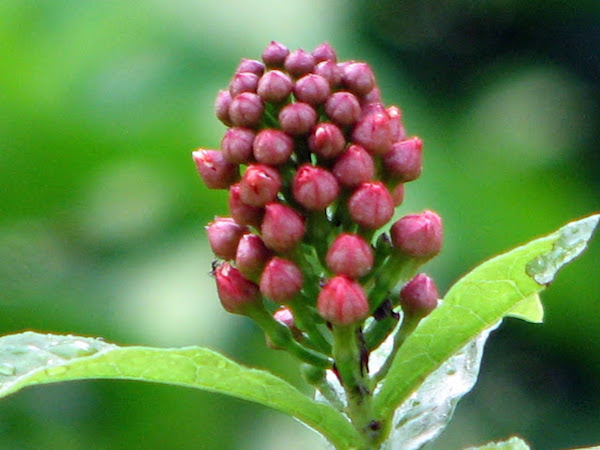 Buds from the Combretum Constrictum, originally from Thailand.
If you enjoy Water Cooler, please consider tipping and click the hat. It's the heating season!
* My concept was "Humorous Vegetables Week" (a Terry Pratchett reference) but the only submission was, well, not suitable for a family blog. So maybe that was not such a good idea. I wonder what would have been better?
Talk amongst yourselves!