By Lambert Strether of Corrente.
Readers, this Water Cooler may be a little bit light, as I recover from a rare social engagement. –lambert
ECB HQ Opening and Blockupy Demonstration
Draghi's speech [ECB]. ""A currency is far more than just a medium of exchange … A currency is also part of the identity of people. It reflects what they have in common, now and in the future." Discuss.
Blockupy planning post [Blockupy].
Blockupy: anti-ECB protest in Frankfurt – in pictures [Guardian].
"The demonstration was organized by activist group Blockupy to coincide with the opening of the ECB's new $1.3 billion headquarters in Frankfurt" [CNN].
"Blockupy is a left-wing alliance of dozens of activist groups from across Europe. Its members include one of the largest German labor unions, Ver.di, and Syriza, the Greek political party that is now leading the government in Athens" [New York Times].
"Occupy Frankfurt and allied anti-capitalist groups called for a blockade of Frankfurt's banking district over Ascension weekend in April 2012. Several tens of thousands of people turned up for the demonstration. The demonstration's organizers kept working together afterward, and recruited additional member organizations. The Blockupy alliance emerged from that" [Deutsche Welle].
Live blog [The Local]. Some cars set on fire, with the usual tight focus making the flames appear as large as possible. All reports lack agency, as in "protest turns violent." Of course, protest doesn't "turn" violent; people do that, often police. Of course, there's always an asshole.
2016
Al Gore: "[W]e need to put a price on denial in politics" [Bloomberg].
Apparently, Clinton didn't sign a "separation statement" when leaving State. Then again, says State, neither did Powell or Rice [Reuters]. Whenever I hear a precise-sounding earworm like "separation statement," especially when I've never heard it before and only hear it first in the context of a Beltway scandal, my Spidey sense goes on alert.
Establishment
Jebbie made multiple calls on behalf of a health-care entrepreneur named Miguel Recarey Jr to senior administration officials — and his advocacy made a difference in getting Recarey the Medicare waivers he wanted [WaPo]. Fast forward two years: "Facing charges of bribery and bilking Medicare, Recarey fled the country to avoid prosecution." Alrighty then.
Principled Insurgents
Rand Paul at SXSW [New York Times].

Walker to cut University of Wisconsin, fund pro basketball arena [Think Progress]. Well, how can the squillionaires do their deals without luxury skyboxes? Let's be reasonable, here.

Walker hired an Iowa staffer, then dumped her at the behest of the Iowa Republican establishment. Jonah Goldberg reacts: "I get that Walker needs to win Iowa and that staffers aren't more important than the candidate. But principles are. If Walker didn't want a critic of the Iowa caucuses on his payroll he shouldn't have hired one. But he did. And throwing her under the bus for this, suggests not only that he's got some problems getting ready for prime time, it also suggests he can get rolled by the Iowa GOP establishment. What happens when he gets to Washington?" [National Review].
Clown Car
Donald Trump is reportedly gearing up to launch a presidential exploratory committee [WaPo].
"Ninety-five percent of self-identified Republican primary voters are white… The GOP primary electorate is even less diverse than the country was in 1916, when 91% of the voting-age population was white" [Wall Street Journal].
Democratic staff bail on Rep. Brad Ashford because he won't spend enough time fundraising [Roll Call]. Understandable, I suppose, but surely part of the problem? Shockingly, Ashford "doesn't seem concerned about how the DCCC views his race." Because DCCC has shown such good judgment in the past…
"Oregon's new law removes the registration obstacle from the voter entirely. Instead, it's the government's responsibility to make sure every eligible voter is registered" [Vox].
The Hill
Schumer: "We should not cut Social Security. I don't think we should privatize Social Security, I don't think we should raise the age of Social Security" [Talking Points Memo]. No, you should raise Social Security benefits, and you should lower the age. Sheesh, Democrats.
Herd on the Street
The Twitter: Fed removes "patient" at FOMC.
"Boeing is the biggest winner of state and local tax incentives, receiving more than $13 billion of them" [McClatchy].
"The Guardian has teamed up with CNN International, the Financial Times and Thomson Reuters to create the Pangaea Alliance, a digital advertising offering" [Adage].
Germans ban Uber and French raid their offices [Wall Street Journal]. Hard to work up a lot of sympathy for Uber, since their business model is to enter markets by breaking the law, which they then try to have modified retroactively in their favor. My guess is that 90% of the Uber's buzz in the press is generated by techies and journos who want to think they're dealing with a "sharing economy" "professional" like themselves, instead of some working class stiff driving a cab.
Stats Watch
MBA Mortgage Applications, week of March 13, 2015: "Despite low mortgage rates, demand for mortgage purchase applications continues to be weak, down 2.0 percent" [Bloomberg].
Emanueldämmerung
Garcia platform: "Why all the new charters? Because they are the new coin of political patronage" [Chuy Garcia]. Ding!
"Emanuel took a page from what then-Mayor Michael Bloomberg did to New York, and now Manhattan is an island of the wealthy and the people who do their dishes" [New City]. Invective all in good fun, but with hopes for Garcia.
"Turnout in the wealthier, more-Republican wards was relatively low in the first round of the primary, but those voters are more likely to rally to Emanuel's side" [National Journal].
Citadel hedgie and squillionaire Ken Griffin supports Rahm Emanuel and Scott Walker [HuffPo]. If that seems like a contradiction to you, pay closer attention.
Former Goldman Sachs investor Muneer Satter supports Rahm Emanuel and Jeb Bush [Bloomberg].
"If Rahm loses, it will shake up Democratic politics to its core, a shake-up that is long overdue" [Down with Tyranny].
Health Care
Premera Blue Cross reveals cyberattack that affected 11 million customers [Fortune (CB)]. Premara's response just slays me:
Premera plans to offer two years of free credit monitoring and identity theft protection services to all affected customers. "As much as possible, we want to make this event our burden, not yours, by making services available to protect you and your information moving forward," CEO Jeff Roe said in a statement.
"As much as possible." Really, Jeff? I've still got to spend my time managing the service. So how come you pay me for those hours, since it was your carelessness (assuming that instead of corruption[1]) that wrecked my credit and exposed my ID?
[1] Do I believe that CEOs would give hackers the information to break into corporate systems in exchange for a cut of the take? Sure. Why wouldn't they? After all, hacking risks are "in the price" by this point, so their options aren't affected.
Imperial Collapse Watch
Questions Congress should ask the administration on new AUMF: "1. What, exactly, is our strategic military objective?" [Just Security]. Wait. We don't know? It's not obvious?
The Moustache of Understanding: "Why are we, for the third time since 9/11, fighting a war on behalf of Iran?" [Thomas Friedman, New York Times]. When you've lost Thomas Friedman….
Maps
"Punny Maps of The Foodnited States of America" [Brilliant Maps]. Tunasee.
The Great Attractor [Daily Galaxy].
"Watch Four Years of Oil Drilling Collapse in Seconds" [Bloomberg].
To spot income inequality from space, count the trees [Bill Moyers].
Class Warfare
Peasant sovereignty? "Small farmers and peasants in nine European countries outproduce large farmers" [Independent Science News (SV)].
News of the Wired
* * *
Readers, feel free to contact me with (a) links, and even better (b) sources I should curate regularly, and (c) to find out how to send me images of plants. Vegetables are fine! Fungi are deemed to be honorary plants! See the previous Water Cooler (with plant) here. And here's today's plant, the third of "I Wish It Were Spring!" week (bob):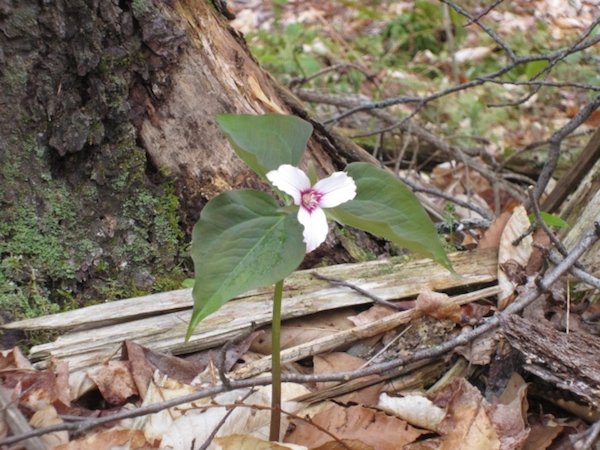 Bob: "Probably too early, I'll jinx us with this one." Nah. Let's be optimistic!
Readers sent in some very nice "I Wish It Were Spring!" photos, but I could always use some more. Glad to put this winter behind!
If you enjoy Water Cooler, please consider tipping and click the hat. It's the heating season!
Talk amongst yourselves!
UPDATE Bonus plant:
— Joseph Weisenthal (@TheStalwart) March 18, 2015