By Lambert Strether of Corrente.
2016
"There's a healthy irony to the press puffing Gore up, which is that without their antipathy, he might have been president already" [The Atlantic].
Reuters/IPSOS poll: "More than a third of Democrats and 44 percent of political independents agreed that the email issue has hurt the former secretary of state politically" [Reuters].
CNN poll: However, none of Clinton's potential challengers have made inroads among Democrats, and she leads Paul by 11 points, and Walker and Jebbie by 15 [WaPo].
"In blasts of rapid-fire Twitter messages just this week, Clinton accused Republicans of waging a war on women, playing politics with a black nominee, shortchanging students, endangering the economic recovery and trying to yank health-care coverage for 16 million Americans" [WaPo]. Economic recovery for whom?
Obama: "It would be transformative if everybody voted. [Mandatory voting] would counteract [campaign] money more than anything. If everybody voted, then it would completely change the political map in this country" [Bloomberg].
Rubio: "Not voting is also a legitimate choice that some people make" [The Hill].
"In the new [Heartland Monitor] survey, the largest group, 44 percent, describes the economy as "fair," an equivocal verdict that is virtually unchanged from the November 2013 result. These assessments vary little across most of the divides that usually segment public opinion" [National Journal].
How livestreaming apps will impact 2016 [Medium]. "This year's "47 Percent Moment" will be on live video," whether Meerkat or Periscope or whatever.
ECB HQ Opening and Blockupy Demonstration
Guardian solicits Blockupy stories from participants [Guardian]. Didn't actually cover the story, eh?
Headline before (March 15): "Thousands to protest in Frankfurt against ECB 'austerity'" [Reuters].
Headline after (March 18): "Frankfurt burning: Anti-capitalism protesters clash with police near ECB" [Sidney Morning Herald]. Well played.
The Hill
"US sets new record for denying, censoring government files" [McClatchy]. "[M]ost transparent administration in history." But what is one lie among so many?
"White House Email Archiving Office Exempts Self from FOIA Disclosures" [We Meant Well]. On March 17, National Freedom of Information Day.
Stats Watch
Jobless claims, week of March 14, 2015: "[M]ostly steady indications from initial jobless claims which inched 1,000 higher" [Bloomberg]. "[S]teady but not spectacular growth for the labor market."
Consumer Comfort Index, week of March 15, 2015: "Americans' outlooks for the U.S. economy dimmed in March from a four-year high as feeble wage gains and harsh winter weather weighed on sentiment" [Bloomberg].
Philadelphia Fed Business Outlook Survey, March 2015: "Slow growth with weakness in orders is the common thread for both the Empire State report, released earlier this week, and now the Philly Fed" [Bloomberg].
Leading Indicators, February 2015: "Growth in the index of leading economic indicators held steady at 0.2 percent in February, pointing to moderate growth for the economy over the next 6 months" [Bloomberg].
Emanueldämmerung
US congressman Danny Davis and Cook County commissioner Richard Boykin hand-deliver letter to Eric Holder and demand an 'immediate investigation' into secretive police facility at Homan Square [Guardian]. So presumably there's something to the Guardian story even though there seems to be a news blackout in Chicago? Where's Garcia on this?
"In a move that had been widely expected, the Chicago City Council voted 47-0 on Wednesday to transfer about 20 acres of land in either Washington Park or Jackson Park, whichever the president prefers" to the Obama Gilded Pleasure Dome Presidential Library [New York Times]. Both Emanuel and Garcia support.
"Mayor Rahm Emanuel's complex solution to Chicago's affordable-housing crisis sailed through the City Council Wednesday" [Chicago Sun-Times]. Hmm:
Downtown rental projects and rental or condo projects in higher-income areas would have the option to build, buy or renovate the required units within two miles as long as it's in the same zone. And downtown condo projects could build, buy or rehabilitate the required units anywhere in the city.
So it's OK to gentrify as long as you put the victims somewhere? Is that it?
"After Chicago resolved a local environmental justice problem, Emanuel created a new one by switching to a power source that harms people in more distant, rural communities" via fracking [HuffPo].
City Council to hold hearing on stalled reparations ordinance for torture victims of convicted Chicago Police Commander Burge [Chicago Sun-Times]. One week after the election. Priorities, huh?
"Progressive groups concede defeating Emanuel is an uphill climb, but they are already satisfied with forcing him into a runoff. And they are confident their message is resonating beyond Chicago" [NPR]. Well, at some point, you've got to win, right?
New "dark money" group of "progressive Democrats" formed by Emanuel backer Greg Goldne expects to plow $20 million into influencing Democratic state legislators "to support budget compromise" pushed by former private equity firm owner, now Governor Bruce Rauner [Chicago Sun-Times]. Shorter: Illinois Democrats to gut public pensions, because the only contracts that are sacred have a squillionaire on the winning end.
California Drought
"Gov. Jerry Brown and legislative leaders on Thursday will unveil a $1-billion relief plan" for drought [LA Times]. Snowpack at 12% of average; was 28% last year.
"California regulators on Tuesday ordered every water agency in the state to restrict how often customers can water their landscaping" [Sacramento Bee]. They should encourage xeriscaping as a matter of public policy. Get rid of the lawns!
"Based on lessons learned from Australia's epic Millennium Drought — which parched the land down under from 1995 to 2012 — California should invest in tracking its water with accurate measurements of flow, quality, storage and use, the PPIC report says" [Oroville Mercury-Register]. Well, that would be infrastructure investment, wouldn't it?
"The drought, and a warming climate here, has had firefighters battling larger-than-usual wildfires for years now. Half of the state's largest wildfires on record occurred since 2000, Berlant said" [Santa Cruz Sentinel]. On the bright side, I imagine that would take care of the flea problem, at least in the affected area.
"[D]uring the 2011- 2014 drought period, burning more natural gas to compensate for limited hydropower led to an 8 percent increase in emissions of carbon dioxide and other pollutants from California power plants" [KPBS].
"The lack of rain and warm temperatures have allowed the fleas to not just survive, but thrive this winter. On top of that, Kimsey says she's never seen populations of urban wildlife so high—raccoons, opossums and rats that all carry fleas" [CBS Sacramento].
"California drought postpones High Sierra Regatta" [Sailing Scuttlebutt].
Black Injustice Tipping Point
Mall of America runs intel operation against #BlackLivesMatter activists [The Intercept]. I mean, who knew that "Intelligence Analyst" was an actual job title at Mall of America?
Former top staffer with Project Veritas, Richard Valdes, fired for failing to follow through on assignment to try to incite anti-police protesters by saying, "I wish I could kill some of these cops" [New York Post]. As usual, the first one to advocate violence is the cop (or, in this case, the agent provocateur, which comes to the same thing).
Class Warfare
"Only 36% of college grads have jobs that pay at least $45,000, a sharp decline from the 1990s, after adjusting for inflation. Perhaps most depressingly, the percentage of young people making below $25,000 has topped 20%, worse than in 1990" [CNN].
"[U]nless American elites are dedicated to something larger than themselves, an American commonwealth is impossible" [Foreign Affairs]. The university used to perform that social function. No more. (Review of William Deresiewicz's Excellent Sheep.
"Progressive Group Takes Aim at Hedge Fund Managers" [New York Observer].
News of the Wired
* * *
Readers, feel free to contact me with (a) links, and even better (b) sources I should curate regularly, and (c) to find out how to send me images of plants. Vegetables are fine! Fungi are deemed to be honorary plants! See the previous Water Cooler (with plant) here. And here's today's plant, the fourth of "I Wish It Were Spring!" week (MR):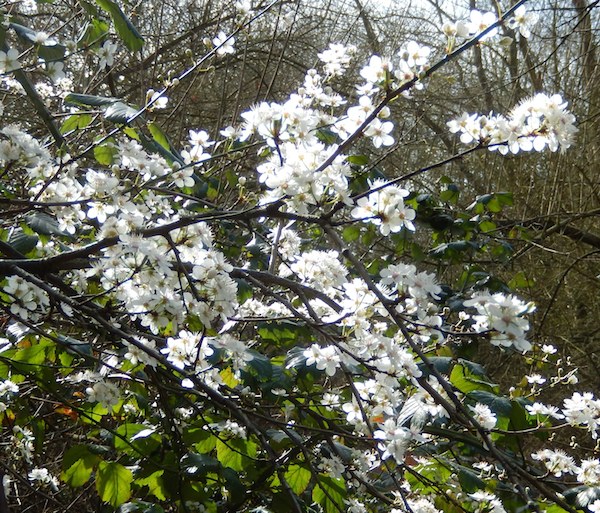 Wild pear in bloom, March 9, 2015, Wraysbury, England. Bastards.
Readers sent in some very nice "I Wish It Were Spring!" photos, but I could always use some more. Glad to put this winter behind!
If you enjoy Water Cooler, please consider tipping and click the hat. It's the heating season!
Talk amongst yourselves!