By Lambert Strether of Corrente.
2016
In an "oversight," Clinton Foundation did not disclose all donors, despite promise to Obama [Reuters].
Clinton's server has not been in her home since 2010. It runs in on a server in Huntsville, Alabama. "Based on server data, mail.clintonemail.com is running on an instance of Microsoft Windows Server 2008 with Internet Information Server 7.5" [Ars Technica].
Clnton hopes to raise a billion [WaPo]. A billion here, a billion there….
Michael Gerson: "If the next election is viewed by Republicans as a referendum on Hillary Clinton's scandals — and this distracts from the task of reconstituting the Republican message and appeal — then Clinton may take the Nixonian path to the Oval Office" [WaPo]. They won't be able to help themselves.
O'Malley's invested donations and staff time in Iowa. Will there be a return? [WaPo]. It worked for Carter [The Hill].
Staffers now fair game for oppo, e.g., Walker's Liz Mair [Politico].
Quote: "Along with reporters' calls, we started getting calls from very aggressive hedge fund managers wanting to know which bills were going to move that day. It was my first indication that these money people had bets on what was going on" [Bloomberg]. Yikes!
The Hill
Obama's war powers resolution might never be passed [The Hill]. So I suppose he'll go with the Executive Order….
Herd on the Street
"Apple Watch Doesn't Have Safari And You Didn't Even Notice" [Medium]. Well, I'm not going to be reading anything holding my wrist up to my eyes. That said, Apple hates the web and is trying to destroy it because its business model is the "walled garden."
"Citigroup Inc.'s failure to pay 24,000 people owed money as part of a settlement with the government over foreclosure abuses has prompted a U.S. lawmaker to call for an investigation into whether banks missed other borrowers" [Bloomberg]. Shocker!
Australian newspapers reported Friday that the government was considering injecting as much as 3 billion Australian dollars ($2.3 billion) into the Asian Infrastructure Investment Bank [Wall Street Journal, "Australia Signals Readiness to Join China-Led Infrastructure Bank"]. Final decision Monday.
"Bayer weighing options for consumer garden products" [Reuters].
Stats Watch
Atlanta Fed Business Inflation Expectations, for March 2015: "The latest report is consistent with low inflation numbers in CPI and PPI reports. It also helps justify the Fed's latest FOMC decision to not yet hint when policy rates are going to start to rise" [Bloomberg].
Emanueldämmerung
Rahm's re-election strategy is to appeal to Republicans [National Journal]. Which is why Republicans are buying pieces of him now, doubtless anticipating payoffs in the form of privatization later, based on past performance; read the whole thing for a really astounding list of quid pro quos and insider dealings, even for Chicago.
Rahm Emanuel steals and misquotes The Young Turks Meetup footage for attack ad [YouTube]. Stay classy, Tiny Dancer!
"With $20.2 million raised, Emanuel is far outpacing Garcia in fundraising. Garcia has collected $3 million" [Los Angeles Times].
California Drought
"Nearly 40 percent of the state remains in an "exceptional drought," according to the weekly drought report" [Desert Sun].
"[M]ost local water departments have been reluctant to crack down on water-wasters. Warning letters are unusual. Small fines are rare" [AP].
California proposes $1 billion drought package, new regulations. "Given how little the new water regulations ask of residents, it's easy to wonder why they weren't enacted earlier" [Time]. Xeriscaping, xeriscaping, xeriscaping! Why the heck isn't that public policy, instead of this pissant "don't water your lawn so much" stuff?
To make the Los Angeles region more drought resilient, water wholesaler Metropolitan Water District constructed a massive reservoir in Diamond Valley. Largely because of its reserve supply, Southern California so far has been less directly affected by the drought than much of the rest of the state. Diamond Valley is down to 48 percent of capacity at the end of the typical rainy season. "We're getting close to that critical range," said Record, noting the MWD must keep a reserve for unexpected catastrophes such as a major earthquake that could sever aqueducts [NBC]. Now there's an interesting disaster scenario…
The Metropolitan Water District of Southern California has offered Sacramento Valley rice farmers such a good price for their water it makes for them to stop growing rice [Sacramento Bee].
MH17
"Fragments from a Russian surface-to-air missile have been recovered from the wreckage of Flight MH17. The distorted scrap of metal was picked up by a Dutch journalist visiting the village of Hrabove where the stricken aircraft ploughed into the ground" [News.com]. Eesh. Chain of custody issues, much?
Dutch Safety Board: "Additional investigation material is welcome, but it is imperative that it can be indisputably shown that there is a relationship between the material and the downed aircraft" [Radio Free Europe].
Dutch investigators return to MH17 crash site [Wall Street Journal].
Health Care
California strips Blue Shield of its non-profit status [Los Angeles Times]. $4.2 billion in the bank, $5 million CEO salary.
Black Injustice Tipping Point
"In early March the Missouri state Supreme Court reassigned all Ferguson municipal court cases to Judge Richter, an appeals court judge, effectively taking over the city's municipal court system" [Wall Street Journal, "State Judge Ushers in New Era at Ferguson Municipal Court"]. Hope it doesn't turn out to be a "rocket docket."
"The unrest in Ferguson has cost Missouri residents, area police departments, and taxpayers more than $22 million since August" [KMOV]. Well, Darren Wilson shouldn't have whacked Mike Brown, then, if it's all about the money.
Excellent portrait of Ferguson live streaming [New York Times]. As we learned in Occupy, well-attested, trusted live-streaming is so important.
Slaves crossing over to Union lines in the Civil War forced the issue of emancipation [New York Times]. I continue to be amazed that Northern wage workers didn't head South to become slaves, given what slavery's apologists have to say about the life of Riley on the old plantation.
Class Warfare
"Almost every institution in America—from our corporations to our schools, hospitals, and civic authorities—now seems to operate largely as an engine for extracting revenue, by imposing ever more complex sets of rules that are designed to be broken" [David Graeber, Gawker].
Headline: "Why a Spielberg and a Goldwyn Passed Over Their Dads' Hollywood for Snapchat" [New York Times]. A Speilberg. A Goldwyn. Pace Terry Pratchett: "Aristocracy. What a good idea."
"[T]he more veto players in a government, the greater the nation's economic inequality" [The New Yorker].
"In an environment where credit is not being used in a material way, the fate of wages matters," [Tom Porcelli, chief U.S. economist at RBC Capital Markets LLC] said. "They're doing all of the driving from a consumption perspective" [Bloomberg].
News of the Wired
* * *
Readers, feel free to contact me with (a) links, and even better (b) sources I should curate regularly, and (c) to find out how to send me images of plants. Vegetables are fine! Fungi are deemed to be honorary plants! See the previous Water Cooler (with plant) here. And here's today's plant, the fifth of "I Wish It Were Spring!" week (SD):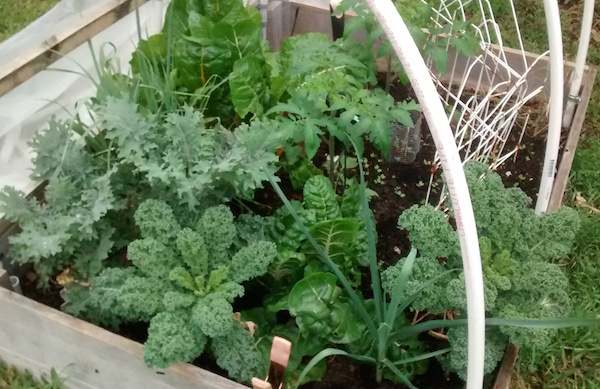 SD writes:
Hard to believe two weeks ago there was an inch of sleet and 4″ of snow on
the ground. Two kinds of kale, chard, leeks, two tomato plants, and
radish/carrot/beet seedlings just coming up.
Four inches. Four inches?!
Readers sent in some very nice "I Wish It Were Spring!" photos. Let's do it again next week! (Of course, there are some parts of the country where it's spring now. Anybody got their garden going?)
If you enjoy Water Cooler, please consider tipping and click the hat. It's the heating season!
Talk amongst yourselves!