By Lambert Strether of Corrente.
2016
Clinton launch in April: "[A] move that would allay uncertainties within her party and allow her to rev up fundraising [Wall Street Journal, "Hillary Clinton Seen Launching Presidential Bid in April"]. Clinton "doesn't relish the campaign trail," say some close associates. Hmm.
Court news from The Clinton Foundation [Politico]. And its dynastic tendencies.
O'Malley throws hat near the ring, to Hillary's left, at Democratic "Issues Summit" [WaPo]. O'Malley: "If a bank is too big to fail without harming the common good of our nation, then it's too big and we must break it up before it breaks us." That's the stuff to give the troops!
After more than two dozen Blue Dogs got put down in the 2014 mid-terms, Progressive Policy Institute (PPI), the New Democrat Network (NDN) and Third Way gather to demand that Democrats repeat their failure [The Hill].
CPAC: "Conservatives do remain guided by one firm principle: Government is too big. But there's no consensus on how to change it" [McClatchy]. Sounds like the decadent stage.
CPAC: Paul wins straw poll, Walker second, then Cruz, Carson, and Bush [McClatchy]. Background [WaPo].
Establishment
CPAC: "But if the rest of the speech shows anything, Jeb's 'moderation' will begin and end with a path to citizenship for undocumented immigrants and Common Core. He's so far out on those two issues, that there's no room for moderation on anything else" [Salon].
Principled Insurgents
Walker explains to Fox News Sunday: "I'm not comparing those two entities [protesters and terrorists]. What I meant was, it was about leadership" [McClatchy]. Ugh, leadership, the favorite topic in the Business section of every third-rate airport bookstore in the world. Personally, though it pains me to agree with Slate's John Dickerson, I think at most we've got Walker dog-whistling, not making a direct comparison (though the dog whistle works because this is what the base believes. And if we get a series of these apparent dog whistles, followed by Walker walkbacks, I'll ratchet up my view of Walker's competence).

More interestingly, it used to be only Republicans who could propagate a catchy meme through several news cycles; now Democrats can do it, too. We might also remember that there's another major political figure who equates protesters and terrorists, at least if judged by their actions: That would be President Obama, who smashed Occupy with a 17-city paramilitary crackdown orchestrated by the DHS, co-operating with mayors who were, with the single exception of "Mike" Bloomberg, Democrats.

Walker's "vision for America is less as a functioning republic, and more as a profit center" [Will Bunch, Inquirer]. Yes, ad that's the neo-liberal wet dream. Unfortunately, that vision sounds a lot like what backers of the TPP, like Obama, want.

Daily Beast retracts Walker story sourcing Jezebel, Jezebel having retracted [Politico]. Scroll down to read the tweets from Jezebel "reporter" Natasha Vargas-Cooper; they're precious.
Clown Car
CPAC, John Bolton, together with his moustache: Clinton Benghazi ZOMFG!!! [The Hill].
"[T]he candidates are making their cases to exclusive gatherings of donors whose wealth, fully unleashed by the Supreme Court's 2010 Citizens United decision, has granted them the kind of influence and convening power once held by urban political bosses and party chairmen" [New York Times]. Of course, the old bosses actually knew politics, and the squillionaires don't, so marks like Adelson get taken by grifters like Gingrich. But still.
A good explanation and visualization of gerrymandering [WaPo].
The Hill
TPP: "The administration, with few hopes for significant legislative victories with the GOP-controlled Congress — hopes TPP will be a centerpiece accomplishment of Obama's second term" [Politico]. Help me.
Herd on the Street
Workers accusing Apple, Google, Intel, and Adobe of wage-fixing will try on Monday to win approval of a $415 million settlement from U.S. District Judge Lucy Koh, who rejected an earlier deal as too low [Reuters].
Boeing continues to diversify production sites, especially South Carolina [Puget Sound Business Journal].
Google's Crystal Palace [FT, "Google's new HQ misses a trick with latest 'Glass'"].
New Samsung S6 has payment system designed to work with the "magnetic-stripe machines that are found at nine out of 10 cash registers in the U.S." [Wall Street Journal, "Samsung Unveils Galaxy S6 to Answer iPhone 6"].
Stats Watch
Personal Income and Outlays, January 2015: Posts a gain of 0.3 percent, below analysts' forecasts. [Bloomberg]. "Inflation is low and well below the Fed's target of 2 percent year-ago inflation, meaning the Fed likely will stick with no rate hike before June."
Gallup US Consumer Spending Measure, February 2015: "Americans' daily self-reports of spending averaged $82 in February, similar to the $81 in January, but slightly lower than the February average from last year" [Bloomberg]. A drop after the holidaze is typical.
PMI Manufacturing Index, February 2015: "Factory growth picked up noticeably in the last two weeks of February based on Markit's index" [Bloomberg].
ISM Manufacturing Index, February 2015: Growth is visibly slowing in ISM's manufacturing sample; the slowest rate since last year's polar vortex [Bloomberg]. "The manufacturing sector has been uneven the last few months in large part due to weak foreign demand"."
Construction Spending, January 2015: Below market expectations, led by public outlays [Bloomberg]. "[S]oftening in the overall construction sector but gains in the housing component."
Emmanueldammerüng
"When the Room Is Small and You Stink" [Gapers Block (DG)].
Poll: Emmanuel and Garcia in "dead heat" [Chicago Sun-Times].
"[H]aving purchased the services of the best research dirty money can buy, what Emanuel's focus group wizards discovered was that Chicago voters care about corruption" [Rick Perlstein, In These Times].
Chicago Teachers Union's Jesse Sharkey: "The mayor has a zillion dollars, and a sitting president gives you a hug. Then you get Magic Johnson. It smacked of cheap celebrity endorsement. And it was ineffective" [Chicago Magazine].
Handy compilation, if tendentious, of [Rahm's Accomplishments].
Black Injustice Tipping Point
Chicago Metro Transit Authority police officers filming #BlackLivesMatter protesters in Grand Central Terminal use balcony level overlook at Michael Jordan's Steakhouse, in the station [The Nation]. That seems odd. Or not.
"Black Lives Matter emerged as the most cohesive movement, with membership across the country and sweeping demands – if not exactly an organisational structure as familiar as establishment civil rights groups" [Guardian]. Good survey of post-Trayvon Martin organizing.
City of Cleveland response to Tamir Rice lawsuit: "The 12-year-old's shooting death was caused 'by the failure … to exercise due care to avoid injury'" [Cleveland Plain-Dealer]. "The boy was shot less than two seconds after the officers pulled up." That's not much time to exercise due care, is it?
Justice report to criticize Ferguson "for disproportionately ticketing and arresting African-Americans and relying on the fines to balance the city's budget" [New York Times].
LAPD fatal shooting of man ("Africa") at homeless encampment captured on video [Los Angeles Times]. Thinking back to Occupy, when the homeless were certainly a challenge, but also where the homeless pitched in and found meaning in the work. Very sad.
"A realistic program of black expatriation today would start with appreciating the huge potential of cheap flights and Internet hyperconnectivity" [New York Times].
Health Care
Republicans have a secret plan in case the Court strikes down ObamaCare subsidies in King v. Burwell [WaPo].
Class Warfare
"Lower unionization is associated with an increase in top income shares in advanced economies during the period 1980–2010" [IMF]. That's not a bug….
One reason Walmart raised its wages: "[T]he company is planning to ask more of its employees" [WaPo].
"Men with criminal records account for 34% of all nonworking men ages 25-54" [New York Times].
News of the Wired
* * *
Readers, feel free to contact me with (a) links, and even better (b) sources I should curate regularly, and (c) to find out how to send me images of plants. Vegetables are fine! Fungi are deemed to be honorary plants! See the previous Water Cooler (with plant) here. And here's today's plant, the first of Plants in Snow Week (MR):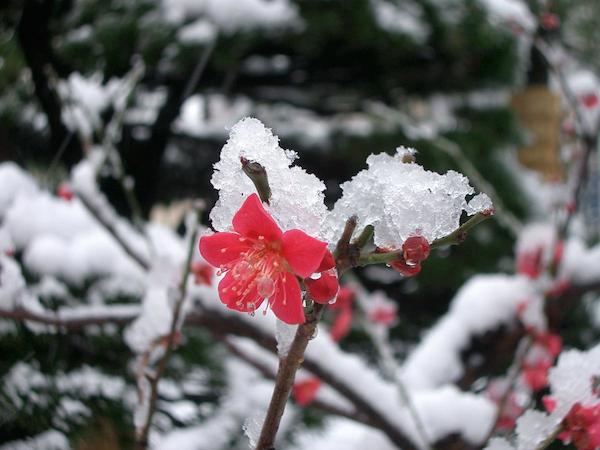 From Tokyo.
Readers! How about sending me some plants under snow and/or ice? Seems appropriate? And if that doesn't sound like a good idea, how about some humorous vegetables?
If you enjoy Water Cooler, please consider tipping and click the hat. It's the heating season!
Yes, I've got to fix the hat! Thank you all for your generous help in the mini-fundraiser!
Talk amongst yourselves!