By Lambert Strether of Corrente.
2016
Clinton at CAP: People should "get out of the kind of very unproductive discussion that we've had for too long, where people are just in their ideological bunkers, having arguments instead of trying to reach across those divides and have some solutions" [Wall Street Journal]. Help me. Obama reached across the aisle by adopting a Republican health care plan.
Principled Insurgent
Republicans view Walker as a "scrappy survivor" [WaPo].
Clown Car
Cruz announces at a Liberty University convocation in front of 10,000 students who faced a $10 fine if they did not attend [National Journal]. Transcript [WaPo].

tedcruz.com owned by Obama supporter [Time]. Ya know, there's a reason Cruz is in the Clown Car….

tedcruz.org, the donation page, doesn't default to standard encryption [Slate]. Ditto.

"Who Is Ted Cruz?" [The Onion]. As usual, everything in The Onion is true.

"The sense within Cruz's team is that he's more ready for prime time and more polished on the stump than other rivals" [Politico]. Oh. OK.

Cruz's wife takes unpaid leave from Goldman Sachs (how cozy), so Cruz can't use her health insurance policy any more [CNN].

Top two Cruz industry contributors, 2011-2015: Republican/Conservative, then Oil & Gas [Open Secrets].

Cruz being born in Canada is such a non-issue [The Atlantic]. Tribalist Obots getting back at the birthers, and pushing Democratic oppo.
The Hill
Israel spied on Iran talks with US, then used the information to lobby Congress [Wall Street Journal].
White House Chief of Staff Denis McDonough says the United States expects the next Israeli government to clear the way for a Palestinian state [Al Jazeera]. Bibi really sh*t the bed, didn't he?
Herd on the Street
Uber to turn into a big data company by selling locational data [Forbes].
Stats Watch
Consumer price index, February 2015: "Overall consumer price inflation rebounded 0.2 percent in February after falling a sharp 0.7 percent the month before" [Bloomberg]. Within expectations.
New home sales, February 2015: "[N]ew home sales picked up sharply in February to a 539,000 annual rate" [Bloomberg].
Emanueldämmerung
Unite Here Local 1 runs TV spots for Rahm [DNAInfo]. "An injury to one is an injury to all," eh? The theme: "Rahm Love" [Chicago Tribune].
Rahm's TV spots are, of course, garbage. But effective [Bloomberg]. Good quotes from Chuy, however.
"Rahm Emanuel is a cynical, mean-spirited politician who unquestionably would have fit right in with the liberal red-baiters of the '50s" [The Week].
Rahm advisor: "Unless they get the crazy lefty money machine going nationally, it's not going to matter that there's a resurgent left" [New York Times].
Water
Actually, California will run out of water in three years, not one [Wired].
Citizens bid for control of Thessalonikis water [136.gr].
The effects of climate change on public transportation [Philadelphia Inquirer]. Not pretty, especially with aging infrastructure.
Black Injustice Tipping Point
DOJ finds fatal police shootings, inadequate training cause "strife" between Philadelphia cops and residents [Los Angeles Times].
No Ferguson-related bills have made it to Gov. Jay Nixon's desk [St Louis NPR].
After San Diego introduces body cams: "Complaints have fallen 40.5% and use of "personal body" force by officers has been reduced by 46.5% and use of pepper spray by 30.5%" [Los Angeles Times].
Police State
"In the Osmakac [sting] investigation, Aaronson said, [FBI] agents went to "great lengths to put $500 in his hand knowing he was broke" [Tampa Tribune]. That time when the FBI found those poor schlubs who were talking about a resistance Army, and hooked them up with a uniform supplier?
"Security guards patrol our neighborhoods, schools and shopping malls, but a lack of oversight has allowed anyone, from a failed police officer to a felon, to pursue a career in security, putting the public at risk" [Center for Investigative Reporting]. Not to mention outright crooks.
Big Brother Is Watching You Watch
"Singapore has become a laboratory … for determining whether technology can be used to engineer a more harmonious society" [Foreign Policy]. System design a linear descendant of John Poindexter's Total Information Awareness system. Yikes!
Class Warfare
The decline in unionization in recent decades has fed the rise in incomes at the top [International Monetary Fund]. That's not a bug…
At Twitter, upper management uses a mysterious "shoulder tap" process to let certain employees know about opportunities [WaPo]. No potential for abuse there!
Idea: Give the homeless housing [HuffPo]. Turns out that's the cheapest and most effective solution, including doing nothing.
Hedgie squillionaire Paul Tudor Jones gives TED talk on pitchfork prevention Justice, capitalism and progress [TED].
Philly squillonaires plan to buy mayoralty for charter schools shill Anthony Williams [Philadelphia Daily News]. Because wait for it: "We're all about the kids." Just like Rahm!
News of the Wired
* * *
Readers, feel free to contact me with (a) links, and even better (b) sources I should curate regularly, and (c) to find out how to send me images of plants. Vegetables are fine! Fungi are deemed to be honorary plants! See the previous Water Cooler (with plant) here. And here's today's plant, the second of "I Wish It Were Spring!" week two (JG):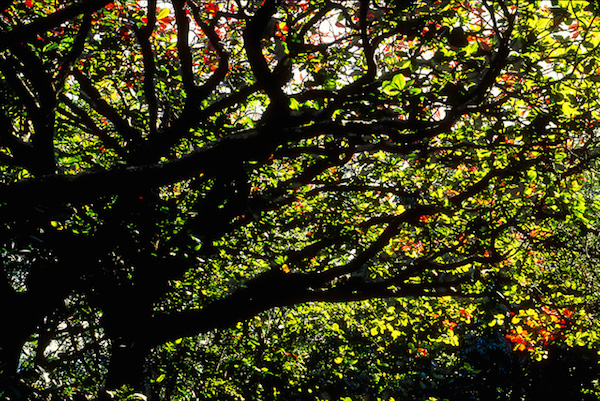 Hawaiian Mangrove trees, we think, and it's spring all the time in Hawaii, isn't it? Quite the contrast to yesterday's plant!
If you enjoy Water Cooler, please consider tipping and click the hat. It's the heating season!
Talk amongst yourselves!