By Lambert Strether of Corrente.
2016
O'Malley again gestures toward the ring with his hat, planning more trips to Iowa and New Hampshire [WaPo].
"O'Malley has the ability to captivate the nation and rise from a relatively unknown to a political juggernaut as John F. Kennedy did in the 1960s, more than 50 interviews show" [Daily Iowan]. Block that metaphor! Gush aside, stranger things have happened. (O'Malley's email.)
During Clinton's tenure as Secretary, "the State Department [had] no confirmed inspector general for more than five years, the longest gap since the position was created in 1957 [Wall Street Journal, "State Department Lacked Top Watchdog During Hillary Clinton Tenure"]. Gee, that's odd.
Hedgies and private equity weasels want to destroy public education for their personal profit — and are Democratic contributors. So are teachers' unions. Which set of contributors will Hillary Clinton side with? [New York Times]. "I'm thinking it over!"
Creative class "Top digital talent" from Obama campaigns moving over to Clinton [WaPo].
Establishment
Jebbie's fundraising "is far outpacing potential Republican rivals who have largely been absent from the capital's chicken-and-chardonnay fund-raising scene" [New York Times]. Plus, the man knows how to steal an election. So it's a two-fer.
Principled Insurgents
Scott Walker to tour the Mexican border [Texas Tribune]. I wonder if he'll be carrying?
Clown Car
Of Cruz: "Imagine losing 60 pounds of big government around your waist in just one vote" [The Week]. As we saw from the snarkfest unleashed with Cruz's announcement yesterday, there are a lot of people in the Beltway who don't like Cruz. At all. They're a constituency, and their opinion matters. Ask Hillary Clinton about 2008 if you don't think so.

FOX's Megyn Kelly to Cruz: "What have you actually accomplished?" [Salon]. Another example. The Republican who can make a FOX host want to slap him around is a rare bird indeed.

Cruz to go on ObamaCare [The Hill]. The horror! The horror! But I'm sure he can go back on his wife's policy when she returns to her job at Golden Sacks.
"There's no cheat sheet to gauge the relative clout in the Republican Party of, say, a midlevel talk-radio host compared with one billionaire donor" [Bloomberg].
Stephen King to LePage: 'Man up and apologize' [WaPo]. Since LePage, untruthfully, said King had moved to Florida to avoid income tax.
The Hill
"So far, Congress has had trouble creating the kind of crisp, predictable governance that businesses and markets hunger for" [New York Times]. "Crisp" is for vegetables. So long as Congress doesn't pass TPP and gut Social Security and Medicare, I'm not unhappy. It could be worse!
"Industry's Influence on Trade Policy," with handy chart [Sociological Images]. Sourced from a dynamic version at Wapo, but the static images are — surprise! — much easier to read and compare.
"The Senate on Tuesday rejected a Democratic plan to spend almost $500 billion on infrastructure using money raised by corporate tax increases" [Wall Street Journal, "Senate Defeats Democrats' Infrastructure Plan as Budget Debate Begins"].
Herd on the Street
"In order to showcase and sell the Apple Watch, [Apple Retail Store] employees will be trained to provide personal fashion and styling advice to customers" [9to5.mac]. From the scenarios: "[Y]ou seem to have a fun style. I think the Pink Sport band would match your style perfectly." Please kill me. "Wow, there's so many options for straps." Do any of the straps come in … grey?
Heinz to buy Kraft and create world's fifth-largest creator of food-like products [Reuters]. Getting a bigger break on volume for High Fructose Corn Syrup and, no doubt, firing a few thousand workers.
Facebook's "second chance," as it introduces a post-desktop, mobile-friendly message service [Medium].
Stats Watch
Durable goods orders, February 2015: "The manufacturing sector continues to look weak. Durables orders fell 1.4 percent in February after rebounding 2.0 percent the month before," below expectations [Bloomberg].
MBA Mortgage Applications, week of March 20, 2015: "Low rates are finally starting to raise demand for mortgage applications, both for purchase applications, up 5.0 percent in the March 20 week, and refinancing applications which surged 12.0 percent" [Bloomberg].
Emanueldämmerung
Backgrounder [Al Jazeera]. "The election will likely hinge on voter turnout and currently undecided voters, particularly black ones. On both these fronts, Garcia's grass-roots ground troops could clinch it." Maybe. Let's not confuse MoveOn and the Bold Progressives with the grass roots, though.
"[Rahm's] strongest support comes from gentry liberals: high-income, high-education whites" [National Review].
Health Care
"Half of all households that received ObamaCare tax credits last year will likely owe money to the federal government, a new study found" [The Hill]. "Only 4 percent of households received the correct subsidy." A crapshoot with your health and your finances.
Black Injustice Tipping Point
"The policing of black bodies: Racial profiling for profit and the killing of Ferguson's Mike Brown" [Fusion]. On the one hand, I'm happy to see streamer Tim Pool at Fusion. On the other, I'm not happy to see streamer Tim Pool at Univision/Disney's Fusion. We all have to eat… So but and one hopes there are many more streamers out there.
Imperial Collapse Watch
"Army Spends $100M On Piece of Equipment That Doesn't Do Anything" [Duffel Blog].
Water
"Scientists believe that the huge volumes of freshwater flowing into the North Atlantic from the rapidly melting ice cap of Greenland have slowed down the ocean "engine" that drives the Gulf Stream from the Caribbean towards north-west Europe" [Independent]. Yikes. That's the Atlantic Conveyor.
California lawmakers seek access to confidential well logs [Center for Investigative Reporting]. "[I]n a state where groundwater is tied to private property rights and farmers pump with no restrictions, opposition remains strong in the agricultural community." If you want to manage groundwater as the common pool resource it is, you've got to be able to map it. And you need the well logs to do that.
"Green water can be retained in three ways: collecting run-off; improving the infiltration of rain in soils; and managing land, water and crops across watersheds to increase water storage in soils, wetlands and the water table" [Nature].
Soil
"Landowners around the world are now engaged in an orgy of soil destruction so intense that, according to the UN's Food and Agriculture Organisation, the world on average has just 60 more years of growing crops" [George Monbiot, Guardian].
"[R]ebuilding the organic matter in soils has the potential to store tons of atmospheric carbon" [HuffPo].
A wine's terroir may have more to with the soil microbes found around the plant's roots than with the actual soil's characteristics [mBio].
"Soil Health Card" (by state) [USDA].
Enclosures
Gates Foundation and USAID hold closed meeting in London on plans to privatize African seed saving and swapping [Common Dreams]. "the meeting attendees included representatives from the World Bank and Syngenta, the world's third biggest seed and biotechnology company, no farmers or farming organizations were represented at the talks." Gee, that seems odd.
"Your seafood may come from slaves" [AP]. Important.
DNA records effects of conquest, slave trade in the Americas [Los Angeles Times].
Facebook is to content providers in the 21st century as railroads were to farmers in the 19th [The Atlantic]. Robber barons.
And just to drive that home: "The Battle Is For The Customer Interface" [Tech Crunch].
The new breed of companies are the fastest-growing in history. Uber, Instacart, Alibaba, Airbnb, Seamless, Twitter, WhatsApp, Facebook, Google: These companies are indescribably thin layers that sit on top of vast supply systems ( where the costs are) and interface with a huge number of people ( where the money is). There is no better business to be in.
Well, except for private equity. That's a good business.
Class Warfare
"Retirement Crisis: The Great 401(k) Experiment Has Failed for Many Americans" [NBC]. So will they be made whole? BWA-HA-HA-HA!!!! I crack myself up sometimes!
"[Executives] at large U.S. companies collectively realized at least $6 billion more in compensation than initially estimated in annual disclosures in the five years after the financial crisis first hit, according to a Reuters analysis. The reason for the windfall: the soaring value of their stock awards" [Reuters]. Ben — and Janet, you too! — take a bow!
"The Stanford Financial Fraud Research Center estimates that $50 billion is lost to financial fraud every year" [Phys.org]. And so the answer, naturally, is for "consumers" to be "pro-active."
"Last Week Tonight with John Oliver: Municipal Violations (HBO)" [YouTube]. Law enforcement as a profit center.
News of the Wired
Sustainable local development in Greece [Green New Deal]. And see also. Note the EU funding. You'd think…
Ohio could legalize marijuana this year [CNN].
"I Can Text You A Pile of Poo, But I Can't Write My Name" [Model View Culture]. Emojis? Check. East Asian character sets? Not so much.
Researchers have recovered 70 million-year-old soft tissue, including what may be blood vessels and cells, from a Tyrannosaurus rex [NBC].
Lee Kuan Yew being used to (re)-legitimize tyranny [Politico].

The cult of Lee Kuan Yew has poisoned Eastern Europe, but we should remember that it is also a global phenomenon. Brilliant Western intellectuals, CEOs and leaders created this cult over many years at Davos and other conferences and summits of the global power elite, thus fueling the authoritarian temptation in Eastern Europe.

Tony Blair takes millions in consulting feeds from repressive regimes because he's jealous of Bill Clinton's haul [Daily Beast].
"Terrifying footage shows German teen scaling Hong Kong tower with no safety gear" [Shanghaist]. Zeitgeist watch: Same story as here, except with a different kid, and buildings instead of mountains.

蒙

.
Mo'ne Davis!!!!! [WaPo].
"The problem of antibiotic-resistant bacteria, already an 'apocalyptic' threat, is poised to get worse. The reason? The world's hunger for meat" [New Scientist].
"I sent them a good boy and they made him a murderer" [New York Times]. Seymour Hersh returns to My Lai. "We forgive, but we do not forget."
* * *
Readers, feel free to contact me with (a) links, and even better (b) sources I should curate regularly, and (c) to find out how to send me images of plants. Vegetables are fine! Fungi are deemed to be honorary plants! See the previous Water Cooler (with plant) here. And here's today's plant, the third of "I Wish It Were Spring!" week two (MR):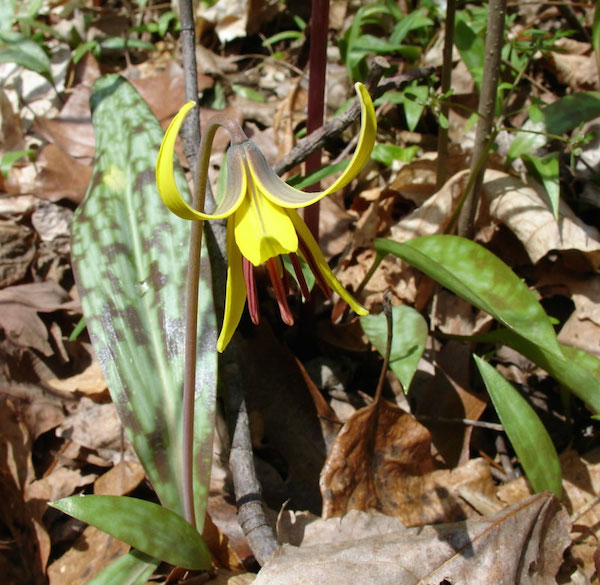 Yellow Trout lily.
If you enjoy Water Cooler, please consider tipping and click the hat. It's the heating season!
Talk amongst yourselves!