By Lambert Strether of Corrente.
TPP
"Secret Trans-Pacific Partnership Agreement (TPP) – Investment Chapter" [WikiLeaks]. Link to PDF at bottom of page.
On Investor State Dispute Settlement (ISDS) [Public Citizen (PDF)]:
The leaked text would empower foreign firms to directly "sue" signatory governments in extra-judicial investor-state dispute settlement (ISDS)tribunals over domestic policies that apply equally to domestic and foreign firms that foreign firms claim violate their new substantive investor rights. There they could demand taxpayer compensation for domestic financial, health, environmental, land use and other policies and government actions they claim undermine TPP foreign investor privileges, such as the "right" to a regulatory framework that conforms to their "expectations."

The leaked text revealsthe TPP would expand the parallel ISDS legal system by elevating tens ofthousands of foreign-owned firms to the same status as sovereign governments, empowering them to privately enforce a public treaty by skirting domestic courts and laws to directly challenge TPPgovernments in foreign tribunals….

[T]he enactment of the leaked chapter would dramatically expand each TPP government's ISDS liability. The TPP would newly empower about 9,000 foreign-owned firms in the United States to launch ISDS cases against the U.S. government, while empowering more than 18,000 additional U.S.-owned firms to launch ISDS cases against other signatory governments.
Yikes. Write, call, and email your Congress critter on this. It's crazypants stuff.
"[T]hese [ISDS] provisions provide corporate sovereignty, elevating the power of corporations to put them above the power of local governments" [Techdirt].
More on ISDS [New York Times]. Strange bedfellows:
"This is really troubling," said Senator Charles E. Schumer of New York, the Senate's No. 3 Democrat. "It seems to indicate that savvy, deep-pocketed foreign conglomerates could challenge a broad range of laws we pass at every level of government, such as made-in-America laws or anti-tobacco laws. I think people on both sides of the aisle will have trouble with this."
And from the same article:
Members of Congress began reviewing the secret document last week in secure reading rooms, but this is the first disclosure to the public since an early version leaked in 2012.
Then again… Call me paranoid, but I wonder if we're not being set up on ISDS. Suppose they throw that over the side, and fast track the rest through? Nobody knows what's in any of it, after all. Might make more sense — now that issues with ISDS are part of the conventional wisdom — to focus on the anti-democratic nature of fast track. After all, no fast track, no TPP.
Reinforcing this idea, Greg Sargent asks: "In the short term, the question is: How much can those who are skeptical of the deal do to improve it?" [WaPo]. The answer should be nothing. You can't buff a turd.
US: "'I think we're going to be able to put together a majority and stop [TPP],' predicted Richard Trumka" [Los Angeles Times].
Australia: "These TPP safeguards won't protect us from ISDS" [ABC].
Japan: "The Chief of the Central Union of Agricultural Cooperatives JA-Zenchu has urged the Minister of Agriculture, Forestry and Fisheries to retain high tariffs on the economy's "sensitive" products, including rice, wheat, barley, pork, beef, dairy products and sugar, as part of the Trans-Pacific Partnership talks with the U.S., according to the Bureau of National Affairs (BNA)" [Oryza]. Paging Clive on that one…
2016
"[Sanders's] political advisers think he can be viewed as a legitimate candidate if he raises $50 million ahead of first-round primary contests" [Bloomberg]. The question: "But does Sanders have a realistic shot at the Democratic nomination using a grassroots-only playbook?" Interesting article.
"The key point Mrs. Clinton made was on the money: Promoting mobility and opportunity is increasingly an issue for cities and states, rather the federal government" [Richard Reeves, Wall Street Journal, "What Hillary Clinton Gets Right About Improving U.S. Social Mobility"]. Hmm.
Clown Car
Cruz hopes to knock out Carson and Huckabee, then go for Walker [E.J. Dionne, WaPo].

Semiotics of Cruz's logo [WaPo]. I'm going with Pentacostal tongues of fire (Acts 2:3).

"Imagine there's no IRS. It isn't hard to do" (hums) [WaPo]. I think the press hates Cruz as much as they hated Al Gore. And that's something.

Cruz's ObamaCare options [WaPo]. NC readers know all this, but:

The law does not require Cruz to get health insurance on the exchanges. Instead of going through the exchanges, he could have paid the tax penalty for not having insurance, "likely cheaper than buying an insurance plan," but at the cost of being uninsured. Or his wife could have applied to COBRA and extended her benefits from Goldman Sachs for up to 18 months, though she would have to pay all of the premium. Or he could bypass the exchanges and buy insurance directly from a private insurer. … And Cruz is rejecting the government's employer contribution, even though he is entitled to it as a member of Congress. That is thousands of dollars a year, and accepting it would still be following the law.

Dunno. Cruz may be a clown, but he's not dumb. Maybe we'll hear about the horrors of Cruz's exchange experience?
Campaigns going for the squillionaires first, leaving millionaires and bundlers waiting by the phone [WaPo]. I'm crying.
SuperPACs are "taking over more-traditional campaign duties ranging from field organizing and voter turnout to direct mail and digital microtargeting" [Time].
"[T]he advantages of having a famous last name far outweighs the negatives" [WaPo]. Lannister, Stark…
The Hill
"Yet Obama's strategic patience on national security continues a pattern set by the most successful Republican foreign-policy presidents" [Lawrence Korb, Reuters].
Stats Watch
Jobless claims, week of March 21, 2015: "Initial jobless claims did fall sharply in the March 21 week but today's report isn't likely to raise expectations for the March employment report" [Bloomberg].
Bloomberg consumer comfort index, week of March 22, 2015: "Consumer confidence climbed last week to match the second-highest level since July 2007" [Bloomberg].
Kansas City Fed Manufacturing Index, March 2015: "Most price indexes continued to decrease, with several reaching their lowest level since 2009. In a special question about the West Coast port disruptions, 32 percent of firms said it had affected them negatively" [Bloomberg].
Emanueldämmerung
Even if it would be great if Rahm went down, and it would be, Chuy Garcia and Karen Lewis are far apart on policy [Jacobin].
Health Care
ICYMI, California has a Medi-Cal "estate recovery plan" [KQED]. That's when ObamaCare forces you into Medicaid, tells you it's free, and it turns out it's a lien against your estate. Boy, will your kids be surprised!
Black Injustice Tipping Point
Liberal vs. conservative tribalism and reading the DOJ report on Ferguson [Bloomberg].
"Detroit Cops Shown Beating Black Man, Floyd Dent, During Traffic Stop" [NBC]. Oddly, or not, the dashcams don't back up what the cops say.
Arizona legislature passes bill to keep cop's names secret after they whack civilians [Slate]. So awesome.
Enclosures
Charter schools' default rate [on municipal debt] reached an all-time high last year of 5 percent of outstanding issues, according to a biannual study by the New York-based Local Initiatives Support Corp. That's up from 3.8 percent in 2012 [Bloomberg]. Seems odd, given the spectacular recover of the economy.
Class Warfare
Montréal protest against austerity [CBC]. Here we go again?
"The War on Poverty: Was It Lost?" [New York Review of Books]. Long-form review of the literature.
"The measurement of absolute progress is a worthy undertaking, but in terms of evaluating the lived experience of poverty and its detrimental effects, it is equally important, if not more so, to explore the relative progress of the poor" [New York Times].
Heating bags for the homeless made from plastic bags [Fast Coexist]. Ingenious and not heartless, but isn't the better solution simply to give the homeless homes?
News of the Wired
* * *
Readers, feel free to contact me with (a) links, and even better (b) sources I should curate regularly, and (c) to find out how to send me images of plants. Vegetables are fine! Fungi are deemed to be honorary plants! See the previous Water Cooler (with plant) here. And here's today's plant, the fourth of "I Wish It Were Spring!" week two (joe6pac):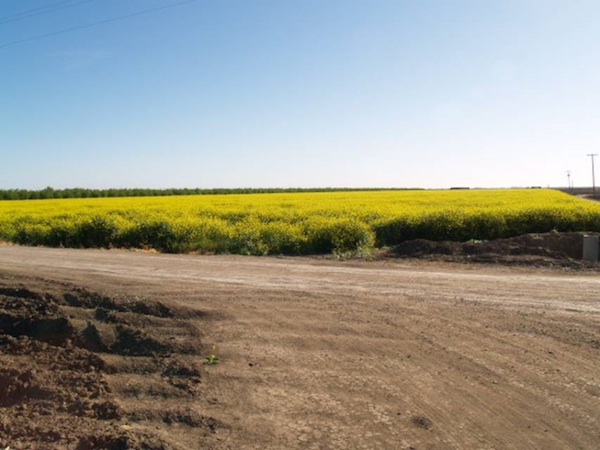 "This about 20 acres of wild Mustard plants on a field behind my house."
If you enjoy Water Cooler, please consider tipping and click the hat. It's the heating season!
Talk amongst yourselves!