By Lambert Strether of Corrente.
2016
Sanders: "The nature of election laws and rules all over the country makes it very difficult and hard to get on the ballot as an Independent" [Yahoo News].
O'Malley won't be running for Senate, will be visiting Iowa, New Hampshire, and South Carolina [The New Yorker].
"Nothing is decided. But if Hillary Clinton doesn't start defining herself against the narrative her opponents are putting forth, she can't expect to sleepwalk her way back to the White House" [National Journal].
"A Clinton Presidency is the most likely of any, from the major candidates, to serve up significant and enduring market-oriented reforms" [Marginal Revolution]. Well, that's re-assuring.
"Marc Elias, a veteran campaign finance lawyer who was general counsel for John Kerry's presidential campaign in 2004, is scheduled to be Mrs. Clinton's lead campaign lawyer" [New York Times]. Well well. I wonder if Elias, as general counsel, was the one who advised Kerry to fold like a deck chair after all those voting shenanigans in Ohio?
Establishment
Jebbie and the Everglades — better than expected? [Politico]. I'm not seeing a ton of detail, especially about outcomes, in this article. Any Floridians care to weigh in?

Jebbie's foreign policy team: Chertoff, Hayden, Ridge…. Logrolling and backscratching. Round up the usual suspects [HuffPo].
"[W]ithin a presidential system, gridlock leads to a constitutional trainwreck with no resolution" [Matt Yglesias, Vox]. With the provocative title, "American Democracy is Doomed."
A response to Yglesias: "[U]nderneath the surface, many reasonable-sounding partisans in both camps may be dreaming of the next election being 1980 (for Republicans) or 1964 or 2008 (for Democrats); the singular event that will shape years of future gridlock by moving the goal posts a good twenty yards in one fell swoop" [Ed Kilgore]. Oh, 2008 moved the goal posts? OK.
The Hill
Ron Wyden is the most important person in the Democratic caucus on TPP [New York Times]. I wish they'd stop saying "trade." TPP isn't about trade.
Herd on the Street
"Apple to delay larger iPad production till September: report" [Reuters]. I would love to be able to read a book and sketch on a screen of decent size. So hurry up, Apple. (And while you're at it, give me a interchangeable lenses.
"[ExxonMobil] also went into the downturn with stronger cash generation than most rivals" [FT, "Buoyant ExxonMobil bucks sector's gloom"]. So they can do some capital investment through the downturn.
"The West Coast port chaos is just the latest event triggering shippers to both diversify transportation modes and ports" [Wall Street Journal, "Ports Gridlock Reshapes the Supply Chain"].
Delta plane slides off runway at New York's LaGuardia Airport [Reuters]. Slipped on the ice and snow!
VC Mark Cuban says the tech bubble has returned [Bloomberg].
Stats Watch
Mosler on yesterday's numbers: "Still no sign of a surge in spending here, as apps remain below even last years winter depressed numbers" [Warren Mosler].
Stats Watch
Mosler on yesterday's numbers: "Still no sign of a surge in spending here, as apps remain below even last years winter depressed numbers" [Warren Mosler].
Jobless claims, week of February 28, 2015: "[R]ose 7,000 to a much higher-than-expected level of 320,000" [Bloomberg]. "[D]oes not point to improvement for the labor market."
Productivity and costs, fourth quarter 2014: "Nonfarm productivity growth for the fourth quarter declined an annualized 2.2 percent" [Bloomberg]. Productivity numbers are volatile, but "the latest numbers reflect a softening in output growth."
Gallup US Payroll to Population, February 2015: "Workforce participation among U.S. adults rose slightly from 66.7 percent in January to 67.0 percent in February" [Bloomberg].
Bloomberg Consumer Comfort Index, week of March 1, 2015: Rebounded on stocks [Bloomberg]. "Moods worsened for those at the bottom of the wage scale."
Factory orders, January 2015: "[F]actory orders fell for a 6th straight month in January" [Bloomberg]. "The factory sector has not been contributing to economic growth, the result of weakness in the oil patch and weakness in foreign demand."
Emmanueldämmerung
Chicagoans have kindly been sending me local links on Rahm.
15 reasons to vote for Chuy: "9. He's not afraid of a snowstorm" [Buzzfeed]. "During last years brutal snowstorm, Emanuel was on vacation in Bali. Even Daley knew better." Ouch!
Rahm's new TV ad: He wears a humble sweater [Capitol Fax]. Who does he think he is? Jimmy Carter?
Rahm's new TV ad: "I can rub people the wrong way, or talk when I should listen. I own that" [In These Times]. Well, corruption "rubs me the wrong way," yeah.
Rahm's new TV ad: "Will it work? Who knows. But that Emanuel is trying it speaks to just how worried he is" [WaPo].
"Rahm just gave us white folks the wink" [Fred Klonsky]. And the nudge, along with the word "Detroit." Where the blah people are.
Rahm's "black and brown site" was huge on the Intertubes, but oddly, or not, not on local Chicago media [Columbia Journalism Review].
Black Injustice Tipping Point
DOJ report on Ferguson: "There's a jaw-dropping anecdote or statistic on practically every one of its 102 pages" [Vox]. This is a must-read.
"Editorial: The hammer of Justice falls on Ferguson" [St Louis Post-Dispatch]. If that's the only city it falls on, we need a bigger hammer.
DOJ finds Ferguson targeted African-Americans, used courts mainly to increase revenue [St Louis Project]. There's always a reason for racism.
"[T]he actions and attitudes exposed in this one Missouri town — over-militarized robo-cops treating citizens as a colonial Other, greedy pols milking the municipal code as a cash cow, and law enforcement spitting in the face of accountability — permeate policing in America from the Florida Keys to the Bering Strait" [Will Bunch, Philadelphia Inquirer]. Excellent.
"[T]here are more than 700,000 outstanding warrants for municipal offenses in St. Louis. And when tickets become warrants for the poor, the problems pile up" [Riverfront Times].
"Why do we refuse to accept that this is a part of what it means to be us?" [Boston Globe]. Ferguson is in no way "exceptional."
"Ferguson resonated with so many people because Ferguson really is everywhere. The economic assault via government schemes, police brutality and culpable leadership are dynamics that play out across the globe" [HuffPo].
"Ferguson officials erased tickets for friends and family, DOJ discovers" [St Louis]. Because we're good. Not like the others.
A sympathetic. report on Ferguson activism — and what funding might mean when it arrives [Politico].
Class Warfare
"The Libertarian Delusion" [Bill Moyers].
It has been a long time since government effectively did its job of tempering the market in the interest of ordinary people. A further problem of this blurring between the public and the private is that it adds great complexity. That makes regulations and government programs harder to administer, and diffuses blame when citizens find themselves frustrated with the result. Ultimately, the government tends to take the fall more than the market.
"[T]hese "shadow unemployed," according to the Fed, exert just as much downward pressure on wages as the regular unemployed. Put it all together, and wages haven't recovered because the economy hasn't fully recovered" [WaPo]. The Old Mole, of course, called the "shadow unemployed" "the reserve Army of labor."
News of the Wired
Five horrible user interface innovations, starting with crapifying the URL bar [The Stack]. Yves and I depend on copying URLs from the URL bar. So when browsers (looking at you, Apple) start leaving off the "http" protocol prefix, it causes us problems and leads to errors. Not to mention the URL is a commons.
New fossils shows that humankind "may have evolved half a million years earlier than we thought" [WaPo].
"The 9th U.S. Circuit Court of Appeals has agreed to hear the case brought by beekeepers challenging the U.S. Environmental Protection Agency's (EPA) approval of a toxic pesticide known to be toxic to bees" [Beyond Pesticides].
* * *
Readers, feel free to contact me with (a) links, and even better (b) sources I should curate regularly, and (c) to find out how to send me images of plants. Vegetables are fine! Fungi are deemed to be honorary plants! See the previous Water Cooler (with plant) here. And here's today's plant, the fourth of Plants in Snow Week (MR):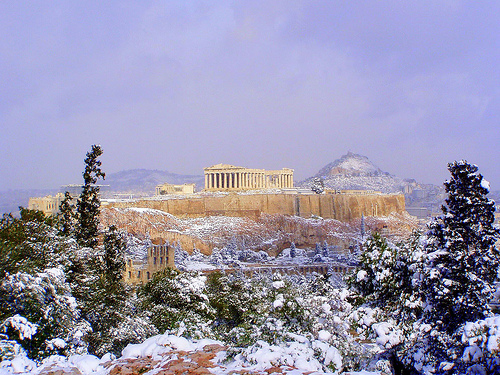 This seems a propos!
Readers! How about sending me some plants under snow and/or ice? Seems appropriate? And if that doesn't sound like a good idea, how about some humorous vegetables?
If you enjoy Water Cooler, please consider tipping and click the hat. It's the heating season!
Yes, I've got to fix the hat! Thank you all for your generous help in the mini-fundraiser!
Talk amongst yourselves!