Yves here. In case you have not been following economic releases from Europe closely, one intensifying problem is that the Eurozone has moved into deflation. Deflation was at an annualized rate of 0.6% in January, and reversed somewhat in February to a mere 0.3%. Declining oil prices are a big culprit, but commodities prices have been falling for some time based on weakening demand from China, with oil the last to fall.
While most analysts argue that oil prices will start to rebound in the second half of the year, oil production continues to rise. And unlike the bullish shale gas promoters, many of whom have to continue to produce in order to service debt, some oil majors like Exxon and BP have warned that prices could remain low for years.
The reason for focusing on the disparity in measurement between the US and Europe is that Europe is using its inflation measures as cause for alarm, and the reason for launching QE, while the Fed is discussing raising rates.
Cross-posted from Washington's Blog.
Anyone with a pulse knows that Europe is stuck in a downturn worse than the Great Depression.
Most think that the U.S. has fared better … but that is debatable.
Mega-bank Société Générale's strategist Albert Edwards notes:
"Core Inflation in the US would be just as low as in the eurozone if measured on the same basis, despite the US having enjoyed much stronger growth!"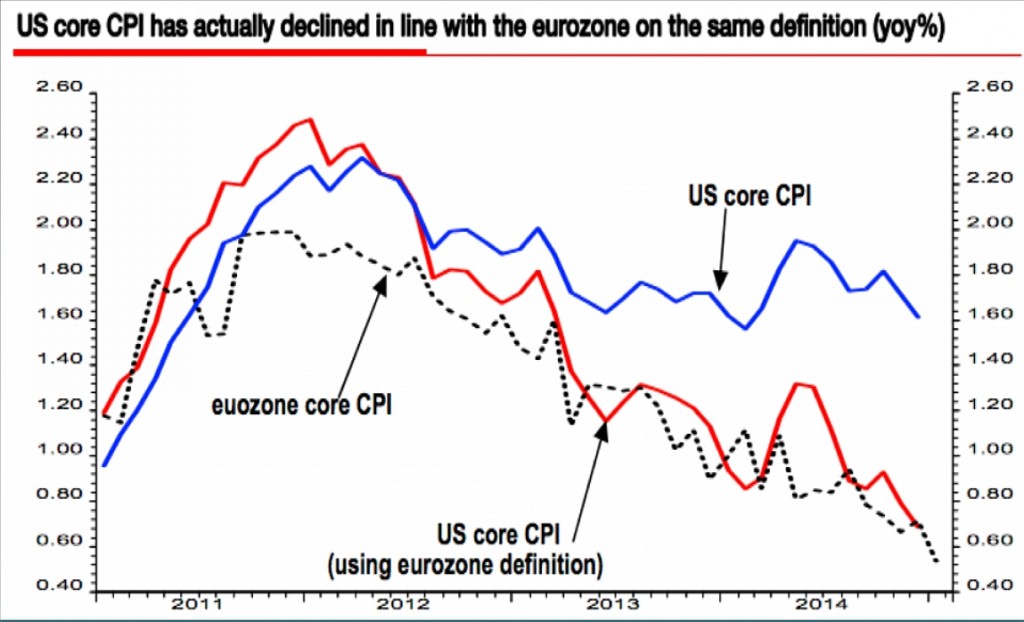 By way of background, the U.S. government has long ignored energy and food prices when reporting on inflation.   As former Assistant Secretary of the Treasury and Assistant Editor for the Wall Street Journal, Paul Craig Roberts explains:
The inflation rate, especially "core inflation," is another fiction.  "Core inflation" does not include food and energy, two of Americans' biggest budget items.
And – in contrast to the U.S. – the European method of calculation  attempts to incorporate rural consumers into the sample (while the US maintains a survey strictly based on the urban population) and excludes owner-occupied housing from its scope (while the US calculates "rental-equivalent" costs for owner-occupied housing).
In any event, if calculated the same way, America's crash in core inflation would be as obvious as Europe's.