No one could see the color blue until modern times Business Insider. I was inclined to think this was overstated until the green square test. And I did pick out the correct square, but it was hard.
World's oldest barmaid dies aged 100: Dolly Saville pulled pints for 74 years Independent (Chuck L). She outlived her children.
Life 'not as we know it' possible on Saturn's moon Titan PhysOrg
Food preservatives linked to obesity and gut disease Nature (Nikki). Per the heated discussion on GMOs yesterday, here are chemicals considered to be safe that nevertheless appear to have side effects.
Promoting Amphetamines for Over-Eating – What Could Possibly Go Wrong? Roy Poses, Health Care Renewal
More than 100 tigers seized in 'Tiger Temple' raid Coconuts Bangkok (furzy mouse)
Mass anti-immigration rally in Rome BBC
British Airways 'spying' scandal: How the world's most famous airline spied on its own staff Independent (Chuck L)
Grexit?
The Dark Side of Syriza Project Syndicate. Honestly, this piece is pretty bizarre in the angle it takes on Greece "nationalism." But it has the useful side effect of exposing the tension, or one might say inconsistency, between the "pro European" negotiating strategy and the domestic rhetoric, which is not going unnoticed in the rest of Europe.

Humiliated Greece eyes Byzantine pivot as crisis deepens Ambrose Evans-Pritchard, Telegraph. I'll hopefully have more to say about this tomorrow, but this is all much more desperate than AEP suggests. Just some short points now: you don't telegraph your negotiating strategy loudly, and particularly not a plan to play parties off against each other. Second, even if Varoufakis hadn't told everyone what he was up to, it is hard to see how he can achieve it. He has no meaningful personal relationships with the principals and does not understand the histories or even the processes in this complex game. For instance, he had no idea that the EC's Moscovici was not authorized to negotiate with him, that only the Eurogroup's Dijsselbloem was able to put forward proposals. And read Der Spiegel (below) on the negotiating process. Varoufakis was isolated, the negotiations were done without him, and he was presented with what amounted to a diktat. Note that AEP thinks that the Germans and the Northern bloc are afraid of recognizing losses on Greece, but that is not their position. They believe if they let Greece get away with concessions, all the periphery countries will ask for concessions if they relent. So they believe they will take losses regardless, and see making Greece a demonstration of the cost of defying the Troika will discourage the others and will be less costly. The reason for backing away from the brink last week was concern over a disorderly Grexit and US/NATO pressure. The fact that Greece is starting to make contingency plans (which is necessary given the risks) increases the odds that the IMF, ECB, and northern bloc in the Eurogroup will take a hard line.

Family Feud: The Tortured Relationship between Schäuble and Varoufakis Der Spiegel. You need to read past the Schauble puffery. There are important details in this piece.

PM Tsipras outlines 5 legislation drafts, announces state bankruptcy investigation Keep Talking Greece (martha r)

Spain, Portugal sought to trip up gov't, Tsipras says ekathimerini
Ukraine/Russia
Clapper Calls for Arming Ukrainian Forces: Who Would That Actually Empower? Glenn Greenwald, Intercept

Nemtsov mourners to march in Moscow BBC
Syraqistan
Human Rights Watch Accuses Syria Of "Barrel Bomb" Damage Created By U.S. Attacks Moon of Alabama

MI-5's Jihadi John: How British Intelligence Primed Both Sides Of The Terror War CTuttle, Firedoglake (Chuck L)
Big Brother is Watching You Watch
Under U.S. Pressure, PayPal Nukes Mega For Encrypting Files TorrentFreak (EM)

How to Sabotage Encryption Software (And Not Get Caught) Wired (Chuck L)
Is FCC Approval of Net Neutrality a Real Win for Consumers? Real News Network
Abandoned Walmart is Now America's Largest 1-Floor Library Urbanist (furzy mouse). We featured another report on this library, but worth seeing if you missed it.
Bailouts Forever
I've been too busy with Greece to keep up on the latest on TBTF, and the latest news is a train wreck. See these three posts on the newest scam masquerading as a solution, "Single Point of Entry." We've already written at length why Title II resolutions won't work (they treat the banks as domestic-only and ignore all the optionality in how derivatives trades get wound down; even the BIS has said Title II resolutions are a non-starter, but we are acting as if they will work. That only guarantees future bailouts). Credit Slips adds to the list of fatal flaws:

Busted Banks: TBTF and the Single Point of Entry

TBTF and The Single Point of Entry (SPOE): Part Two

Irish-Style Banking Inquiry into the 2008 Financial Crisis Bill Black on the Real News Network. This is surreal.
Smothered by a Boom in Banking Gretchen Morgenson, New York Times
What Is Money And How Is It Created? Steve Keen, Forbes. Important. Why you must have banks to have money.
Oil
As Oil Prices Fall, Houston Shudders New York Times
Class Warfare
Out of Trouble, but Criminal Records Keep Men Out of Work New York Times

Guest post: How wages in services vs. goods-producing jobs explain relative GDP growth during Recoveries (Hint: producing goods is better) Angry Bear
Antidote du jour: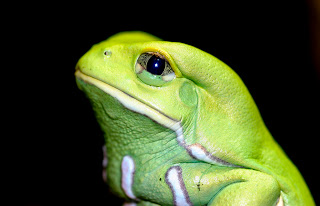 And a bonus video, courtesy Lambert. This is really cool:
See yesterday's Links and Antidote du Jour here.