The Radical Humaneness of Norway's Halden Prison New York Times (furzy mouse)
How a genre of music affects life expectancy of famous musicians in that genre Tyler Cowen. Cowen raises some methodological issues, and I wonder about others, like how large are the populations in each group (as in are some so small as to be not reliable for statistical purposes)? And the classification of some genres isn't tidy (like blues v. R&B, and pop v. rock).
Scientist Pretends Monsanto Products Are Totally Safe to Drink Gawker
WATCH: Neil deGrasse Tyson's best comebacks to your crazy uncle's anti-science woo Raw Story (furzy mouse)
Finally, we know how many bloggers live in their parents' basement Washington Post. I have to tell you, this is one of the lamest analyses I've seen in a long time. I assume it is meant to be tongue in cheek but the writing is so flat that it comes off as serious. It bizarrely assume very intermittent tweets and the use of Facebook is blogging. Plus a pet Google factoid (from Blogger) is that the average number of readers of a blog is….one. As in the overwhelming majority of blogs that set out to be blogs (and Blogger is such a feature-poor tool that it is unlikely that someone would use it for anything other than blogging) never reach an audience beyond their creator.
Newly discovered arthropod fossil swam in Cambrian seas AOL (Carol B)
Occupy Hong Kong: Six Months Later WSJ China Real Time
Strongest rally in eight years for Chinese stocks Sydney Morning Herald (EM)
An ageing population as an excuse for a Japanese currency war John Dizard, Financial Times (Scott)
Marriage Made in Corporatist Heaven Slams into Resistance Don Quijones. The TTIP is not going over too well in Europe.
French local elections: Exit polls suggest Conservative win BBC
Grexit?
Eurogroup unlikely to be held soon to discuss Greek reforms ekthimerini. Whether by design or due to the combination of Greece submitting a lot of not-fully-fleshed out reforms right before the Easter holiday, it looks like Greece stays in the sweatbox for the next two weeks. That does make for an easier holiday season for non-Greek officials and journalists.

Greece's Tsipras to Address Lawmakers on Talks With Creditors Bloomberg (Santiago)
Syraqistan
Big Brother is Watching You Watch
Ted Cruz: 'Part of the problem' with America is the White House isn't in Texas Raw Story (furzy mouse)
Ex-HP chief Carly Fiorina sets sights on Clinton as she nears presidential run Guardian. Spare me. This is the woman who destroyed Lucent with product for equity deals with dot-bomb companies, and then did the Compaq deal to delay her sell-by date by two years. She's failed upwards and thinks she can do it again.
California drought goes from bad to worse as state grapples with heat wave Guardian
Smoked dry: Massive marijuana cultivation has 'lethal' impact on California water supply RT (EM)
Iron ore drops to fresh six-year low Sydney Morning Herald (EM)
The Fed Has Not Learnt From The Crisis Steve Keen
Worst Revenue & Earnings Declines Since Crisis Year 2009 Wolf Richter
Fracking Town's Desperate Laid-off Workers: 'They Don't Tell You It's All a Lie' Alternet
Foreclosure to Home Free, as 5-Year Clock Expires New York Times
The Glory Days of Private Equity Are Over Wall Street Journal. But with funds having 10-15 year lives, the afterburn is long indeed.
Dismal Scientists
What's Wrong with the Economy—and with Economics? New York Review of Books (Nikki)
Class Warfare
The GOP has spoken: The wealthy and powerful could use more help NJ.com (Carol B)

Class Struggle In The USA Angry Bear. A clear cut example of how a polling question looks to have been crafted to skew the results.
Antidote du jour (furzy mouse). "A keeper holds a 12 week old Sumatran tiger cub during a routine health check in its enclosure at Chester Zoo in Chester northern England March 27 , 2015. The cub, one of 3 born at the zoo, was sexed, vaccinated and micro-chipped." No wonder he looks a little alarmed. But so handsome!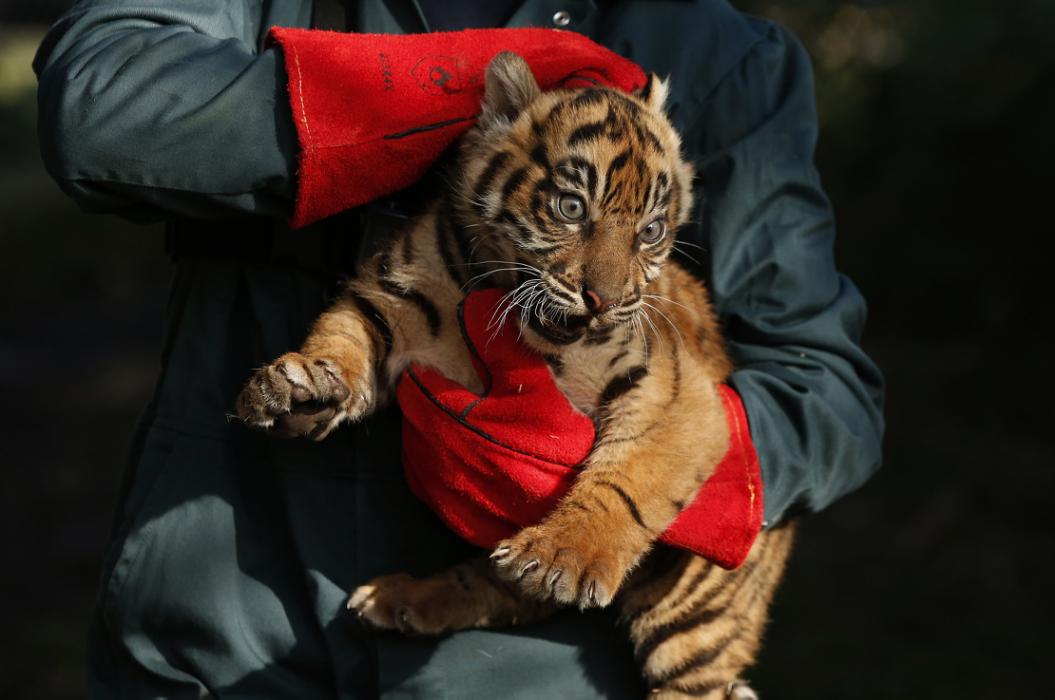 See yesterday's Links and Antidote du Jour here.