Yves here. The intent of the "open for everyone" stickers is presumably to signal protest against the law. It's telling that they appear to be springing up quickly in the face of a barrage of negative national press coverage as well as social media criticism.  Most retailers have thin margins, which means all things being equal, their margins are best served by not annoying possible shoppers. So one would assume rectitude on this issue would be the wisest commercial decision. Thus, aside from those owners who favor gay rights, the reaction also appears to signal where many store owners think their community's opinion lies, as in fence sitting is more costly than saying they aren't on the side of the new law (or what it might mean in a worst-case scenario). In other words, are we seeing that the heartlands are more liberal than the religious bloc (which punches above its weight politically due to its effectiveness in getting out the vote) would have the public believe?
By Rajiv Sethi, Professor of Economics, Barnard College, Columbia University. Cross posted from his blog.
In the wake of Indiana's passage of the Religious Freedom and Restoration Act, the following stickers have started appearing on storefronts across the state: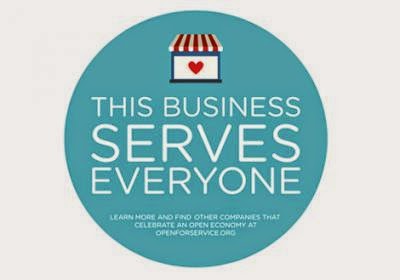 These signs allow business owners to signal their disapproval of the law, and if they spread sufficiently far and wide, will force those not displaying them to implicitly signal approval of the law. It's worth reflecting on the consequences of this for customer choices, the profitability of firms, and the beliefs of individuals about the preferences of those with whom they occasionally interact.
At any given location, the meaning of the symbol will come to depend on the number and characteristics of the nearby firms displaying it. If all businesses were to paste the sticker alongside their Visa and Mastercard logos, it would be devoid of informational content and would not influence customer choices; this is what game theorists quaintly call a babbling equilibrium.
But it's highly unlikely that such a situation would arise. Some owners will display the sign as a matter of principle, regardless of it's effect on their bottom line, while others will adamantly refuse to do to even if profitability suffers as a result.
Between these extremes lies a large segment of firms for whom the choice involves a trade-off between profit and principle. They may disapprove of the law and yet abstain from taking a public position, or they may approve and cynically pretend to disapprove. What they choose will depend on the distribution of characteristics in their customer base, as well as the choices made by other firms.
In more liberal areas, such as college towns, those who display the stickers will likely profit from doing so, and owners concerned primarily with their profitability will be induced to join them. The meaning of the symbol will accordingly be diluted: some of those displaying it will be indifferent to the law or even mildly supportive. By the same token, the meaning of not displaying the symbol will be sharpened. Customers will sort themselves across businesses accordingly, with those opposed to the law actively avoiding businesses without stickers, thus reinforcing the effects on profitability and firm behavior.
In more conservative areas, those who display the stickers will likely experience a net loss of customers, and the meaning of the symbol will accordingly be quite different. Only those strongly opposed to the law will publicly exhibit their disapproval, and among those who abstain from displaying the stickers will be some who are privately opposed to the law. In this case customers opposed to the law will be less vigorous in seeking out businesses with stickers, again reinforcing the effects on profitability and firm behavior.
Just as customers will come to know more about the private preferences of business owners, the owners will come to know more about the customers they attract and retain. Furthermore, customers in a given store will come to know more about each other. Bars and bakeries will become a bit more like niche bookstores, and casual interactions will become a bit more segregated along ideological lines. None of these are intended consequences of the law, but they are some of its predictable effects, and it's worth giving some thought to whether or not they are desirable.
I've heard it said that businesses in Indiana had the authority to deny service to some customers even prior to the passage of the new law, and that it therefore doesn't involve any substantive change in rights. Even so, it's a symbolic gesture that pins upon a group of people a badge of inferiority. Responding to this with a different set of symbols thus seems entirely appropriate.