By Lambert Strether of Corrente.
Readers, today's water cooler will be a bit light; I was up very late wrestling with my fershuggeneh routers. (On the other hand, maybe a little shorter is better?)
2016
Webb (3%) and O'Malley (1%) visit Iowa [CNN].
O'Malley to the right of Clinton on policy, although a governor and an ex-Senator are apples and oranges [FiveThirtyEight]. And he doesn't raise money on the left, for starters.
"Judging by his reception in Austin, Sanders will be running for president" [Austin Statesman]. "In Austin, Sanders packed them in by the hundreds at a Town Meeting at the International Brotherhood of Electrical Workers hall. It was an ebullient crowd of union members and a virtual who's who of progressive Austin politics. He was introduced by Jim Hightower. And then, the next night, he sold out the Travis County Democratic Party's annual Johnson-Bentsen-Richards Dinner at the Four Seasons Hotel." Sanders:
There is a world out there that the media doesn't understand – they don't leave their offices – where people are sick and tired of working longer hours for lower wages, not being able to send their kids to college, not being able to afford health care at the same time as the wealthiest people are doing unbelievably well, and people know, they may not be economists, but they know that there's something wrong when the top tenth of one percent owning more than the bottom 90 percent, and when 99 percent of all new income is going into the hands of the one percent, which is currently the case. And that's the message I take around the country and that is the message that I believe people are and will respond to. We need a government that represents all the people and not just the billionaire class, and that's what I've spent my life fighting for and that's what I'll continue to fight for whether or not the Boston Globe likes it.
That's the stuff to give the troops!
Sanders still hesitating [Houston Chronicle]. However:
AC: Have you made a decision about whether or not to run for president in 2016?

BS: We're giving it very serious thought. I have been in California, Nevada, Texas, and tomorrow, Illinois to try to ascertain the kind of political support that's out there for what would be an unprecedented grassroots campaign involving millions of people. I feel good about the support we are seeing but I won't make a decision until we can determine what political support we have and the kind of capabilities we have to raise the kind of money that we need to run a strong campaign.

AC: What would that potential presidential campaign platform look like?

BS: It would focus on the grotesque level of income and wealth inequality in America.
The S.S. Clinton
"Since 2001, Saudi Arabia, Oman, Qatar and the United Arab Emirates gave as much as $40 million to the Clinton Foundation. In contrast, six similar non-governmental global charities collected no money from those same four Middle Eastern countries" [McClatchy]. The gift that keeps on giving….

Click bait: "Is Hillary Any Good at Running for President?" [New York Magazine]. Well, I suppose it depends on what your baseline is. Is it winning all the big states and a small majority of the popular vote, when the press has left you for dead, and the D-branded faction of political class has moved en masse to your opponent?

Clinton staffers meet with "supportive Iowa activists", say that Clinton "must ask for every vote as well as being willing to run a gauntlet of small events and take part in grueling campaign sessions across the state" [CNN]. The very successful (see above) post-February-Caucus-Debacle Clinton campaign adopted, in fact, this strategy. Lots of high school auditoriums. See (for example) here; this material was basically uncovered at the time, because Obama!

Clinton White House staffers: "We're pretty sure [Hillary Clinton] clocked him with a book" during the Lewinsky matter [New York Post]. Of course, the poorly sourced Clinton tell-all is a never-ending source of ka-ching, so we can expect more like this from winger bottom feeders; chain mail and the like. That said, I'd say Bill got off lightly. The loveable scamp.

Bill Clinton, interview: "[M]y role should primarily be as a backstage adviser to [Hillary] until we get much, much closer to the election" [Town and Country (!)].

Ready for Hillary PAC begins to wind down operations [New York Daily News].
"We" say "polarizing" and "divisive" like those are bad things [New York Times]. FDR was pretty polarizing; "Let's all go to the Trans-Lux and hiss Roosevelt." So was Reagan, if you were an air traffic controller, for example.
Principled Insurgents
Rand Paul declares [CNN].

Paul becomes "more muscular" on defense and courts the Christianist base [WaPo]. Not sure how that will play out with the true believers.

And he's got swag! [National Journal]. "Rand fashion is cool." Maybe.

Cruz is the only other declared candidate, and his store isn't nearly as cool [CBS].

Rick Reed, the guy who Swift-boated Kerry in 2004, now going after Paul for not being enough of a warmonger [Bloomberg]. "Reed declined to disclose his group's donors."
The Hill
Sanders, Warren, Clinton back Iran deal [HuffPo].
"Democrats by a 10-point margin now see Mexico as a better ally than" Israel [Rassmussen Reports]. Well played, Bibi. And speaking of which:
Best AP typo I've seen in years, courtesy of @talschneider pic.twitter.com/tuDzj264nN

— Dimi Reider (@dimireider) April 5, 2015
Stats Watch
Redbook, week of April 4, 2015: Early Easter and milder weather give retail sales a boost [Bloomberg]. "[H]ints at a bounce," watch for chain stores report.
JOLTS, February 2015: Job openings, hires, separations "little changed" [Bloomberg].
Health Care
Overlooked ObamaCare opportunities [AgWeb]. Interesting thought on subsidies.
Emanueldämmerung
Live Chicago election results [DNAinfo]. Polling says Rahm has a double-digit lead [Slate].
Bernie Sanders endorsed Chuy Garcia [In These Times].
Garcia supporters joined protest against police brutality [Chicago Sun-Times]. Good, if tardy.
Water
Photo essay: The American west dries up [The Atlantic]. Making snow look pretty good!
The Los Angeles Metropolitan Water District, which is now, per Brown, charged with implementing "conservation pricing" because markets [New Yorker].
Corruption
New York: Last week's late night $150 billion budget contained a provision that would sweep about $41 million from a state fund dedicated the Regional Greenhouse Gas Initiative (RGGI), essentially a regional cap and trade program between nine northeastern states and some provinces in Eastern Canada and dump it into the general fund. (Maybe Cuomo, Skelos and Heastie needed a little extra cash to pay for such urgent priorities as slashing sales taxes on luxury yachts and private jets.) [The Albany Project]. Unfortunately, the RGGI was set up by executive order, but moving it into the general fund makes it a tax, and only the legislature can approve taxes. Twisty as corkscrews, they are, in Albany.
Black Injustice Tipping Point
Judge in tiny city next to Ferguson, which is facing a lawsuit over its own "illegal" bail system, is running for Ferguson City Council [HuffPo]. Chutzpah!
News of the Wired
* * *
Readers, feel free to contact me with (a) links, and even better (b) sources I should curate regularly, and (c) to find out how to send me images of plants. Vegetables are fine! Fungi are deemed to be honorary plants! See the previous Water Cooler (with plant) here. And here's today's plant, the second of "I Wish It Were Spring!" week four (Steve Smith):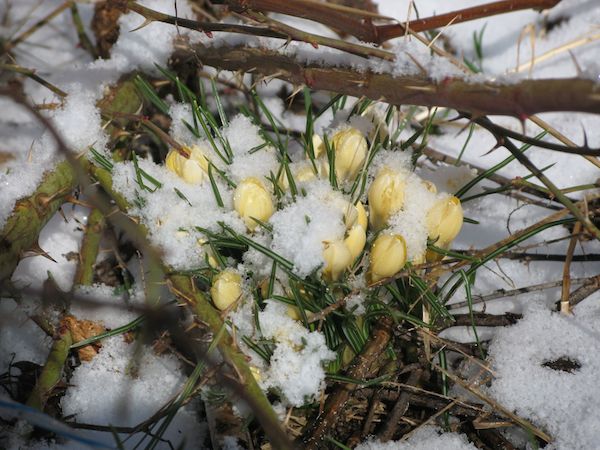 From a south wall in Center Lovell, Maine. There's hope!
Does anybody have any gardening photos yet? Too early?
NOTE To whoever filled out my contact form; please include your email (not mine, which is foolishly the default (got to fix that)) because otherwise I cannot respond to you!
If you enjoy Water Cooler, please consider tipping and click the hat. It's the heating season!
Talk amongst yourselves!