By Lambert Strether of Corrente.
TPP
Lambert here: As others have noted, headlines like "Top Republicans, Democrats agree to fast-track trade deals" are deceptive, in that they imply Fast Track is a done deal. In fact, no vote has taken place, so there's still time to call your Congress critter or write a Letter to the Editor. I just wrote one, based on the idea that TPP over-rides local zoning. That could go over big in Maine, where so many have come and still come to own land.
"Obama said in a statement he was pleased with the [Wyden-Hatch fast track] legislation" [Bloomberg]. All you need to know, right?
"Obama is willing to make concessions. For instance, he is visibly working to ensure that labor advocates receive allowances within a legislative end product" [The Hill]. Oh, please. After card check? How stupid do these people think we are?
As does Ryan, Rubio supports TPP, Brown, Warren, and Sanders are against it, but Clinton "keeps quiet" [Time]. That's not exactly a profile in courage, is it?
As few as 15 House Democrats might vote for fast-track, "according to dozens of Democratic lawmakers, business group representatives and activists on both sides of the trade fight interviewed by The Hill," far fewer than the 50 Democrats Boehner has asked the White House to deliver [The Hill]. Of course, the sausage-making has hardly begun… 
Lori Wallach: "[E]very person should find out where their member in the House of Representatives stands on fast track, and just ask them directly. Call the office over the weekend, your member of Congress's home. Look in the blue pages. Get the local address. Just stop by. A lot of them have office hours" [Democracy Now!]. Again, ISDS, because it's an outright surrender of sovereignty, works across the political spectrum, left and right.
Senator Bob Casey (D-PA) comes out against TPP: "pave the way for another NAFTA-style deal that costs jobs and hurts Pennsylvania's economy" [Robert P. Casey, Jr.].
"Japan-U.S. trade talks reach ministerial level after 'fast track' push in U.S." [Japan Times]. But it looks like the leadership's "deal" was part of the skin in the game Japan wanted.
"However, the United States did not manage to ratify NAFTA for almost a full year, delaying implementation to 1994 after passage by the thinnest of margins – three votes in the House of Representatives" [Globe and Mail]. In other words, the idea that passing Fast Track means passing TPP is untrue. And in passing NAFTA, people had not experienced the concrete effects of such deals. Now they have.
"The intellectual property provision of the TPP is essentially a global version of the Digital Millennium Copyright Act" [International Business Times].
"We expect the laws that govern our economic lives will be made in a transparent, representative, and accountable fashion. The TPP negotiation process is none of these — it's secretive, it's dominated by powerful insiders, and it provides little opportunity for public input" [Vox]. The TPP is not only undemocratic in process, it's anti-democratic in essence, as a policy goal.
"The deal appears to give high-powered corporate interests the right to edit the American social contract" [Think Progress]. Powerful words, but how much china are "progressives" prepared to break?
350.org comes out against TPP [350.org].
This bill is a climate disaster, and amounts to nothing more than a taxpayer-funded handout to corporations. We've seen leaked text showing that TPP would allow fossil fuel companies like Exxon to sue any member country that dares to act on climate, and hold up any law or regulation that hurts their bottom line. That's an irresponsible giveaway that lets Big Oil handcuff our political systems even more, and would be a giant step backwards in the fight against climate change. Throw in TPP's total disregard for workers' rights, health, and safety, and this one's a no-brainer — it's a corporate power giveaway that our movement will rise up to stop.
Well, again, how much china will 350.org break?
"The Office of the United States Trade Representative, the agency responsible for negotiating two massive upcoming trade deals, is being led by former lobbyists for corporations that stand to benefit from the deals" [The Intercept]. Shocker! 
2016
"O'Malley is treating the progressive priorities as a road map for his potential challenge to Clinton" [WaPo].
The S.S. Clinton
"Cable television has not been able to get enough of Mrs. Clinton this week, treating her pit stops and political events in the Midwest like breaking news that requires hours of after-action analysis" [New York Times]. As long as they spell the name right…
Republican Establishment
"Far from running from or playing down the views once expressed by his brother George W. Bush, Jeb Bush is embracing them — and emphasizing them" [WaPo]. Which makes sense; nobody ever said W. wasn't a fine Republican politician, and a two-term President.

Jebbie says he would have done nothing different in the Schiavo case [Politico].
Republican Principled Insurgents
Cruz raises a $1 million in his first week [HuffPo]. Yeah, but from one guy!

Rand Paul on Clinton oppo: "There's going to be stuff coming out about the Clinton Foundation and their donations from different companies that get special approval from the Secretary of State. Coming out in the next couple of weeks" [Bloomberg]. Anything that Gensler can't deal with? I guess we'll see.
"Using exit poll data, the white evangelical vote actually grew slightly as a percentage of the electorate between 2004 (the last Republican presidential win) and 2012" [Wall Street Journal]. In other words, the evangelicals didn't sit those elections out.
"[T]he voting industry, with an occasional boost from the Pentagon, is succeeding in selling state and local officials on the new technology, despite predictions of likely security breaches" [McClatchy]. Paper ballots, hand-counted in public. That's the standard.
Stats Watch
Leading indicators, March 2015: "Tepid."  "The leading strength for March, the jobless claims component, may already be evaporating" [Bloomberg]. "[D]efinitely soft and will not move expectations forward for a Federal Reserve rate hike."
Consumer sentiment, April 2015: Very strong. Current conditions and expectations both up [Bloomberg]. "Low inflation expectations pose the risk of a self-fulfilling prophecy, that consumers will refrain from spending in anticipation that prices will move lower."
Consumer price index, March 2015: "Higher energy prices coming up from low levels boosted the CPI. But the trend is still soft." Actual is consensus [Bloomberg]. "Within the core, along with the shelter index, a broad array of indexes rose in March, including medical care, used cars and trucks, apparel, new vehicles, household furnishings and operations, and recreation."
Water
"To shield tech executives, California's biggest water users are secret" [Reveal]. Thanks, Palo Alto!
Black Injustice Tipping Point
"FBI investigating death of teen shot 16 times by Chicago cop" [Chicago Sun-Times].
"Analyzing the Timeline of #Ferguson Campaign Manager & Treasurer, Patricia Bynes @Patricialicious" [@lizzzbrown]. Good intentions are not enough. Lots of lessons to learn here.
Pasadena police arrested [#BlackLivesMatter Jasmine] Richards on Monday for two outstanding warrants for terrorist threats, assault, trespassing, failure to comply with orders of peace officers, disturbing the peace, not having a permit for amplified sound and petty theft" [Pasadena Star-News]. "Terroristic threats"?
Police State
CNN: "Missouri National Guard's term for Ferguson protesters: 'Enemy forces'" [CNN].
91 per cent of volunteer or part-time deputies have the authority to be armed [Independent].
"JPay and other prison bankers collect tens of millions of dollars every year from inmates' families in fees for basic financial services" [Center for Public Integrity]. Feedom. It's the American way.
Corruption
"A Seattle grand jury issued a 10-count indictment on Thursday of Washington State Auditor Troy X. Kelley over alleged tax evasion and other crimes [WaPo]. A Democrat.
"De Blasio's Trojan Horse of Affordable Housing Imposes a Future of 'Hyper-density'" [Tribeca Trust]. Filing this one under corruption because New York real estate.
Class Warfare
Gawker writers in union drive [Capital New York].
"In summation, indigent protesters must stop dissolving this great city's ethos by putting their needs for a living wage ahead of Alec Baldwin, whose life is hard enough" [Gothamist].
Texas woman may be fined for feeding the homeless [News.Mic].
News of the Wired
* * *
Readers, feel free to contact me with (a) links, and even better (b) sources I should curate regularly, and (c) to find out how to send me images of plants. Vegetables are fine! Fungi are deemed to be honorary plants! See the previous Water Cooler (with plant) here. And here's today's plant, the fifth of "I Wish It Were Spring!" week five (Nippersdad):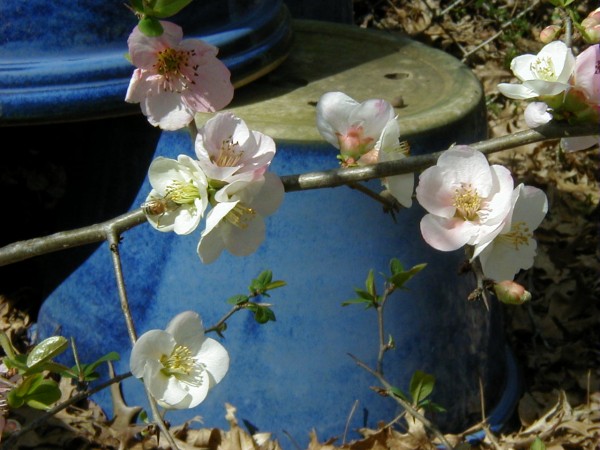 I'm so envious! Bees! We are very far from that up here in Zone 5b!
If you enjoy Water Cooler, please consider tipping and click the hat. It's the heating season!
Talk amongst yourselves!