By Lambert Strether of Corrente.
TPP
"Bilcon To Sue Canada For $300 Million After Winning NAFTA Ruling On Quarry" [HuffPo]. ISDS in action.
"[U]nder existing ISDS/corporate sovereignty provisions in NAFTA, Eli Lilly is currently suing Canada for $500 million because Canada refused to grant it some patents" [Techdirt]. ISDS in action. I wonder how long it's going to be before there's a suit under ISDS where a corporation sues a government because the government failed to regulate them and then they did something stupid.
2016
Sanders: "Yes, I do think that if I ran, I could win" [Fusion]. So what are you waiting for?
O'Malley: ""It seems like one party is entirely owned by big money, and the other party is nearly intimidated by it, and people expect better" [The Hill]. That's hardly fair. I don't think the Republicans are nearly as intimidated by big money as O'Malley seems to think.
Hillary Clinton launch will probably involve "listening tour," including early primary states [Politico].
Warren-supporting activists plan to show up at town halls and rallies to call on Clinton to adopt policies such as breaking up big banks and expanding the Social Security retirement program [Reuters].
Establishment
Jebbie "is viewed pretty heavily negatively, and yet there he is, floating on top of the field, enjoying the view from that rickety balcony" [WaPo]. Heh. Name recognition.

Jebbie's "team has been quietly taping his private appearances in hopes of pushing back on false narratives dished by donors to reporters and to have a record to disprove any misinformation wafting from closed-door events" [National Journal]. It's like pre-oppo.

"[L]egislation which Bush signed into law in 2006 shields key details of the state's pension investments from Florida's open records statutes" [David Sirota, International Business Times]. How cozy!
Bundlers lose power as fundraisers with rise of outside groups (non-profits, SuperPACs) as pioneered by Obama in 2008 [Bloomberg].
How-to use Opensecrets.org, the campaign contribution database [Another Word for It].
"The SEC also regulates pay to play in both the municipal bond and public pension fund markets. … Mary Jo White has real power to fix the dark money problem on behalf of the shareholders of publicly traded companies" [Brennan Center]. Hmm.
Freedom to Hate
"Business, civic and sports leaders who have strongly called for a fix to the divisive 'religious freedom' legislation flanked Indiana Republicans as they announced sexual orientation and gender identity will be explicitly protected in the new law" [Bloomberg]. I don't get this. The gospel promise is that you don't have to be around icky people. What's happening to this country?
Jebbie walks back his "Pence did the right thing" comments on talk radio in meeting with Silicon Valley funders [New York Times].
Michigan Republican Governor Snyder would veto legislation similar to Indiana's [Free Press]. The entire episode shows what thirty years of activism can accomplish (a lot) and also the limits of licit activism (identity).
The Hill
Minnesota Sen. Amy Klobuchar (D) will return contributions from indicted New Jersey Senator Bob Menendez [CBS]. And who else? Menendez distributed his moolah widely.
Herd on the Street
Amazon introduces Home Services, a "marketplace" that connects customers with nearby builders, plumbers, mechanics, music teachers, etc. [The Economist].
Record cold increased egg consumption and created record prices, because consumers wanted protein-heavy breakfasts [Bloomberg].
Stats Watch
Jobless claims, week of March 28, 2015: "Initial jobless claims fell very sharply in the March 28 week, down 20,000 to 268,000" [Bloomberg]. Caveat: "seasonal adjustment tied to Easter which is a difficult holiday period to adjust for given its year-to-year calendar shifts."
Gallup US Payroll to Population, March 2015: Workforce participation among US adults was statistically steady from the 67.0 percent measured in February to 66.8 percent in March [Bloomberg].
Consumer Comfort Index, week of March 29, 2015: "[R]ose for a third straight week, capping the best quarter in almost eight years" [Bloomberg].
Factory Orders, February 2015: "After 6 straight declines, factory orders finally moved to the plus column, up 0.2 percent in a February gain, however, that is tied largely to an upward price swing for petroleum and coal products," that is, the cold winter? [Bloomberg]. "Durable goods show broad weakness."
Black Injustice Tipping Point
Chris Rock keeps getting pulled over for Driving While Black, documents with selfies [HuffPo].
Emanueldämmerung
Rahm blocks release of emails to top donor, private equity weasel Michael Sacks, as well as "details about tens of millions of dollars in shadowy no-bid city payments to some of Emanuel's largest campaign contributors" [International Business Times]. Chuy?
Chicago cops whack 14-year-old Pedro Rios, providing a case study of CPD data manipulation to minimize death toll through misclassification and records destruction [Truthout]. Chuy?
Water
Egypt and Ethiopia agree on big Nile dam project [Al Jazeera].
"[Governor] Brown, in an executive order, directed the State Water Resources Control Board to impose a 25 percent reduction on the state's 400 local water supply agencies, which serve 90 percent of California residents, over the coming year" [New York Times]. Hmm. So the local agencies do the triage? Not that I'm in favor of lawns, but still…
"New peer-reviewed research published by the American Water Works Association (AWWA) shows that water scarcity linked to climate change is now a global problem playing a direct role in aggravating major conflicts in the Middle East and North Africa" [Middle East Eye].
Handy map of California water usage by water district [New York Times]. But get this: "Many parts of the Central Valley don't have meters to tell them how much water they're using, or some districts charge a flat fee for unlimited use of water" (!).
Health Care
Obama claims PPACA saved a good chunk 50,000 lives, which WaPo factchecks as more or less true. Crucially, however, the cause is not coverage, but hospital administration [WaPo]. So what's wrong with saving additional lives by covering everybody?
House "doc fix" bill is a step toward privatizing Medicare [PNHP].
Among the many structural changes in this massive bill are two that, if adopted, will seriously undermine the future integrity of Medicare: (1) its limits on first-dollar supplemental Medigap insurance coverage, and (2) introduction of means testing whereby higher-income Americans would pay more for their Medicare coverage.
But then there's this:
It is unfortunate and misguided that Democrats are taken by this SGR ruse to transform Medicare. They are seeming to cave to the Republicans without concern for the bill's long-term implications. They need to read the bill and stand up in defense of traditional Medicare. It is inappropriate for them to congratulate themselves on a "transformative" success that is such a long-term threat to the most vulnerable among us.
No. Do not accept narratives of Democratic weakness. The Democrats are trying to gut Medicare because they believe in privatization, just as much as Republicans do. They're just sneakier and more dishonest about it.
Class Warfare
Living in a community with high income inequality is bad for your health [New York Times].
Zappos and its "no bosses" approach [WaPo]. "[T]he new system replaces the conventional command-and-control workplace with a series of self-governed teams, known as 'circles.'" Sure, but isn't the next logical step collective ownership of the company? Why not?
"In America today, being poor is tantamount to a criminal offense" [WaPo].
"Brain scans of 1,099 children and teenagers in nine major cities shows the poorer kids have less surface area of the brain" [NBC]. One damned atrocity after another.
McDonalds raises pay in corporate, but not franchise, operations [New York Times]. To $10.00 an hour. Hoo-boy!
News of the Wired
* * *
Readers, feel free to contact me with (a) links, and even better (b) sources I should curate regularly, and (c) to find out how to send me images of plants. Vegetables are fine! Fungi are deemed to be honorary plants! See the previous Water Cooler (with plant) here. And here's today's plant, the third of "I Wish It Were Spring!" week three (IME):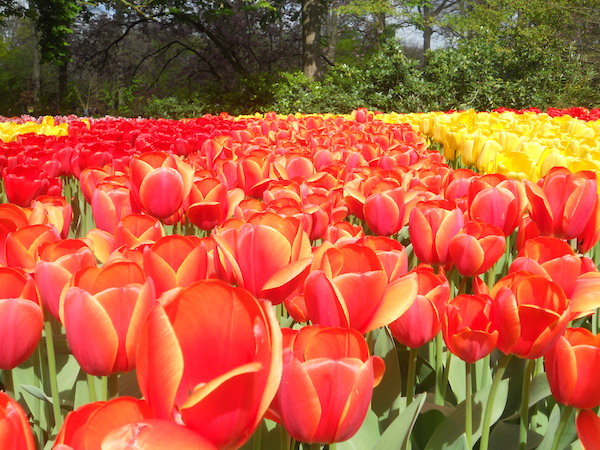 Keukenhof, the Netherlands.
If you enjoy Water Cooler, please consider tipping and click the hat. It's the heating season!
Talk amongst yourselves!