By Lambert Strether of Corrente.
TPP
"The participation of countries in the TPP has less to do with enthusiasm for importing the US economic model than a grudging acceptance that yet more tribute has to be paid in order to retain access to the US market" [Financial Times, "The flaws in the geopolitical case for the TPP "].
"The secretive TPP scam" [Jim Hightower, Stillwater News]:
The real deal is in the 24 other chapters that create a supranational scheme of secretive, private tribunals that corporations from any TPP nation can use to challenge and overturn our local, state and national laws. All a corporate power has to do to win in these closed proceedings is to show that a particular law or regulation might reduce its future profits.

This is big stuff, amounting to the enthronement of a global corporate oligarchy over us. Yet it's been negotiated among trade officials of the 12 countries in strict secrecy. Even members of Congress have been shut out – but some 500 corporate executives have been allowed inside to shape the "partnership."

Now that President Obama and his corporate team intend to spring it on us and start ramming TPP through Congress. He recently arranged a briefing of two House Democrats to support it – but he even classified the briefing as a secret session, meaning the lawmakers are not allowed to tell you, me or anyone else anything about what they were told.

A gag order on Congress? Holy Thomas Paine!
Australia: "[T]he TPP is shaping up as an unmitigated disaster, and Trade Minister, Andrew Robb, should run a mile, rather than seeking to sell Australians out" [Macrobusiness]. Abbott is, naturally, for it.
The Philip Morris suit, under ISDS, against Australian tobacco regulation "perfectly encapsulates the problem described by David Graeber in his new collection of essays, The Utopia of Rules. He argues that globalization now isn't about technology leveling distances or speeding trade, but about piling private bureaucracies on top of public ones" [The Nation].
"The best justification for investment protection and ISDS would be evidence that it helps increase investment flows. The problem is, that evidence that it helps investment is decidedly mixed" [WaPo].
2016
"How Liberals Hope to Nudge Hillary Clinton to the Left" [Time]. Reads like a PCCC press release. Which is sort of remarkable in the pages of Time.
Establishment
"The basic idea [of the data-selling plan] involves allies of the former Florida governor using an existing, for-profit entity to sell data to his eventual campaign and the political action committee and "super PAC" that will support his candidacy" [New York Times]. The plan "could increase the efficiency of the super PAC and the campaign to target voters in a parallel way, without breaking laws about coordination between campaigns and outside groups."

"Can [Bush's] quiet faith, and quiet support from some religious leaders, carry the day against a field full of outspoken Christian warriors?" [Politico]. Faith so quiet it merits an article in National Journal about Bush's "spiritual journey" [cough. spew]. Thou shalt not steal doesn't apply to elections, then?
Principled Insurgents
Walker's position on immigration is evolving [Wall Street Journal, "Scott Walker Adjusts Stance on Immigration at Private Dinner"]. Doens't matter. He stomps Democrats.
Clown Car
Santorum: "We will never have the elite, smart people on our side" [Buzzfeed]. Plays right into the Democrats "party of stupid" riff. Which has been working so well, right?

Trump outdraws Cruz and Christie in New Hampshire [Philadelphia Inquirer]. Bush, Walker, and Paul top the field.
"This election season, nearly every word uttered by presidential candidates during stump speeches will be piped directly into the offices of their opponents in real time" via live-streaming [CNN].
The Hill
"The House on Thursday overwhelmingly passed a measure to reformulate how Medicare reimburses physicians and other providers" [Wall Street Journal, "House Passes Medicare 'Doc Fix' Bill"]. (Pause here for bipartisangasm.)
"[L]abor costs make up 56 percent of the $2.6 trillion we spend on health care annually — so it's at least worth examining how much we pay those who deliver our health care" [Sarah Kliff, Vox].
"Under the bipartisan plan, Medigap plans would no longer cover the annual Part B deductible for new enrollees.… The goal would be to make seniors put more 'skin in the game'" [CNN]. Ever notice how people who use the phrase "skin in the game" never have their skins in the game?
Harry Reid will not seek re-election, due in part to an eye injury [Politico].
Will Chuck Schumer succeed Reid? [Business Insider].
"[T]he left will use this occasion to try to pull the debate at the center of the battle to succeed Reid to the left on a range of issues" [Greg Sargent, WaPo].
Administration uses "state secrets" privilege to protect shadowy neocon front group [The Intercept].
Herd on the Street
Personalization replacing logos in luxury branding? [The Fashion Law].
Stats Watch
GDP, fourth quarter 2014: The economy grew 2.2 percent in the fourth quarter, below expecations [Bloomberg]. " Growth, however, is still soft."
Corporate Profits, fourth quarter 2014: Profits in the fourth quarter fell an annualized 11.5 percent after an 11.9 percent gain in the third quarter [Bloomberg].
Consumer Sentiment, March 2015: "[R]ebounding back up in late March" [Bloomberg]. Current conditions and expectations both gained.
Emanueldämmerung
Rahm's not the only one who drops the F-bomb; his troops do, too [Chicago Reader]. "Watching the whole thing was my neighbor and her ten-year-old son."
Mayor 37-cents: Rahm once tipped 37 cents on a seven dollar shake. And that's not all [In These Times]. Read the whole thing, it's a gold mine.
Big Brother Is Watching You Watch
"EXCLUSIVE: StingRay Maker Asked FCC to Block Release of Spy Gear Manual" [The Blot].
Black Injustice Tipping Point
White dude sucker punches Curt Flood Ford in a gas station, tells him to "get back to Ferguson" [St Louis Post Dispatch]. Classy.
According to a new report published on Monday by the US Department of Justice, Philadelphia cops shoot and kill people at 6 times the rate of the NYPD, and the violence disproportionately affects Philadelphia's blacks [Mother Jones].
"The numbers show that the Chicago Police are making huge numbers of stops — at a far greater rate than the police in New York — with African-Americans being stopped much more often than whites or Latinos" [Editorial, Chicago Sun-Times]. Chuy?
"[T]axation by citation" [HuffPo]. Excellent long-form piece. What a horror show.
Police State
"Help! My boys were stopped three times by police for being outside unsupervised" [Salon]. Interesting interchange between "free range" advocate and parent. " My concern is that I don't want to irrevocably create an adversarial relationship with our town's leaders."
"Jobs where Americans get killed at a much higher rate than police officers include loggers, fishermen, aircraft pilots, roofers, steel workers, refuse collectors, power-line workers, truck drivers, agricultural workers, and construction laborers" [The Atlantic].
Water
Dramatic ice shelf loss in West Antarctica [New Scientist].
As the ice sheets melt, the earth rises [Bloomberg].
Class Warfare
Charles Munger: "We should all be prepared for adjusting to a world that is harder" [Bloomberg]. Whaddya mean, "we"?
Amazon demanding its warehouse workers sign non-compete clauses [Pando]. For warehouse work? These people are nuts.
Collective houses in Philly [Talking Points Memo].
Occupying the Maagdenhuis at the University of Amsterdam [N+1]. Seems like Dutch university administrations are undergoing a neoliberal infestation as well.
Marriage across class boundaries [WaPo]. But "today, the opportunity to marry — or even meet — someone of a different class is disappearing."
News of the Wired
* * *
Readers, feel free to contact me with (a) links, and even better (b) sources I should curate regularly, and (c) to find out how to send me images of plants. Vegetables are fine! Fungi are deemed to be honorary plants! See the previous Water Cooler (with plant) here. And here's today's plant, the fifth of "I Wish It Were Spring!" week two (KS):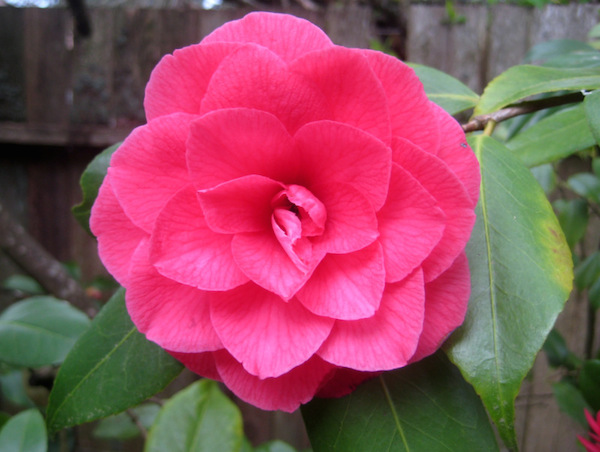 A camellia, WA state. Of course, I forget that there are some places where it is already spring. Anybody out there been doing any planting?
If you enjoy Water Cooler, please consider tipping and click the hat. It's the heating season!
Talk amongst yourselves!