2:00PM Water Cooler 4/22/15
By Lambert Strether of Corrente.
TPP
Hatch-Wyden Fast Track bill, "The Bipartisan Congressional Trade Priorities and Accountability Act of 2015 (TPA-2015), S.995." Summary; section-by-section summary; full text [Senate Finance Committee].
Obama: "I love Elizabeth. We're allies on a whole host of issues. But she's wrong on this" [MSNBC].
Elizabeth Warren: "If the American people would be opposed to a trade agreement if they saw it, then that agreement should not become the law of the United States" [Elizabeth Warren].
Clinton: "Any trade deal has to produce jobs and raise wages and increase prosperity and protect our security" [WaPo]. So let's see the bill!
Paul Ryan and Ted Cruz: "Fast track authority will give lawmakers more say over agreements that are vital for economic growth" [Wall Street Journal, "Putting Congress in Charge on Trade"]. So, Democrats, are you with the Republicans on this, or not? Oh, wait….
Reid: "The answer is not only no but hell no" [WaPo]. But no filibuster?! Oh, OK.
OFA (now Organizing For America, once Obama For America) sends deceptive email blast on Fast Track to its (by defintion) gullible membership [The Intercept].
2016
Transcript of Martin O'Malley interview: "What ails our economy right now is 12 years of stagnant or declining wages, and we need to fix this" [NPR]. Oh?
O'Malley a newcomer to TPP opposition [The Intercept].
The S.S. Clinton
Clinton campaign memo leaked with talking points on Schweizer oppo [Politico]. There's plenty that's odiferous about the Clinton Foundation. The problem is that the (highly profitable) Clinton oppo industry has, and deservedly so, no credibility outside the editorial pages of the Wall Street Journal and the winger fever swamp. Who wrote this one? Those guys from the Arkansas bait shop? So brace yourself for an avalanche of "I don't know if it's true or not, but it's out there" stories from our famously free press, for all of which the opportunity cost is discussion of policy.

Meet the members of Hillary Clinton's squad [Elle]. The story here is the source.

"How New Hampshire's Women Paved the Way for Hillary Clinton" [Time].

Hillary, populist or nah? [WaPo; New York Times].
Kochs dangle $300 million in front of Walker, Bush, Cruz, Pau, and Rubio [USA Today]. Refreshingly direct. Why don't they just set up an auction block?
Republican Establishment
Brotherly love [@davidsirota].

If you look at only one image about politics & the 2016 election today, make it this one http://t.co/dTNzli73As pic.twitter.com/0xZjGnGRXe

— David Sirota (@davidsirota) April 14, 2015
Republican Principled Insurgents
Paul: Republican hawks "lap dogs" [The Hill].
Clown Car
More brotherly love: Chris Christie steered Atlantic City contract to Todd, his brother [David Sirota, International Business Times].

Christie: "It's been 20 years now since NAFTA was put into effect and what's the next chapter going to look like?" [Wall Street Journal, "Chris Christie Says NAFTA Needs a Fresh Look"].

Huckabee could claim the Christianist base [New York Times]. And lose big time in the general. What's a Republican strategist to do?

Trump (of all people): "They're attacking Social Security — the Republicans — they're attacking Medicare and Medicaid, but they're not saying how to make the country rich again" [Talking Points Memo].
Why SuperPAC names are impossible to remember [Political Wire].
If the Democrats match their 2008 performance, they will regain the Senate [Politico].
The Hill
"Suddenly, Congress is actually doing things. Making compromises. Passing legislation. Confirming people" [WaPo]. Deadlock is a lot better than TPP. Or a Grand Bargain. Or more surveillance. Or… name it.
McConnell introduces bill to extend surveillance authority under the Patriot Act [WaPo].
"8 million phone calls to IRS went unanswered as agency diverted money from taxpayer services" [Star-Tribune]. I know! Let's privatize the IRS because markets! After all, the fermiers généraux worked great for the ancien regime, until they didn't.
Stats Watch
Existing Home Sales, March 2015: "This winter's heavy weather may very well have held down the housing market which appears to be heading into the spring with new momentum. Existing home sales surged 6.1 percent in March to a 5.190 million annual rate. This is near high-end expectations and the best rate since September 2013" [Bloomberg]. "Again, I'd like to see what this looks like excluding distressed sales" [Mosler Economics].
MBA Mortgage Applications, week of April 17, 2015: "[D]efinitely been showing life this spring, up 5.0 percent in the April 17 week" [Bloomberg].
FHFA Housing Price Index, February 2015: "Home prices have rebounded but it 'may' be weather related. It will take one or two months to determine the normal trend" [Bloomberg].
"March 2015 Sea Container Counts Are Not Strong Even Though the Labor Troubles Are Over" [EconIntersect].
Health Care
"FORUM: Only legislation can restore the NHS" [Camden New Journal]. Thanks, neoliberals, for making the UK health care system just like the US's: Expensive, profit-driven, and completely dysfunctional because markets.
"This $1.5B Startup Is Making Health Insurance Suck Less" [Wired] (CL). Business sabotaging industry (hat tip, Thorstein Veblen), then fixing it for a fee because markets. Straight out of the neo-liberal playbook.
"Poll: Just as Many Americans Like Obamacare as Dislike It" [National Journal]. Greeting another crapified system with resignation….
Corruption
Chamber of Commerce lobbying against transparency [HuffPo]. Film at 11.
New York Mayor De Blasio and teachers union leaderships, with New York Comptroller Stringer, seek to move pensions to high fee/underperforming hedge funds and private equity firms [David Sirota, International Business Times]. Even Cuomo couldn't stomach this.
Water
"Beginning in the late 1970s, Saudi landowners were given free rein to pump the aquifers so that they could transform the desert into irrigated fields. Saudi Arabia soon became one of the world's premier wheat exporters" [Reveal]. Well, that was insane. Maybe there's a lesson here for California?
Things you can do to save water this Earth Day [USA Today]. To which I would add, sheet mulch (or xeriscape) your lawn. I sheet mulch and water my garden for maybe two weeks while the seedlings are coming up. Then I don't need to water for the rest of the summer.
California court setback for market-based, price solution to water usage in California [Sacramento Bee].
Water managers in 40 our of 50 states expect shortages in some part of their state within the next 10 years [Business Insider].
Tech Watch
"Sleeping Through a Revolution" [Medium]. Good long read from Jonathon Taplin. Technologist asks: "Perhaps it is time to ask the question of who benefits from this technological revolution?"
The next tech bubble is about to burst [The Kernel]. Not until J-Yel's lift-off.
"Y Combinator's Sam Altman Thinks Startup Burn Rates Are Getting 'Frightening'" [Inc]. But no bubble.
Class Warfare
"Big Mac Test Shows Job Market Is Not Working to Distribute Wealth" [New York Times]. That's not a bug…
"£400 million refit of Boeing 747 for mystery billionaire took three years and includes luxury bedrooms, a restaurant and even a VIP 'chill-out' zone" [Daily Mail]. Did they armor it?
10-ton "fatberg" removed from sewer in posh Chelsea neighborhood after causing £400,000 worth of damage [Independent]. Load it into that 747 and kill two birds with one stone?
In Asia, "family companies occupy the commanding heights of capitalism" [The Economist, "Asian Values"].
News of the Wired
* * *
Readers, feel free to contact me with (a) links, and even better (b) sources I should curate regularly, and (c) to find out how to send me images of plants. Vegetables are fine! Fungi are deemed to be honorary plants! See the previous Water Cooler (with plant) here. And here's today's plant, the third of "I Wish It Were Spring!" week six (Chris):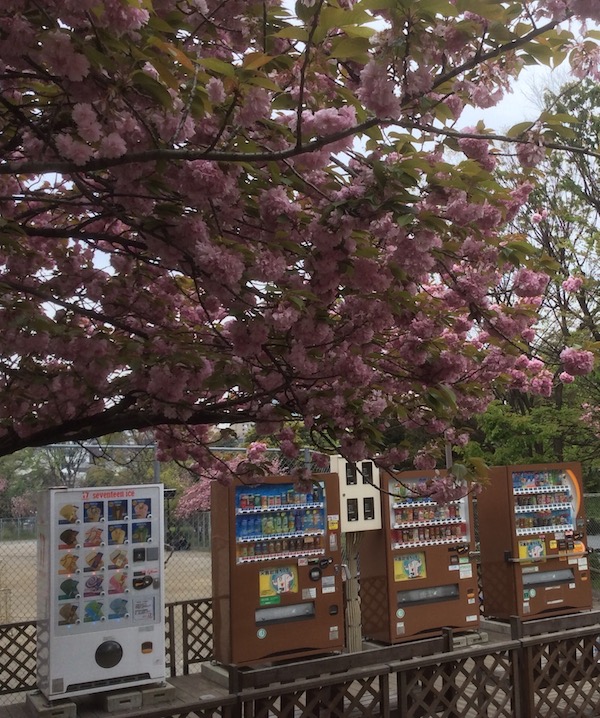 Those are cherry blossoms in Japan. The vending machines in D.C. are up on The Hill.
It's almost time for me — up here in Zone 5b — to think about planting, so show me your plantings and garden projects!
If you enjoy Water Cooler, please consider tipping and click the hat. It's the heating season!
Talk amongst yourselves!