By Richard Smith
You take the blue pill—the story ends, you wake up in your bed and believe whatever you want to believe. You take the red pill—you stay in Wonderland, and I show you how deep the rabbit hole goes.
– The Matrix
If you are the blue pill type, you've come to the wrong place. Let's swallow the red pill, and explore Krystal Ball's own special Wonderland.
We can make a start back in 2010, with the help of some GOP types blogging at the Washington Post:
Not only did Krystal Ball win the Democratic nomination for Congress in the 1st District in 2010, it also appears that from September 2009 to now she's become a millionaire!

Ball, who owned stock in K-12 Inc. – a company she worked for, exercised her stock options.

Jim Riley of Virginia Virtucon looked into Ball's finances when he noticed the self-described "27-year-old woman from a family with a sub-$100,000 net worth" loaned her campaign $150K. He asked a series of questions surrounding Ball's new-found wealth:

What is the true value of Krystal Ball's penny stock portfolio and did she accurately report it to the Clerk of the House on her financial disclosure form?

Are Firefish, Papa Bello and/or Crowdgather involved in any "pump and dump" activity or are they legitimate small start-up companies who only unfortunately resemble Greenstone?

If the former, to what extent, if any, is Ball involved in such possible activity (she is the CFO of the second largest investor in Firefish) or is she the victim of a possible stock scam?

…

Of course, the campaign denies that it's the start-ups making her money – just the options she exercised with K-12 Inc.

Ball's most recent financial disclosure, which the campaign provided to the Gazette although it will not be made public for another 30 days, shows those options as currently worth between $1 million and $5 million.

That's quite a change in circumstance for the "young wife and mother" who began running for Congress a year ago.
Krystal didn't win, though whether the defeat is attributable to this pump and dump smear is an open question.
Let's first revisit the constellation of stocks and connections identified in Jim Riley's excellent 2010 hatchet job,  and see how those are shaping up four years later. Here it is, crunched up into a single table:
| | | | |
| --- | --- | --- | --- |
| | Krystal Ball | Jonathan Dariyanani (Krystal Ball's husband) | James Price (Jonathan Dariyanani's business associate) |
| Zoma Law Group, LLC | | Managing Member / President | |
| Zoma Ventures, LLC | CFO | Managing Member / President | |
| EdIndia Solutions | CFO | Founder / CEO | |
| Genesis Venture Fund India I, LP | CFO | Corporate Counsel / Co-Manager | Founder / CEO / President / Principal Financial Officer / Principal Accounting Officer / Fund manager |
| Firefish, Inc. | Shareholder | Secretary / Director | Director / Shareholder |
| Papa Bello Pizza | Shareholder | Corporate Director | President / CEO / Chairman of the Board |
| Crowdgather, Inc. | Shareholder | Corporate Director | |
| Vanguard Management Corp. | | Legal Counsel | Chairman and CEO |
| Aero Financial | | Corporate Counsel | Chairman of the Board / CEO / President |
| Instant Wirefree, Inc. | | Secretary / Shareholder | Shareholder |
| RRI India, Inc. | | Secretary | |
| Promed Education, Inc. | | Secretary | |
| Bancroft Uranium, Inc. | | Secretary | |
| Wine Purveyors International, Inc. | | Registrant | CEO / CFO / Principal Accounting Officer / Director |
Firefish Inc hasn't done at all well by people who bought in when it finally got its OTC listing.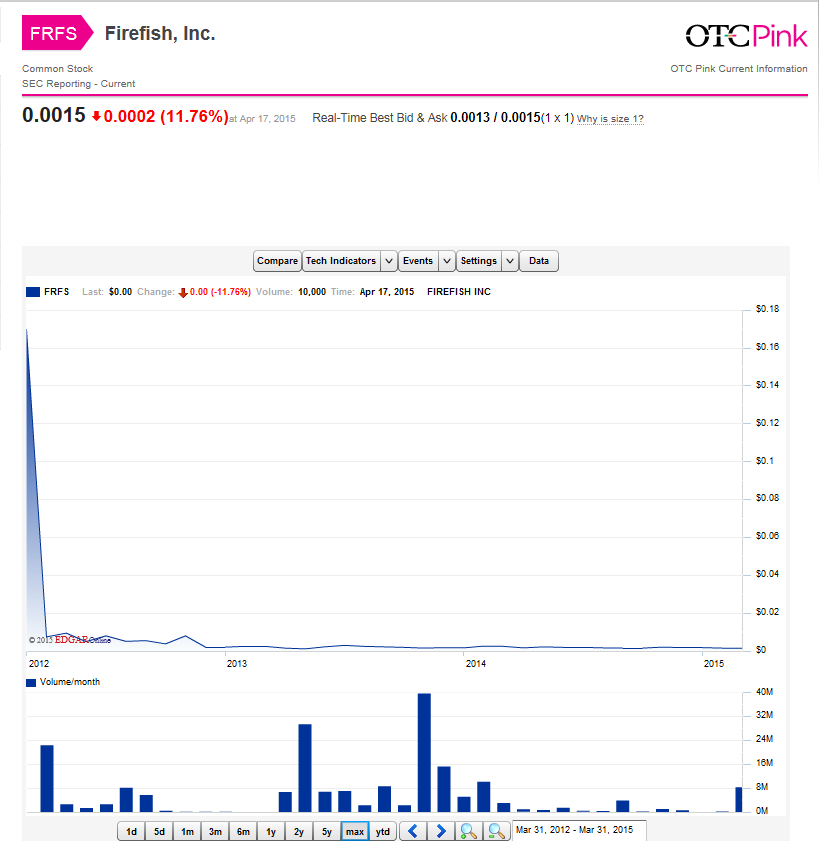 Crowdgather's been a disaster too.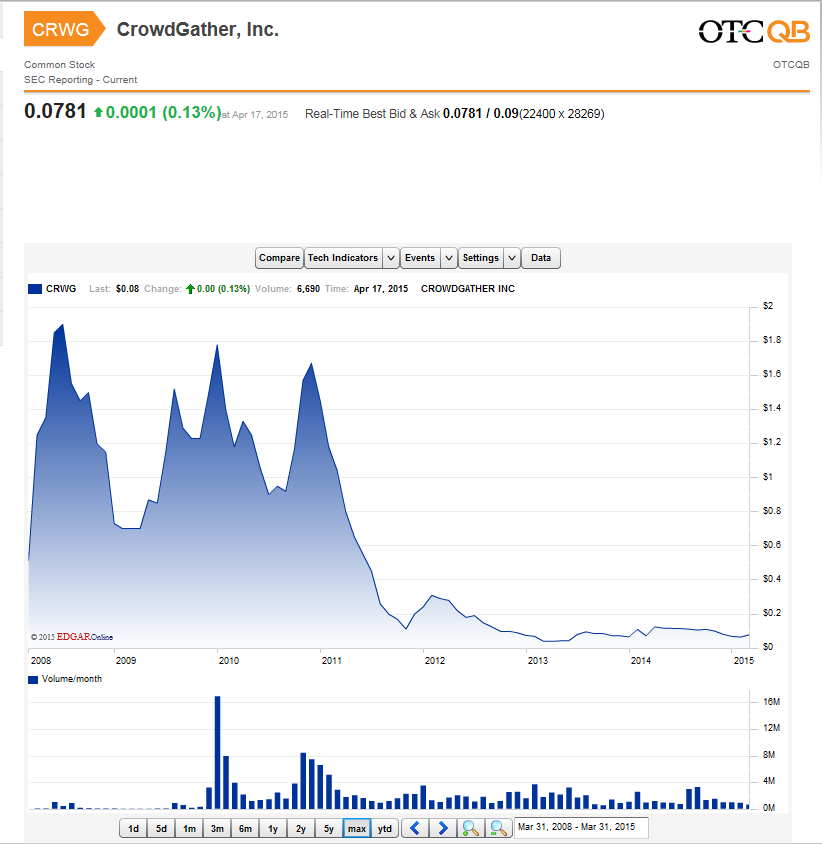 As for Papa Bello Pizza, James M. Price was briefly in hot water over that one. There were fraud allegations when  investor money was taken but no share certificates were delivered. The case was dismissed, perhaps when the investor got their worthless bits of paper after all. Here's the price history of Papa Bello Enterprises, Papa Bello Pizza's proper name, since the November 27 2009 deal described in the Illinois Notice of Hearing.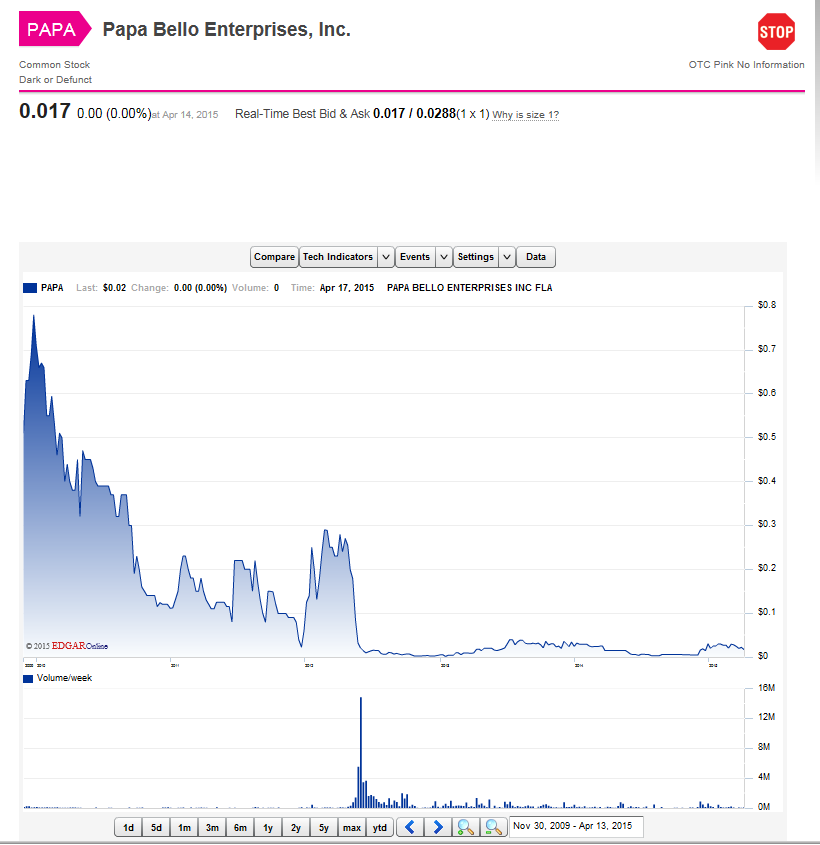 If Krystal managed to sell early enough, she made out like a bandit from all three of these dogs. But, since MSNBC presenters, unlike Democratic Party candidates, don't have to disclose their dealings, we don't know if she did profit or not. For my own purely egalitarian reasons, I rather hope she didn't.
So much for Krystal Ball and James Price.
There are still just a few loose ends with Ball's hubby, Jonathan Dariyanani. In 2011, the SEC suspended Bancroft Uranium, Inc, for delinquency in its SEC filings , so it didn't last long after Riley's exposé. As far as I can see, the other US stocks, where Dariyanani was an officer, that might have got listings, didn't. Perhaps Jim Riley's campaign saved US investors a few bucks.
Unfortunately, no-one in Germany got to hear about it. And so, by April 2012, we can read (my translation):
Scam wave, made in Canada

Share price manipulation

German private investors have to contend with another wave of scams connected to shares traded on the First Quotation Board in Frankfurt. This time, obscure Canadian businesses are involved.

The business newspaper Euro am Sonntag has seen examples of spam emails in which the senders promote the previously barely known Canadian firms Sargas Capital and Texcan­Capital. Bafin has already initiated an investigation of Sargas. Responding to enquiries, a Bafin spokeswoman said "We are looking at the trades"; insider trading and market manipulation are suspected. Additionally, price quotations in the firm's shares, which are listed on the First Quotation Board, were suspended at midday on Tuesday. Orderly trading could not be assured, said a Deutsche Börse spokesman in Frankfurt. According to Sargas Capital's own publicity, it is a supplier of analysis tools for the Web.

Meanwhile the next spam attack is already underway, on behalf of oil firm Texcan. These new emails again try to suggest that the recipient of the email has received them in error. Many passages of these emails coincide word-for-word with the text of the Sargas spam.

Sargas was listed on the First Quotation Board at the beginning of March, at a price of EUR 0.35. By the time of the suspension, the shares already traded for EUR2.47. Shortly before then, a hitherto unknown Berlin research house had published a price target of EUR6.65. There has been a flurry of attempted rip-offs on the First Quotation Board in recent months. In the mean time, the Deutsche Börse has reacted. The First Quotation Board is to be closed in mid-December.
It must be some kind of record: just four weeks from listing to suspension and regulatory investigation. What has any of this to do with Jonathan Dariyanani? Well, quite a bit. Business Wire has the dope, a press release issued in the run up to the first day of dealings in Sargas:
TORONTO–(BUSINESS WIRE)–Sargas Capital (2FG:F), specialists in the acquisition, development and commercialization of technologies that have the potential to secure dominant market position in high growth industries, announced today that through its Switzerland-based affiliate has agreed to acquire majority control of Kontexto, a private company incorporated in Canada. The agreement consists of cash payments over time totaling $10,400,000 in exchange for 51% of the issued and outstanding shares of Kontexto. In addition to the agreement, Sargas has received a seat on the company's Board of Directors.

'Kontexto is an excellent match for our investment strategy. The team is extremely talented and has shown its ability to make innovative, original, proprietary, and scalable products from their technology platform. Kontexto has also received substantial industry attention from top-tier organizations, such as UK Trade and Investment. Kontexto has also proven the appeal of its robust technology solutions, which have been purchased by some of the world's leading media organizations. Our investment will provide additional resources for Kontexto to continue to grow market share through sales to media companies of its existing product suite and to expand to other vertical markets as well as new product lines.' stated Jonathan Dariyanani, President and CEO of Sargas.
Who is the Switzerland-based affiliate? We have no idea. Who are the shareholders of Canadian company Kontexto? We have no idea. Did the $10Mn ever show up? One might suspect, not.  Kontexto didn't stay with Sargas for long, partly, no doubt, because Sargas was kicked off the German exchanges at the end of 2012. But that wasn't the end for Kontexto. On 14th March 2013, 8% of it was sold on to Spectral Capital Corporation:
Spectral purchased 8% of the issued and outstanding shares of kontexto in a transaction with Canadian company, Sargas Capital Ltd. through a share and warrant exchange. There are no registration rights granted in the transaction and no commissions were paid.
It just so happens that Jonathan Dariyanani, President and CEO of vendor Sargas, is also Legal Counsel for purchaser Spectral Capital Corp.  Let's see if we can guess what Spectral's share price graph looks like.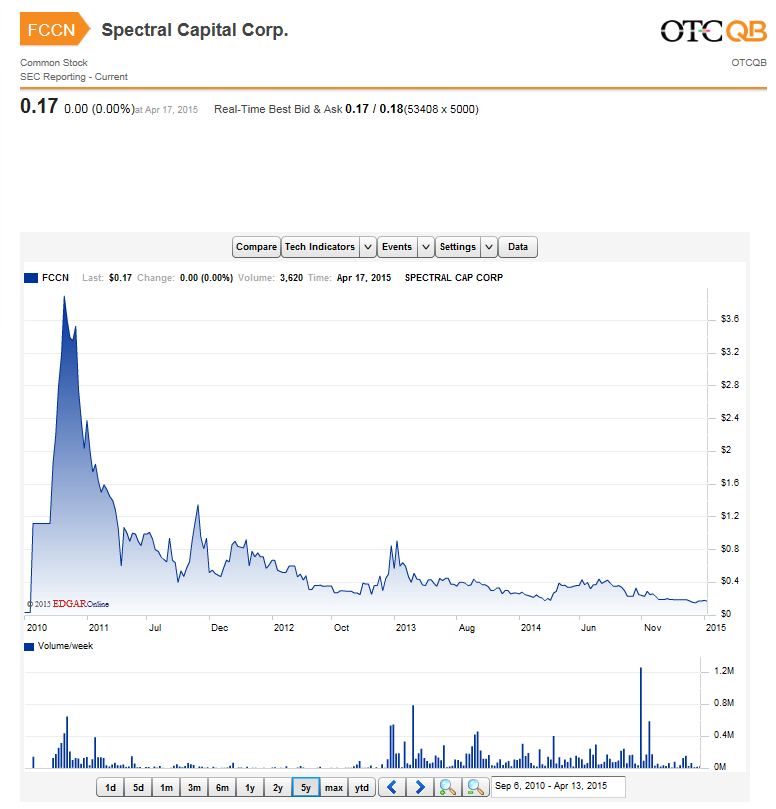 Yes, we can.
Supposedly, Bafin started an investigation into trading in Spectral Capital Corp in March 2013. I wonder how far they got.
On we go to Frankfurt-listed Cassona SE, where Dariyanani is a non-executive director. One recent sceptical German verdict on this share: "Grotesquely overvalued".
Back in December, Cassona was suspended, but its spokesman was certainly making the best of it:
Trading in the shares of CASSONA are temporarily suspended.  CASSONA is commencing horizontal drilling on its Alberta oilfield and expects excellent drilling successes to lead to great speculation in its shares.
That's awesomely cheeky. Further down its press release, the actual explanation for its suspension is given:
CASSONA's shares are suspended until the accounts have been audited and all other exchange requirements have been satisfied.
Well, we're still waiting for trading to resume, four months later. So maybe there's a little problem with the accounts. GXG Markets, where CASSONA SE also had a listing, is less patient than the Frankfurt exchange: by January 2015 we can read:
Cassona SE (COE) – Termination of trading

Further to a case brought by the Regulatory Team at GXG Markets, the Disciplinary Committee of GXG Markets finds that Cassona SE (COE) has breached the following market rules for the GXG Official List:

Rule 10.1: trading requirements for the regulated market

Rule 16.1: non-production of annual accounts

Rule 19.2.: non-sufficient communication with the market in relation to regulatory issues

In addition to the non-compliance and rule breaches highlighted above, the GXG Disciplinary Committee has addressed the general suitability of Cassona SE (COE) for a listing at GXG Markets. Pursuant to Rule 27.1 the GXG Disciplinary Committee has decided that Cassona SE (COE) should be delisted for the aforesaid breaches. Cassona SE (COE) will be delisted on January 14th 2015.

GXG Disciplinary Committee.
Needless to say, Cassona SE's GXG broker was London Capital NZ (also thrown out of GXG, in February 2015), lead player in the Virgin Gold pyramid scheme, subject of many posts here at Naked Capitalism, in particular, this one, where I quote from The Australian:
A spokeswoman for German financial regulator BaFin, Dominika Kula, confirmed investigations into market manipulation claims against 14 companies associated with London Capital.

…investigations into Cassona (listed on GXG), Waste4Power (listed on the Frankfurt exchange) and Rainpure Water (Frankfurt) were under way, she said.

And "tips on potential offences" involving four other German-listed companies — Gulf Projects, Sejong Investments, Alta Aerial, True Green LED and Klares Wasser (also known as GlobalM-Group) — have been forwarded to the prosecutor.
It looks as if the Germans haven't quite finished with Bryan Cook's pump and dumps just yet, nor with Dariyanani's Cassona. They might be about to have a field day, in fact. According to a press release from the Stuttgart Prosecutor's office, Cook has now been charged with 33 frauds and 58 attempted frauds connected with just one of these stocks.
Lastly, and purely for blue pill addicts, here's a way to dispose of 3 minutes 21 seconds of your life that you'll never get back: Krystal Ball autocuing her way gamely through some pro-Piketty, anti-inequality schtick.

Given her disclosed 2010 positions in penny stock pump and dumps, and her husband's business activities since then, I have to admit I'm not terribly convinced that Krystal believes a word of this. As for you, dear reader, believe what you want to believe.