Well, well, look at this, which emerged from behind an erratic paywall just long enough for me to take a screen dump and capture the text: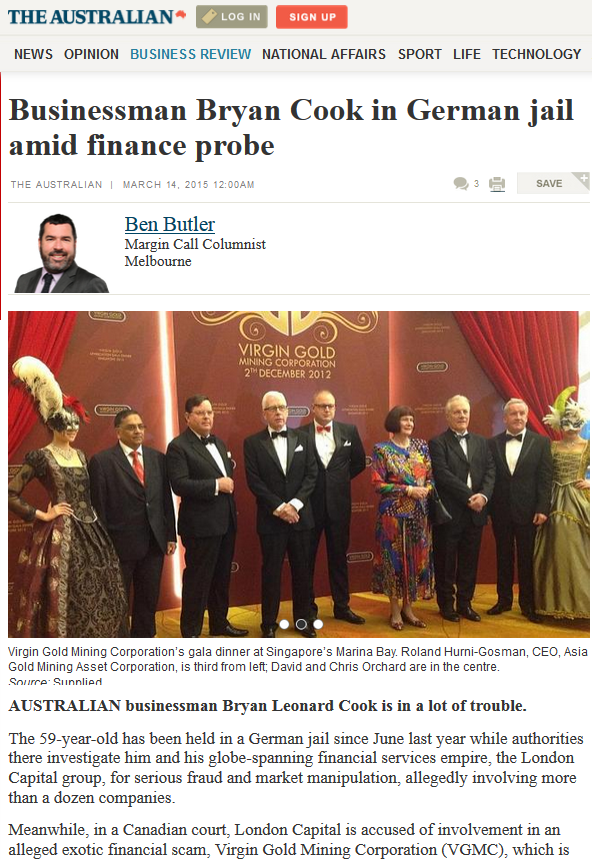 If you need to catch up on the saga of Virgin Gold Mining Corporation, there's a summary of NC's stories here, and an early sighting of Bryan Cook at NC, in November 2013, here.
When it comes to the proper press, the New Zealand Herald was first out of the gate early this month, here, focussing on the APGMI leg of the story, which we covered at length in this post. From the NZ Herald:
Steering a nine-figure company came as a shock to APGMI director David Mapley, who joined the board only in May to find the eye-popping valuation was established by the July 2013 sale of only 100 shares in an apparent related-party deal involving Cook's UK-based sister.

Mapley said he believed the book value of the company was only $1 million…

He said an inspection of the share register had shown nearly 18 million shares in the company had been sold by LCA last year – mostly to investors in Asia – with proceeds paid to the Polish bank account of London Capital NZ.
Those Asian investors were already victims of the Virgin Gold pyramid scheme, put into the overpriced shares of APGMI in a follow-up scam. "LCA" is London Capital Associates, whose CEO is Thomas Yi. London Capital NZ is the trading name of Asia Finance Corporation, a New Zealand Financial Services provider owned by Bryan Cook, the guy who's been detained in Germany for the last 9 months in connection with investigations into fraud and stock price manipulation. Cook and Yi work together at LCA, as set out at LCA's web site: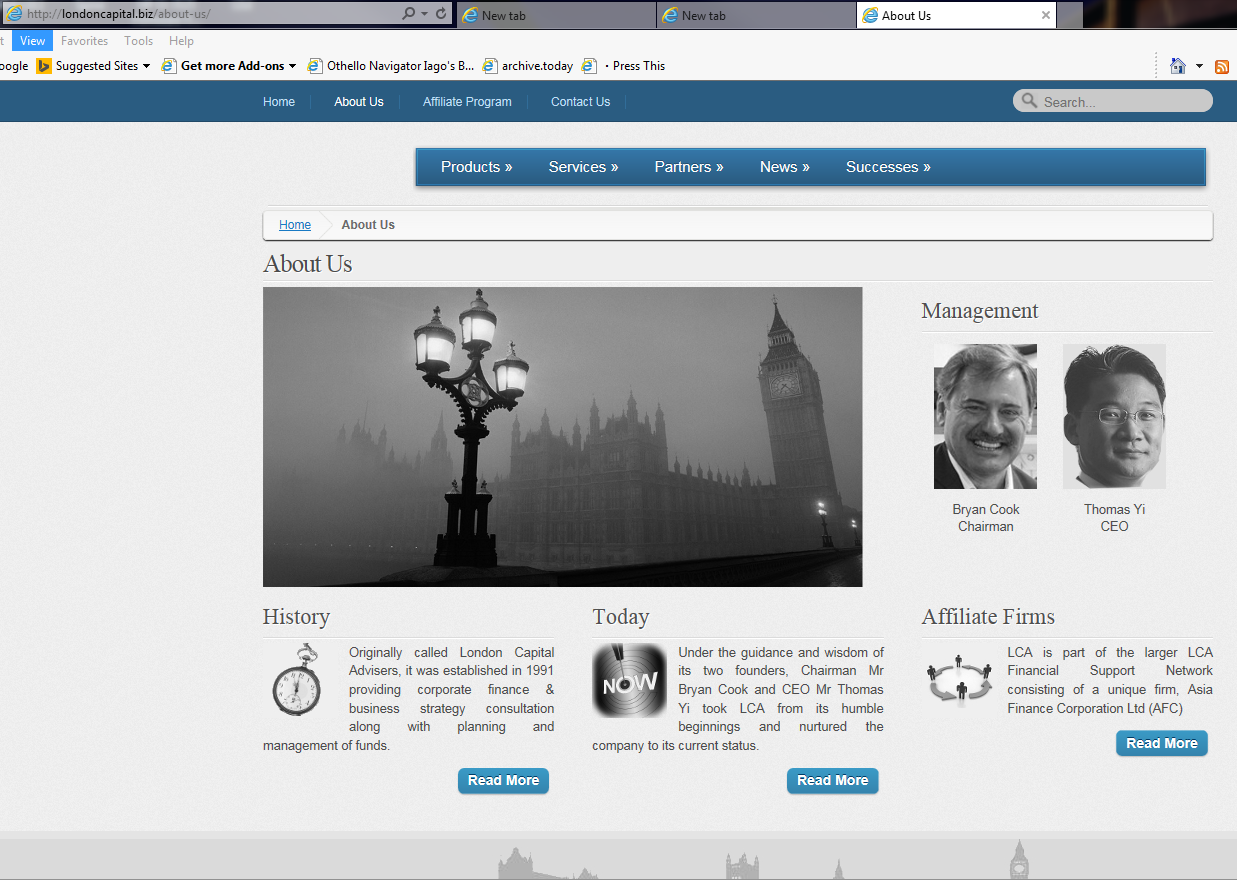 So: according to Mapley, a tiny trade by Bryan Cook's sister Julie set an improbably high value for APGMI, a company owned by long term Bryan Cook business partner Thomas Yi. The proceeds of any subsequent stock sales, by Yi to third parties, flowed to an account controlled APGMI's broker, Asia Finance Corporation, a New Zealand company owned by Bryan Cook.
Mapley smelt a bloody enormous obvious rat, started to blow the whistle, and was promptly thrown off the board of APGMI, along with its other legit directors, after a court case in New Brunswick. The unsurprising winner in that case was none other than 80% APGMI shareholder Thomas Yi of London Capital Associates. Yi was represented by leading New Brunswick securities lawyers Stewart McKelvey, who evidently can't smell rats: at least, not when there's an easy case to win.
Next to self-identify as possibly deficient in olfactory sensitivity, we have New Zealand's FMA, who were evidently unconvinced by Mapley's indignant portrayal of Asia Finance Corporation: it is still registered as a New Zealand Financial Services Provider. The NZ Herald coverage includes some colourful exchanges between APGMI director David Mapley, who wants to bust the scam, and the New Zealand FMA, who don't want to be hectored by Mapley just for taking their time over any action they might or might not be considering. I suppose that's yet another case study in how interactions between concerned members of the general public and modern regulatory bureaucracies go haywire. Clearly regulators such as FMA still have a wee bit to learn from the Madoff/Markopolos saga, in which, famously, No One Would Listen.
Back now to The Australian, where Ben Butler manages to crowbar the essentials of the whole sprawling story, and loads of new colour and new facts, into a fair sized spread: 3,000 words. Butler annotates the picture under the headline thus:
Video uploaded to YouTube to spruik VGMC shows performers in Venetian masks, hundreds of attendees and an address by the evening wear-clad chief executive and chairman of one of its spin-offs, Roland Hurni-Gosman, who assured shareholders "strict discipline" would be applied to the management of their money in the proposed venture.

Also present, photographed standing alongside Hurni-Gosman beneath a VGMC banner, were English solicitor David Orchard and his son Chris Orchard, who are the president and chief executive of corporate consultancy William Grosvenor & Partners, based in central London's ritzy Mayfair area.
Roland Hurni-Gosman shows up in the first NC post in what turned out to be rather a long series.  Chris Orchard appears in a post covering events in London six months after the pictured Virgin Gold shindig in Singapore. It's most interesting to discover, via The Australian's video capture, that his father's involved too, and that their connection to the story goes back quite a bit further, and spans the globe.
Ben Butler picks out the key problem with the Virgin Gold scam: given all the hype, it's hard to be sure quite how big it is :
…investors were also told VGMC would eventually unlock their investment by listing on a stock exchange somewhere in the world. It's not clear how many investors piled into VGMC, but by the end of 2012 it boasted that "the global shareholder base now exceeds 150,000 in over one hundred countries".
The emphasis in that sentence definitely falls on "not clear how many": VGMC reps in Dubai were already claiming a shareholder base of 200,000, six months before that lesser boast. As for the likely losses:
…Mapley said investors he had spoken to estimate about $US2bn was pumped into VGMC.
Well, that is indeed the whisper number that I've heard, too. I'm slightly uneasy about it, especially after a recent robust offline challenge from a hard-bitten scam expert. All the same, courtesy of The Australian and the New Zealand Herald, there are now a few hardish claims that at least give us some idea of the number of investors we are looking for in order to make that $2Bn total.
We now know that a subset of the VGMC investors, 860 or so, were steered into an 18% shareholding of APGMI worth a (wildly inflated) $60Mn-odd. That equates to average investor losses around $70,000.  Meanwhile there's another apparently independent but smaller sample online, at Scambook: 175 investors reporting losses of $15Mn+, an average of around $90,000. That's not the same as the APGMI figure, but nevertheless, it's the same ballpark, from a smaller sample; semi-consistent.
Anyway, if our 860 APGMI folk are a good sample, we need around 28,000 investors to get to $2Bn.
If Mapley's other reported claim stands up, to the effect that there are 14,000 bilked VGMC investors in Singapore alone, then, given VGMC's independently verifiable geographical footprint (Singapore, Malaysia, Indonesia, China, Taiwan, Hong Kong, The Phillippines, Dubai), that $2Bn total ought to be attained at a canter.
On the other hand…that's two big "ifs", an "apparently", and an "ought". How reliable is that? Furthermore, if there are tens of thousands of investors out there, why are there only 1,000 from whom we have heard enough to quantify some of the losses? The others seem awfully quiet.
On the other, other hand, arguments for a very much smaller investor loss figure don't seem very persuasive either. An anticlimax is possible, but not a really huge one.
Perhaps that uncertainty is all just down to my own my lousy research, but, pending some really hard facts, I still think that $2Bn figure deserves some caution. Those tens of thousands of VGMC investors, if they exist, need to dust themselves down, get organised, and start shouting, at regulators, enforcers and the press, just like Mapley.
The pyramid scheme part of this mighty globe-crossing scam may still be hazy, but the pump and dump part is taking on much firmer outlines. Back to The Australian:
A spokeswoman for German financial regulator BaFin, Dominika Kula, confirmed investigations into market manipulation claims against 14 companies associated with London Capital.

She referred inquiries about possible fraud at VGMC involving the Cooks or Yi to the Stuttgart public prosecutor and said BaFin investigations into APGMI, VGMC and Nauer Corporate Services were closed because they did not involve "financial instruments" and fell outside BaFin's jurisdiction.

Kula said probes into City Windmills and AAIC Bullion Group were "closed as no evidence for market manipulation was found".

But investigations into Cassona (listed on GXG), Waste4Power (listed on the Frankfurt exchange) and Rainpure Water (Frankfurt) were under way, she said.

And "tips on potential offences" involving four other German-listed companies — Gulf Projects, Sejong Investments, Alta Aerial, True Green LED and Klares Wasser (also known as GlobalM-Group) — have been forwarded to the prosecutor.
Now for the prosecutor herself:
Responding in German to inquiries, Stuttgart prosecutor Claudia Krauth said Bryan Cook had been held in custody "since late June" after being arrested in Switzerland.

He is accused of conspiring with others, who Krauth said she was not authorised to name, to commit commercial fraud by sending email newsletters making aggressive stock recommendations that "massively influenced the share price of that stock, without pointing out that his principals were holding bigger positions in those shares and sold those shares in that period for a profit".

"Furthermore there is a suspicion that while doing these buy recommendations and advertising these shares some incorrect statements were made."

Krauth declined to name any companies involved in the investigation, but The Weekend Australian can reveal that her office has been looking into the structure, management and corporate purpose of the London Capital group.
That's a good idea. Back to The Australian for one last lead:
One of the GXG floats London Capital boasts about on its website is British-registered but Adelaide-based "diversified global asset company" Astra Resources, which ASIC last year took to the Federal Court for allegedly illegally raising more than $6.5m from 281 Australian investors (the case is awaiting judgment). Astra was kicked off GXG on June 6 last year for "repeated breaches against the reporting requirements" and failing to send share certificates to investors. Before being delisted it disclosed total assets of €17.6m, and yet somehow had a market capitalisation of a staggering €2.75bn.

Astra's lawyer, Niren Raj, said London Capital was only engaged to convert paper shares to electronic shares and it was impossible for it or Bryan Cook to have manipulated the share price because "Astra would know" if that had happened.
Indeed it would. I've been meaning to write up Astra, a whiffy confection of grandiose PR, involving uncorroborated coal mine deals and improbable green energy technologies, for quite a while. I expect there will be more London Capital newsflow too. Once that sort of story has got started, it doesn't usually stop.
Top marks, then, go to Thomas Yi of London Capital, for getting David Mapley riled enough to really raise a stink. I'd guess that David Orchard and Chris Orchard of William Grosvenor & Partners, Roland Hurni-Gosman, Bryan Cook, Julie Cook, and for that matter, the mysterious "Andrew Macfarlane of Reading", who gets a name check in The Australian, can't be totally delighted at the resulting coverage, but I quite like it.