By Lambert Strether of Corrente.
TPP
Obama, on TPP critics: "They're making stuff up" [Guardian]. He should know.
Elizabeth Warren on TPP secrecy and ISDS [WaPo]. She's so clear and concise.
PLUM LINE: But don't you get 60 days to review it after the deal is finalized, with the authority to revoke fast track?

WARREN: The president has committed only to letting the public see this deal after Congress votes to authorize fast track. At that point it will be impossible for us to amend the agreement or to block any part of it without tanking the whole TPP. The TPP is basically done. If the president is so confident it's a good deal, he should declassify the text and let people see it before asking Congress to tie its hands on fixing it.
And:
PLUM LINE: Is it theoretically possible to write ISDS in a way that precludes it from overriding regulation?

WARREN: It doesn't directly tell countries to repeal regulations. It imposes a financial penalty, which has caused countries to change their regulations…[ISDS mechanisms] never had the authority to override regulations. What they had was the authority to impose a monetary penalty directly against the government and its taxpayers. That's the point at which governments have backed up and said, "we can't afford this, we'll just change the law."
Sounds like a fine operational definition of loss of sovereignty to me.
2016
Sanders
Sanders, "Face the Nation":  [CBS (transcript)]. I don't know about you, but I like hearing the word "socialism" on national television used as something other than a term of abuse, and I like hearing policy proposals that go beyond "visionary minimalism," which in practice boiled down to handing Democratic apparatchiks walking around money:

SENATOR BERNIE SANDERS: When we talk about Democratic socialism, I think it's important to realize that there are countries around the world like Denmark, Norway, Sweden, Finland, who've had social democratic governments on and off for many, many years. And we can learn a whole lot from some of those countries. For example, the United States is the only major country on earth that doesn't . And if you look at the health care systems in those countries, you know what? Not only do they cover all their people, much more cost effective than we are. We end up spending almost twice as much as they do. In terms of education, Bob, all of those countries; in Germany, Austria, many other countries. You know what they say? They're in a highly competitive global economy. All people, regardless of their income, should be able to get a college education. in those countries. That makes a lot of sense to me. In terms of childcare, our childcare system today, talking about Mother's Day, is a total disaster. Those systems are much better by and large. What they do is many of these countries have higher voter turnouts than we do. They have governments which do a lot better job representing their middle class, rather than a billionaire class, which have so much power today in our economic and political system.

(Granted, this is social democracy, and not "All power to the Soviets." But wait! Insiders tell me the 2020 Democratic "sheepdog" is Vladimir Ilyich Lenin. Kidding!) Interesting that Sanders uses the term "middle class," a euphemism for which campaign strategists are seeking to invent a meta-euphemism (hat tip allan).

Bloomberg Politics/Saint Anselm New Hampshire Poll: Sanders first choice of 18% of likely voter New Hampshire Democrats [Bloomberg]. A different poll had him at 13% last week (but doubling from 6% in February).

"Calling your opponent an "isolationist" serves the same function in foreign policy that calling her a "socialist" serves in domestic policy" [Peter Beinart, National Journal]. Except that's not quite so easy now, is it?

The S.S. Clinton

No member of the Clinton dynasty is off limits. Including Chelsea [Telegraph]. And Tony Rodham [New York Times]. Because it's a dynasty, duh.

George Clooney to assist Clinton, a "tremendous candidate," in "whatever way [he] can help" [Fusion].

Bloomberg Politics/Saint Anselm New Hampshire Poll: 86% of likely voter New Hampshire Democrats say they had either a "very favorable" or "somewhat favorable" opinion of Clinton, virtually unchanged from her 88 percent favorability rating among Democrats last November and an 89 percent rating in February [Bloomberg].

The Big Dog: "Senior aides say he does not plan to do any campaign activities for his wife in 2015" [WaPo]. And 2016?

"During a focus group led by GOP pollster Frank Luntz at the South Carolina Freedom Summit, the mother-in-law of Citizens United president David Bossie compared immigrants to rats and roaches, to the delight of the audience" [HuffPo].

Republican Establishment

Jebbie: "What you need to know is that who I listen to when I need advice on the Middle East is George W. Bush" [CNN]. Um.

Jebbie: "I would have [authorized the invasion], and so would have Hillary Clinton, just to remind everybody" [Time]. Doubling down: "And so would almost everybody that was confronted with the intelligence they got." He's right on Hillary, though whether Hillary would have faked evidence for the WMDs, as Bush did, is open to question.

Republican Principled Insurgents

Scott Walker on Friday abruptly dropped his proposed merger of the state's top two jobs agencies shortly after the release of an audit that found one of them had again failed to follow state law and its own policies in awarding taxpayer-funded incentives to state companies" [Journal-Sentinel]. Seems a little whiffy.

Republican Clown Car

Marco Rubio is a squillionaire car dealer's boy toy [New York Times]. "Even in an era dominated by super-wealthy donors, [Norman] Braman stands out, given how integral he has been not only to Mr. Rubio's political aspirations but also to his personal finances."

Ted Cruz's squillionaire owner backer, hedgie Robert Mercer, sued model railroad builder RailDreams for $2 million [New York Daily News]. The comments at Model Railroader are hilarious. Here's the first one:

Now, see, if he'd built the thing himself, he wouldn't be dealing with this at all.

Exactly. Of course, hedgies never build anything. Incidentally, this thread is from 2009, and there's little better proof of the possibilities for full-throttled populism. Model railroaders don't tend to be wild-eyed radicals, and there's no support for Mercer's position whatever. Oh, and Mercer's also been sued by his domestic staff: "[T]he fund manager didn't pay overtime and docked wages for not replacing shampoo bottles or straightening pictures." Well, Mercer should know what a crooked picture looks like, I suppose.
Black Injustice Tipping Point
"The reparations ordinance is the result of months of negotiations…  Under the ordinance, survivors of [Chicago Police Department] torture will be paid from a $5.5 million city fund. Individual payments will be capped at $100,000″ [Chicago Reporter]. I haven't done the math, but suppose we could clean up the whole reparations thing for a few F-35s. If so, what are we waiting for? Adding: I sound snarkier on this than I am. In fact, $100K seems low, but establishing the principle is huge, and the result of years of work by dedicated activists bucking the local oligarchy in every way possible. Yay!
How live-streaming promotes justice [Wired]. The tradition of witness.
Dane County, Wisconsin, DA to announce Tuesday whether he plans to file criminal charges against Matt Kenny, the Madison police officer who fatally shot Tony Robinson, Jr. [International Business Times]. And this is nice: "Tony Robinson family no longer staying at home after WISC-TV released address" [Madison Journal].
Becky Morgan, the sister of Jennifer Morgan-Tyra, a 38-year-old woman shot by St. Louis police officers responding to a report of an intruder, is disputing the law enforcement account of the incident, saying police of fired 16 bullets her sister's back [St Louis Today]. Morgan-Tyra is "the wife of a lieutenant with the St. Louis city sheriff's office." So we'll see if this one plays out any differently.
Most police vans in Baltimore lack seatbelts [Baltimore Sun]. An open invitation.
Big Brother is Watching You Watch
Cellphone tracking devices used by Justice: "IMSI catchers, and known by various names like Stingray, Hailstorm, and dirtbox" [Wall Street Journal, "U.S. Will Change Stance on Secret Phone Tracking"]. They're deployed on Cessnas. Alert readers will remember Cessnas over Baltimore, recently.
"Sweden's Supreme Court upholds Assange detention order" [Reuters].
Corruption
"NYC buildings show connection between Albany corruption and real estate industry, with developers saving millions on taxes" [Daily News]. 421-a tax abatement and Glenwood Management. "Top beneficiaries of Glenwood LLCs have included Gov. Cuomo ($1.2 million), two Senate Republican Committees ($1.45 million), three Democratic committees ($780,000) and Attorney General Eric Schneiderman ($215,000)." How cozy!
With gridlock, spending on lobbying decreases at the Federal level, and increases at the state level [WaPo].
"Secrecy is as essential to corruption as it is to spying. Clinton's penchant for secrecy in matters foreign and domestic endangers her and us" [Bill Curry (!), Salon].
Water
The green lawns of Kim Kardashian, Barbra Streisand and Petra Stunt, among others [Daily Mail]. "for the residents of Los Angeles' wealthy enclaves, a $100 fine for wasting water is chump change and a fee they are apparently glad to pay in order to maintain their almost fluorescent green lawns."
U.K. Election
The case for proportional representation in one chart [The Economist]. How 900,000 people can vote for a party and get no representation.
Identity politics based on "English-ness" will fail; writers identifies as English speaker, [Guardian]. "At the centre of English culture lies neither institutions, nor customs, nor sports teams, but a global language. This global language, whose base layer is a medieval mixture of Latin and German, has acted like a sponge, drawing foreign cultural influences so deep into our brains that they have taken root in our identity."
Class Warfare
Squillionaire Zuckerberg's FWD.us execs to laid-off Southern California Edison workers: Suck it up [Slash.dot]. To bad they can't get H1B visas and get re-hired that way, eh?
"Homeowners get more time to take advantage of HAMP, HARP" [WaPo]. For anybody who remembers the horror that was HAMP, this headline must afford some grim amusement.
News of the Wired
* * *
Readers, feel free to contact me with (a) links, and even better (b) sources I should curate regularly, and (c) to find out how to send me images of plants. Vegetables are fine! Fungi are deemed to be honorary plants! See the previous Water Cooler (with plant) here. And here's today's plant, the first of Garden Week (joe6pac)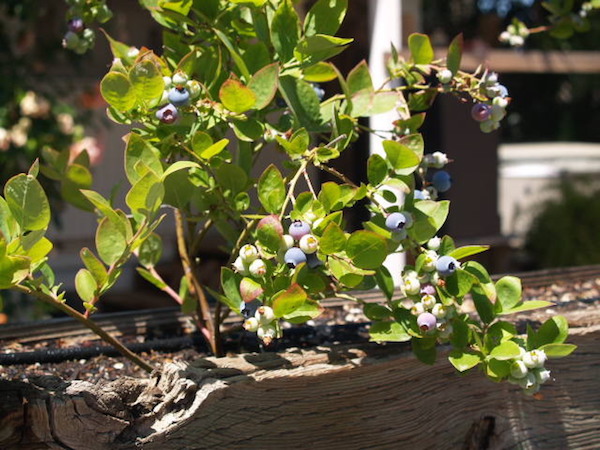 Blueberries in Joe's garden.
I'd like yet more pictures of people's gardens; I have some, but not really quite enough. They don't have to be pretty! (And they don't have to show your whole garden.)
If you enjoy Water Cooler, please consider tipping and click the hat. It's the soil, seeds, Fedco Tree sale, and planting season!
(Readers will notice that I have, at long last, improved the hat!)
Talk amongst yourselves!