By Lambert Strether of Corrente.
TPP
Senator Sherrod Brown, jobs: "I've seen the same promises — more jobs, higher wages. The jobs don't materialize … the promises are remade" [CNN]. The failed and remade promises are true across the board, of course, not just for TPP.
Democratic 2016 Senatorial candidates lining up against TPP: Both Van Hollen and Edwards in Maryland, both Strickland and Sittenfeld in Ohio, Patrick Murphy in Florida [National Journal]. "Murphy's statement comes as the Democratic Senatorial Campaign Committee endorsed him, showing the very limited risk in bucking the White House, which is adamantly lobbying for the deal and TPA." Of course, that's the beauty of passing TPP with Republican votes; Democrats out of power get to be revolving heroes, while Democrats in power sell the country down the river.
Schumer won't support fast track without a crackdown on Chinese currency manipulation [Post-Standard].
2016 
Deblasio plans to unveil a "Contract with America" for the left [Politico]. Not to engage in puffery, but here's a handy baseline. Let's see how well Deblasio does.
Sanders
TPP: "I have voted against every disastrous trade agreement coming down the pike and helping to lead the effort against this Trans-Pacific Partnership, which would mean the outsourcing of more good paying job to low-wage countries. People have got to look at Secretary Clinton's record" [CNN]. Hillary? Oh, H-i-l-l-l-a-r-y!!!
The S.S. Clinton
Exxon Mobil has decided not to be involved in the Clinton Global Initiative this year. Other sponsors, including Monsanto, are reevaluating their partnerships [WaPo]. Until this whole election thing blows over.

"[Hillary Clinton] is an undeniable component of the Clinton political-financial legacy that came to national fruition more than 23 years ago, which is why looking back at the history of the first Clinton presidency is likely to tell you so much about the shape and character of the possible second one" [Nomi Prins, Tom Dispatch].Good read.

"Hillary Clinton met privately here with a small group of potential high-dollar donors to Priorities USA. Mrs. Clinton will participate in more of these gatherings, including one in Los Angeles on Thursday, said officials, who described them as conversations with small groups and individuals" [Wall Street Journal, "Hillary Clinton Meets With Potential Super PAC Donors"].

Republican strategist on Clinton and immigration: "Republicans' intransigence has created an obvious opportunity for Hillary to rip off our arms and beat us with the bloody ends" [WaPo]. More like this, please.

"Scant evidence exists in any poll to suggest that Clinton is anything short of beloved (or, at the very least, be-liked) by the party's liberal base [WaPo].
Walker first in Iowa, then a scrum of Cruz, Rubio, Paul, and Huckabee. Carson (7%) leads Bush (5%) [Quinnipiac].
Republican Establishment
In Op-Ed, Jebbie proposes conservative nostrums to end "attack poverty" [Chicago Tribune]. It's cute when Republicans pretend to care about poor people. It's less cute when Democrats do, because watching a party run on brand fumes is so unpleasant.
Republican Clown Car
Fiorina against TPP [Daily Caller]. Sorry to link to Daily Caller, but strange bedfellows…
Stats Watch
Jobless Claims, week of April 2, 2015: "Claims came in at a much lower-than-expected 265,000 in the May 2nd week, holding on to nearly all their improvement in the prior week" [Bloomberg].
Gallup US Payroll to Population, April 2015: "Gallup's measure of unemployment slipped" [Bloomberg]. "A special positive in the report is improvement in underemployment."
Challenger Job-Cut Report, April 2015: "Price-borne weakness in the oil sector was responsible for about one-third of all layoff announcements in April" [Bloomberg]. Notes lag between announcement and actual layoff.
Bloomberg Consumer Comfort Index, week of April 3, 2015: "fell 1.0 point in the May 3 week to 43.7 with optimism toward the economy at a 3-month low and buying climate at a 6-week low" [Bloomberg]. "Weakness is concentrated among those making less than $15,000 a year where sentiment is the lowest in more than 4 years."
Chain Store Sales, April 2015: "Deeply lower year-on-year sales rates" [Bloomberg]. Blame Easter.
Big Brother Is Watching You Watch
Second Circuit rules that the bulk collection of telephone metadata is unlawful, in a landmark decision that clears the way for a full legal challenge against the National Security Agency [Guardian]. PDF of the decision.
"[T]he NSA's bulk collection of metadata of phone calls to and from Americans is not authorized by Section 215 of the USA Patriot Act" [Dan Froomkin, The Intercept]. Excellent roundup.
 "Thursday's ruling did not come with any injunction ordering the program to cease, and it is not clear that anything else will happen in the judicial system before Congress has to make a decision about the expiring law" [Charles Savage et al, New York Times].
Lawyers threaten researcher with DRMA violation for high-tech picking of a high-tech lock [Ars Technica].
Corruption
"Top officers of the former Wilmington Trust Corp. are among the highest-ranking bankers to face criminal charges and civil fraud charges for falsifying financial reports to bank and securities regulators and investors during the late 2000s financial crisis" [Philadelphia Inquirer]. That's Pennsylvania. How about New York?
The first person to be tried for LIBOR rigging is, of course, a trader [Bloomberg]. Because the purpose of the C-suite is not to know stuff, but not to know stuff. 
Black Injustice Tipping Point
Handy step-by-step guide for policing a protest movement [The Nation]. Democrat mayors, you're doing the heavy lifting on this, so please pay attention!
City of Ferguson mulls removing Mike Brown shrine from middle of street [AP]. So why not make it a traffic island?
Lead poisoning on the firing range [City of Baltimore]. If there is a lead-poisoning phenotype, it would be interesting to see if any of the Baltimore police present with it.
Madison police chief: Policies for deadly force are 'not negotiable' in review of police practices [Wisconsin State Journal]. 
"The leaders of two Wisconsin police unions say they are "deeply troubled" by a painting titled "Don't Shoot" at the Madison Central Public Library" [Journal-Sentinel].
U.K. election
"[P]ollsters say the outcome of the vote is too close to call. Opinion polls suggest that neither party is likely to win a majority of seats as voters defect to newly popular fringe parties" [Wall Street Journal, "Britons Vote in Most Unpredictable U.K. Election in Decades"]. "Fringe" equates UKIP with the Greens and the SNP. The Beltway myth of centrism… 
"[I]f it weren't for what is occurring in Scotland, where the Scottish National Party (S.N.P.) looks like it will sweep the board, Miliband would be on the verge of a great victory" [New Yorker].
Water
Brown set goal of 25% reduction in water use, but California has achieved 8.6%, cumulatively, since last summer [Los Angeles Times].
Food
"[I]t took Panera a year just to get the additives out of its Greek salad dressing" [WaPo].
Health Care
ObamaCare provider networks are narrower, but this doesn't affect quality [Health Affairs]. This is the abstract. I'd love to have the paper.
Hispanics born in the United States have poorer health by several measures than Hispanics born abroad who immigrate to the U.S. [Bloomberg]. "They are likelier to be obese and smoke cigarettes and to suffer from high blood pressure, heart disease, and cancer." At a guess, stress and food-like substances.
Medical coding is law. Now pay up! [Slashdot].
Imperial Collapse Watch
"America's Antiwar Correspondent" [The American Conservative]. William Pfaff. No encomiums for Pfaff from liberals, so far as I can tell; might be inconvenient for Obama or Hillary, I suppose, though there's this from the Chicago Reader.
Class Warfare
"The best way to nab your dream job out of college? Be born rich" [Quartz]. Hardly fair. Everyone has a choice. Just choose the right parents before the sperm hits the egg!
"The reality of different trends [in differente countries] suggests that it is not global forces that shape the distribution of incomes but the country-specific institutional and political framework. Therefore it is crucial to understand the institutional settings that allowed some countries to achieve economic growth without returning to the old levels of top income inequality" [Max Roser]. Interesting article with lots of handy charts.
Survey: "Employees report that their responsibilities at work have increased while wages have largely stayed flat" [Wall Street Journal, "The 40-Hour Work Week Is a Thing of the Past"]. That's not a bug…
Condo protesters take over Oakland City Council [San Francisco Chronicle]. From the photos, they actually seem to have taken over the projector. Impressive.
News of the Wired
* * *
Readers, feel free to contact me with (a) links, and even better (b) sources I should curate regularly, and (c) to find out how to send me images of plants. Vegetables are fine! Fungi are deemed to be honorary plants! See the previous Water Cooler (with plant) here. And here's today's plant (Kurt Sperry):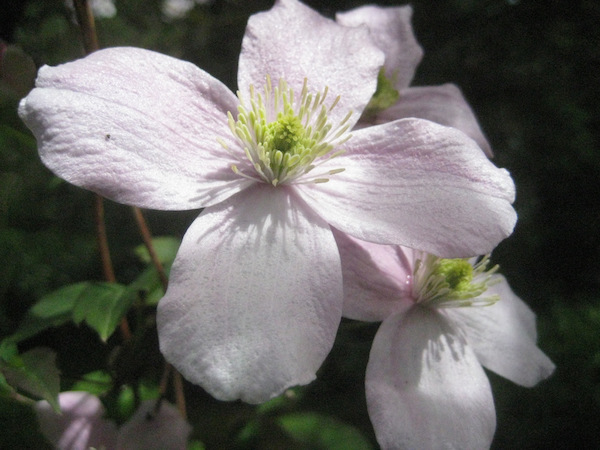 I'd like yet more pictures of people's gardens; I have some, but not really quite enough. They don't have to be pretty! (And they don't have to show your whole garden.)
If you enjoy Water Cooler, please consider tipping and click the hat. It's the soil, seeds, Fedco Tree sale, and planting season!
(Readers will notice that I have, at long last, improved the hat!)
Talk amongst yourselves!