By Lambert Strether of Corrente.
TPP
McConnell says Fast Track will empower next Republican President [WaPo].
"House a higher hurdle for TPP" [USA Today].
Obama's cynical game: Reduce Fast Track fight to personalities [Salon (!)].
2016
Sanders
Handy charts on Sanders vs. Clinton on funders and the issues [Crowdpac].
The S.S. Clinton
"State Department officials gave speedy and sometimes only cursory consideration to potential conflicts of interest when approving former President Bill Clinton's lucrative speeches" [AP]. "Reputational damage" is oldthink, I suppose. At least in the circles where the Clintons now move.

Hillary Clinton on TPP: "_______________________" [WaPo]. Profiles in silence…

George Stephanopoulos discloses $50,000 contribution to Clinton Foundation [Politico]. Anybody remember the old blog, Media Whores Online? How I miss it.

"Clinton Cash" author Schweizer corrects errors in his book [Politico]. "7 or 8 passages."
Republican Establishment
Bush, of Clinton: "You can't script your way to the presidency" [New York Times].

College student to Bush: "Your brother created ISIS" [New York Times]. That's hardly fair; Obama helped.
Republican Principled Insurgents
Walker to travel to DC, kiss Tony Perkins's ring [Politico]. The Family Research Council isn't sure Walker hates gays enough. I'm sure he'll be able to satisfy them.
Republican Clown Car
Trump trademarked Reagan slogan — "Make America great again"[™ (!)] — and would like other Republicans to stop using it [Business Insider].
Senate
Wisconsin's Feingold to run [AP]. Voted against the Patriot Act, opposed Obama's Afghan surge, so not completely unsound on FoPo. Sat out running for Senate in 2012, the Walker recall year.

Alan Grayson gets some bad press [Politico]. Personally, I've got no problem with "K-Street whore" as an epithet (other than the category error, because political relationships are often more complicated). To be fair, I can see why Politico would.
Ohio Republican proposes 21st Century poll tax: Make people pay for voter IDs [Wonkette].
Missouri House Speaker John Deihl on sexting an intern: "It was a stupid thing to do, and I'm sorry" [KMOV].
The Hill
"Mr. Obama kicked off the discussions with a royal gaffe of his own," by getting the name of a Saudi king wrong in a meeting with the current king [New York Times]. Welcome to lame duck status, Mr. President (since the story ran). Unless Obama's slight was intended, of course; although probably not, since Abdullah isn't exactly on the left.
de Blasio
Dem apparatchik Joan Walsh tries to muscle de Blasio in to "the conversation" [Salon]. To be fair, de Blasio ran on stopping stop and frisk and then appointed Bratton, who practically invented it, NPYD chief, as soon as he got out of bed the day after the election, and that's an Obama Class bait and switch, so that qualifies him. But still.
de Blasio wants to sell $10K tickets in Silicon Valley to push his "Progressive Agenda" without registering as a lobbyist, and that concerns (even the) New York State Ethics Commission [New York Times].
"de Blasio's pathetically inadequate Progressive Agenda" [Corrente]. Frankly, both "progressive" and agenda deserve irony quotes, but for readability's sake, no.
"Fees paid by the [New York City] pension system have doubled since 2007 and quintupled since 2003, and many of the 250 different money managers hired to invest the plans' $160 billion in assets plainly aren't up to snuff" [Crain's New York Business]. Oddly, or not, looting by private equity firms doesn't appear on de Blasio's agenda at all.
Stats Watch
Jobless claims, week of May 9, 2015: "This is the 3rd week in a row that initial claims have been in the low 260,000 range which is a 15-year low and one of the best runs on record" [Bloomberg]. Now that the labor force has been permanently shrunken, everything's jake.
"Yes, President Obama wins the Tea Party trophy for downsizing government" (handy chart) [Mosler Economics]. Note that public sector jobs actually decreased during the recession, so the Democrats managed to foul up that automatic stabilizer, at least.
Consumer comfort, week of May 10, 2015: Slips [Bloomberg].  "Economic outlook is down sharply in the week."
PPI-FD, for April 2015: Inflation remains dormant; major support for the doves at the Fed [Bloomberg]. "Despite the rise in oil prices, final energy demand fell a steep 2.9 percent in April with the year-on-year rate at minus 24.0 percent." That strikes me as a remarkable number. Readers?
Amtrak Crash
"Amtrak Crash and America's Declining Construction Spending" [New York Times]. So, we get miserably inadequate infrastructure spending in the stimpack during the worst crisis since the Depression because Larry Summers. Then we have, like, zero interest rates for six years and don't borrow anything (not that we had to). Finally, with the Fed mumbling about "lift off," we open the discussion. What's wrong with this picture?
"Lawyer: Engineer has 'absolutely no recollection' of Amtrak crash" [CNN].
Amtrak less likely to serve Republican districts [WaPo]. Hence, the bloviation about personal responsibility.
Black Injustice Tipping Point
https://twitter.com/notjessewalker/status/598501976863842304?refsrc=email&s=11
25 arrested during Madison protest [Houston Chronicle].
"[T]he standard progressive approach of the moment is to mix color-conscious moral invective with color-blind public policy" [Ta-Nehisi Coates, The Atlantic]. But not at all, one might add, color-blind electoral politics. So the mix is even more unstable than Coates describes it.
"Ferguson Shooting's Witness Freed on Reduced Bond" [ABC]. Jailing the witnesses seems to be standard operating procedure; this happened to the guy who filmed the cops chocking Eric Garner to death.
Police State
Granby, Quebec bans insulting police on social media [CBC].
"Officials criticize DEA's light punishment of agents who forgot man in cell for 5 days" [Los Angeles Times]. What do these people want? They didn't whack him!
Judge says suit against Philly civil forfeiture can proceed [Inquirer].
"Nearly nude man tased in airport" [Tallahassee Democrat]. ""I kinda always wanted to be tased." So he was taken to a medical center. Instead of being whacked by the cops, lucky dude.
Class Warfare
Seafood and slavery [AP].
Los Angeles city council backs $15 minimum wage [Los Angeles Times].
Why Are Palo Alto's Kids Killing Themselves? [Modern Luxury]. One reason to tax the rich heavily is for the sake of the mental (and spiritual) health of their kids.
News of the Wired
* * *
Readers, feel free to contact me with (a) links, and even better (b) sources I should curate regularly, and (c) to find out how to send me images of plants. Vegetables are fine! Fungi are deemed to be honorary plants! See the previous Water Cooler (with plant) here. And here's today's plant, the fourth of Garden Week: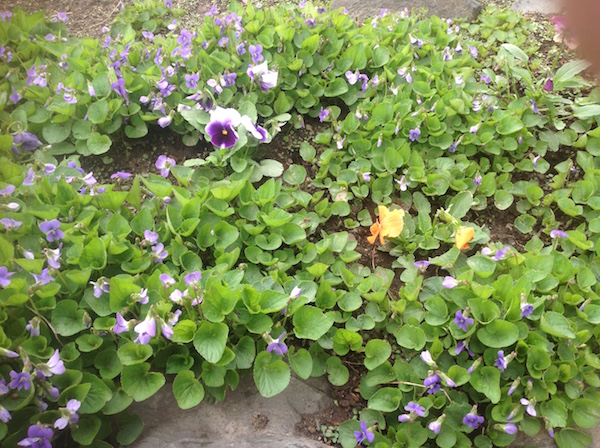 Humble and invasive. That's the ticket!
I'd still like more garden pictures; perhaps I started asking for them too early, before people really got rolling?
If you enjoy Water Cooler, please consider tipping and click the hat. It's the soil, seeds, flats, and planting season!
(Readers will notice that I have, at long last, improved the hat!)
(Readers will notice that I have, at long last, improved the hat!)