By Lambert Strether of Corrente.
TPP
Roll Call on turning down Fast Track [New York Times]. Call your Congress critter to thank them if they voted the right way, and to encourage them to vote the right way if they did not.
Obama on TPP vs. NAFTA: "This is our chance to do better, to get it right" [The Hill]. If Obama really believes that, then he should publish the full text, and let the American people judge for themselves.
Reid floats offer to drop currency manipulation "poison pill" [Politico]. " Democrats' willingness to return to the bargaining table suggests the trade measure may not be dead." Zombies don't die.
Currency manipulation isn't only a Democratic poison pill; Republicans like Rob Portman (R-OH) think it's an issue too. Explainer [Vox].
Portman is not only a former US Trade Representative, he's from auto industry heavy Ohio [Wall Street Journal]. A battleground state in 2016 that the Democrats gave a helping hand with the auto bailouts.
"[I]nterest group opposition is what's driving liberal anti-TPP sentiment on the Hill," not Warren [Yglesias, Vox]. Film at 11. And?
"The Senate fight, however, is just a warm-up for the House battle, which promises to be even more difficult for backers of the trade bill. In the House, tea party Republicans are deeply skeptical of the trade deals, with many grassroots activists considering TPP to be a step toward a one-world government" [HuffPo]. Well, the surrender of national sovereignty under ISDS would make me think that too, if I were a TPer.
White House spokeshole Josh Earnest says Sherrod Brown will apologize for his claim that Obama's treatment of Warren is sexist [Wall Street Journal]. I'll just drop this photo of White House head speechwriter Jon Favreau right here.
"'Who do they think they are?' said one Democratic senator, angry at at the role Warren (D-Mass.) and other liberals have played in seeking to scuttle the White House's approach' [Politico]. Er, the future of your intellectually and morally bankrupt party? (Not that Warren and Girondins "liberals" don't have their own problems.)'
2016
Sanders
Headline: "Opinion: Call him a 'socialist,' but many Americans agree with Bernie Sanders" [Market Watch (!)].
The S.S. Clinton
Garrison Keillor at Minnesota Hillary Clinton organizing event (pic) [Devin Driscoll].

New Clinton SuperPAC, "Correct the Record," created to coordinate with Clinton campaign (huh?) and counter oppo [USA Today]. Among them Benghazi™, the topical cream for all Republican aches and pains… 

Handy clock shows last time Clinton answered a question from the press [WaPo]. 31,584 minutes. Aw, 21 days isn't that much, but one does have to question why the Clinton campaign feels the need to wrap their candidate in tissue paper.

Report from "Commitee on Inclusive Prosperity" seems to be the best guide to Hillary's economic policies [Vox]. Podesta, Summers, yadda yadda yadda.
Republican Establishment
Bush claims to have misheard the question when he supported the Iraq war, claiming he had assumed "given what people knew then" [New York Times]. His current position: "Mistakes were made, as they always are in life." No, he didn't. He couldn't have! The classic non-apology apology: "Mistakes were made." Oh my.

Bush to pass on this summer's Iowa straw poll [McClatchy].
Republican Principled Insurgents
Second squillionaire, Larry Ellison, backs Rubio [Politico]
Republican Clown Car
Republican presidential candidate Ted Cruz said "of course" he would not authorize the Iraq War knowing what he knows now [Bloomberg]. There were plenty of voices on the left pointing out that the WMD evidence was not merely "false," as Cruz avers, but fabricated (among much else, see the Downing Street Memo: "intelligence and facts were being fixed around the policy"). To this day, neither legacy party acknowledges this).

Trump after Amtrak crash says he's the only candidate who can fix infrastructure [Talking Points Memo].
Democratic nomenklatura prefers Patrick Murphy, a former Republican with no name recognition but lots of lovely Wall Street money to Alan Grayson [WaPo]. 
"It isn't that the Democratic Party is struggling," says Jonathan Cowan, the president of the centrist policy center Third Way. "It's that at the subpresidential level, it's in a free fall" [New York Times]. Thanks to Third Way and its Republican-lite candidates, along with Obama's corrosive effect on  state and local parties!
Stanford and Dartmouth run an academic study in Montana which turns out to be a push poll in practice, a criminal offense [Talking Points Memo]. Using the State seal without authorization, too. Oopsie.
Stats Watch
MBA Mortage applications, week of May 8, 2015: Rates rise, applications fall back [Bloomberg].
Retail sales, May 2015: Unchanged vs. expectation for gain [Bloomberg]. 
Inflation expectations, May 2015: "Hint" of wage pressure [Bloomberg].
Business inventories, May 2015: "Not quite as bloated" [Bloomberg].
Black Injustice Tipping Point
Post-shooting resignations continue in crony-ridden Tulsa police department [AP].
No charges after Madison, Wisconsin cops whack unarmed black teenager [New York Times]. It's like this keeps happening.
Corruption
Posting this again: Game theoretical look at corruption: " In righteous societies, police were not a separate, elite order. They were everybody. When virtually all of society stood ready to defend the common good, corruption didn't pay" [Aeon]. Thinking of witness via cellphone cameras, I find this hopeful. Can readers actually conversant in game theory assess?
"Mr. Obama has sketched his ambitions for 2017 and beyond with increasing specificity during the last few weeks" [Wall Street Journal]. Isn't it a little bit early for Obama to start phoning it in?
Big Brother Is Watching You Watch
D.C. Federal Court: Laptops not searchable like handbags [Legal Times]. A Fourth Amendment victory?!
Utah doesn't require warrants for police to access prescription drug databases [Ars Technica].
"Woman fired after disabling work app that tracked her movements 24/7 " [The Verge].
Class Warfare
Behavioral scientist: Scarcity starves the mind as well as the body [Harvard Magazine]. "Poverty Taxes the Mind."
Top 25 hedgies earn more than all kindergarten teachers combined [WaPo]. Priorities!
News of the Wired
* * *
Readers, feel free to contact me with (a) links, and even better (b) sources I should curate regularly, and (c) to find out how to send me images of plants. Vegetables are fine! Fungi are deemed to be honorary plants! See the previous Water Cooler (with plant) here. And here's today's plant, the third of Garden Week (Dan):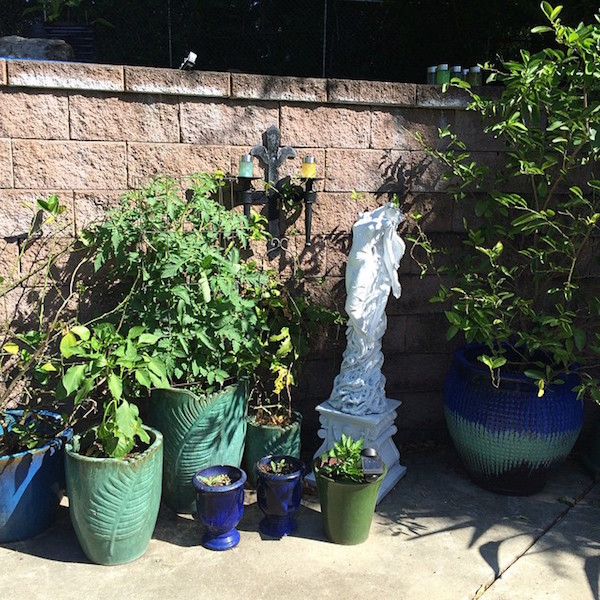 Dan writes from Alabaster, AL, a southern suburb of Birmingham:
We've been here 15 years and have been steadily making improvements and doing all the gardening and most everything else ourselves. (besides installing the pool, retaining wall around it and hottub). All kinds of produce on the way, blackberries, blueberries,tomatoes. beans, peppers, muscadine grapes (growing on the gazebo above the pool. We make wine with it). The metal tubs behind the gazebo are new this year, replacing a container garden that was in the driveway.
Well, the plants in pots remind me of Bangkok. And I bet the plants are happy against that warm wall!
If you enjoy Water Cooler, please consider tipping and click the hat. It's the soil, seeds, flats, and planting season!
(Readers will notice that I have, at long last, improved the hat!)
Talk amongst yourselves!