By Lambert Strether of Corrente.
TPP
"[OBAMA: ] The issue with respect to myself and Elizabeth has never been personal" [Talking Points Memo]. "Sweetie."  And reinforcing, by repeating "Elizabeth," that Obama would rather the fight be about personality than policy, understandably so. But it's still nice to see Obama leveraging his arrogant and pissy character for what he considers to be good.
2016
"If people don't like the guy in the White House, it's almost impossible for a member of his party to be elected to succeed him" [Cook Political Report]. "The magic number for Obama – and ultimately Hillary's chances – is somewhere around 47 percent. … Below that number, especially if Obama is in the 45 percent range or below, it will be hard for a Democrat" to win. The nut graph:
How Obama is perceived by voters in the presidential battleground states is more important than his overall national approval rating. … In looking at data from five swing states (all of which Obama carried in 2012), Obama's approval ratings are not only significantly below his pre-election showing in 2012, but they also fall below the political "Mendoza line" [ouch!], with no state giving him better than a 45 percent job approval rating. One of the most surprising is Obama's weak 40 percent approve to 56 percent disapprove in Pennsylvania, an important brick in the Democrats so-called Blue Wall."
At this point, we remember that Rob Portman, a Republican, is against TPP, and comes from Ohio. And that Casey, a Democrat, is against TPP, and comes from Pennsylvania.
O'Malley outlines fundraising plans and unveils website [WaPo], and will announce May 30 [Fox]. Guess the Baltimore Police Department thing was just a bump in the road. Anyhow, he flew to New Hampshire in a private jet.  Why not a van?
The S.S. Clinton
"Four in 10 Democratic insiders in the early states warn that Hillary Clinton is not spending enough time on the campaign trail" [Politico]. You can't be the people's champion and stay silent at the same time.
Republican Establishment
Jebbie's "Right to Rise" SuperPAC is unprecedented in scale and scope. $100 million by the end of this month; and "he intends to outsource many traditional campaign functions, such as voter mobilization and polling, to this super PAC." And there's a second non-profit, able to accept unlimited contributions: "Right to Rise Policy Solutions," which will develop his campaign platform and policy positions" [The Week]. Remember Halliburton, Blackwater, and CACI during the Iraq War? Like that. Outsource everything but the troops. Guess W. won't have to sell any paintings to help his brother raise money.
Republican Principled Insurgents
"Heavily redacted records released Wednesday by the Wisconsin Supreme Court provided the first glimpse into arguments from Gov. Scott Walker's campaign defending the legality of the fundraising and coordination he acknowledged doing with political groups that purported to be independent" [Wisconsin State Journal]. The "John Doe" investigation, which is criminal. FWIW, my impression is that this is like Christie's Bridgegate, where state-level operatives were playing over their heads for a potentially national candidate.
Republican Clown Car
John Bolton decides not to throw his moustache into the ring [MSNBC]. Thank heavens. No intra-cranial splatterfest for Lambert at this time.
Population density and voting behavior with handy chart and good map [Reuters]. "The Big Sort."
Orwellan Rewrite of Iraq History by the Political Class
Time presses, so I will only say without links: I was there, since my first summer blogging was at Eschaton as part of Atrios's first class of summer fill-ins (hat tip, Atrios), in 2003. And we played whack-a-mole with one fake WMD story after another: The yellowcake. The drones. The white powder. Judy Miller. Curveball. Cheney at the CIA. As soon as we would whack one story, another would pop up. And then Colin Powell, bless his heart, went to the UN and regurgitated it all (to his subsequent regret). Only subsequently did we come to understand (from the Downing Street Memo) that "the facts and the intelligence were being fixed around the policy," and that the reason it felt like we were playing whack-a-mole is that we were; Bush's "White House Iraq Group" was systematically planting stories in our famously free press.
Repeat after me: The Iraq intel was not poor. It was falsified. And nobody Serious in the political class will admit that, to this very day, including Jebbie or Hillary.
The Hill
"Numerous" woman staffers are "not allowed to spend one-on-one time with their male bosses" [National Journal].
Stats Watch
Empire State manufacturing survey, May 2015: "Soft"  [Bloomberg]. "The manufacturing sector, hurt in part by weak exports, looks to be more and more of a drag at a time when economic growth is supposed to be on a springtime rebound."
Industrial Production, April 2105:  "Stalling" [Bloomberg]. "The industrial economy remains flat and is holding down what is supposed to be the economy's springtime bounce."
Consumer Sentiment, May 2015:  " 5 points below Econoday's low-side forecast" [Bloomberg]. "The drop in current conditions hints at softness in this month's jobs market while the drop in expectations is a downgrade for the outlook on jobs." Mosler comments: "Even this has suddenly broken" [Mosler Economics].
"Rail softness continues" [EconIntersect]. Echoes trucking.
Amtrak
Republicans vote to cut Amtrak budget, including safety [Truth-out].
Market failure in the spectrum prevented Amtrak from implementing Positive Train Control, which would have prevented the accident [International Business Times].
Time to get serious about infrastructure [New Yorker]. The Democrats are pushing this now, but they didn't do squat when they had control of Congress — especially in the stimpack and state and local employment — so why should we think this is anything other than revolving heroes?
Health Care
"Enrollment workers who have been using HealthCare.gov say their biggest challenges now come from the intricacies of its various rules for eligibility, not the performance of the site itself" [Wall Street Journal]. So now ObamaCare is only broken by design, as opposed to being broken in the implementation, too.
"A May 5 government report claims that over 16 million Americans have obtained coverage as a result of the Affordable Care Act. This estimate, as well as others that are being or will soon be circulated, are based on rapid turnaround surveys conducted by telephone or over the web. …  in the past such surveys have been shown to underestimate the number of people who lack coverage." Methodologically sound results from interviews are coming [Health Affairs]. The article kindly says that HHS was responding to "tremendous interest," which — reading between the lines — means that the Obama administration rushed out a poor survey they knew would skew high. Film at 11.
"1 in 4 adults had insurance but still couldn't afford medical care" [WaPo]. But the important thing is that they wrote a check to the insurance company, so kwitcherbellyachin.
The U.K.
Mancunians petition to join Scotland via Twitter [Manchester Evening News].
Corruption
"Baltimore landfill closed amid FBI investigation" [Baltimore Sun].
Black Injustice Tipping Point
You're twice as likely to die on the job as a garbage collector than as a cop [Bloomberg]. #WasteManagementSpecialistsMatter. Which of course they do. There's a lot of good data in this post, rendered unscannable and practically useless analytically by the mobile-friendly page design. For example, it gives supervisor death rates as well.
Complaints about NYPD chokeholds increased last year [WaPo].
Class Warfare
"1/4 of employment decline in American manufacturing from 1990 to 2007 was from competition from Chinese imports" [The Economist]. And the headline: "Fighting the secret plot to make the world richer." So, doing God's work. Well and good. Where's our cut?
"A series of reports over the last few weeks have shed more light on the increasingly predatory enforcement of misdemeanors across the country, and how this trend disproportionately hurts the poor" [WaPo]. A comparison of St Louis and Miami. The missing piece: In St Louis, the institutional motivation was revenue. Was that true in Miami? The story does not say.
San Francisco hotel workers union: AirBnB nukes not only hotel jobs, but affordable housing [Al Jazeera].
"Only One-third of Millennials Say They're Millennials" [Public Religion]. BWA-HA-HA-HA-HA!!!! What a great headline! Translation: "You will identify as a Millienial."
Imperial Collapse Watch
Documents detail US complicity in Operation Condor campaign, where a Chilean diplomat was whacked on US soil. Also too torture, disappearances, assassinations [Ben Norton]. I wonder who's Kissinger now? [hums]
News of the Wired
* * *
Readers, feel free to contact me with (a) links, and even better (b) sources I should curate regularly, and (c) to find out how to send me images of plants. Vegetables are fine! Fungi are deemed to be honorary plants! See the previous Water Cooler (with plant) here. And here's today's plant, the fifth of Garden Week (Perry):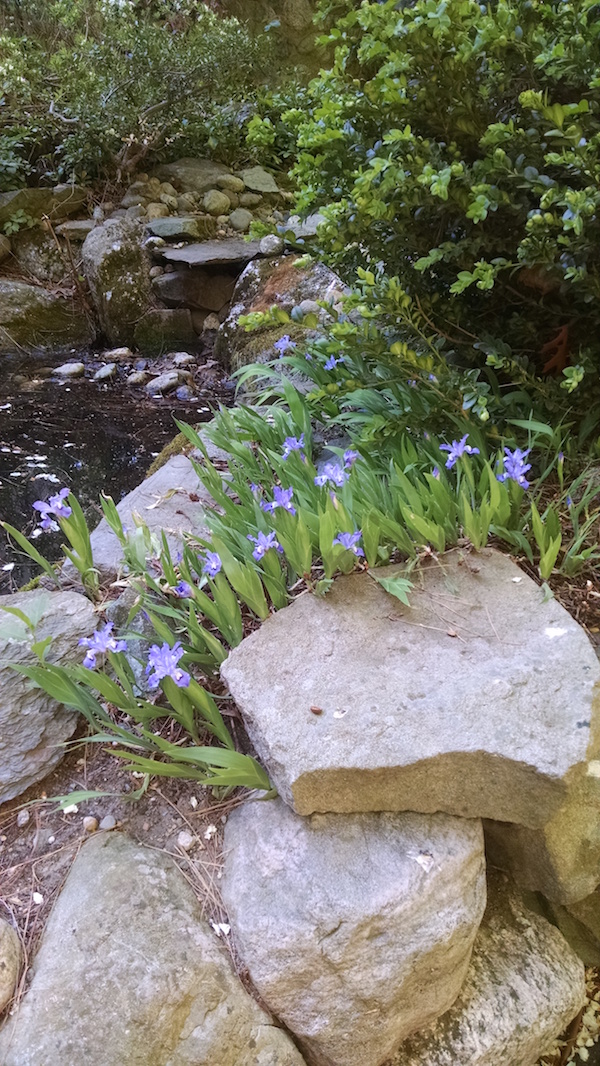 Perry writes:
These miniature iris are bordering my fish pond which needs spring cleaning before I turn on the recirculating waterfall.
That's one of my projects for this year; a "water feature." Readers, please send me more pictures of your gardens; it's occurred to me that I started asking too early, before people really got rolling outside.
If you enjoy Water Cooler, please consider tipping and click the hat. It's the soil, seeds, flats, and planting season!
(Readers will notice that I have, at long last, improved the hat!)