By Lambert Strether of Corrente.
Dear patient readers: This Water Cooler will be a little more abbreviated than usual, because that campaign corruption epic took longer than I thought it would. In fact, I'm so rushed I published it at 12:55, instead of 13:55. Oopsie!
TPP
From the Department of Things That Will Happen When Hell Freezes Over [Reuters]:
On Sunday, Sanders called on Clinton, who was an outspoken supporter of the trade pact as Obama's secretary of state, to take a stand on Obama's deal.

"You're either for it or you're against it. No fence-sitting on this one," he said on CNN.
"On TPP, it looks like 1993 all over again" [The Hill].
"Some in administration consider TPP aimed mostly at China" [WaPo]. Because Republicans hate China even more than Obama?
Australia's trade minister: TPP could be two weeks away if US fast-track measure passes [Guardian].
"Warren Details Obama's Broken Trade Promises" [HuffPo]. Here's the report [PDF]: "Decades of failure to enforce labor standards." Well, as far as most Republicans and plenty of Democrats, that's not a bug, but a feature, so WTF? What tactical purpose does this serve?
2016
Skipping 2016 in the Water Cooler today; see here, but put on your yellow waders.
The Hill
Pentagon shuts down highly-regarded suicide prevention program [Foreign Policy]. No doubt part of a game of Budget Chicken, but sheesh!
Stats Watch
Housing Market Index May, 2015: "The housing market index has long been signaling strength in the new home market that has yet to appear, but the signal is less strong in May" [Bloomberg].
Commercial paper: "Still no sign of any bounce" [Mosler Economics].
"Goldman's Hatzius: "The Employment Gap Is Much Bigger than the FOMC's Current Estimate" [Calculated Risk].
The Federal Reserve Bank of New York's (FRBNY) dynamic stochastic general equilibrium (DSGE) continues to predict a gradual recovery in economic activity with a progressive but slow return of inflation toward the Federal Open Market Committee's (FOMC) long-run target of 2 percent [Econintersect]. No doubt (?).
"Euro Wreaks Havoc on Carry Trades in Rally Almost No One Foresaw" [Bloomberg]. Except for the insiders, of course. The Bloomberg tweet comments: "theme of the moment: all of the obviously rational trades are going horribly wrong." Readers, do you agree? Is this "the theme"?
Amtrak Crash
"Amtrak Service Set To Resume, Conflicting Reports On Object Striking Derailed Train Probed" [CBS].
Hong Kong
"Exactly why investors are so keen on an umbrella maker to give it a sky high valuation is puzzling, while its shareholder structure looks even more bizarre" [Wall Steet Journal, "Umbrella Maker Shines as Top Hong Kong Stock"].
America the Petrostate
Handy map Los Angeles methane sources [LAist].
Big Brother is Watching You Watch
"Scotland Yard kept a secret dossier on Star Trek, The X-Files, and other US sci fi shows amid fears that British fans would go mad and kill themselves, turn against society, or start a weird cult" [Telegraph]. "Weird cult" as opposed to, say, the Tories.
Corruption
Bill Clinton to appear at Rahm's inaugural [Sun-Times]. Filed under corruption because Rahm.
Brown aims to scale back private prisons [Los Angeles Times]. Filed under corruption because privatization.
Universities
Two killed in Chile student protests [Telesur].
California imposes tuition freeze [yay] while crapifying courses [bo] and not taking an axe to their expensie and parasitic administrative layer [BOO!!!!!] [Reclaim UC].
114-year-old school Sweetbrier college to close, citing budget woes amid seeming prosperity [Fox]. If only they'd treated students as consumers and turned themselves into a party school!
An adjunct's farewell: "[T]he humiliation is too much at this point, and I've decided that I'm not going to do it anymore" [Chronicle of Higher Education]. Although the author never joined any adjunct movements…
Black Injustice Tipping Point
"Boy, 10, pepper-sprayed by Minneapolis police: 'At least I got Maced and not shot' " [Guardian].
Dream Hampton Says Jay Z Wired "Tens of Thousands" of Dollars to Cover Protestors' Bail [Complex]. Good for them, assuming it's not celebrity PR.
Baltimore shuts off water to homes with unpaid bills, but not businesses [Baltimore Sun]. USA! USA!
Harvard grad students discover there are no urban design courses on race and justice, design their own syllabus [City Lab].
Lawsuit: Fannie Mae, which now owns more than 100,000 foreclosed homes, has been doing a much better job of caring for the ones located in white neighborhoods than minority ones [WaPo]. With pictures.
Class Warfare
"Why Judging People for Buying Unhealthy Food Is Classist" [Hampton Institute].
How Illinois debt blew up Chicago's credit [Pro Publica].
One third of UK "millenials" like socialism [You.gov].
"Arrested for reporting on Qatar's World Cup labourers" [BBC]. Why I personally boycott Gulf States airlines.
News of the Wired
* * *
Readers, feel free to contact me with (a) links, and even better (b) sources I should curate regularly, and (c) to find out how to send me images of plants. Vegetables are fine! Fungi are deemed to be honorary plants! See the previous Water Cooler (with plant) here. And here's today's plant, the first of Gardens, Week Two (Greg):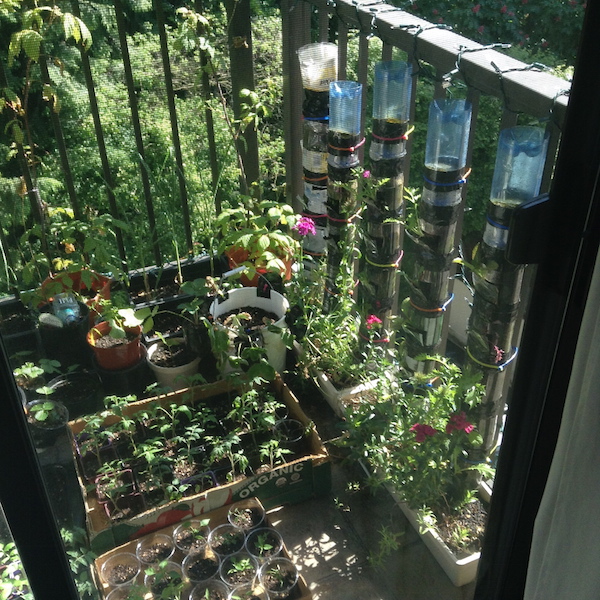 Wow! Greg writes:
Some pictures from my patio garden. Currently growing: strawberries, blueberries, raspberries, chard, kale, arugula, mustard greens, spinach, green beans, tomatoes, peppers, carrots, radishes, beets, garlic, and nasturtiums!
Readers, please send me more pictures of your gardens; it's occurred to me that I started asking too early, before people really got rolling outside.
If you enjoy Water Cooler, please consider tipping and click the hat. It's the soil, seeds, flats, and planting season! Also too Godaddy!
(Readers will notice that I have, at long last, improved the hat!)