By Lambert Strether of Corrente.
TPP
Kerry: "Globalization has no reverse gear, my friends" [Seattle Times]. And "Corporations are people, my friends."
Clinton: "I have been for trade agreements, I have been against trade agreements" [U.S. News]. Syrup with those waffles?
Warren and Manchin propose amendment to kick any bill with ISDS off Fast Track [Real Clear Politics]:
ELIZABETH WARREN: I've joined with Senator Heitkamp, Senator Manchin and a number of other senators to propose a simple change to the fast-track bill, a change that would prevent Congress from using this expedited process on any trade deal that includes so-called investor state dispute settlement (ISDS) provisions, and I come to the floor today to urge my colleagues to support this amendment. …  ."
Ouch (?). Manchin's West Virginia went for Clinton in 2008, as Clinton must surely know.
Senators are proposing Fast Track Amendments, but "none of these amendments would alter the substance of what Fast Track is—a bill to authorize the President to enter into binding trade agreements such as the Trans-Pacific Partnership (TPP) without proper congressional oversight over these secretive, industry-led deals" [EFF]. As they say in the Navy: You can't buff a turd.
"Hundreds of tech companies line up to oppose TPP trade agreement" [Guardian]. "Letter signed by more than 250 companies demands greater transparency and says 'dangerously vague' language would criminalise whistleblowers."
Of particular concern to the tech community is an "Investment Chapter" of the TPP drafted in 2010 and leaked by Wikileaks. The letter's signatories argue the provisions would allow corporations to use an international legal system to override national sovereignty: "The TPP Investment Chapter contains text that would enable corporations to sue nations over democratic rules that allegedly harm expected future profits. .
Of course, the tech companies that are already oligopolies didn't sign: Google, Facebook, Apple… So what does that tell you about TPP and "innovation"?
NAFTA, too, was sold as a "high standard'" agreement. "I was covering the trade deal at the time and interviewed top trade officials of both administrations. They also sold it as an advanced, high-standard deal that would lift Mexico from the Third World to the First World" [Seattle Times]. "TPP is sold as a 'high-standard' agreement. But would it do what NAFTA didn't? We can't say for sure because the complex agreement is secret. But history suggests more of the same."
Tyler Cowen: "I say let's just have a two-way button and ask everyone to press it: do you believe that TPP would lead to a net gain in economic welfare or not?" [WaPo]. Classic exhibition of the rhetorical brilliance and crippling sociopathy that are the deformation professionnelle of your typical professional "economist." (1) "Net gain" for whom?, and (2) is the surrender of national sovereignty really measurable in terms of "economic welfare"? (Just for the record, I say "Not me, and nobody like me," and "No it isn't, you… economist.")
New Zealand: "Leaked documents show New Zealand is one of several countries trying to include education in the Trade in Services Agreement (TiSA), a 23-nation free trade deal" [Radio New Zealand]. So awesome. More Corinthians!
2016
"In their own ways, Hillary Rodham Clinton and Jeb Bush have brought unintentional attention to the role of money in politics and public life" [Dan Balz, WaPo]. 
The S.S. Clinton
"America Rising [Bush's outsourcing SuperPAC] has sent out a steady stream of posts on social media attacking Mrs. Clinton, some of them specifically designed to be spotted, and shared, by liberals" [New York Times].

"While the overwhelming majority of [the young women interviewed] said they would likely vote for her in 2016, only about a quarter of them were enthusiastic or emphatic in their support" [National Journal]. Young women who identify as feminist, drawn, so far as I can tell, from the political and chattering classes (e.g. a 22-year-old Vice editor).

"Hillary Clinto [sic] is defending her 'loyal old friends.' Here's why that's a mistake" [Chris Cilizza, WaPo]. Cilizza goes on to compare Clinton to the 76ers' Allen Iverson (!). Like I said: "[A] ginormous and ever-evolving hairball of tangled and conflicted personal and institutional relationships."

"If she really thinks money is corrupting politics, she can take concrete steps right now. She could pledge to return immediately to the public finance system and call on pro-Clinton super PACs to cease and desist — if her Republican opponents will do the same" [Dana Milbank, WaPo]. Somebody seems to have thrown a switch at WaPo.

"[Clinton] told the gathering at Mason City [Iowa,] that her early campaign stops had convinced her that drug addiction and mental health issues should be a focus of her White House bid" [Reuters]. Hmm.

"I do believe she's right about one thing. 'I made a mistake,' Clinton said about her Senate vote to authorize war against Iraq. 'Plain and simple.'" [Ron Fournier, National Journal].
Republican Establishment
Bush II's chief of staff, Andrew Card, rebukes Jebbie on handling Iraq questions [Politico].

Jebbie, having blown off the Iowa straw poll, heads for New Hampshire, where he leads in the polls [New York Times]. "Which Early State Does He Win?" [HuffPo].
Republican Principled Insurgents
Questions on Wisconsin Economic Development agency dog Walker [Journal Sentinel]. But that's all they do….

Pew Survey: 70% of Republicans who have "thought a lot" about the primary favor Rubio, but only 40% of those who haven't do [National Journal]. Marco Rubio: The thinking Republican's candidate.

Anecdotally: "Rand inherits part of his father's base, it seems, but far from all of it" [WaPo].

Paul (against) disgrees with Christie (for) on PATRIOT Act [Wall Street Journal].
Stats Watch
MBA Mortgage Applications, week of May 15: "Purchase applications fell 4.0 percent in the May 15 week though, year-on-year, applications are still up a very strong 11.0 percent" [Bloomberg]. "The ongoing run up in mortgage rates may be easing demand for mortgage applications just at the time that demand for purchase applications had been gaining steam." Mosler: "note how depressed sales and starts remain" (ugly charts) [Mosler Economics].
"At last a tailwind for U.S. economy: housing" [Marketwatch].
ATA trucking index declined 3% in March [Econ Intersect]. But: "This data series is not transparent and therefore cannot be relied on."
"April 2015 Sea Container Counts Continue to Demonstrate Weak Conditions in the USA and Globally" [Econ Intersect]. "The continued underperforming of exports is not a positive sign for GDP as the year progresses."
Big Brother is Watching You Watch
Obama signs "Blue Alert" bill [Baltimore Sun].  Like Amber alert, but for cops.
This #BlueAlert system is a dangerous double edged tool with the potential to embolden anti-Black vigilantes AND intimidate protestors.

— BrownBlaze (@brownblaze) May 20, 2015
If a Tweet or a Facebook post can pose a "credible threat," that means that any bent cop, FBI agent, DHS contractor, or Fusion Center goon with a fake account can trigger a "Blue Alert." Also, all of these agencies regard protest as such as a credible threat. What could go wrong?
Police State
"Feds launch body camera website for police" [Union-Tribune]. With handy diagram of where to find the off switch, no doubt….
"[Mobile Justice app] sends videos to local American Civil Liberties Union chapters if users believe that law enforcement officers are violating civil rights" [WCJB].
Corruption
"News Corporation Australia has admitted that it is the only company in the Tax Office's high-risk category for tax avoidance, while refusing to answer further questions put by the Senate economics references committee" [Australian Financial Review].
Black Injustice Tipping Point
FDR's HOLC [Home Ownership Loan Corporation] mapped and divided cities by race [Slate]. "Working with [chief economist of the Federal Housing Authority, Homer] Hoyt at the FHA, the HOLC would map cities and divide neighborhoods into various risk categories that were based on his ethnic hierarchy and coded accordingly." Genuinely horrible; the standard talking point is that FDR made a devil's bargain with Southern segregationists to pass the New Deal, but here we have a New Deal program that drove segregated housing patterns through the entire post-World War II era, and up to this day, as the demographics of St Louis, including Ferguson, show. (We might also note "coded accordingly"; this is the '30s equivalent of "big data.") I hate to say it, but HOLC makes HAMP look good.
"St. Louis cop who killed 18-year-old avoids charges" [CBS]. Film at 11.
"Protesters arrested outside of St. Louis circuit attorney's home" [KPLR]. "[The police] had to  [?] use pepper spray, and at one point, a protester smeared pepper spray on Police Chief Sam Dotson" [CBS].
"Reflecting on #VonDerritMyers (May 18, 2015)" [Sean Jordan].
"Taser shooting in Broward ruled a homicide" [Miami Herald]. Informally, I remember the first intimations of out-of-control police violence surfaced with tasers ("Don't tase me, bro!"). I don't know if the cops escalated to guns after tasers didn't do whatever they were supposed to do, or whether gun and taser escalations occurred in parallel.
Class Warfare
"What if everybody didn't have to work to get paid?" [The Atlantic]. BIG getting a little traction in the political class, oddly. Or not.
"Of course you don't love your job. You're not supposed to" [WaPo].
Climate Change
"Biotic interactions mediate soil microbial feedbacks to climate change" [PNAS] Translation: "Worms and other small, soil-dwelling animals act as a buffer against climate change" [Al Jazeera]. Worms like sheet mulch, so sheet-mulch your goddamed lawn and grow flowers and vegetables. We can all do our little bit.
News of the Wired
* * *
Readers, feel free to contact me with (a) links, and even better (b) sources I should curate regularly, and (c) to find out how to send me images of plants. Vegetables are fine! Fungi are deemed to be honorary plants! See the previous Water Cooler (with plant) here. And here's today's plant, the third of Gardens, Week Three (Gene & Julia):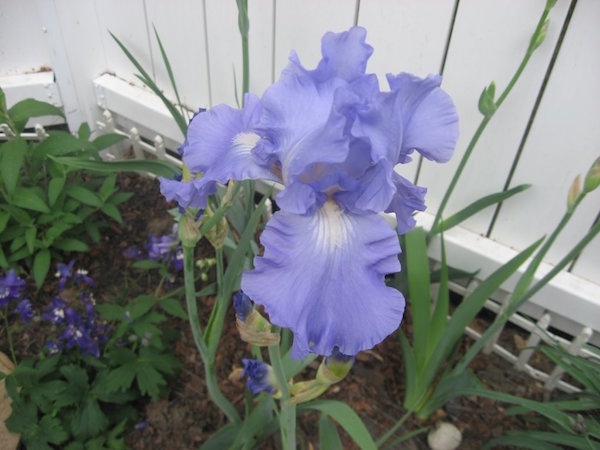 G & J write:
My 89 year old friend, a master gardener, gave me these iris last year w/ the caveat that they might not bloom the first year. Well, they did and they're magnificent. I have about 19 more buds!

Delphinium is to the immediate left, bee balm far left. To the right is spider-wort.
I love iris; they're my favorite flower, although mine are two or three weeks away, at least. And bee balm attract hummingbirds!
Readers, please send me more pictures of your gardens; I understand that heirloom iris growers, besides being generous with their bulbs, are highly competitive ;-)
If you enjoy Water Cooler, please consider tipping and click the hat. It's the soil, seeds, flats, and planting season! Also too Godaddy!
(Readers will notice that I have, at long last, improved the hat!)