By Lambert Strether of Corrente.
TPP
TPP moves to final vote today. McConnell to consider amendments [CNN]. The votes [The Hill]. Here are the Democrats who voted against national sovereignty:
Democratic Sens. Patty Murray (Wash.), Maria Cantwell (Wash.) and Jeanne Shaheen (N.H.) were among the final Democratic "yes" votes. … The other Democrats who voted to end debate were Sens. Tom Carper (Del.), Claire McCaskill (Mo.), Dianne Feinstein (Calif.), Heidi Heitkamp (N.D.), Chris Coons (Del.), Mark Warner (Va.), Michael Bennet (Colo.), Tim Kaine (Va.), Bill Nelson (Fla.) and Ron Wyden (Ore.), the ranking member of the Senate Finance Committee.
"[Rand Paul's NSA] filibuster hampers the GOP-led Senate's efforts to pass the big-ticket items before the Memorial Day recess" [The Hill].
Rep. Sander Levin (Ways and Means): "The administration likes to say that they are going to remedy NAFTA through TPP" [WaPo]. "Honey, I've changed!"
"It's hard to see what is left of the much ballyhooed Asian pivot without TPP" [Yale Global].
2016
Sanders
"I am Senator Bernie Sanders, Democratic candidate for President of the United States — AMA" [Reddit]. Explainer [Matt Yglesias, Vox].

"Sen. Bernie Sanders (I-Vt.) is moving fast to corner the market for a firebrand liberal alternative to Hillary Clinton in 2016 — complicating life for former Maryland Gov. Martin O'Malley" [The Hill].

"Sen. Bernie Sanders (I-Vt.) netted of $1,867.42 for two paid speeches and a television appearance last year, according to according to financial disclosure reports" [The Hill]. And maybe that's what it takes to hit the big time.

Wolf Blitzer interviews Bernie Sanders [Real Clear Politics]. Note that caption.

Sanders to pay for free four-year public college with Wall Street transaction tax [Slate]. Attaboy, but Federal taxes don't "pay for" Federal spending. Check into that, wouldja? Will it work?
The S.S. Clinton
Clinton campaign delays traditional formal rollout with speech and rally indefinitely [Politico]. Fine by me, but:

"If they had their druthers, they would basically get off the front pages, let the Republicans eat themselves alive, and let her do what she needs to do: raise the money and not have to be part of the debate right now," said one Clinton donor who's familiar with the campaign's thinking. "She has 100 percent name recognition and is in a good place vis a vis the primary. Why put your foot on the accelerator?"

And/or keep Clinton wrapped in tissue paper as long as possible.

Reclusive Chicago mega-donor Fred Eychaner throws Clinton fundraiser [Blooomberg]. Eychaner: "Nobody has approached me about a super-PAC yet."

Priorities USA Action, a Clinton SuperPAC has only $5 million in 'hard commitments' [Wall Street Journal]. Un-ka-ching. Drama.

Yes, Clinton is a liberal [FiveThirtyEight]. By the Beltway's Overton Window standards, perhaps, modulo Iraq.

The process for releasing Clinton's emails (handy chart) [WaPo]. Old data hands will recognize this as a perfectly straightforward conversion project. And I think starting with paper is a good thing, since digital evidence is often not evidence. Making the best of an utterly messed up — and corrupted — system, technically.

Clinton's staff at state kept a tight rein on records [Wall Street Journal]. No doubt!
O'Malley to make special announcement May 30 [CNN]. Youthfulness as the pitch? Really?
Republican Establishment
David Frum throws Jebbie under the bus: "Jeb Bush's Many Problems" [The Atlantic]. Poor Jebbie. Even trying to steal an election for his dry drunk brother wasn't enough.
Republican Principled Insurgents
Kudos to Rand Paul for filibustering on NSA [Los Angeles Times].
Republican Clown Car
Christie tries to revive the Grand Bargain [Wall Street Journal]. Pandering to the conventional wisdom of the political class to distinguish himself from the pack by showing he can make "hard choices" worked for Obama in Iowa 2008. It won't work for Christie.
"Sitting on a sofa on a Sunday afternoon" [Politico]:
The CNN Republican primary debate on Sept. 16 will be divided into two parts featuring two different sets of candidates: those who rank in the top 10 according to public polling, and the remaining candidates who meet a minimum threshold of 1 percent in public polling.
Wowsers. First Class, and Steerage? Clown Car and Luxury Car? The Best and the Rest?
Stats Watch
Leading indicators, April 2015: "The historic surge posted earlier this week in building permits gave an outsized boost to the index of leading economic indicators" [Bloomberg]. "The LEI may be over signaling general strength and especially strength in the housing sector." "Unfortunately, knowing the current values is no assurance that a recession is or is not imminent as there is no track record of real time performance" [Econ Intersect].
Jobless claims, week of May 16, 2015: "Claims levels remain extremely low and are signaling a significant lack of layoffs in the labor market" [Bloomberg]. "Initial claims did edge up in the May 16 week but not by much."
Existing Home Sales, April 2015: "Existing homes sales are not living up to springtime expectations, down 3.3 percent in April" [Bloomberg]. "This report in sum is a disappointment, failing to point to any building momentum."
Consumer Comfort Index, week of May 17: "Consumer confidence is ticking lower, coming down from recovery highs that never did equate to anything close to a peak in consumer spending" [Bloomberg]. You can practically hear the sigh.
"April 2015 Existing Home Sales Headlines Say Sales Down. We Believe Sales Continue to Trend Upward" [Econ Intersect]. See methodology discussion at end.
Chicago Fed National Activity Index, April 2015: "April was not the month that anybody hoped for, failing to show much bounce at all from a very weak March" [Bloomberg]. "Was the first-quarter a one-time slowdown hit by special factors or was it simply another quarter of slowing for an economy that's losing momentum? The 3-month average points, at least right now, to the latter."
PMI Manufacturing Index Flash, May 2015: "Markit's US manufacturing sample had been far stronger than other readings on the sputtering sector but is a little less so with the May report" [Bloomberg]. "Strength in the report is centered in employment, but this won't last if orders continue to slow." Still blaming the port strike, too. Can that be right?
"Kansas City Fed: Manufacturing Contraction Accelerates in May 2015" (handy charts) [Econ Intersect].
Philadelphia Fed Business Outlook Survey, May 2015: Best news slight uptick in orders although not "searing" [Bloomberg]. "The manufacturing sector, hit by weak exports and trouble in the energy sector, has yet to find its footing this year but this report, which is very closely watched, points to stability that in turn hints at a rebound in the months ahead."
Dear Old Blighty
"Revelations Of British Pedophile Ring Spur Flood Of Abuse Reports" (audio) [NPR]. Jimmy Savile, ugh ugh ugh ugh.
Brit charged for terror tweets ("dissemination of terrorist publications") [Court News].
Big Brother is Watching You Watch
"Murderous spooks drive journalism project to WikiLeaks" [Wikileaks]. Probably a NSA bent contractor (sorry for the redundancy).
Is the FBI using child porn charges to hide a national security investigation? [Newsweek]. Hmm. Parallel construction?
Police State
Homeland Security Agents involved in West Palm Beach shooting [CBS12].
How the DEA harasses Amtrak passengers [The Atlantic].
Minimal requirements for armed security guards in South Carolina [WMBF].
When the gang bangers are white guys [The Marshall Project].
Waco: How many bikers shot each other, and how many did the cops shoot? [Los Angeles Times].
Corruption
Review of the Marine Corps's accounts was "a historic success, until it wasn't. The story behind that reversal casts doubt on the Pentagon's ability to produce clean ledgers by a 2017 deadline" [Reuters]. This looks very ugly to me. Do we have an accountant in the commentariat?
"Florida postman who landed his gyrocopter on the White House lawn facing up to nine and a half years in prison" [Daily Mail]. Filing this under corruption because he was a "get money out of politics" guy.
"San Francisco's luxury bus service Leap suspended by regulators" [Los Angeles Times]. Yeah, because they hadn't gotten insurance. But that's OK! In the "sharing economy," bus passengers can just get their own insurance!
"The U.S. Justice Department has declined to press criminal charges in connection with an investigation into allegations of contract fraud and public corruption at a private prison in Idaho" [AP]. The "gladiator school" one.
Black Injustice Tipping Point
"Someone is Stealing "Black Lives Matter" Signs From Churches and Homes" [Riverfront Times]. Classy!
Ferguson unveils permanent Mike Brown memorial [Daily Mail].
Health Care
Corporate "wellness" programs can hurt your health [Bloomberg]. But ObamaCare encourages them. Oh, wait; that's a self-licking ice cream cone!
Amtrak Crash
Rail safety: "You get what you pay for" [New York Times]. And what we're paying for now is a crappy, second-world system.
Fire Amtrak's management and give it more money [Politico]. That's the bottom line.
Government Documents
"NASA Guide to Air-Filtering Houseplants" [Garden Blog].
How to organize your Outlaw Motorcycle Gang (OMG) "run"; handy diagram of formation, including chase car [Mother Jones].
Class Warfare
"At a seated dinner in the stately surroundings of the Andrew W. Mellon Auditorium, 120 guests began their meal with a foie gras feuilleté and ended it with a white chocolate "flower pot" filled with raspberries and mousse" [WaPo]. "Purge the rottenness out of the system," say I.
"Around the country, renter households would need to make $19.35 an hour working full time to afford a two-bedroom unit, which is $4 more than the estimated average wage of U.S. workers" [Wall Street Journal].
Why some Missouri Republican legislators voted against so-called "right to work" legislation [WaPo].
"Brokers tricking Rohingya children onto trafficking boats" [AP]. Rohingya brokers.
News of the Wired
* * *
Readers, feel free to contact me with (a) links, and even better (b) sources I should curate regularly, and (c) to find out how to send me images of plants. Vegetables are fine! Fungi are deemed to be honorary plants! See the previous Water Cooler (with plant) here. And here's today's plant, the fourth of Gardens, Week Three (YR):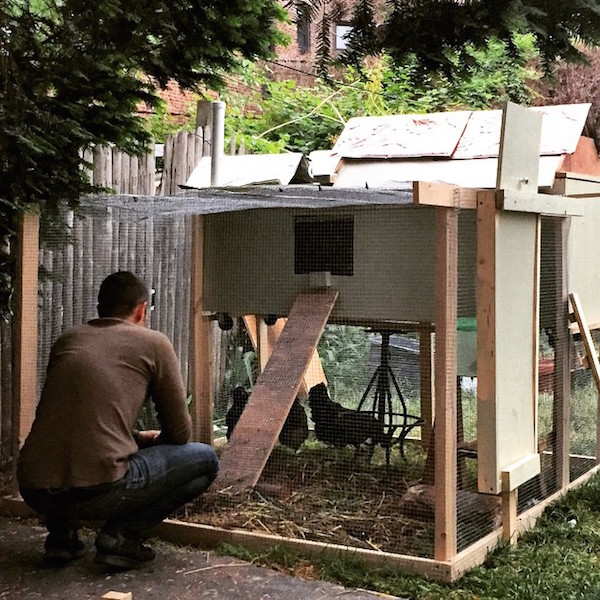 YR writes:
Thought you might enjoy the picture of my backyard in Brooklyn, complete with coop and three chickens producing delicious eggs and compost!
I'm going to make an exception here for those chickens, because this is a garden shed, and I'd like to encourage readers to send in their garden construction projects! And compost is derived, at least mostly, from plant matter.
If you enjoy Water Cooler, please consider tipping and click the hat. It's the soil, seeds, flats, and planting season! Also too Godaddy!
(Readers will notice that I have, at long last, improved the hat!)