By Lambert Strether of Corrente.
TPP
Stupid gotcha by The Beltway Shopper Politico on Warren and ISDS retails oppo [Matt Yglesias, Vox]. No chin-stroking from Yglesias, so you know this isn't even colorable. 
2016
The S.S. Clinton
Readers: In some sort of kerfuffle, I lost the links I'd intended to add on the latest drama… of which this would have been one.

Clinton campaign turns its Twitter account over to supporter for a day [Corrente]. Smart!

"Hillary Clinton's lucrative life of crime" [Ted Rall, Japan Times (!)].
Republican Establishment
"Jeb Bush massages New Hampshire woman" [CNN]. At least it wasn't Angela Merkel.

Bush promises 20-year-old growth selling 40-year-old Conservative nostrums. It's GENIUS!! [Reuters]. I wasn't sure how long snake oil stays in the bottle without deteriorating. Come to think of it, I'm still not sure.

Perry on Jade Helm: "I hope people always question government, but don't question your military. Don't question the men and women who have put their hands up and sworn this oath to our Constitution and defended this country" [Talking Point Memo]. Last I checked, the President took an oath of office, though you wouldn't know it over the past 15 years. Did I not get the memo?
"Nothing much is going on right now in the 2016 presidential campaign–unless you're a Republican political junkie, in which case every day is Christmas or, perhaps, Halloween" [Joe Klein, Time].
New two-tier Republican debate rules set by FOX encourage the clown car to book lots of cable, spend money early [National Journal]. The real story is that FOX is now openly part of the Republican Party apparatus.
"Having washed their hands of the war and escaped further interrogation about it, [Republicans] can turn around and attack Hillary Clinton over the Iraq war from the left" [The New Republic].
Karl Rove is losing his mojo [New York Times]. Looks to me like the squillionaires are doing what lousy bosses everywhere do, aided by sycophants praising their brilliance while picking their pockets: Taking personal control.
Republican Principled Insurgents
Why Rand Paul's Patriot Act filibuster was strainght-to-video and not much else [Christian Science Monitor]. Sigh. And I'd wanted to like the guy on this one thing.
Republican Clown Car
Twelve staffers from Fiorina's failed 2010 campaign still haven't been paid. Fiorina's net worth is up to $120 million [Reuters]. What is it with rich people cheating their servants? Do they do it for fun?

"The crowd went wild and chanted Trump's name even before he took the stage at the Van Wezel Performing Arts Center to receive the 'Statesman of the Year' award from the local Republican party" [DailyMail]. Trump on Iraq: "We spend $2 trillion, we lost thousands of lives, we've got wounded warriors – who I love more than anybody – all over the place. And you can't say if it was a bad thing?"
Chris Christie trails Ben Carson in the polls [@davidsirota]. Ouch.
Senate
PATRIOT Act throwdown with Feingold vs. Johnson in Wisconsin [The Intercept].
Left and right combine to end death penalty in Nebraska [Los Angeles Times]. See, strange bedfellows can work.
How liberal or conservative is your name? [Crowdpac]. Fun!
Stats Watch
Consumer price index for April, 2015: "Excluding food and energy, core prices rose 0.3 percent which doesn't seem that much but is outside Econoday's high-end forecast for 0.2 percent. It is also the highest since January 2013" [Bloomberg]. Hawks emit hoarse, rasping screams.
Readings showing pressure are outside energy including medical costs (up a very steep 0.7 percent in the month) and education costs (up 0.5 percent). Shelter costs, reflecting rising rents, came in at plus 0.3 percent for the 3rd time in 4 months which is the hottest streak for this reading since way back in late 2006 and early 2007. Also standing out are gains in furniture (up 1.3 percent) and used cars (up 0.6 percent).
Health and education looks like rising rents to me, too. Heh.
"Federal Reserve policy, which has historically focused on core inflation as measured by the core PCE Price Index, will see that the more familiar core CPI remains below the PCE the target range of 2 percent" [Econ Intersect].
On yesterday's ATA truck tonnage: "Still headed south. Maybe just a few more rate cuts…" [Mosler Economics]. 
Dear Old Blighty
A helping hand for Labour [Mutterings from The Left]. Quoting a constituent:
I'm going to help you out here, Labour, because I have watched your decline for a long time and it seems clear that you have not the foggiest idea where you have gone wrong….

Forget Blairism. The con Blair pulled off worked once, but it will not work again in our lifetime, because there are things people don't forget. Blairism gained Labour the support of a certain number of swing voters and that helped you as long as your core supporters loyally stood by you. Whatever made you think, though, that you could give up the goals and values of your real clientele and that nevertheless they would keep voting for you indefinitely? Sure, many people feel loyal to a party and are patient with it, and there is a certain inertia that needs to be overcome before some voters desert their traditional party. But if that party continually fails to represent their supporter's interests, these supporters will eventually walk away. The sentence I heard again and again and again these last few months was this: "I have not left Labour, Labour have left me." That is the core of the problem.

So listen to me well, Labour Party, because if you get this wrong again you will be done for, once and for all: Don't try to appeal to Tory voters.
Her complaint seems oddly familiar….
"Cameron  announced a proposal to seize the wages of immigrants in the country illegally" [Los Angeles Times].
"Theresa May's plan to censor TV shows condemned by Tory cabinet colleague " [Guardian]. Censor in advance.
SNP could stop fox hunting [Mirror]. Should really be filed under Class Warfare.
Water
For first time in nearly 40 years, California regulators will curtail pumping by those with senior water rights [Los Angeles Times].
California Water and Power's $178-million billing system has screwed up thousands of accounts since 2013 [Los Angeles Times]. Another coding horror story among so many. But Silicon Valley triumphalists think moar code will solve everything… 
Big Brother is Watching You Watch
"ISPs resurrect Verizon claim that they should control speech on their networks" [Ars Technica]. When are these clowns going to recognize their job is to keep the Intertubes unclogged and running freely, and leave it at that? 
"How we're fighting back against the UK surveillance state—and winning" [Ars Technica].
America the Petrostate
Plains All American Pipeline, who operate the pipeline that burst in Santa Barbara, got themselves exempted from county regulation 20 years ago, with the result that there's no shutoff valve (!) [Santa Barbara Independent (emptyfull)]. A cautionary tale, as some states seek to eliminate country regulation of fracking.
Polar Code adopted [Tanker Operator]. Just what it sounds like: Code for operating oil tankers in polar waters. What could go wrong?
"Millions of barrels of untapped oil that U.S. shale drillers discovered during the boom years are about to disappear from their inventories" [Bloomberg]. Bumpsadaisy…. 
Climate Change
Paper: Yet another Antarctic ice sheet destabilized by warmer water from below [WaPo]. "'This is one of now three really quite substantial signals that we've seen from different parts of West Antarctica and the Antarctic peninsula that is all going in the same way,' said Jonathan Bamber of the University of Bristol, one of the paper's authors."
"President Barack Obama says climate change deniers are endangering national security" [Informed Comment]. Which would explain opening up the Arctic to drilling.
Avian Flu (H5N2)
Avian flu still spreading, egg prices rice, vaccine makers concerned [Reuters]. Not dangerous to humans, apparently.
Michael Osterholm, director of the Center for Infectious Disease Research and Policy at the University of Minnesota: The virus "doing things we've never seen it do before. … Now we surely have a very dynamic situation in the Midwest" [NPR].
A huge incinerator is being set up at the Cherokee County [Iowa] landfill, and officials there plan to fire it up this week and have it burning for 24 hours a day. Although some hold out hope that the outbreak will die down this summer, when its harder for the virus to live in hot temperatures, others guess that states could be cleaning up for months or even years to come.
And I think "a very dynamic situation" is how we say "my hair is on fire" in government.
In my quick research this morning, I don't see any explainers at the top what's newsworthy, though factory farming is a very obvious suspect. Iowa, as everybody knows, is an early, retail politics primary state. Perhaps some candidates could be asked about this.
Police State
Canadian teen pleads guilty to 23 charges of swatting, harassing "mostly young, female gamers" who declined or ignored his friend requests on LoL and Twitter [Ars Technica]. But I'm sure it was about ethics in journalism. Anyhow, I'm filing this under police state, because without a militarized police force with hair trigger trouble, swatting wouldn't exist.
Class Warfare
Poor and minorities shoulder college debt while Presidents write themselves huge checks [Wonkwire]. Step one to fix the university system is to gut the administrative layer, starting at the top.
"[T]he 'lack of confidence' women display in [job seeking] may just be a cold realism, not an inherent character trait" [Bloomberg]. Ya think?
News of the Wired
* * *
Readers, feel free to contact me with (a) links, and even better (b) sources I should curate regularly, and (c) to find out how to send me images of plants. Vegetables are fine! Fungi are deemed to be honorary plants! See the previous Water Cooler (with plant) here. And here's today's plant, the fifth of Gardens, Week Three (Jeffrey):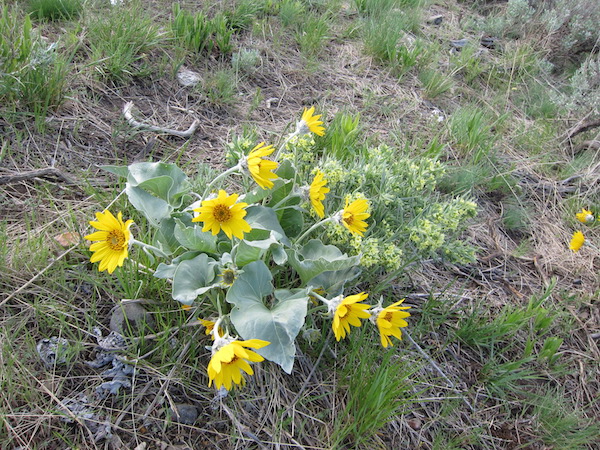 These guys made it through a killing frost in Montana! Jeffrey:
I feel ample guilt for what we have sowed and wrought on the innocent flora and fauna around us… Carbon 400 , baby!!
I don't; I feel plants are smarter than we are and will long survive us. How's your garden coming? Make this Zone 5b guy jealous!
If you enjoy Water Cooler, please consider tipping and click the hat. It's the soil, seeds, flats, and planting season!
(Readers will notice that I have, at long last, improved the hat!)