By Lambert Strether of Corrente.
Readers, this Water Cooler is very TPP-heavy, which bugs me, because it means malefactors are getting away with something somewhere else, but there's a lot happening.
TPP
TPP's "Living Agreement" clause is even worse than ISDS [American Thinker]. "Living" like what? A zombie? Senator Jeff Sessions (R-AL):
[SESSIONS: ]According to the Congressional Research Service, our own group, the TPP's Living Agreement provisions is unprecedented. Indeed, I'm one of the few I think that went to the secret room to read the secret document, and when it described the Living document, it said it was "unprecedented." I presume I won't be arrested for making that quote from the secret document.

The United States Trade Representative's website is very candid about the purpose of this living agreement provision. It is to "enable the updating of the agreement as appropriate to address trade issues that emerge in the future as well as new issues that arise with the expansion of the agreement to include new countries."

It creates a commission, another commission, consisting of representatives from each member nation, which has vast powers to govern the agreement, and govern, to some degree, the countries who participate in it.

When Congress approves these treaties, it will be delegating its right to amend these treaties to the Commissions created by these treaties.
Alea iacta est or, as Ben Franklin said, "A Republic. If you can keep it."
Malaysian Minister of International Trade and Industry, Mustapa Mohamed: "Regarding our Tier 3 position on human trafficking, this could be resolved if a Tier 3 country is seen to be taking concrete steps to implement recommendations in the Trafficking in Persons report" [Malaya Mail]. Anti-slavery advocates will naturally be interested in how the "concrete steps" formula was arrived at; it seems likely to me that the administration already cut a side deal with Malaysia on State's Tier 3 designation. So it would be interesting to see a copy of that side deal. Maybe an anti-slavery, anti-TPP Republican (they do exist) could ask Hillary whether she's aware of any email to that effect.
"If Congress grants the administration fast-track (also known as Trade Promotion Authority), it will mean two to four months for public comment before Congress gives the deal an up-or-down vote, with no amendments or debate" [NPR]. I wonder if that's time to FOIA all the side deals?
"[Mustapa Mohamed] today urged the Malaysian public to defer judgment on the controversial Trans-Pacific Trade Agreement until July, when a cost-benefit analysis (CBA) will be released" [Free Malaysia Today]. July?
Limbaugh: "Republicans are providing the necessary push to get TPP passed, which kind of bothers me. Since it's an Obama deal, the odds are it isn't good. Since it's an Obama deal, the odds are the United States is gonna take it in the shorts, as we have on so much of the Obama agenda, both domestic and foreign policy" [HuffPo]. No doubt Limbaugh would be more supportive of a trade deal under Republican branding — the RomneyCare -> ObamaCare play, just in a different direction — but the good guys can use the help, regardless.
"If that sounds more like a Tea Party American than a liberal, you've noticed a political convergence surrounding free trade" [Baxter Bulletin].
Rep. Jan Schakowsky (D-Ill.): "I am confident that the legislation will be defeated in the House" [HuffPo].
"As of yesterday (May 24) no new date had been set for the next Trans Pacific Partnership ministerial. … It has also been argued that since this matter won't go to the House of Representatives until June because of a Congressional recess, and because neither the Democrats or Republicans want it to be an issue in the presidential election, that TPA might not be approved until after January 2017" [Rabble.ca]. 'Tis a consummation devoutly to be wished, but don't relax. Note, however, that this timetable dovetails perfectly with Hillary's verbal crawfishing and waffling.
"[T]he ["]Progressive["] ["]Coalition["] for American Jobs [sic] (PCAJ), which is advised by former Obama campaign officials" "is running a series of digital ads this week backing senators who voted for a fast-track bill that is vehemently opposed by the left" [The Hill]. Digital ads in 11 states, starting Wednesday [Politico]. But digital, mind you, is cheap.
"We want our elected leaders to know that we appreciate their support for this critical legislation, we have their backs, and we'll continue to stand with them as the conversation continues around free and fair trade," PCAJ Executive Director Chris Wyant said in a statement.
Note the smarmy "conversation," favorite word of Democratic apparatchiks everywhere. And the word "leaders," the airport bookstore-level managerial jargon favored by the political class as a whole. More seriously, when did Obama ever have anybody's back but his own?
"TPP would cut Japan's agriculture output by 3 trillion yen ($24.6 billion) while the economy would get a boost of under one percent, the government estimates, although Prime Minister Shinzo Abe has touted it as an engine of reforms needed to drive growth" [Reuters].
"More than 70 organizations including the National Corn Growers Association is hailing the Senate passage of the Trade Promotion Authority Legislation" [WNAX].
About that Senate deal: "The Senators who flipped had obtained other concessions, on issues like the Export-Import Bank and currency manipulation—but tellingly most of the concessions were promises to let something be voted on, not commitments to pass them" [Econwatch]. Kayfabe, then.
2016
The S.S. Clinton
Clinton is the overwhelming favorite [Vox]. Well, 531 days is a long time in politics.

"Clinton Foundation Donors Got Weapons Deals From Hillary Clinton's State Department" [International Business Times]. Sirota's doing great work, but look, film at 11. How do we compare the scale and scope of corruption between candidates and dynasties? That's the more important question.
The Republican Party's Josh Duggar problem [Politico]. Lots of Duggar grip-and-grin pictures with wingers.
Republican Principled Insurgents
Handy list of all the Walker scandals [Political Environment].
Stats Watch
New Home Sales, April 2015: "New home sales bounced back solidly in April, up 6.8 percent to a 517,000 annual rate that is on the high side of Econoday expectations. Strength is centered in the South" [Bloomberg]. "The [volatile] housing sector is still trying to get off the ground but indications, taken together, are improving." "That is a solid first four months!" [Calculated Risk]. Exclamation point. "[I expect that] distressed sales will continue to decline and be offset by more conventional / equity sales." Sales in Detroit were up, and I wonder if that supports CR's theory that "the distressed gap" will continue to close.
Case-Shiller HPI, March 2015: "House prices are far from frothy to say the least but nevertheless are hinting at second-quarter strength for the sector" [Bloomberg]. Case-Shiller authors: "Given the long stretch of strong reports, it is no surprise that people are asking if we're in a new home price bubble. The only way you can be sure of a bubble is looking back after it's over" [Econintersect].
FHFA House Price Index, March 2015: "The FHFA house price index rose a lower-than-expected 0.3 percent in March, not confirming a much stronger 1.0 percent gain for the S&P Case-Shiller index" [Bloomberg]. Same "far from frothy" qualifier as above.
PMI Services Flash, May 2015: "Growth in new orders is the slowest yet this year with the build in backlog orders at a 10-month low" [Bloomberg].
Durable Goods Orders, April 2105: "The capital goods sector is showing life, helping to limit April's aircraft-related decline in durable goods orders to a roughly as-expected 0.5 percent" [Bloomberg].
Richmond Fed Manufacturing Index, May 2015: "Employment growth is down while shipments are in contraction for a 4th month. Price readings are flat" [Bloomberg]. "First it was Empire State, then the Philly Fed, then Kansas City, all showing weakness this month and now including Richmond. Data from the Dallas Fed, also released this morning, is especially weak. The manufacturing sector is having a tough time gaining momentum, held down by weak exports and contraction in the energy sector."
Dallas Fed Mfg Survey, May 2015: "Contraction in the energy sector continues to pull the Dallas Fed report into deeply negative ground" [Bloomberg]. "The energy sector is hurting badly."
Consumer Confidence, May 2015: "confidence is stabilizing at a solid level" [Bloomberg]. "Job readings are mixed with the assessment of the current market down as more, now 27.3 percent vs April's 25.9 percent, describe jobs as currently hard to get. This reading is closely watched."
State Street Investor Confidence Index, May 2015: "Up a solid 7.0 points." "Strength is centered in North America" [Bloomberg]. "The report attributes the region's gains to a retracement for the dollar, stabilizing energy prices, and reduced expectations for a Fed rate hike." Does that translate muscling Yellen for moar free money with the threat of a capital strike?
Black Injustice Tipping Point
St Louis PD: Yes, we're tracking your cellphones, but we're not going to tell you about it [St Louis Today].
"AP source: Cleveland reaches deal with Justice on policing" [AP]. A little late?
"After Two Nights in Jail, More Than 50 Nonviolent Protesters and Observers Released On Monday Morning " [Cleveland Scene]. Excellent reporting from the ground.
"The FBI's Response To Another Killer Cop Set Free? More Surveillance of Protestors" [Alternet]. Cleveland, the Brelo case. So what's their point?
Cops whacking Native Americans at about the same rate they whack blacks [Mic].
Corruption
"Sheldon Adelson to face allegations of graft, ties to Chinese organized crime in U.S. court" [Haaretz]. What a shame. Newtie's meal ticket.
Class Warfare
"How to turn a liberal hipster into a capitalist tyrant in one evening" [Guardian]. A variation on the Stanford prison experiment.
"Public-Sector Jobs Vanish, Hitting Blacks Hard" [New York Times]. Uniquely among past recessions/depressions, state and local employment actually dropped after the Great Financial Crash. Had the stimulus package been adequate, that wouldn't have happened, so thanks Obama. Also, the foreclosure crisis had to have tanked local property tax revenues, and MERS sucked $200 billion in fees away from localities. So it's hard to see those vanishing jobs as anything other than a state-weakening neo-liberal feature, and not a bug.
News of the Wired
* * *
Readers, feel free to contact me with (a) links, and even better (b) sources I should curate regularly, and (c) to find out how to send me images of plants. Vegetables are fine! Fungi are deemed to be honorary plants! See the previous Water Cooler (with plant) here. And here's today's plant, the second of Gardens, Week Four (Chuck):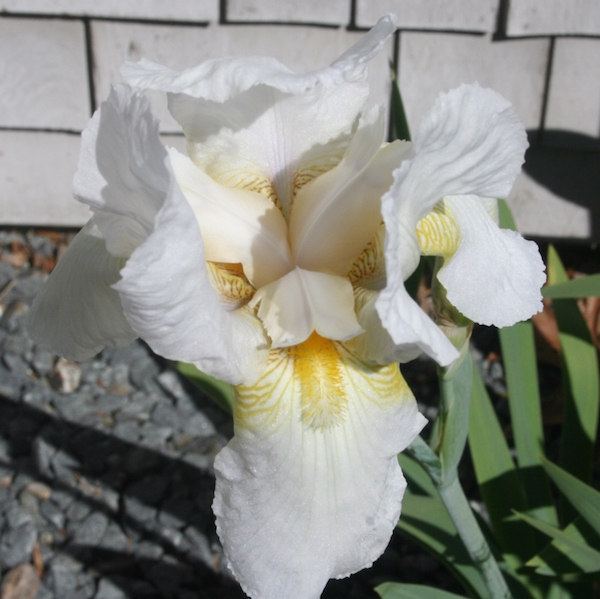 Chuck writes:
This is the first Iris to bloom in our garden this year. More will bloom soon.
Still waiting on mine….
NOTE: My contact form has a poor user experience: It defaults to my email when you don't fill in yours. I have to fix this, but in the meantime, please remember to fill in your email if you want me to contact you!
If you enjoy Water Cooler, please consider tipping and click the hat. It's the soil, seeds, flats, and planting season!
(Readers will notice that I have, at long last, improved the hat!)