By Lambert Strether of Corrente.
Patient readers: This Water Cooler will be a bit light. Memorial Day is a slow news day. It's also the first really hot day, and I have gardening to do!
TPP
TPP whip list [The Hill]. Find your House critter, and encourage them to do the right thing. (NOTE: This page looks like it's only the Senate, and the headline is deceptive, but it's continuously updated, and the House lists is at the bottom of the page so scroll down.
The mere prospect of TTIP is already exerting a chilling effect on governments ability to regulate pesticides [Ars Technica].
EU plans to regulate hormone-damaging chemicals found in pesticides have been dropped because of threats from the US that this would adversely affect negotiations for the Transatlantic Trade and Investment Partnership (TTIP), according to a report in The Guardian. Draft EU regulations would have banned 31 pesticides containing endocrine disrupting chemicals (EDCs) that have been linked to testicular cancer and male infertility.
But no worries. Obama said nice things about bees.
"Neoliberal Realism" vs. "Socialist Realism" [Corrente]. Fun with art criticism!
2016
The S.S. Clinton
"Hillary Clinton Campaign Shuts Down After Blowing Through $2 Billion In First Month" [The Onion].

"Debating Hillary for President: Robert Reich v. Nomi Prins" [Wall Street on Parade]. It would sure be nice to see Hillary cut herself loose from the Rubinites.
The Republican's Josh Duggar problem [WaPo].
"How student debt became a presidential campaign issue" [WaPo].
Memorial Day
"Against Annihilation of the Spirit: Let Us All Become Cowards" [Power of Narrative]. Readers, Arthur Silber is one of the great, old school bloggers. Please do what you can.
"Memorial Day was first celebrated by Black Union troops and free Black Americans in Charleston, South Carolina at the end of the Civil War" [Bay View]. And "Forgetting Why We Remember."
"Ap Bu Nho – A Remembrance for Memorial Day" [Sic Semper Tyrannis].
"I Never Wanted to Hurt Any Vietnamese": Former Combat Medic Recalls Antiwar Resistance Within Army" [Democracy Now].
"War Is A Racket " [General Smedley Butler].
"War is the health of the State" [Randolph Bourne].
"[A]nyone born in the past 13 years has never known an America that isn't at war. Anyone born after 1984 has likely seen America at war for at least half of his or her life" [WaPo]. And we lost both Itaq and Afghanistan. The War on Terror is as sensible as a War on Flanking Maneuvers, since terror is a tactic, not an enemy. The War on Drugs is shuddering its way to an awful conclusion, with 4:20 today's equivalent of "11th hour on the 11th day of the 11th month." In fact, over the course of my lifetime, I can't think — let me pause here to chant U.S.A! U.S.A!, just to establish my bona fides — I can't think, I say, of a war we've won. Except the War on Poverty, of course, a war we have to keep fighting over and over again, for some reason.
Our Famously Free Press
"Fusion Media Aims at Millennials, but Struggles to Find Its Identity" [WaPo]. That's because the very concept "millenial" is bollocks, flog it though the Times may. (Hilariously, Fusion's web site had 23,000 readers a day last year; a little less than half what NC had. Just goes to show what a tiny crew producing [lambert blushes modestly, as would Yves, were she here] great content can do.
"How Fox News Changed American Media and Political Dynamics"' (PDF) [Bruce Bartlett]. Bartlett is an apostate Republican, and this is a very interesting piece.
"What Liberals Still Don't Understand About Fox News" [Politico].
Black Injustice Tipping Point
"How an Epidemiology of Violence Helps Explain Baltimore's Homicide Wave of 2014-2015" [@BmoreDoc]. Nut tweet:
I suggest 3 crucial ecological factors that have cranked up anxiety & stress in the past 6 months: foreclosures, water shut-offs & police
The epidemology in Ferguson would surely show that police stops due to law enforcement for profit are part of the problem; and perhaps foreclosures too.
"They See Us as Hulks" [Abernathy]. True (modulo "they," a discussion for another time); "Hulk" is the word Darren Wilson used of Mike Brown, and there's a long history of the "black brute" trope in white supremacist rhetoric. More pragmatically, if a police shooting is "good" if justified by fear, and white supremacist "black brute" trope/mindset induced the fear, then we as a society have in essence legalized race-based murder by the state. I don't think that's a good thing. 
"Shakeup in Baltimore mayor's criminal justice leadership" [Baltimore Sun]. Hmm.
"WATCH: Virginia cop uses pepper-spray, Taser on unresisting black man having stroke" [Raw Story]. Ugh. I hate that "WATCH" locution, though; it suggests pr0n.d
Schadenfreude Watch
"The Pharisee stood and prayed thus with himself, God, I thank thee, that I am not as other men are, extortioners, unjust, adulterers, or even as this publican" [Bible Hub]. Of course, today we have reality TV. So there's that.
"All Unhappy Families: The Downfall of the Duggars" [The Atlantic]. Sorry for the kids. but it seems that keeping your hand on your wallet isn't the only precaution you have to take with the "family values" crowd.
"Josh Duggar's Police Records Destroyed" [Talking Points Memo].
The Duggar's home-schooling curriculum on sexual abuse, with handy chart [Mother Jones].
Class Warfare
"Nobody ever handed anything to me on a plate" [Samuel Warde].
Kansas bans welfare recipients from taking out more than $25 a day, and they can only use ATM machines [Vox].  So, that's (say) $250 – $2.50 = $247.50 vs. ($25 * 10) – ($2.50 * 10) = $225. It's a twofer: Not only is it a kick in the ribs to the poor as petty-minded as it is vicious, it's a giveaway to the banksters!
America is a global outlier on the minimum wage, and not in a good way (chart) [The Economist, "Pay dirt"].
Our criminal elites: "Stringer Bell would also never have tolerated the kind of amateurish behavior displayed by the traders rigging currency markets" [James Kwak, Medium].
Our criminal elites: "[S]ome 76% of full-time workers were victims of wage theft" [Priceonomics]. I can't find the number I want in this article or the original study. The wage thieves are, by definition, capitalists. I want to know how many wage thieves there are, in order to determine the percentage of elites who are actual (and not merely metaphorical or probable) criminals.
News of the Wired
* * *
Readers, feel free to contact me with (a) links, and even better (b) sources I should curate regularly, and (c) to find out how to send me images of plants. Vegetables are fine! Fungi are deemed to be honorary plants! See the previous Water Cooler (with plant) here. And here's today's plant, the first of Gardens, Week Four (J):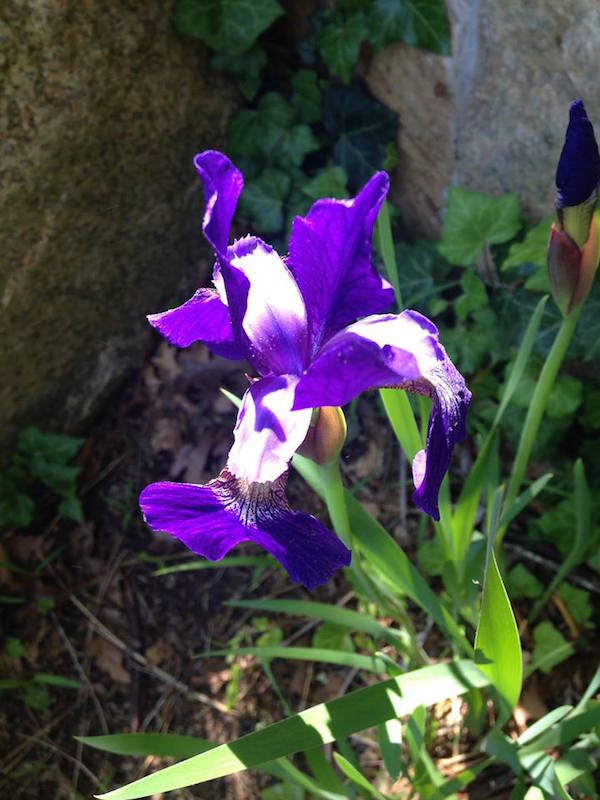 Chuck writes:
J, who lives on Martha's Vineyard, MA sends this photo from her garden.

Her description of photo is "no words".
How's your garden coming? Make this Zone 5b guy jealous! And I think I said somewhere that iris lovers were a competitive lot, so….
If you enjoy Water Cooler, please consider tipping and click the hat. It's the soil, seeds, flats, and planting season!
(Readers will notice that I have, at long last, improved the hat!)