By Lambert Strether of Corrente.
2016
Sanders
DNC helpfully sending out Sanders mail, even though it's a wholly owned subsidiary of the Clinton campaign [Talking Points Memo]. Note to "sheep dog" theorists: This is the sort of evidence you can sink your teeth into.

Sanders oppo emerges: Tri-partite 1972 essay on male-female relationships [Mother Jones]. I can't find the full text online, but Mother Jones has an image of the 1972 paste-up. The politics of the piece are callow even for a then-31-year-old male after a break-up — dependent woman, man dragging meat back to cave — but even Political Wire's headline "Sanders Wrote About Rape Fantasies" has heavier breathing than warranted. The National Review has a wonderfully pious headline — "Let's Not Crucify Bernie Sanders for His Sexual-Fantasies Essay"  (except it isn't) — but when they write: "[I]t wouldn't just be Ted Cruz or Rick Santorum who would be asked about the essay: [I]t would be every Republican in the race," they've got a point [National Review]. Interestingly, the story took three days to jump from Mother Jones (Tuesday) to the National Review (Friday), which shows you how siloed the press is. (And I didn't give you a heads-up on Tuesday because that day I caught up on TPP, and there was also a huge stats release. Sigh. Can do better.) And meanwhile, there's the Denny Hastert thing, for which the Sanders campaign must be thankful. Note to Sanders campaign: The essay wasn't "dumb." It was wrong. Not #GamerGate wrong, not nearly, but wrong. Let's start with "ahistorical" and move on from there.
Right on cue: "Welcome To The Martin O'Malley Moment" [ABC].
The S.S. Clinton
"The Fake Clinton Scandals Are Back" [Joe Conason, Politico]. Benghazi. I can't even. Did Romanian hacker "Guccifer" really purloin email from Sid Blumenthal's computer? How am I even to process that? Isn't it enough that in Libya we failed another Mediterranean state, with nothing to show for it but ka-ching for some insiders? (In all fairness, we also set a few cities on fire and blew a bunch of far away brown people to pink mist. So there's that?) Why the heck can't we focus on what's in plain sight? "Look! Over there! Sidney Blumental!"

"Lifetime Achievement" award for Bill Clinton along $500,000 for the Clinton Foundation from the Happy Hearts Fund (!) at their fundraiser to build schools in Indonesia [New York Times]. The nut graph:

Happy Hearts' former executive director believes the transaction was a "quid pro quo," which rerouted donations intended for a small charity with the concrete mission of rebuilding schools after natural disasters to a large foundation with a broader agenda and a budget 100 times bigger.

"The Clinton Foundation had rejected the Happy Hearts Fund invitation more than once, until there was a thinly veiled solicitation and then the offer of an honorarium," said the former executive director, Sue Veres Royal, who held that position at the time of the gala and was dismissed a few weeks later amid conflicts over the gala and other issues.

First, notice how "quid pro quo" has become the "gotcha" term, which is useful to our famously free press (simple narrative) and to our political class as a whole (effective licensing of more subtle and pervasive corruption). Second, notice that in their haste to get to the magic gotcha phrase, the Times butchers the substance: Quid pro quo is a transaction involving a political favor; but all the Times has really got is that the Clintons laundered what is effectively payment for a speaking engagement (the "honorarium") through the Clinton Foundation. So who wrote this thing? Jeff Gerth? And the rest of the story is a typical ginormous and ever-evolving hairball of tangled and conflicted personal and institutional relationships.
Iowa straw poll fades into irrelevance [WaPo]. First check for the Christianist right.
Republican Establishment
"As Jeb Bush circa 2015 considers pushing the campaign finance envelope by offloading expenses to an outside group, he has a ready model to emulate: Jeb Bush circa 1998" [National Journal]. In other words, Bush's outsourced campaign is indeed a model, as I argued; part of the Bush dynasty playbook.
Republican Principled Insurgents
Rand Paul has no squillionaire backing [Politico]. But it's not clear how a libertarian would run against big money, so he doesn't get any advantage from it!
Republican Clown Car
Trump schedules "major announcement" June 16, to head for New Hampshire next day [The Hill].
Political annotation at Rap Genius [National Journal].
"The Organizational Question in US Progressive Politics" [Telesur].
The Hill
"Ex-Speaker Hastert charged with lying to FBI about hush money withdrawals" [Chicago Tribune]. For purposes undescribed.
What those purposes might have been [Cannonfire]. What those purposes might have been [Just One Minute]. 
Stats Watch
"U.S. Economy Contracted 0.7% in First Quarter" [New York Times]. Wait, what? "First-quarter GDP was revised down about as expected, to minus 0.7 percent vs expectations for minus 0.8 and compared with an initial reading of plus 0.2 percent" [Bloomberg]. "Unusually severe weather." Mosler: "Revised lower as expected. The question is q2 which so far isn't looking so good" [Mosler Economics]. Caveat: "GDP does not measure the economic elements that directly impact the quality of life of its citizens. It does not measure wealth, disposable income, or employment." [Econ Intersect].
If you look at coincident indexes, "The economy is expanding at main street level" [Econ Intersect].
"America, it seems, will avoid recession" [The Economist].
"The Chicago Business Barometer fell sharply back into contraction in May, reversing all of April's gain and casting doubt on the strength of the widely expected bounceback in the US economy in the second quarter" [Institute of Supply Management]. "[S]urprising and inexplicable contraction" [Bloomberg]. "Volatile," but a "red flag."
Consumer Sentiment, May 2015: "[B]ounced back," but  a "decline in the expectations component …. points to less confidence in the longer-term jobs outlook" [Bloomberg].
Corporate Profits, First Quarter 2015: Up [Bloomberg].
Black Injustice Tipping Point
Supreme Court to review Foster v. Humphrey, where prosecutors won a death sentence for a black man after selecting an all-white jury [Slate]. Coincidence? The Supreme Court will judge.
"Officers in Freddie Gray case taken to jail without handcuffs" [Baltimore Sun]. Classy!
Universities
 Christopher Newfield, Unmaking the Public University: "All the states are now trying to educate the students of other states so they can charge them three times more. The American funding model that we've had, it's broken" [The Nation]. "All the private money coming in doesn't subsidize the public mission of the university. Instead, it undermines it"
"Chile students, police clash at new protest over reforms" [Agence France Presse].
Last week, [President Bachelet] announced a bill to provide free university education to 60 percent of the poorest students starting next year, reaching 70 percent in 2018 and 100 percent in 2020.
Policies we can only dream of.
Class Warfare
"[L]iving longer in our ever-more-unequal society is very much a class thing: life expectancy at age 65 has risen a lot among the affluent, but hardly at all in the bottom half of the wage distribution, that is, among those who need Social Security most" [Paul Krugman, New York Times]. Class warfare is not a metaphor.
"How Wal-Mart Became the Town Square in Rural America" [Talking Points Memo].
"Overdraft fees top $1 billion at the big 3 banks" [CNN].
Corruption
"Cuomo Redirects $100 Million From Fixing Leaking NYCHA Roofs To Sketchy Pork Peddling Scheme" [Albany Project]. New York, New York….
"BREAKING: Skelos Indicted On 6 Counts, Including Special New Bonus Charge" [Albany Project]. More New York!
"BOOM! Nassau County DA Investigating Carl Marcellino Over $20K In Car Expenses" [Albany Project]. Yet more New York!
"Law enforcement officials search residences of Pigeon, two other key political figures" [Buffalo News]. More Democrats. They've got no bench, and the bench they have is rotten to the core.
Chicago's TIF slush fund [Chicago Reader]. Ka-ching for Blackstone.
Injunction on reporting parliamentary speech prevented cozy relation between Ireland's leading media owner, Denis O'Brien, and the Irish Bank Resolution Corporation (IBRC), the former Anglo Irish Bank, from being exposed [Guardian]. Ka-ching.
News of the Wired
* * *
Readers, feel free to contact me with (a) links, and even better (b) sources I should curate regularly, and (c) to find out how to send me images of plants. Vegetables are fine! Fungi are deemed to be honorary plants! See the previous Water Cooler (with plant) here. And here's today's plant, the fifth of Gardens, Week Four (Faith):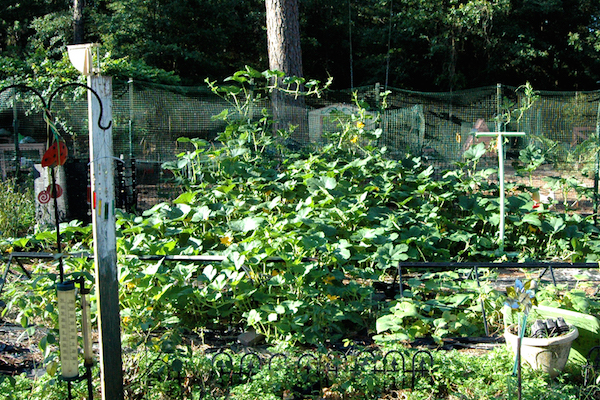 Squash in Florida. Just ridiculous. I'm so envious. I'm only planting my squash tomorrow!
NOTE: My contact form has a poor user experience: It defaults to my email when you don't fill in yours. I have to fix this, but in the meantime, please remember to fill in your email if you want me to contact you!
If you enjoy Water Cooler, please consider tipping and click the hat. It's the soil, seeds, flats, and planting season!
(Readers will notice that I have, at long last, improved the hat!)