By Lambert Strether of Corrente.
TPP
 Not a trade deal: "TPP is a corporate/investor rights agreement, not a trade agreement" [Dave Johnson, Bill Moyers].
Every time you use the word trade in association with the TPP, you are helping the other side.

Trade is a propaganda word. It short-circuits thinking. People hear trade and the brain stops working. People think, "Of course, trade is good." And that ends the discussion.
Not a trade deal: "'Julian Assange On TPP: Only 5 Of 29 Sections Are About 'Traditional Trade,' Covers 'Essentially Every Aspect Of A Modern Economy'" [Real Clear Politics]. Here's the right picking up material the left developed. Historically, the right has been far more feral and effective than the left, so it will be interesting to see what they do with it.
Not a trade deal: "The growth of 'Factory Asia' — the internationally disaggregated supply chain for electronics, toys and other manufactured products — during the 1990s and 2000s was a thing of wonder. But it is hard to point at any particular trade agreement that played a big role in facilitating it" [Financial Times, "Export-led growth and the false promise of TPP"].
"The only large economy country in the TPP that the United States doesn't already have a free trade agreement with is Japan.  So, if you're going to measure the "size" of the TPP, it would be best understood as a U.S.–Japan free trade agreement.  That's a pretty big deal, actually, but it's not two-fifths of the world" [Cato].
Worthwhile initiative for Canadians? [National Post].
TPP has been called NAFTA 2.0 for Canada and the U.S. Indeed, Canada was hoping to resolve some key lingering issues from NAFTA, including fixes to protectionist "Buy American" policies and terms of entry for professionals going back and forth across the border.
A gun aimed right at the heads of the "creative" and "political class," one of the remaining pockets of Obama's support (or, to put this another way, one of the few constituencies he can still throw under the bus). Granted, there aren't that many Canadians, but what next?
"'We want to send a clear message that Iowans want him to vote no on fast track and on TPP,' said Jess Mazour, farm and environment organizer for Iowa CCI" [Des Moines Register]. CCI (Iowa Citizens for Community Improvement) is huge in Iowa and very aggressive. I hope somebody in the Sanders campaign is paying attention.
2016
Sanders
"In a new Quinnipiac University poll released on Thursday, Sanders was at 15% of Democratic voters nationwide, up from the 5% he managed in a CNN national poll last month" [CNN].

Sanders in kickoff speech: "As someone who has never run a negative political ad in his life, my campaign will be driven by issues and serious debate; not political gossip, not reckless personal attacks or character assassination. This is what I believe the American people want and deserve" [HuffPo].

Sanders on Clinton and TPP in New Hampshire: "Hillary Clinton can be for the trade agreement — the president is. She can be against the trade agreement — I am, Elizabeth Warren is, many of us are. I just don't know how you don't have an opinion on this enormously important issue, which is her view" [New York Times]. 

"But, perhaps counterintuitively, it's Sanders — six years older than Clinton, a self-defined socialist with no big money apparatus and positions that appeal to the far left of the party — that Democratic strategists and Clinton insiders expect to pose a bigger threat to the former secretary of state than the mainstream O'Malley" [Politico]. It's not counter-intuitive at all; "You can't beat something with nothing" is an old adage in politics. And having just seen "Democratic strategist" used without shudder quotes, I cannot forbear from quoting [hums]:

I'm very good at narrative and counterfactual history,
I know the talking points for when I've snatched defeat from victory;
So if you want a partisan, sock puppet, or apologist
I am the very model of a Democratic strategist!

"Sanders is outperforming the combined support of several GOP presidential wannabes. … [E]very utterance of GOP candidates who are polling below 2 percent merits its own headline" [Salon]. Well, yeah. What's this guy's point?

"David Weil, 24, a recent graduate of nearby Champlain College, is not a committed Sanders voter, but conceded 'his consistency is really admirable and really cool'" [Mic].
Clinton vs. Sanders voting record [New York Times]. They voted the same way 93% of the time, naming post offices and so forth. However:
The 31 times that Mrs. Clinton and Mr. Sanders disagreed happened to be on some the biggest issues of the day, including measures on continuing the wars in Iraq and Afghanistan, an immigration reform bill and bank bailouts during the depths of the Great Recession. Mr. Sanders, who formally kicked off his campaign Tuesday evening in Burlington, Vt., was opposed to all these actions.
The S.S. Clinton
"Clinton Foundation paid Blumenthal $10K per month while he advised on Libya [Politico]. Was the advice any good? [BWA-HA-HA-HA!!!! I crack myself up sometimes…]

Stiglitz and Roosevelt Institute report: "The problem is that the economy is fundamentally broken, shot through with opportunities for the rich to get richer not by building wealth but through exploitation and taking" [Vox]. Filing this under Clinton because that's what these guys would like Clinton to accept and act on. I say, fat chance, because if she were going to do this, she would already have done it.
Republican national polls: Bush, Rubio, Walker, Huckabee, and Carson cluster at the top with ~10%, none beating Clinton. Paul, Cruz, and Trump trail at 7%, 6%, and 5% respectively [Agence France Presse]. So The Donald could still catch fire!
Republican Establishment
Pataki throws his h… s-n-o-o-r-r-r-r-e… [Wall Street Journal, "Centrist George Pataki Tests Republican Waters With White House Bid"]. Here's Pataki reading about Christie in the WSJ.
Republican Principled Insurgents
Rand Paul: "ISIS exists and grew stronger because of the hawks in our party who gave arms indiscriminately, and most of those arms were snatched up by ISIS" [Christian Science Monitor]. That's hardly fair. Obama helped!

Walkers Wisconsin Economic Development Corporation "mired in corruption and scandal" [Talking Points Memo]. As NC readers have long known.
Stats Watch
Atlanta Fed forecast for real GDP growth: "Still not showing much of a rebound from Q1, with their Q2 GDP forecast now at only .8% annualized" [Mosler Economics]. Garçon! More champagne!
"Weekly railcar counts continues deep into contraction," although intermodal improves [Econinterect]. Down even when removing coal and grain.
Consumer Comfort Index, week of May 24, 2015: "[C]ontinues to sink"  [Bloomberg]. "Readings on consumer confidence have been coming down from recovery highs earlier in the year, highs that never equated to anything close to significant gains for consumer spending."
Redbook, week of May 23, 2015: "Redbook's same-store sales tally remains weak"  [Bloomberg]. Weather alibi: "The report said rain and flooding held down seasonal sales in some regions." Reality: "In a sign that consumers remain cautious, it notes continued strength for discount stores." Why not buy a crapified product in a crapified store?
Sentier Research: "Median Household Income Up 0.6% in April 2015" [Econintersect]. "Solid improvement."
Jobless Claims, week of May 23, 2015: Claims up, but still low [Bloomberg]. Report "still points decidedly at gains for the May employment report."
Pending Home Sales Index, April 2015: "Pending home sales are sending off the most consistently positive signals of any housing indicator" [Bloomberg]. "Credit issues surrounding closings don't seem to be a major headwind right now." 
MBA Mortgage Applications, week of May 22, 2015: "[R]ates are moving higher and squeezing out what had been gains in purchase applications" [Bloomberg].
"Households expect home price growth to continue at a similar pace as they did a year ago" [Econintersect]. Remarkable stability in attitudes toward home ownership.
Black Injustice Tipping Point
Chicago cops put antlers on black guy, pose for picture standing over him with hunting rifles [Reuters]. Stay classy, guys! And why do I think the CPD won't be easy to change?
"#SomeBlackLivesDontMatter" [Politico]. Oh, Rich Lowry. Anyhow, a brighter line between neo-liberals and non-sociopaths would be hard to draw. Maybe Lowry should consult to the CPD?
"The Detroit Water and Sewage Department began shutting off water to about 1,000 delinquent accounts on Tuesday" [Think Progress]. Dear Lord. The summer in Detroit is long and hot. Do these guys want to let the cops play with their new toys?
"A 'Pattern or Practice' of Violence in America" [Bloomberg]. Via @deray,  important.
Water
"Moby on California Drought: 'The Way We're Living Is Stupid'" [Rolling Stone].
Administration finalizes water protecton rule [Politico]. Here's a copy. The usual suspects — agriculture, oil and home-building — are frothing and stamping, and "farm and energy state" Democrats have already joined with Republicans to block it. Strange bedfellows alliances everywhere, it seems. Double down, double down.
"How federal dollars are financing the water crisis in the West" [Pro Publica]. Interesting read on "Killing the Colorado":
Growing cotton in the desert, long term, may be doomed.
Ya think? But it seems to me that the entire venture of setting up huge cities in the desert may have issues of its own. And to my taste, the theme of the Pro Publica article is a bit too close to "market distortions caused by evil government" for my taste, as if somehow Big Gummint forced people to live in the habitat they in fact systematically optimized for their own lifestyle and profit. Maybe water should be managed as a common pool resource, and not private property at all?
"Most of [Colorado's] water is private property, under lock and key" [Colorado Independent].  "Water diversions allow millions of people to live in the semi-desert rain-shadow east of the Rockies, and enable vast emerald alfalfa fields to thrive in the otherwise dry sagebrush steppe of the Western Slope." I like the term "Water diversions." Perhaps we should have an "Orwellianism of the Day" contest.
"My ample vegetable garden was certainly green. Other yards the neighborhood were going brown. Did my neighbors think I was a water hog?" [Mother Jones]. The dominant color of your garden should be straw, because you took direct action and sheet-mulched it. So what does this guy use his megaphone at Mother Jones to focus on? A startup. They've got an app! Dude…. Oh, and this is just gratuitous, but I promise you my bile had risen before I even got to it: "[T]he East-Coast ideal of glistening Kentucky bluegrass and fluffy hydrangeas." Not in Maine, pal.
"In 2013 there were 1,840 complaints to the Sacramento water patrol That number jumped to 19,158 in 2014" [News 10].
"Like birth control hormones and the antibacterial ingredient triclosan, methadone leaks into waterways and poses a health risk when it filters into our drinking water" [PBS]. Chloramine (not chlorine) reacts with methadone to create NMDA, which is bad.
"Pioneering a Portfolio Approach to Water Management with Walmart [Environmental Defense Fund]. I love that the first step is "Gain Leadership Buy-in." Not even "management." "Leadership."
News of the Wired
New York City would like cab drives to keep their eyes on the road instead of their smartphones [nyc.gov]. It's tyranny! Tyranny!
Mystery of how the holes get into Swiss cheese solved [France 24]. Next up: The mystery of why the Swiss can't arrest Sepp Blatter.
* * *
Readers, feel free to contact me with (a) links, and even better (b) sources I should curate regularly, and (c) to find out how to send me images of plants. Vegetables are fine! Fungi are deemed to be honorary plants! See the previous Water Cooler (with plant) here. And here's today's plant, the fourth of Gardens, Week Four (John Newman):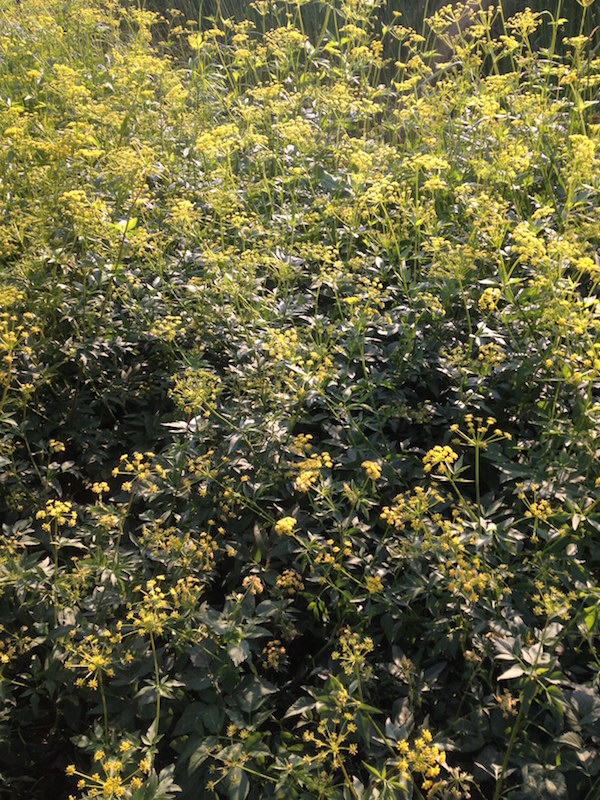 John writes: "Brooklyn." This is gorgeous, and I'm aiming for similar areas round my garden proper. Imagine how happy these field of flowers will make pollinators and beneficial insects!!
NOTE: My contact form has a poor user experience: It defaults to my email when you don't fill in yours. I have to fix this, but in the meantime, please remember to fill in your email if you want me to contact you!
If you enjoy Water Cooler, please consider tipping and click the hat. It's the soil, seeds, flats, and planting season!
(Readers will notice that I have, at long last, improved the hat!)