By Lambert Strether of Corrente.
TPP
"The protesters on the security perimeter [at Nike] won't have access to the TPP text, or to the millions of dollars that companies are spending to lobby for Fast Tracking the global deal, but at least they'll have an intact sense of irony [given Nike's offshoring], which is more than I can say for our nation's president" [Guardian]. If you're not at the table, you're on the menu!
"Nike on TPP: Just Do It and We'll Create 10,000 U.S. Jobs" [Fiscal Times]. Who would believe this?
"US Trade Representative Michael Froman said yesterday [in Kuala Lumpur that] there is no deadline to conclude the Trans-Pacific Partnership (TPP) free trade talks" [Today Online].
2016
"[I]f we step back and take a look at just the last few years, it's non-electoral organizing like Black Lives Matter, Occupy Wall Street, immigrants' rights, and low-wage worker organizing that is actually making social change and forcing the Democrats to the left" [Arun Gupta, TeleSur]; IMNSHO a more nuanced and system view than BAR's. "So go ahead and vote for Sanders and Clinton, but that's all." In other words, walk and chew gum at the same time. Honestly, I don't think it's that hard to work out.
Sanders
New Hampshire: "[SANDERS:] We have a grotesque level of income inequality, in which the billionaire class is getting it all. Enough is enough. They can't get it all" [WBUR]. That's the stuff to give the troops!

TPP: "[SANDERS:] Given Nike's legacy of offshoring American jobs and exploiting low-wage workers, I would strongly encourage you to cancel this meeting" [HuffPo].

"[SANDERS:] I welcome a federal appeals court ruling that the National Security Agency does not have the legal authority to collect and store data on all U.S. telephone calls" [Time].

Sanders supporter bought www.berniesanders.com and gave it to Sanders for free [The Hill].
The S.S. Clinton
"Political giving" consulant Andy Spahn: "The system for funding our elections is completely broken, thanks to the Supreme Court's Citizens United decision. The best chance we have to right the ship is to elect Hillary Clinton our next president. If that requires us to raise large sums from the one percent, then so be it" [Bloomberg]. Is there such a thing as a "political taking" consultant?
The Mittster to hold "E2 Summit," Republican candidate and donor retreat [WaPo]. Confirmed speakers: Walker, Rubio, Christie, Kasich, and Graham." Culling the herd?
Republican Establishment
Jebbie's administration gave a $600,000 tax subsidy package to Bsafe Online to prevent Internet users from seeing information about homosexual relationships or transgender identities (or pr0n) [Business Insider]. Of course, some might regard this is a plus….
Republican Principled Insurgents
"Scott Walker calls $300 million UW cut 'manageable'" [Pioneer Press].

Walker wants $100 million from the city of Milwaukee on arena deal [Milwaukee Business Journal]. Can't do business without luxury skyboxes!
Republican Clown Car
"Behind former Gov. Mike Huckabee's warm smile, inclusive rhetoric, and gee-whiz populism lies an ethics record that would make a Clinton blush" [Ron Fournier, National Journal]. Huckabee's peddling diabetes and cancer cures (not that these nostrums are more lethal than those peddled by other hucksters; just more obvious).

Carson pushes charter schools in Baltimore visit [National Journal].
Slogans ranked [WaPo]. I'd rank the slogans differently, giving greater weight to complete sentences.
U.K. Election
"Nearly every pollster's final poll placed the two parties within 1 percentage point of each other." Forecast: Tories, 278; Labour 267. Actual: 330, 267. Oopsie [FiveThirtyEight] (live blog).
"In England, Labour aping the Right just leads to its base abstaining, as they have done in growing numbers since 2001. But in Scotland, working-class voters had a tried and tested reformist alternative" [Jacobin]. Excellent roundup.
"[I]f it weren't for what is occurring in Scotland, where the Scottish National Party (S.N.P.) looks like it will sweep the board, Miliband would be on the verge of a great victory" [New Yorker].
"You can't have one nation backing austerity [England] and another [Scotland] panning it without something breaking" [Vice].
Miliband, Clegg, Farage resign [Wall Street Journal, "Conservative Election Victory Sets Off Wave of Opposition Resignations"]. And so they should.
"[T]he more Labour comes to be occupied by influential but unrepresentative middle-class professionals, the more contemptuous it becomes of the Other Britain, the lesser Britain, the stupid Britain that won't obediently vote Labour" [Spiked]. How do they manage it without the Acela?!
The bookies beat the pollsters [Bloomberg]. The British Polling Council to look into the debacle [Independent]. The Beeb: "Something is wrong. A lot of us would like to know what it is" [BBC]. Indeed!
"Polls, in the U.K. and in other places around the world, appear to be getting worse as it becomes more challenging to contact a representative sample of voters" [Nate Silver, FiveThirtyEight]. That sounds like a structural change of some sort, but what? Readers?
Milliband campaign paid Axelrove $450,000 [Reuters]. Ka-ching!
Assault on the NHS begins: "Do we want better health care, or do we want to keep the NHS?" [The Telegraph]. That was fast.
Cameron promised an EU referendum, too [Reuters]. Brexit? Scexit?
UPDATE Amazing election night scene in Glasgow [Politico (RS)]. Must-read.
Stats Watch
Employment situation, April 2015: "Mixed," with downward revision to "to what was already an extremely weak March" [Bloomberg]. Downtick in unemployment, participation rate edges higher, manufacturing down, construction up. "No initial signs of a significant bounce from the unusually slow first quarter."
Wholesale trade, March 2015: "The inventory-to-sales ratio is at 1.30, up from 1.24 as recently as December" [Bloomberg]. Inventories in metal and machinery look heavy relative to demand.
Black Injustice Tipping Point
Lots of narratives and handy charts [Mapping Police Violence].
The criminal justice system isn't broken [Hampton Institute]. It's fixed. I like "Hierarchy of Homicide Seriousness."
Justice Department launches investigation of Baltimore Police Department [AP].
In his previous job, BPD chief Batts failed to get the Oakland PD into compliance with a Federal order [East Bay Express]. "He talked a good game."
Police State
"Dad Calls Cops on Son to Teach Him a Lesson, Cops Shoot Son Dead" [Gawker]. From the Department of Never Call The Cops For Help.
S.C. Police Investigating White Deputy Shooting Black Homeowner After 911 Call [Talking Points Memo]. From the Department of Never Call The Cops For Help. And if we as a society learn that lesson… What then?
Corruption
Iowa: Egypt-based Orascom laid off 1,500 union workers on a $1.8 billion fertilizer plant construction projecty that received nearly $500 million in tax incentives [We Party]. And they're trying bring in out-of-state workers.  I mean, it's not like fertilizer plants tend to explode, or anything. Oh, wait….
Despite Federal rules, Cuomo gave Bank of America and Jippy Mo contracts to manage the sale of $3 billion-worth of state bonds, after collecting more than $132,000 in "campaign contributions" from PACs under their corporate control, over the past two-and-a-half years [International Business Times]. Ka-ching!
Water
"Water Risk Issues Approach Boiling Point" [AgWeb]. But collective action by Big Ag players will surely turn down the heat!
Californians suggest technical solutions for drought, including towing icebergs. "Hundreds of people suggested importing snow from the East Coast" [Los Angeles Times].
Health Care
Rove says Republicans should stop trying to repeal ObamaCare if King v. Burwell goes against them [Rove.com]. So now the Heritage Foundation's assault on single payer is firmly ensconced in the health care system. And it took both parties to do it!
"In just a single year, the researchers reported, twenty-five to forty-two per cent of Medicare patients received at least one of the twenty-six useless tests and treatments" [Atul Gawande, The New Yorker]. On the one hand, I'm reluctant to reinforce any narrative tending to deny people care; let's pay for the extra tests with an F-35 or three. On the other, there aren't many large systems (health, justice, finance, education) that I'd recommend people enter, either.
Imperial Collapse Watch
"Pentagon was working up a theory that the war was lost not because of U.S. misjudgments and mistakes, but because of 'disloyal journalists' and a 'misled public'" [Non-Profit Quarterly]. They backed off on it (for now). Like the Bourbons: They have learned nothing, and forgotten nothing.
Class Warfare
"Over the past decade, state after state has been dismantling America's workers' comp system with disastrous consequences for many of the hundreds of thousands of people who suffer serious injuries at work each year" [ProPublica]. For whatever reason, the #AllLivesMatter crowd never brings this up…
"Freelancers" and "the precariat" are working class, period [Jacobin].
News of the Wired
Inventor of Mother's Day wants to abolish it [Atlantic].
A font based on Albert Einstein's handwriting [WaPo].
* * *
Readers, feel free to contact me with (a) links, and even better (b) sources I should curate regularly, and (c) to find out how to send me images of plants. Vegetables are fine! Fungi are deemed to be honorary plants! See the previous Water Cooler (with plant) here. And here's today's plant (Andrea):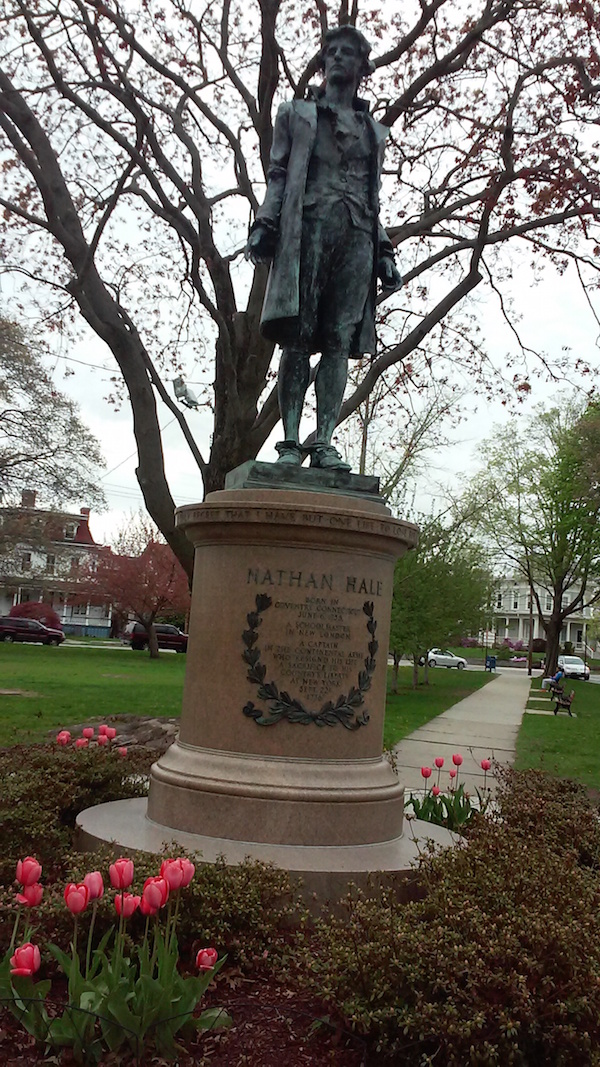 Spring tulips in front of the Nathan Hale statue in New London, Connecticut. Wouldn't it be nice if some day there were similar statues in honor of Edward Snowden!
I'd like yet more pictures of people's gardens; I have some, but not really quite enough. They don't have to be pretty! (And they don't have to show your whole garden.)
If you enjoy Water Cooler, please consider tipping and click the hat. It's the soil, seeds, Fedco Tree sale, and planting season!
(Readers will notice that I have, at long last, improved the hat!)
Talk amongst yourselves!