Wally Kahn: Record-breaking glider pilot who helped turn his pursuit into a competitive sport and a popular leisure activity Independent
This Antarctic ice shelf could collapse by 2020, NASA says Washington Post (furzy mouse)
US says Gulf oil spill could last 100 years Associated Press
Silicon Chips That See Are Going to Make Your Smartphone Brilliant MIT Technology Review. I prefer my phones stupid, particularly since, as Bob H points out: "For applications like video surveillance it performs very well."
Your New Hangover Cure: An IV Treatment? Life by DailyBurn (furzy mouse)
Home loan size surges as buyers pile on debt Sydney Morning Herald (EM)
More than 1,000 plaintiffs file lawsuit to keep Japan out of TPP Kyodo
China Backtracks on Debt Cap as Growth Stumbles Wall Street Journal
China orders banks to keep lending to insolvent state projects Financial Times
Facebook 'tramples European privacy law': Belgian watchdog Reuters
Grexit?
Greek Prime Minister Rejects Further Austerity or Labor Changes New York Times

Greece avoids domestic default as cash scramble gets desperate Telegraph

EBRD investments in Greece to depend on talks with creditors ekathimerini. Notice they haven't done much in Greece, so this would be more an opportunity cost than a loss.
Syraqistan
Has Ramadi fallen to IS? Sic Semper Tryannis

IRBIL, Iraq: U.S. rushing new weapons to Iraq as Islamic State advances in Ramadi McClatchy (furzy mouse)

Islamic State militants seize key areas in capital of Iraq's largest province Washington Post

What's behind Saudi Arabia's new muscularity Christian Science Monitor

Stop sanitizing the history of the run-up to Iraq War Washington Post

Some Ask What George W. Bush Would Have Done With Different Iraq Data New York Times (EM). What utter hogwash. Hans Blix was in Iraq inspecting weapons sites. He'd already gone through 75%, and the inspections were ordered by priority, when the US invaded. This war had NOTHING TO DO with WMD. The rest of the world was hugely frustrated with the US refusal to let the UN complete its work.
From Senate Sideline, Elizabeth Warren Is Face of Attack on Trade Bill New York Times
Clintons earned more than $25 million for speeches since 2014 The Hill
When GOP Resistance to Obamacare Hurts Republicans Wonk Wire (furzy mouse)
How the IRS seized a man's life savings without ever charging him with a crime Washington Post (furzy mouse)
El Niño near-certain to last through summer: U.S. climate center Reuters (EM)
Drought urgency hits rain country: Washington governor declares state emergency Los Angeles Times (David L)
New York District Court Denies Immunity To NYPD Officers Who Arrested A Citizen For Filming Them Techdirt (Chuck L)
Court vacates $85 million award for Oregon National Guardsmen in Iraq health case Reuters (EM)
Burst of speed before Philadelphia train crash at heart of investigation Reuters (EM)
Amtrak's Failure to Gain Wireless Spectrum Rights Stymied Safety Technology International Business Times (Chuck L)
San Bernardino bankruptcy plan: bondholders hammered while pensions kept whole Reuters (EM). Bonds are not a risk-free investment.
Debt Traders to Fed: We Dare You to Try Raising Rates This Year Bloomberg
Bond Tantrum or Schnitzel Tantrum Big Picture (furzy mouse)
Have bonds reached a tipping point? Financial Times
Consumer Confidence Plunges Below Any Economist's Estimate; Consumers Shock Economists Michael Shedlock
OBL's Story Lives
The media's reaction to Seymour Hersh's bin Laden scoop has been disgraceful Columbia Journalism Review
Class Warfare
Faster Real GDP Growth during Recoveries Tends To Be Associated with Growth of Jobs in "Low-Paying" Industries St. Louis Fed
Antidote du jour: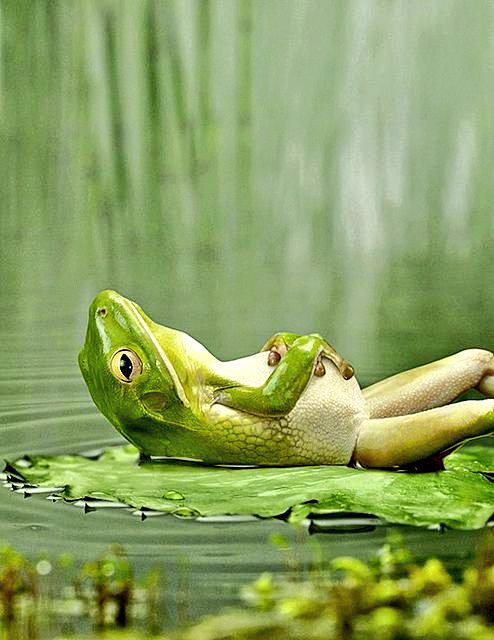 See yesterday's Links and Antidote du Jour here.