Denise Herzing: Could we speak the language of dolphins? TED (David L)
Dolphin Intelligence National Geographic (David L). If you like this sort of thing, I recommend In Defense of Dolphins: The New Moral Frontier.
New life for an old 'ghetto cowboys' club Philly (Paul Tioxon)
An NPR Reporter Raced A Machine To Write A News Story. Who Won? NPR. Some readers might argue that a machine would be an improvement on most NPR reporters these days.
Gender And The Harvard Math Department mathbabe
Is Harper the worst prime minister in history? National Observer. Andrew A: "If you're not sick of Canadian news, this is a very good compendium of Mr. Harper's awfulness. And, it's only part one!"
Jeb Bush Says He Wants Stephen Harper To Be Re-Elected Huffington Post (frosty zoom)
Exclusive: China warns U.S. surveillance plane CNN. @fryan: "A CNN team was given exclusive access to join in the surveillance flights over the contested waters"
US will take Rohingya migrants Bangkok Post
Benoît Cœuré speech highlights central bank links to financiers Financial Times
Vince Cable on the Lib Dem collapse: the Tories won because fear triumphed over hope New Statesman (Chuck L)
Grexit?
Defiant Greeks force Europe to negotiating table as time-bomb ticks Ambrose Evans-Pritchard, Telegraph. AEP may well be right this time, but two times in the past, I've relied on his reports based on his view that Greece had the upper hand in negotiations and citing what he said were signs of movement among the creditors. I featured his reading prominently in posts and within days they were proven wrong. As much as AEP has a terrific track record in general, I'm in twice bitten, now shy mode with him on Greece. He's closer to Greek sources than Eurocrat ones, and is a long-standing Euroskeptic, and to date that combination has not worked in his favor, at least at critical junctures (I do NOT mean to suggest that he's a negative indicator, he's written some excellent, nuanced updates on Greece, but his bolder calls have not worked out as well).
What worries me here is that his reading is based on a false dichotomy, that the choice Europe faces is bailout v Grexit. The inertial path is to a default within the Eurozone. The risk is not a Eurozone breakup, but the considerable political fallout of loss recognition on Greek debt (despite large writedowns in economic value via extension of maturities and interest rate reduction, under peculiar accounting rules, the creditor states don't recognize those costs as writedowns, but they would have to recognize a principal writedown). A default in the Eurozone also keeps Greece in the EU's orbit, allaying US security concerns. I have yet to see a good discussion of this issue in the English media. Has anyone seen anything on the politics of principal loss recognition in the German or French press?
One test of whether AEP is on the right track will be the Eurogroup meetings in Riga this week. With the IMF being ornery on releasing bailout funds, the Eurogroup is even more of a linchpin than before. The need for parliamentary approvals in many countries, particularly Germany, means action needs to be taken at this meeting (as in at least big forward momentum to allow for tabling legislation and political arm-twisting in the hardline countries. It would already seem to be verging on too late for that to happen, given the existing view that nothing would be decided at this meeting).
Schäuble Doesn't Rule Out Greek Default Wall Street Journal
Giving Greece a chance Bruegel. This sounds all well and good but does not appear to acknowledge realities on the ground, particularly the Syriza red lines. It finesses the issue of what Greek "reform" is supposed to amount to.
Die Zeit's Q&A on Dr Wolfgang Schäuble Yanis Varoufakis
Official: HFSF is totally out of the Greek Public control! unbalanced evolution
Syraquistan
A Rough Week – But It Will Get Rougher Sic Semper Tyrannis (Chuck L)

WASHINGTON: In reversal, U.S. official admits Iraq troops reeling from Islamic State offensive McClatchy

US press blacks out Israeli defense minister's citation of 'Nagasaki and Hiroshima' as model for dealing with Iran Mondoweiss

The Taliban Council on Foreign Relations. Lambert: "this, ergo we lost the Afghan war. CFR says taliban "outlasted" us. Puh-leeze."

Saudi Arabia risks revolution with execution of activist Sheikh al-Nimr RT (Chuck L)
Big Brother is Watching You Watch
Why The Media Ignores Jeremy Hammond While Praising Edward Snowden Mint (William B)

Paranoid defence controls could criminalise teaching encryption The Conversation. Chuck L: "The practical question is how high the bar is set: how powerful must encryption be in order to be classified as dual-use? The bar is currently set low. For instance, software engineers debate whether they should use 2,048 or 4,096 bits for the RSA algorithm. But the DSGL classifies anything over 512 bits as dual-use. In reality, the only cryptography not covered by the DSGL is cryptography so weak that it would be imprudent to use."
Trade Traitors
250+ Tech Companies and Digital Rights Groups: TPP Could Criminalize Journalism and Whistleblowing George Washington. Also noted by Lambert in Water Cooler, but good to see this is getting around.

Elizabeth Warren Fires Back at Obama with New Report On Failed Trade Enforcement Alternet
Clinton really, really needs to kill her incoherent "When women are [fill in the blank], families are [same word; slightly different meaning] slogan. Really. Angry Bear. An intriguing indicator that Hillary is already overplaying her girl solidarity card.
6 Awesome Things About Bernie Sanders You Might Not Know Alternet. Yes, the headline is clickbait, but the piece is not bad.
Beau Biden, U.S. vice president's son, hospitalized Reuters
Senate Budget Hearing Preview; Politicization of CBO Means Projections Will Favor Deregulation, Tax Cuts and Entitlement Cuts and Will Disfavor Government Spending on Infrastructure and Education Capitol Forum (MS) :-(
Ruptured pipeline spills 21,000 gallons of oil on California coast Reuters (EM)
Police State Watch
Gyrocopter Pilot Douglas Hughes who landed on US Capitol lawn faces prison Daily Mail

Obama Signed Bill to Help Protect Police From Threats, However, Police Are Not Under Attack in America Kevin Gosztola, Firedoglake
OPEC Struggling To Keep Up The Pace In Oil Price War OilPrice
Fed
What the Fed Minutes Tell Us Mohamed El-Erian Bloomberg. Wake me when the Fed gets serious.

Fed minutes dovish MacroBusiness

Republicans Ask Fed's Yellen to Testify Four Times More a Year WSJ Economics
Hermes to vote against Deutsche Bank management board Financial Times
Benjamin Lawsky leaves DFS to set up his own firm Financial Times. As reader Adrien said, "Disaster".
Ethics in finance: stuck at mediocre MarketPlace
Thursday's Daily Mail front page: And STILL crooked bankers laugh at the law @suttonnick
A World of Underinvestment Michael Spence, Project Syndicate. We first wrote about this issue in 2005 and again in a New York Times op-ed in 2010.
Class Warfare
Inequality, Immigration, and Hypocrisy Kenneth Rogoff, Project Syndicate

How to Live a Middle-Class Life in New York City on Less Than $5,000 a Year Alternet. From the second-story window of my gym, on Sundays, I've twice seen a well-groomed elderly woman on Sundays systematically going through the garbage bags at Dean & Deluca, an upmarket food store. One I saw a store staffer carry out a half-dozen full containers and hand them to her, and she carefully put them in her cart, and continued her search. This was on 85th Street just off Madison.
Antidote du jour. Stephen L: "Chickadee reading about itself."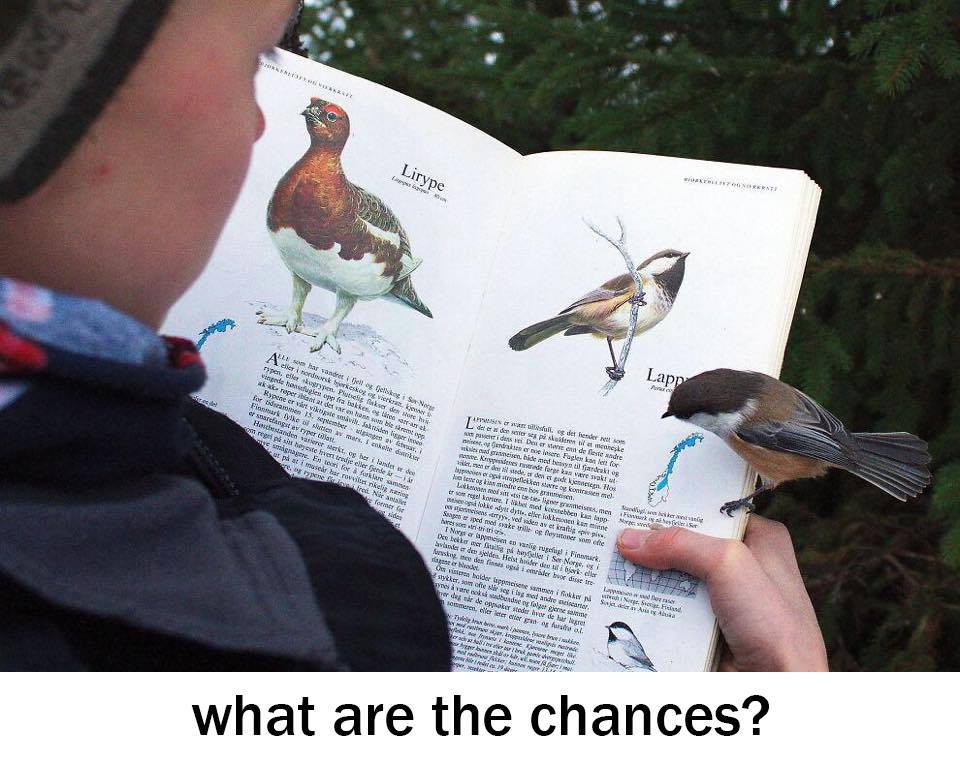 See yesterday's Links and Antidote du Jour here.