Scientists believe the secret to energy storage may be in a cigarette butt Business Insider (David L)
Analysis: Understanding Tesla's Potemkin Swap Station Daily Kanban (MT)
Solar-Powered "Capsule" Lets You Live Off-the-Grid Anywhere in the World Walden Labs (Chuck L)
The basic truth about broadband that cable companies want to hide Vox. Reslic, from article: "The American cities that are delivering best-in-the-world speeds at bargain prices are precisely the cities that aren't relying on Verizon, AT&T, Comcast, Time-Warner, etc. to run their infrastructure."
Major construction at North Korea rocket site, US institute says Associated Press (furzy mouse)
Shanghai Stocks Recover After Plunge Wall Street Journal
ECB fears 'abrupt reversal' for global assets on Fed tightening Ambrose Evans-Pritchard, Telegraph
Über diese Banken flossen die Fifa-Schmiergelder Blick. Identifies banks involved in FIFA scandal.
How Many Ways Can You Hide A Bribe? The Best Of The FIFA Indictment Gawker
Grexit?
Too big to jail?: Why does the UK legal system fail to prosecute bank fraud? Contributoria. From February, but still a fine piece.
Greek design picked for commemorative euro coin ekathimerini
Ukraine/Russia
Exclusive: Russia masses heavy firepower on border with Ukraine – witness Reuters. Rather weird to call a Reuters reporter a witness.

ANNE APPLEBAUM LOSES WAR AGAINST RUSSIA – HER INCOME PLUMMETS FASTER THAN UKRAINE'S GDP John Helmer

U.S. Pressures Nobel Committee to Declare Ukraine's President a Peace Prize Nominee George Washington
Syraqistan
Syria's Al Qaeda chief says no plans to attack the West Christian Science Monitor

ISIS Alternates Stick and Carrot to Control Palmyra New York Times
Big Brother is Watching You Watch
Social media apps are tracking your location in shocking detail Business Insider (David L)

U.N. Special Rapporteur: Governments Must Not "Backdoor" Encryption for Spying
Intercept

Terrorist Risks by City, According to Actual Data Bruce Schnier
U.S. Accuses Ex-House Speaker J. Dennis Hastert of Paying to Hide 'Misconduct' New York Times
Administration asks judge to toss House health care suit Associated Press (furzy mouse)
The Religious Bigotry of Rick Santorum Talk2Action (Chuck L)
Is Progressivism in the Eye of the Beholder? Joe Firestone, New Economic Persepctives
Teens are fleeing religion like never before: Massive new study exposes religion's decline Raw Story (Chuck L)
Christiegate: Christie Goes on Expletive-Filled Rant in Front of Large Crowd Daily Kos (Judy B). And it sure looks like it was provoked by David Sirota's reporting!
Revealed: Energy Transfer Partners' 'Pipeline-for-Prostitute' Landman Steve Horn and David Goodner. Holy moley.
Orange County prosecutor misconduct: Judge Goethals takes district attorney office off Scott Dekraai case Slate (Chuck L)
Political Fights Throw Sand in Gears of S.E.C. New York Times
Finance must blow the whistle on foul play Gillian Tett, Financial Times. Aiee, Tett needs to go beyond apple pie and motherhood. The main whistleblower in this case, Eric Ben-Artzi, probably will not get adequate compensation given the weak fines for the loss of his finance career.
Class Warfare
The Federal Reserve Board Is Much More Likely to Take Your Job Than a Robot, so Naturally the Media Are Talking About Robots Dean Baker. Touche!

Financial Volatility is the New Normal for Most American Households Washington Monthly (reslic)

http://www.cepr.net/blogs/beat-the-press/national-public-radio-tries-to-scare-people-about-the-deficit CEPR (Lydia) FAIR ran this under a better title: Look, a Deficit!: How NPR Distracts You From Issues That Will Actually Affect Your Life

New Reality Show Exploits Poor Families, Makes Them Grovel Over the Thing They Need Most Alternet

Biker Gangs, Tamir Rice, And The Rise Of White Fragility Talking Pointe Memo (Judy B)

The Challenge of Journalism Is to Survive in the Pressure Cooker of Plutocracy Bill Moyers
Antidote du jour (Lance N). Gerald de Nerval had a lobster he'd take around Paris using a ribbon as a leash (knowing how long lobsters live out of the ocean, he must have had a series). His explanation?
Why should a lobster be any more ridiculous than a dog? Or a cat, or a gazelle, or a lion, or any other animal that one chooses to take for a walk? I have a liking for lobsters. They are peaceful, serious creatures. They know the secrets of the sea, they don't bark, and they don't gobble up your monadic privacy like dogs do. And Goethe had an aversion to dogs, and he wasn't mad!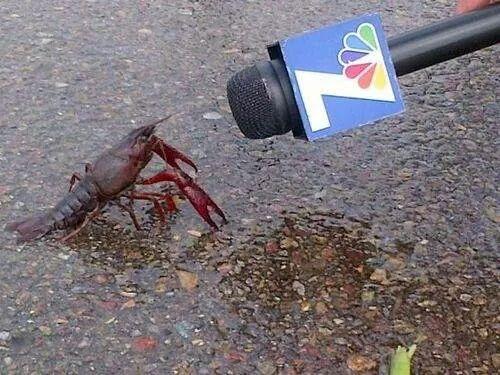 See yesterday's Links and Antidote du Jour here.