Intense video captures skateboarders speeding down a road in the Alps Business Insider (David L)
Oxygen-starved 'dead zones' with no marine life up to 100-miles long discovered in the Atlantic Ocean Independent (subgenius)
2015 will be a remarkable year for periodical cicadas [locusts] Magic Cicada (Dr. Kevin)
Whisky Island 60 Minutes. EM: "This was apparently the last story on which legendary CBS reporter, the late Bob Simon, was working. If it's yer time, laddy, may as wayll go oot doin' something ye love, d'ye ken?"
The Truth About Smartphone Apps That Secretly Connect to User Tracking and Ad Sites MIT Technology Review (David L)
Hacking the US Prescription System Slashdot (Dr Kevin)
IMF on verge of declaring yuan fairly valued: CNBC
We're hurtling towards another hung parliament – will the parties adapt or die? Paul Mason, Guardian (billmon via Lambert)
All British parties are eurosceptic now Wolfgang Munchau, Financial Times
Political Economy: British Voters See Through Their Politicians New York Times
Pirate Party surges in polls to become biggest political party in Iceland Independent (subgenius)
Grexit?
Costas Lapavitsas: The Syriza strategy has come to an end Verso (Roger E). Important. We posted on this but wanted to make sure readers did not miss this.

Greece, creditors still far apart despite intense negotiations Globe and Mail

Greece Says it Won't Request New Bailout Voice of America. I was gobsmacked when I read various accounts over the weekend of Varoufakis saying that Greece didn't need a bailout if the creditors would restructure the debt. Huh? That conversation was closed months ago. The Troika and Eurogroup have made it very clear that the "bailout" negotiations come first (which include Greece agreeing to structural reforms), then the restructuring talks.

Greek PM to Meet With Creditors after Obstacles in Brussels Greek Reporter (Santi). More shades of self-delusion. Eurogoup head Jeoren Djisselbloem said at the last Eurogroup meeting that there was no way they'd be in a position to release funds at this upcoming meeting. And even if there were a miraculous change of heart, some countries, most notably Germany, require Parliamentary approval for any deal. That involves lead time, also making it pretty much impossible for Greece to get the bailout funds released at the Eurogroup meeting on May 11.

100 days of solitude: Syriza struggles as Greeks once again stare into the abyss Guardian

Athens mayor guards city's cash from government Financial Times

Official: IMF admits the failure of the Greek program unbalanced evolution

Trading in Greek Government Bonds Slows to a Trickle Wall Street Journal
Ukraine/Russia
What does Putin want? A major analysis by Rostislav Ishchenko (must read!). Vineyard of the Saker (Chuck L). From last month, still important. I think it paints the picture in overly bright colors (as in it assumes a deliberate strategy in the US, as opposed to a noxious mix of inertia, bad ideology, and bad incentives) but is still directionally correct.

Russian Economy May Be Stumbling Back To Its Feet OilPrice

The Haunt Of History In Eurasia Vineyard of the Saker (margarita)
Syraqistan
Monitor says strike by U.S-led forces kills 17 civilians in Syria Reuters (furzy mouse)
Arab-Israel peace talks 'dead', says Carter Financial Times. Not news per se.
Trade Traitors
Critical Alert': Jeff Sessions Warns America Against Potentially Disastrous Obama Trade Deal Breibart (curt e)

Republicans push Obama on TPP vote Financial Times
Budget plan calls for $194 billion in unidentified cuts to federal workforce Washington Post (furzy mouse)
Baltimore
Rawlings-Blake lifts curfew, effective immediately Baltimore Sun (furzy mouse)
King Billy; or, The Way Of All Democrats Michael J. Smith (Carol B)
New York City Comptroller Scott Stringer Pushes To Give Wall Street More Pension Cash International Business Times
'Killing Jews is Worship' Posters to Appear on NYC Subways and Buses? Peter Van Buren, Firedoglake (furzy mouse)
Three shot outside Muhammad cartoon contest in Texas Los Angeles Times (furzy mouse)
Why The Powers That Be Are Pushing A Cashless Society George Washington
Grantham on the US stock bubble deadlineb MacroBusiness
SEC backlogs delays whistleblower awards Wall Street Journal (Adrien)
Will the Politics or Economics of Deflation Prove More Harmful? Intereconomics (Kevin C)
Class Warfare
Potential trailer park investors attending Mobile Home University told, "Don't make fun of the residents" Crane-Station, Firedoglake (Carol B)

America's trailer parks: the residents may be poor but the owners are getting rich Guardian (furzy mouse)

Orange County Family Paid $72K to Keep Son in Upgraded Jail Cell After he Killed Girl While Drunk Driving Alternet (Dr. Kevin)

Sustainable parking and the tragedy of the commons Frances Coppola (Brent C). These people and Coppola are far too nice. There is a very simple solution. Let the air out of one tire of the offending cars. Do it late at night with gloves on. A few incidents like that and the offending car owner will presumably get the message. One could vary tactics for tire ruination, like putting a large piece of broken glass in front of and behind one tire, or shoving a very large tack in a tire to create a slow leak and more plausible deniability.

Labor Market Slack and Public Policy Dartmouth
Antidote du jour. Frosty zoom's phydeaux sun bathing for the camera: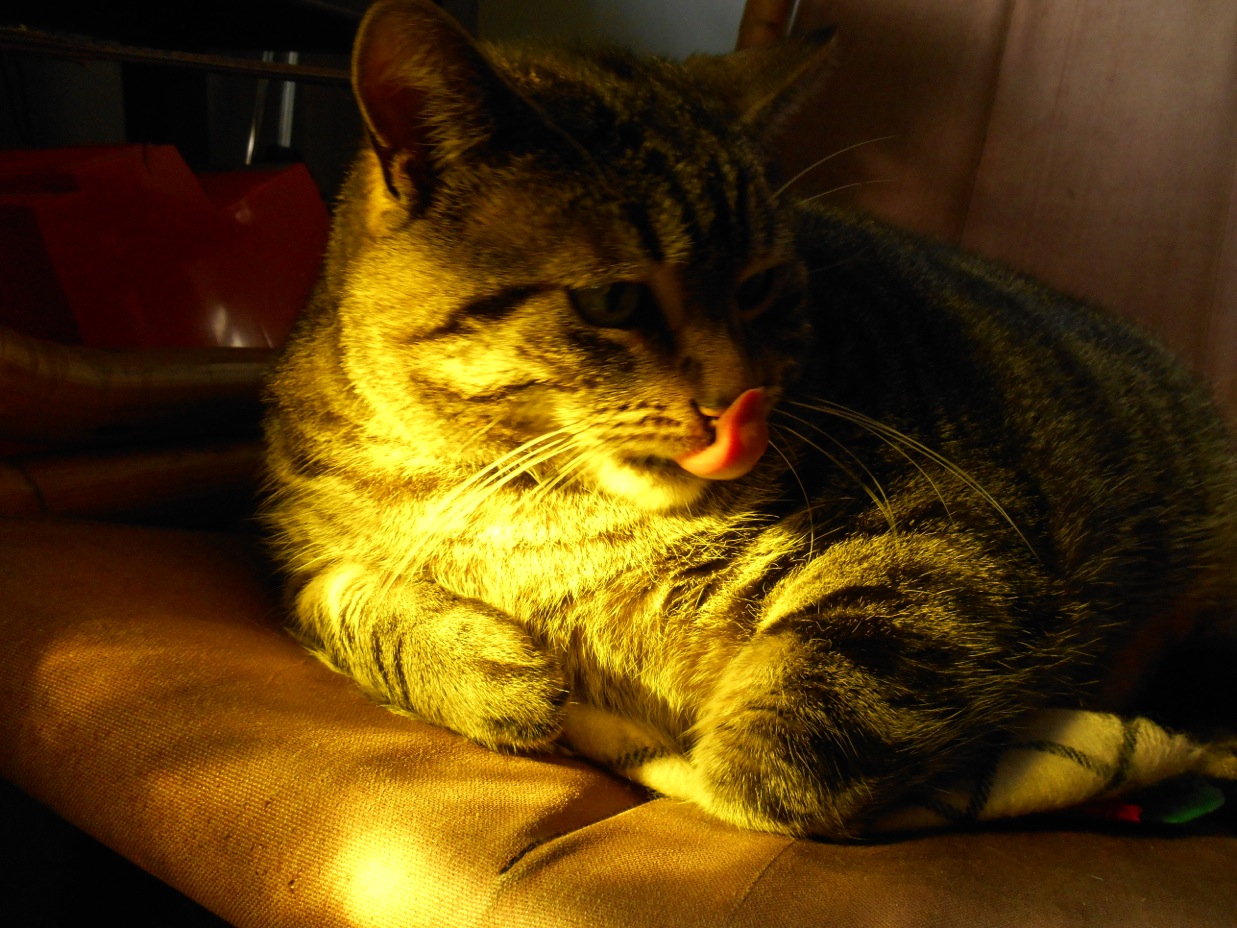 See yesterday's Links and Antidote du Jour here.