By Lambert Strether of Corrente.
TPP/TTIP/TiSA
"The intention of House Republican leaders to postpone a vote on [TAA] until as late as July 30 dovetails with the end-of-July expiration of the highway trust fund authorization" [Bloomberg]. It will take a lot of sausage to sway 80 votes when the campaign season opens Labor Day. But they will try to sneak it through. Be vigilant!
"Uncertainty over the benefits of free trade and concern about what has happened to U.S. manufacturing in the past two decades is a feeling not only held by the left. It spans party and political ideology as several recent polls have shown. (More on that here and here.) [Wall Street Journal, "What Happened to the Trade Deal?"].
Clinton on TPP, now: "I think that the president's team could go to every one of these other parties [countries] and say, 'I know you understand the process of fast track. I want to get it, but I'm going to have to make some adjustments in order to get it. But if I get it, then we have to negotiate on the basis of those adjustments. I think that is really worth trying" [CNN]. Stronger than the quotes I first read, since retrading any side deals with countries could well keep TPP undead until after 2016 (in addition to causing Barack "New Car Smell" Obama great pain). But remember how the Grand Bargain kept coming back? The elites always get do-overs. Nevertheless,she should stop this shilly-shallying that "I haven't read the deal." The ISDS provisions — and the even worse "Living Agreement" clause and the Trans-Pacific Partnership Commission — make the TPP unacceptable right now, period. Unless you're going to sell out the nation's sovereignty for a new road in the district, or something.
Clinton on TPP, now: "Another reporter asked Clinton if she believes the president should have fast-track authority. And, like any seasoned politician, Clinton successfully answered a yes-or-no question with an extended nonanswer, with some tautological rhetoric mixed in" [National Journal]. One admires the technique ("She has to say that," as so many Obots said on Obama). But I believe the times call for more than technique.
Clinton on TPP, then: "Here are 45 instances when she approvingly invoked the trade bill about which she is now expressing concerns" [CNN].
Clinton on TPA, New Hampshire: "The TPA is a process issue" [Politico]. Yes, if you call the legislative branch surrenduring its powers to the executive branch a "process issue." I think James Madison would be rolling in his grave, and it's not a process issue, but a legitimacy issue.
Clinton campaign manager Mook on TPA, Face the Nation: "[T]he back and forth that's happening right now is about procedures and parliamentary this and that. You can't take a position on a trade bill that you can't see" [CBS]. First, we've seen enough. Second, one might well ask who wants the American poeple not to see the bill, and why. 
Ed Schulz: "Now this is not the media manufacturing a Hillary Clinton story that might not be very good. This is a classic example of how Hillary Clinton has not on this issue been crystal clear on where she stands on fast track, and whether she thinks Congress should be reading trade deals before they vote on them" [Mediaite].
2016
Sanders
Sanders in Iowa: "What is the Secretary's position?" Not just on TPP, but on Keystone, the Patriot Act, and "what he calls 'the billionaire class' and what her policies are to deal with them" [WaPo]. 

"A black male baby born today, if we do not change the system, stands a one-in-three chance (of) ending up in jail. This is (an) unspeakable tragedy" (true) [Politifact, Tampa Bay Times]. Oddly, Clinton addressed no aspect of the black expereince in the criminal justice system (or the school-to-prison pipeline) in her rollout speech.

Sanders on Obama: "[The] biggest mistake [Obama made after running] "one of the great campaigns in American history" [was telling his activists in Obama for America] "Thank you very much for electing me, I'll take it from here. I will not make that mistake" [Daily Beast]. Like it or not, Sanders is hitting a lot of pain points, not only in the electorate, but in the political class. And for the electorate, he's proffering solutions. Early days to say he's going  for the jugular, not the capillaries, but we'll see.

"The question needs to be asked. What will Bernie Sanders' supporters do when 'We need a political revolution'  inevitably turns into 'We must vote for the lesser evil'?" [Counterpunch].
The S.S. Clinton
"Hillary Clinton's Fainthearted Populism" [The Atlantic]. Do not accept narratives of Democratic weakness! Exactly as with Obama, Clinton's policies are not weak, or even the mechanical result of pressure from the oligarchs, but the result of conviction.

"The Clinton Foundation has taken in as much as $11M in payments from non-profit groups" [Politico]. Not that "non-profits" always are. But still.

Clinton, in New Hampshire: As Secretary of State "I had certainly followed closely what was happening in our country because of the Great Recession" [WMUR]. We know what the answer will be ("Bush did it"), but just for grins it would be nice to ask Clinton how much responsibility Clinton I (Glass-Steagall) and Obama (wussy stim pack, no bankster prosecutions, HAMP debacble, etc., etc., etc.) bear for the "Great Recession."
Republican Establishment
Jebbie throws his exclamation point into the ring. "[A] nearly flawless execution of the indoor-rally form" [Slate].  [The crowd] "carried inflatable thundersticks [block that metaphor!] and red-and-white signs with the candidate's exclamatory new logo, "Jeb!" (in Spanish: "¡Jeb!") [The Atlantic]. So that's why

"Pols And Polls Say The Same Thing: Jeb Bush Is A Weak Front-Runner" [FiveThirtyEight].

"[Jebbie] has been told he needs to make an effort to smile more" [Buzzfeed].
Republican Principled Insurgents
Walker: "If we can do it in a blue state like Wisconsin, we can do it in the Granite State and all across America" [AP]. Granted, Walker may have reached the highwater mark legislatively, given that Republic and Democratic legislators have combined to block some of his initiatives. But he's still got stuff to brag about.
Republican Clown Car
The Donald throws his comb-over into the ring [WaPo]. I think it's OK to mention a personal characteristic so clearly part of Trump's personal branding…

Trump is high enough in the polls to make it into the Republican debates [Wall Street Journal, "Why Donald Trump Is Important, in One Chart"]. Pass the popcorn.

How much is Trump really worth? [WaPo]. Interesting question, but note that the same analysis also applies to every other squillionaire. Valuation isn't even an art, let alone a science.

Trump has until mid-October (30 days plus two extensions) to file a listing of his assets—and liabilities—with the FEC [Bloomberg].
"Ugly: The aftershocks of a tea-party suicide" [New York Magazine]. Oppo and its conseqences in the McDaniel (Tea Party) vs. Cochran (establishment) race. Ugly and sad.
All you need to know about our political class: "(Full disclosure: My wife is an adviser to Bush, although I still plan to criticize him as necessary.)" [Ramesh Ponnuru, Bloomberg]. Fine, fine.
Stats Watch
Portuguese 10-year bonds: "GSPT10YR:IND Yield 3.213; down 0.040; change: -1.23%  [Bloomberg]. Mr. Market's feels a little bit better about contagion.
"Spanish Yields Drop From 10-Month High as Greece Roils Markets " [Bloomberg].
Housing Starts, May 2015: "Permits are the leading indicator in the report and the latest rate is the best since way back in August 2007" [Bloomberg]. "Before we start thinking all is well, the residential home industry is about half of the pre-2005 peak." And: "Apartment permits (structures with 5 or more units) grew 53.5% year-over-year. Apartments accounted for 42.3% of all building permits, and 37.2% of construction completions" [Econintersect]. I wonder how much of this multi-unit construction is private equity and/or speculative.
Redbook, week of June 12, 2015: "Redbook's year-on-year same-store sales rate, which typically trends in the 3 percent area, is at a very pathetic plus 1.1 percent in the June 13 wee" [Bloomberg]. "Father's Day and related disappointment over men's apparel sales." 
Corruption
"BlackRock, Obama Campaign Donors Stand To Benefit From Cuts To Military Pensions" [David Sirota, International Business Times]. "Under the details of the Pentagon plan, the federal government would divert 3 percent of service members' pay into a 401(k)-style plan that would be managed largely by BlackRock, a financial firm whose executives helped bankroll President Barack Obama's election campaigns. " How cozy.
Health Care
"The 29-hour week: It's not just for nasty Republican restaurant owners anymore" [Corrente].
Class Warfare
"Effective altruism" [The Atlantic].
News of the Wired
The Magna Carta was very, very detail oriented [The Atlantic]. "All evil customs relating to forests and warrens, foresters, warreners, sheriffs and their servants, or river-banks and their wardens, are at once to be investigated…." That sounds like common pool resource management, to me. I should look into this….
Study: "Anti-Semitic propaganda had a lifelong effect on German children schooled during the Nazi period, leaving them far more likely to harbor negative views of Jews than those born earlier and later" [Japan Times].
"Spain's indignado mayors stay true to their roots in first day on the job" [Guardians]. IIRC, when the movement ended, the indignados melted back into the neighborhoods. Some of them seem to have emerged.
"Carl Jung's Delightfully Disgruntled Review of Ulysses and His Letter to James Joyce" [Brain Pickings].
"How the Yes Men Found Themselves in a Flourishing Bromance With Julian Assange" [Vogue].
"So the opposite of addiction is not sobriety. It is human connection" [HuffPo]. Important! And now let's talk about consumerism..
* * *
Readers, feel free to contact me with (a) links, and even better (b) sources I should curate regularly, and (c) to find out how to send me images of plants. Vegetables are fine! Fungi are deemed to be honorary plants! See the previous Water Cooler (with plant) here. And here's today's plant: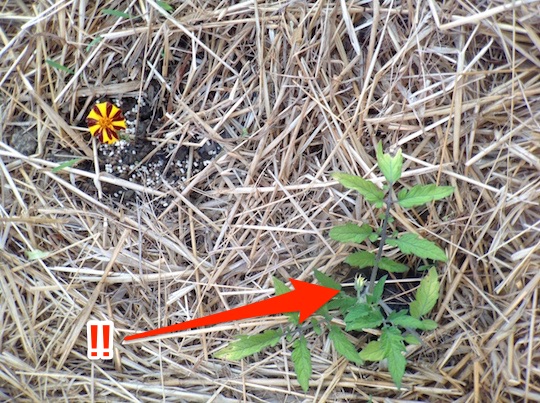 If you enjoy Water Cooler, please consider tipping and click the hat. I need to keep my server up! And pay the plumber….
(Readers will notice that I have, at long last, improved the hat!)