By Lambert Strether of Corrente.
TPP/TTIP/TiSA
Patagonia CEO Rose Marcario: "We stand to gain financially from TPP and the potential duty relief on products made within the region, but the minor potential gains are not worth the social and environmental costs" [SNEWS].
Handy chart of pro- and con-TPP money forces [Spotlight].
Votes in the House: The Customs Bill (the Christmas tree bill), TAA (the fake retraining bill), then TPA ("Fast Track") [Dave Johnson, CAF].
6:06PM yesterday: "Because of possible Democratic defections, Rep. Tom Cole (R-Okla.) said the GOP whip team might have to approach some anti-TAA Republicans and ask them to vote in favor" [The Hill]. So we've unbundled issues from party now. Good to know.
9:31 AM: "Democrats and Republicans have no idea whether the votes are there to pass: [TPP] [Politico].
10:00AM~, because the world's greatest newspaper doesn't effing timestamp its posts: "His message, delivered in what House Democrats called a rousing, impassioned speech, was 'play it straight'" [New York Times] Oh. TPP opponents are crooked. Check.
12:10PM: "The debate among Democrats over the best course was so tense this week that DeLauro accused her longtime friend House Minority Leader Nancy Pelosi of having "misread" the will of the caucus in helping Obama and House Speaker John Boehner structure the legislation and the votes to ease the path for the fast-track bill. Asked Friday who had a better feel for the caucus, DeLauro just grinned" [Vox].
"'The President tried to both guilt people and impugn their integrity. I was insulted,' Rep. Peter Defazio, D-Oregon told reporters after the meeting" [CNN].
"Some Democrats have quietly criticized labor for heavy-handed tactics. Those tactics have included suspending campaign donations, staging protests at congressional offices and flooding House members with emails and phone calls" [Guardian]. That seems quite mild to me. Is it too much to ask that Democratic traitors who cashed in national sovereignty stop whinging, too?
Jim Dean, Democracy for America: "We will not lift a finger or raise a penny to protect you when you're attacked in 2016, , and we will actively search for opportunities to primary you with a real Democrat" [Wall Street Journal]. We should have heard language like this four, eight, twelve years ago, but better late than never. I'm with Dean. Congress critters that sell out our national sovereignty should be hunted to the ends of the earth. Of course, Dean has to follow through.
TAA is CRUSHED. 

136 GOP Nays
130 Dem Nays

— Drew McCoy (@DrewMTips) June 12, 2015
In another sign of the End Times: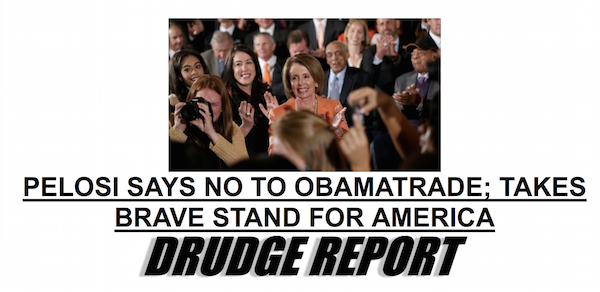 But!!!!
TPA passes! (but can't be sent to White House in this form) – Republicans cheer

— Deirdre Walsh (@deirdrewalshcnn) June 12, 2015
But!!!!!!
FAST TRACK, which is getting a show vote, gets enough votes to pass. But the way process is written, means nothing. Back to drawing board.

— Jake Sherman (@JakeSherman) June 12, 2015
This parliamentary maneuvering is above my paygrade. Readers who are better informed than I am, please chime in!
2016
Sanders
Sanders: "In virtually every instance, what I'm saying is supported by a significant majority of the American people" [WaPo]. WaPo: "The overall verdict? Yes."

Sanders on Clinton's TPP silence: "You can be for it or against it. But I don't understand how, on an issue of such consequence, you don't have an opinion" [ABC] [hums chorus].

Sanders interview on Diane Rehm (audio) [Diane Rehm Show]. This is the show where eventheliberal Rehm asked Sanders if he was a dual citizen of Israel, based on a Facebook comment she read.
The S.S. Clinton
Clinton campaign prepositions talking points for Roosevelt Island formal rollout tomorrow: "Clinton will discuss how her mother shaped the person she is today and why she could not duck away from this fight" [Los Angeles Times]. "Some parts of the speech that campaign officials previewed Thursday, in fact, could just as easily have come from Vermont Sen. Bernie Sanders." We'll see. Words are wind.

"Short version: Clinton is indeed ministering to Obama coalition voter groups — minorities, millennials, college educated whites. But nonetheless, she's thus far campaigning like a mainstream Democrat. In fact, those things are now two sides of the same coin. Meanwhile, very few of her positions thus far preclude reaching beyond those groups [WaPo]. In other words, identity politics, and a 50% + 1 election strategy that doesn't lead to a mandate.

"The fact that a debate that's torn Democrats apart to the point that they're threatening to let each other 'rot' has played out without the participation of the overwhelming frontrunner for president is nothing short of remarkable" [The Note].

"Clinton's building her strategy around a series of domestic policy rollouts. How she's doing this is equally telling: Advisers told me it was an elaborate, even West Wing-style policy process, with concentric circles of advisers and pollsters who are cooking up a comprehensive economic policy, some of which will be for public consumption, some of which will be employed if she's elected" [Politico]. "[S]ome of which will be for public consumption." Oh. Like TPP, then?

"Since declaring her candidacy in April, Hillary Clinton has spent much of her time attending house parties. Clinton's gamble is that while collecting relatively small checks from relatively small groups — the maximum is $2,700 per head and the average party attracts about 120 people — she is also harvesting something else: goodwill, in a business sense, among a cohort of early donors whose feeling of personal connection to Clinton and her campaign are expected to pay dividends down the line" [Politico]. Could be true. In a way, this adapts the strategy of the Clinton 2008 campaign after the caucus debacle, where they stormed the small gyms of middle America.
"O'Malley Rallies Opposition to 'Fast Track' Trade Law" [Weekly Standard]. Rat leaps on to sailing ship.
"'Silent 'time for a woman' Republican women outnumber silent sexist Democratic men," said an Iowa Democrat" [Politico]. Well, yeah, given that Clinton won a majority in 2008 (if all the votes are counted) I'd say they do. "
Republican Establishment
The Iowa Straw Poll is dead [Des Moines Register]. Republican establishment stuffs the crazies back in their box.

Anonymous Republican New Hampshire operative: "It's going to be a horse race and Bush is no American Pharoah right now" [Politico].
Republican Principled Insurgents
"Scott Walker is now planning to strip tenure from professors in the University of Wisconsin higher education system" [Talking Points Memo]. Walker's right. The only people who should have tenure are Congresscritters in gerrymandered safe districts. And running against pointy-headed intellectuals throws red meat to the base.
Republican Clown Car
"The pediatric neurosurgeon-turned-candidate told a crowd of Iowa Republicans he is "thinking very seriously" about adding "a covert division of people who look like the people in this room, who monitor what government people do" [MSNBC]. Will there be badges? Decoder rings?

Christie's PAC paid for his NBA finals ticket [National Journal]. Christie doesn't learn, does he?
"[M]embers of Congress themselves were three times more likely to meet with people identified as donors than regular constituents" [Daily Dot]. Credo study.
Stats Watch
Portuguese 10-year bonds: "GSPT10YR:IND Yield 3.037; up 0.142%; change: 4.91% [Bloomberg]. That's a bump. Greek contagion enters Mr. Market's lower backbrain.
Consumer Sentiment, June 2015: "Consumer sentiment is back on the climb," in both current conditions and expectations [Bloomberg]. "a bit of a rebound from last month, and being touted as proof of a strong recovery, but it also looks like the drift down may still be in progress, much like the consumer sales showed disturbingly declining rates of annual growth even though the recent release was an uptick [Mosler Economics].
"A Federal Reserve data release (Z.1 Flow of Funds) for 1Q2015 – which provides insight into the finances of the average household – shows a modest improvement in average household net worth" [Econintersect]. Joe and Jane Sixpack are better off. "What is concerning is that the 35% of Americans who have no home or assets are no better off (living from paycheck to paycheck) – and have no path to consume more. This person is not modeled by this index."
Black Injustice Tipping Point
"Community leaders asked the court to find probable cause in the case by using what Cleveland.com describes as "an obscure Ohio law." This law "allows any citizen with knowledge of the facts of a case to formally ask a judge to issue an arrest warrant" [Newsweek]. Important, because activists bypassed the prosecutor's office.
""'He was just trigger happy,' said Audrey Latham. 'I don't know if he was fearful or what, but he didn't give my son any time to think. They shot him like a dog.'" [WTKR]. Lead, steroids… Take away their guns, get 'em out of their cars, and make 'em walk the beat.
More trouble in McKinney, this time about anti-LGBT bullying at the middle school [Buzzfeed]. I hate to think that the city touted as #1 place to live in America is a reactionary hellhole, but I'm having my priors reinforced, here.
Dear Old Blighty
The U.K. is important as a neo-liberal proving ground. Alert reader Steve keeps watch:
"George Osborne's plan to sell the government's 80 per cent stake in Royal Bank of Scotland, the expected highlight of this week's Mansion House speech, looks set to fall short of Treasury expectations as leading investors baulk at buying shares in the state-rescued bank" [Ian Fraser, Herald Scotsman]. Once a big shitpile, always a big shitpile.
"The reality of Britain in 2015… food banks, welfare cuts and privatisation" [Aled Blake, Wales Online]. "On May 7, Britain didn't just vote for a Conservative government, it voted for food banks, for tax cuts, for an end to the welfare state, for privatisation, for the dismantling of our understanding of society." Well, not "Britain," really. A very small minority in a few districts swung the vote in a first past the post system.
"Northern Ireland's economic situation is perilously reliant on the public sector and public spending. … Westminster or civil servants taking control of the budget temporarily may provide enough space for negotiations but it is definitely a step backwards for the Belfast Agreement" [New Statesman].
Another Tory whack job: "Britain's new nuclear power stations and other energy infrastructure projects must be designed to look beautiful to garner essential public support, the Energy Secretary, Amber Rudd, has said" [Independent].
Squillionaire Wretched Excess Watch
" Ex-IMF Chief Strauss-Kahn Acquitted in French Pimping Trial" [Bloomberg]. Good to see that the integrity and credibility of the international banking system has been restored to its former lustre.
News of the Wired
R.I.P. Ornette Coleman [Free Jazz Blog].
"Because algorithms are based on the past, they only satisfy preconditioned responses. They cannot give us what is new, surprising, challenging or different. Difference is what they are designed to dismiss. In effect, they hollow out life" [Japan Times]. See above.
"[A] more accessible version of Twitter already exists. It's called Facebook, and it's wildly popular" [Vox]. Unfortunately, Twitter can't focus on what it actually does best — curated news feeds for 300 million infovores — because Wall Street, in yet another example of capital misallocation by elites, valued it like Facebook, when it has both a different readership and a different function. And we already have Facebook. We don't need two (or, for that matter, one, but that's a post for another time).
Pop Sonnet LXIII, "American Pie" (Don McLean) [Pop Sonnet]. The couplet is pretty angsty, at that.
* * *
Readers, feel free to contact me with (a) links, and even better (b) sources I should curate regularly, and (c) to find out how to send me images of plants. Vegetables are fine! Fungi are deemed to be honorary plants! See the previous Water Cooler (with plant) here. And here's today's plant, the fifth of Gardens, Week Six (Chuck):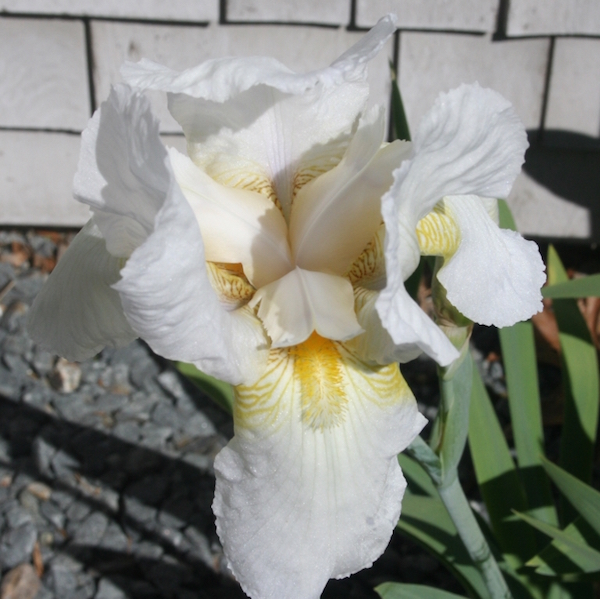 Readers, the weekend's discussion for "Open Thread on Water" was terrific. So many interesting projects! Please, send me pictures of your projects, at least if plants are involved, and when aren't they? If only of maple twirlers in gutters!
If you enjoy Water Cooler, please consider tipping and click the hat. I need to keep my server up! And pay the plumber….
(Readers will notice that I have, at long last, improved the hat!)