By Lambert Strether of Corrente.
TPP/TTIP/TiSA
"House approves fast-track 218-208, sending bill to Senate" [The Hill].
"House revives Obama's trade agenda with passage of fast track bill" [WaPo].
"House Punts Fast Track Problem Back to Senate; Path to Approval Unclear" [Eyes on Trade].
* * *
UPDATE, 2:30: Rather than go through the parliamentary detail, let me expose my personal and editorial biases (which are to be distinguished from an NC position) and comment on the question of "Why We Fight," primarily so readers are clear, but also as (to be frank) a troll prophylactic.
I've been listening to the revolutions podcast before bed, from which I've drawn a few lessons. One is that revolutions are not infrequent in human affairs; the podcast has gone through the English revolutions of the 1600s, the American Revolution, and is now at the French Revolution; we just decapitated Robespierre. To come are Haiti and Russia, and perhaps more. Second: Both revolutions themselves, and the build-up to them, are protracted affairs with unknown flash points. That the ancien regime was sclerotic was known by a lot of smart people in the 1750s, and they all tried to fix it; but the revolution itself did not begin until 1789. Third: It's foolish to romanticize revolutions, because they tend to kill a lot of people. Be careful what you wish for, especially when it's others who will be doing the dying! Fourth: Accident and happenstance matter a lot. If Louis XVI's character had been stronger, perhaps he would have kept his head, and France would have ended up with a Constitutional monarchy (and not a cascade that looks like Napoleon -> French Empire -> German nationalism -> German unification -> World War I (millions) -> World War II (millions). Not that causality in history is linear; but I think you can see how the butterfly of Louis's vacillation could have created a vast, chaotic outcome. Finally: Victory belongs to those with organizational capacity who, when they see power in the street, can pick it up (as the Roundheads, the Jacobins, and the Bolsheviks show). Morality and justice are, I would say, very necessary, but most certainly not sufficient.
It's the last point on organizational capacity that I want to highlight, because win or lose — caveat: As long as we can avoid the ills of tribalism and bot-like behavior, and retain critical thinking skills — all the effort of the last few years, including the Capital occupations, Occupy proper, #BlackLivesMatter (to name a few), the anti-fracking movements, are about building organizational capacity, not in the institutions or vehicles, but in the people themselves, as they actively participate.
So I am making a sort of Pascal's wager here. People who choose to be hopeless (or, less judgmentally, quietist) are, of course, free to choose the course of inaction. But that strikes me as very much like lifting weights for a few days, not seeing much result, and then not only giving up, but buttonholing others in the gym, and urging them to give up. The sort of person who, on receiving an invitation to Estates General in 1789, would have said: "Non. It's just another Lucy and the Football schtick. The whole thing is going to be dominated by aristocrats and bishops anyhow. Pas si bete!" Wise fool. And too bad for them!
And there is a lovely Cardinal in my garden! -030-
Black Injustice Tipping Point
"Nine shot, multiple fatalities reported in downtown church shooting" [Post and Courier]. Historical background on the African Methodist Episcopal church where the murders took place. Reminiscent of the "suspicious fires at Southern Black Churches" in the 90s. And much else.
"Survivor says Charleston shooter spared her to 'tell everyone' what happened" [News3] (though note sourcing caveat). Apparently, the shooter joined a bible study class at the church, stayed for an hour, then opened fire when the class ended. 
"Police arrest suspected shooter who killed 9 in historic black church " [Miami Herald].
"Murders in Charleston" [Jelani Cobb, The New Yorker]. 
2016
Sanders
Polls show Sanders picking up steam [MSN].

"Expecting a large crowd for U.S. Sen. Bernie Sanders' first appearance in Charleston since he announced he was running for the 2016 Democratic presidential nomination, his campaign has moved the Sunday night event to Burke High School" [Post and Courier].
The S.S. Clinton
Axelrove on Clinton and TPP: "The fact is, she was there when this thing was launched and she was extolling it when she left. She's in an obvious vise, between the work that she endorsed and was part of and the exigencies of a campaign. Obviously, her comments plainly weren't helpful to moving this forward" [New York Times]. And her comments weren't strong enough to stop it, either, so Clinton gets the worst of both worlds by shilly-shallying. It will be amusing to see how often Obots yank Clinton's leash going forward.

I think I finally understand what Benghazi is all about! "Republican members of a special congressional committee spent hours on Tuesday grilling Clinton confidant Sidney Blumenthal about the inner workings of the Clinton's philanthropic and political operations" [Politico]. Just…. wow.

"While Hillary Clinton continues to hedge her position on the Trans-Pacific Partnership and the related issue of trade promotion authority, her campaign is partnering with a pro-TPP/TPA law and lobby firm to raise cash" [The Intercept].
Republican Establishment
"Jeb Bush cancels visit in wake of church shooting" [Post and Courier].

"Telling the donors on the call they were '' who he was going to 'set loose,' [Mike Murphy, the longtime Jeb Bush confidant and consultant who is heading the Right to Rise super PAC] said the number the SuperPAC would be filing by the next July reporting deadline would give opponents 'heart attacks' and discourage their rivals' donors from opening their wallets" [Buzzfeed]. Indeed!

"The "super PAC" supporting Jeb Bush, now walled off from the candidate because of campaign finance rules, hopes to "" its fund-raising total for the first six months of the year" [New York Times].
Republican Principled Insurgents
"Wisconsin Gov. Scott Walker has created a "testing the waters" committee that allows him to raise money for a presidential campaign. The two-term Republican governor has already been raising unlimited political donations through a tax-exempt group since January. And in April, former senior aides created a super PAC to bring in even more" [AP].
Republican Clown Car
Santorum on Charleson shooting: "we're now seeing assaults on our religious liberty we've never seen before" [WaPo]. Attaboy.

CBS fact checkes The Donald [CBS]. I mean, after all, who needs to look at the labor force participation rate, or full vs. part-time jobs, to understand the labor market? Trump and CBS deserve each other.

"Donald Trump Campaign Offered Actors $50 to Cheer for Him at Presidential Announcement" [Hollywood Reporter].
The Hill
"Former Rep. Barney Frank Joins Bank Board" [WBUR]. Ka-ching.
Stats Watch
Leading Indicators, May 2015: "Remarkable strength is being posted by the index of leading economic indicators which surged 0.7 percent for a second month" [Bloomberg]. Building permits, monetary policy. "As an analyst, I keep my eyes on 3 month rate-of-change (red bars) [in graph of leading index]. There is a short term (half year) trend along the zero line. Any recession warning follows months of negative growth of this index. This is why the authors of this index are saying no recession is near" [Econintersect].
Philadelphia Fed Business Outlook Survey, June 2015: "In the first notable indication of strength of any kind in the manufacturing sector, the Philly Fed index has absolutely surged" [Bloomberg]. "But is this report an outlier? It certainly isn't confirmed by Monday's Empire State report which lurched into the negative column to minus 1.98. Today's report will focus attention on other Fed manufacturing reports to come including the Richmond report on Tuesday and the Kansas City report on Thursday. Both of these reports, and especially the Dallas report, have been very weak so far this year." "This is a very noisy index which readers should be reminded is sentiment based" [Econintersect].
Jobless Claims, June 2013: "Jobless claims, after trending slightly higher in recent weeks, are back down near historic lows" [Bloomberg].
Bloomberg Consumer Comfort Index, week of June 14, 2015:  "Bounced back" [Bloomberg]. "Readings on consumer spirits are generally on the climb."
Corruption
"The contractor that built the Berkeley apartment complex where a balcony collapsed early Tuesday morning, killing six people, has a history of being sued for construction defects" [KTVU].
"Thomas Hayes, a former trader on trial over charges he manipulated benchmark rates, told prosecutors in 2013 that UBS Group AG distributed "an instruction manual on fixing Libor" to suit their trading positions" [Bloomberg]. So how much you want to bet there's a manual like this for every market? Or, indeed, that the purpose of creating a so-called free market is to write "the manual" for it? "People of the same trade seldom meet together, even for merriment and diversion, but the conversation ends in a conspiracy against the public, or in some contrivance to raise prices," as Adam Smith says. And creating a market — in about the most meta example of reflexivity you can find — comes under the heading of "people of the same trade meeting together." Eh?
"Investigators have uncovered evidence that Cardinals employees broke into a network of the Astros that housed special databases the team had built, law enforcement officials said" [New York Times]. There ain't no hackin' in baseball. Oh, wait….
Police State
"On May 26, after a bloody Memorial Day weekend in which nine people were killed, an anonymous Baltimore police officer appeared on Fox News and said, 'After the protests, it seems like the citizens would appreciate a lack of police presence, and that's exactly what they're getting, no proactive policing right now'" [The Intercept]. The argument seems to be that whacking black people with impunity is the very essence of solid police work. How about we take away their cars, take away their guns, and make them walk the beat?
"The District Attorney has dropped the charges against a teen who was handcuffed and pinned to the ground after he refused to give his glasses to school safety agents" [DNA Info]. Apparently, the guards had an issue with the safety pin he'd fixed his glasses with. Moral: Next time, use duct tape!
"The court often sides with police, and frequently at the behest of the Obama Justice Department" [MSNBC]. So the next time you hear "But Supreme Court!" from a Democratic loyalist…
"A former Sacramento County sheriff's deputy has been convicted of selling illegal guns" [San Francisco Chronicle]. I wonder how widespread this is.
"The main terrorist threat in the United States is not from violent Muslim extremists, but from right-wing extremists. Just ask the police" [New York Times].
Class Warfare
Restuarant sees profits triple after paying a decent wage and abolishing tipping [Yahoo.com]. And perhaps a third of the population says: "But how will I control my server?"
Hope in San Bernadino [The Atlantic]. Great article about what real education looks like, and it's not "high stakes" tests.
News of the Wired
The interiors of Boeing's union-busting plastic plane are rapidly deteriorating [Forbes]. What's worrisome is that the story is about failing headphone jacks. That may sound trivial, but it's an electrical problem, and the 787 is already known to have electrical problems. 
"Baltimore resident wants to make 'relentlessly gay' yard more relentless, gayer" [Baltimore Sun].
"Since 2000, the state of South Carolina has added three times as many background checks as it has new residents. In 2011, 2012, and 2013, it had more than six times as many background checks as new residents" [WaPo].
Court rules Bush officials can be sued for 9/11 detentions [The Hill]. Good. These people should be scared of taking international flights because they'll be hauled before the Hague.
"Why we are all Cypriots in the new age of bail-ins [Resilience.org].
"Busting Myths: a Practical Guide to Countering Science Denial" [Econintersect].
Software design and addiction [Thoughtworks]. Very important. You can quit using that app any time, right?
* * *
Readers, feel free to
contact me
with (a) links, and even better (b) sources I should curate regularly, and (c) to find out how to send me images of plants. Vegetables are fine! Fungi are deemed to be honorary plants! See the previous Water Cooler (with plant)
here
. And here's today's plant: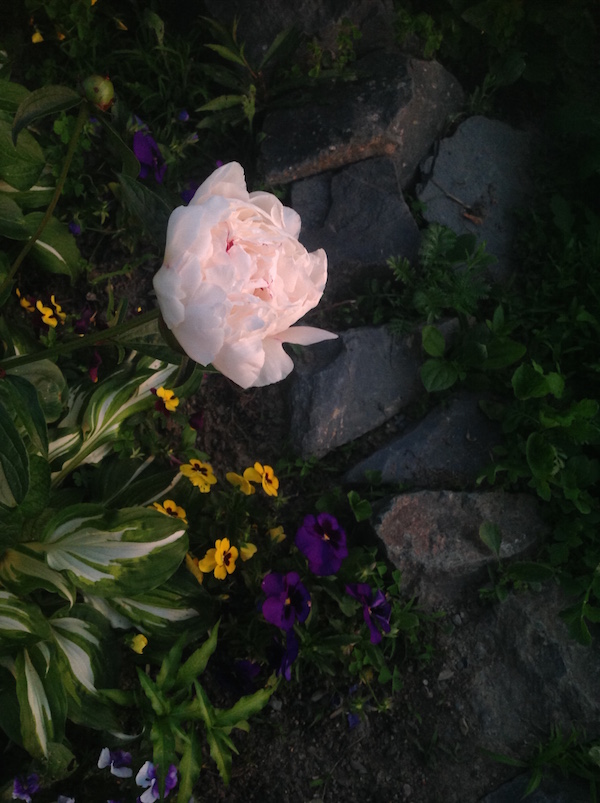 I hope the exposure on this peony with the fading light from the West is right; the colors are richest at dusk, but dusk…. Is dusk.
If you enjoy Water Cooler, please consider tipping and click the hat. I need to keep my server up! And pay the plumber….
(Readers will notice that I have, at long last, improved the hat!)