By Lambert Strether of Corrente.
Patient readers, this Water Cooler will be abbreviated. I have to go down to Augusta (the state capital) to be a warm body at a landfill hearing. –lambert
TPP/TTIP/TiSA
It ain't over 'til it's over, so call your Congress critter. 
Republican leadership considers unbundling TPA from TAA, and sending TPA to the Senate [CNN]. Not that TAA works, but the optics of Senate Democrats heaving working people over the side in an election year are delicious (assuming McConnell needs their votes).
"House GOP leaders booted three conservative members off the whip team for voting against a procedural rule last week that structured how a trade package was brought to the floor" [The Hill]. They're Reps. Cynthia Lummis (Wyoming), Steve Pearce (New Mexico) and Trent Franks (Arizona); it couldn't hurt to give them a call, thanking them.
Thumbsucker on TPP [New York Times, "The Trans-Pacific Partnership: Questions and Answers"]. 
Q. It's so confusing, especially with so many similar-sounding abbreviations. Why couldn't this all be simpler?

A. Very true. But perhaps Washington politicians are just adapting to the Internet slang common among young people. In 140 characters: Mr. Obama really wants to get T.P.P., but he needs T.P.A. and that requires T.A.A. Democrats like T.A.A. but will kill it to block T.P.A. #LOL
The Times manages to write a FAQ on TPP entirely about parliamentary maneuvering without mentioing policy at all. And I like "It's so confusing" very: Well-paid Times stenographer, writing an explainer, mocks citizen enquiring about substance. Classic in every way. #smh
Thumbsucker on TPP [Vox]. Crayola-level analysis. Can't Young Ezra do better with his squillions than this? For example, this:
The secrecy of the TPP negotiating process between the United States and other nations has given critics of the treaty a bit of an unfair advantage. If they make exaggerated claims about the treaty, defenders can't easily set the record straight.
Without even mentioning a single claim. Maybe the Voxoids have assimilated Obama's insulting and false claim that Warren is lying, and have reproduced it uncritically?
"Paul Ryan: TPP Will Help U.S. 'Set The Standards For The Global Economy'" [NPR]. "Nice Polite Republicans."
"'The Chinese are delighted because Obama's problems highlight that America is unpredictable,' said Dean Cheng, a China specialist at the conservative Heritage Foundation in Washington. 'And they have large sums of money to throw around'" [Reuters]. Playing the China Card, from somebody on "large sums" of wingnut welfare at Heritage. And the "democracy is unpredictable" line, beloved of despots everywhere!
"What is left of union membership understands that, over the last 20 years, they may have been responsible for their own economic demise by supporting Democrats who pushed through not-so-free trade legislation. The labor union and conservative Republican revolt against Trans-Pacific Partnership could serve as the foundation for a coalition whose defining partisan issue is supporting the interests of American workers" [Breitbart]. I dunno. I think the unions and the right are friends with benefits. I don't see them moving in together.
"AFL-CIO: 2016 endorsement doesn't hinge on fast track" [Politico].
2016
Sanders
"The magic behind the early Sanders surge is not so mysterious: what he says, invariably, is popular with the Democratic base at a time when many feel fatigued by promises of hope and change" [Observer]. Also, picture of Sanders with "human and bovine constituents at the Strolling of the Heifers parade."

"The self-described democratic socialist from Vermont – who is running for the Democrats' 2016 presidential nomination, although he is an independent – wants to not just preserve Social Security, but expand it" [US News]. New idea penetrates the hive mind of the political class.
The S.S. Clinton
"Hillary Clinton will call Wednesday for new tax credits for businesses that hire apprentices, drawing on a bipartisan idea for boosting on-the-job training" [Bloomberg]. Nibbled to death by ducks. Wearing school uniforms.

"Create your own Hillary themed avatar" [Hillary Avatar]. Have at it….

"House Democrats say there's nothing wrong with Bill Clinton getting paid to give speeches while Hillary Clinton runs for president" [The Hill]. Steve Israel: "I don't believe it's ever a good idea for Democrats to be creating distractions, and that's just a distraction."
Republican Establishment
"Jeb Bush's Website Code Somehow Contains 'Die Hard' Plot Synopsis" [Bloomberg].

Jebbie comes out in favor of torture: "Jeb Bush said Tuesday that the enhanced interrogation techniques deployed by his brother after Sept. 11 attacks were no longer appropriate" [New York Times]. Unsurprising; he's a big fan of inserting feeding tubes into the helpless.

"[Q]uality, character and class — the thread that runs through my more than 30 years' exposure to and experience with the Bush family" [Kathleen Parker, WaPo]. I'm sure the court stenographers for the Bourbons felt exactly the same way.
Republican Principled Insurgents
"PPP's newest national Republican poll continues to find a bunched up race at the top. Scott Walker leads with 17% to 15% for Jeb Bush, 13% for Marco Rubio, 12% for Ben Carson, 11% for Mike Huckabee, 8% for Ted Cruz and Rand Paul, 5% for Carly Fiorina, and 4% for Chris Christie. Small though the lead may be, this is the fourth consecutive national survey we've done where we found Walker out in front" [Public Policy Polling].
Republican Clown Car
List of crazypants anti-Trump talking points [Talking Points Memo, of course]. And this is before we even get to the oppo. Still, we live in a world where invading Iraq or blowing wedding parties to pink mist is sane, so there you are.

"Trump's Fake 2000 Campaign: Gun Bans, Single-Payer Health Care, And Taxes" [Buzzfeed]. I don't know about "fake," or at least any more fake than anything else Trump does.
Stats Watch
Portuguese 10-year bonds: "GSPT10YR:IND Yield 3.218; up  0.005  change: 0.16%%  [Bloomberg]. Mr. Market stays calm about contagion.
MBA Mortgage Applications, week of June 12, 2015: "Volatility in interest rates is making for volatility in mortgage applications which fell sharply in the June 12 week" [Bloomberg].
Corruption
"Swiss Chase 53 Fraud Cases Tied to FIFA" [Daily Beast].
Big Brother Is Watching You Watch
New York Senator suggests implanting microchips in prisoners [Capital New York]. Great idea. Start with Senators!
Water
"Missoula wins legal fight to take over Mountain Water Co." [Missoulian]. Carlyle Group wouldn't sell, so the City condemned it, and a judge agreed. Montana readers, any thoughts on this socialist takeover?
Class Warfare
How policing works in a privatized city [FEE]. Glibertarian wankfest; they've got cities confused with theme parks.
Agnotology Watch
Heritage school in Baltimore throws out hundreds of books in closing. "[English teacher Neil] Rubin said he began grabbing copies of Elie Wiesel's "Night" and Shakespeare's "A Midsummer Night's Dream" to save from the recycling bin [Baltimore Sun]. Rubin: "Role models don't throw out books." That's what you think.
News of the Wired
Water and bacterial spores can power small engines [WaPo]. Want! (One of them can power a lightbulb. How about recharging my computer?)
"One big problem with Facebook as a platform for news: It deletes things" [Fortune]. Seeing people use Facebook as an organizing tool makes me crazy; never mind where it goes after Facebook *** cough *** NSA Servers in Utah *** cough *** — Why throw your history down the memory hole?
Facebook authentication fail [Burning Bird].
David Brooks gets a factoid wrong. And — hold on to your hats, folks — he keeps repeating it [Salon].
Mathemeticians hoarding Japanese chalk, now going out of production [Gizmodo]. I know people who feel like this about certain pens manufactured in Japan.
The impact of crafting on the global supply chain [Craftstitute].
"If anything is clear, it is that the aging infrastructure of many civilian agencies in Washington magnify the problems the government faces in securing its networks, and OPM's data breach may just be the biggest one that the government knows about to date" [Ars Technica]. Not like there are any corporate systems written in COBOL… 
"Multinational firm takes aim at Maine farm over trademark dispute" [Bangor Daily News]. "Village Farms is one of the largest growers of greenhouse tomatoes in North America. Village Farm in Freedom cultivates five acres of mixed vegetables and flowers. The Maine farmers did not think that most people would get the two confused."
* * *
Readers, feel free to contact me with (a) links, and even better (b) sources I should curate regularly, and (c) to find out how to send me images of plants. Vegetables are fine! Fungi are deemed to be honorary plants! See the previous Water Cooler (with plant) here. And here's today's plant (Chuck):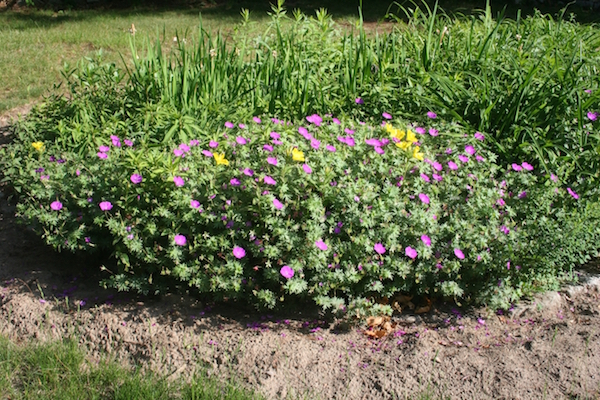 Chuck writes:
This week it is geraniums' turn to bloom in our south garden. I think the geraniums might be "New Hampshire Purples". The yellow flowers are English Primrose.
If you enjoy Water Cooler, please consider tipping and click the hat. I need to keep my server up! And pay the plumber….
(Readers will notice that I have, at long last, improved the hat!)