By Lambert Strether of Corrente.
TPP/TTIP/TiSA
Clinton still crawfishing: "Right now, I'm focused on making sure we get trade adjustment assistance, and I certainly would not vote for it unless I were absolutely confident we would get trade adjustment assistance" [Bloomberg]. What on earth does "absolute confidence" mean? McConnell and Obama's stones in a jar?
Australian fair trade campaigner Dr Patricia Ranald: "The Senate process requires a 60-vote majority out of 100 [senators] for a procedural vote to enable the new fast track bill to be debated by the Senate next week. This is less likely without [TAA]" [ABC Australia].
"A previous vote on the issue only passed with 62 votes in May, and if there's continued pressure from the likes of Sen. Elizabeth Warren — and even Hillary Clinton — it could be tough to pull off again" [CNN].
"Senate aides said support among Democrats hinged on another trade issue, the Export-Import Bank, which may have to close at month's end" [Reuters]. Which I believe Republicans hate.
"The only U.S. government projection of TPP's outcomes concluded it would result in 0% economic growth. This has led many economists who supported past trade deals to oppose TPP" [Lori Wallach, USA Today]. "Consider the 2012 South Korea agreement used as the TPP template. The U.S. goods trade deficit with Korea almost doubled in the pact's first three years. This equates to more than 90,000 American jobs lost, according to the ratio the administration used to promise job gains from the deal."
The view from Singapore: "However, [Asia's front-line economies] have to adjust their economic and foreign policies to stay abreast of change. America remains for many the partner of first choice, but the strength of that partnership will depend on its desire to play a decisive regional role. It has the ability; what needs demonstration is the will" [Editorial, Straits Times, "Trade is strategy for America in Asia"]. The other side of grand strategy here, is that if the elite want play on the global chessboard, they've got to maintain legitimacy at home, and they're losing it. Granted, the ISDS mechanism, as well as the "Living Agreement" and the Trans-Pacific Partnership Commission, to which Jeff Sessions (!) has drawn attention, as well as the Fast Track process itself, which guts the prerogatives of the supposedly co-equal legislative branch, are all attempts by our elites to move beyond those pesky voters, but they have not fully achieved this yet.
"Suddenly Chris Van Hollen Votes Against A Free Trade Agreement– First Time In Ten Years– Primaries Work!" [Down with Tyranny]. Of course, for many, the issue is whether primaries work enough, and how much re-work has to be done (a lot). Nevertheless, times are different now: The Blue Dogs and DINOs no longer carry all before them.
"Without fast-track authority, every clause in a TPP agreement will be open to congressional tweaking; that makes negotiations practically impossible" [The Economist]. Experience teaches that a deal that we can't make constitutionally isn't worth making.
Black Injustice Tipping Point
"Asked why [Confessed killer Dylann] Roof picked that particular church, [Roof's friend] Mr. Meek replied, "Because it was a black church'" [New York Times].
"Roof, 21, has told police that he 'almost didn't go through with it because everyone was so nice to him' [NBC]. "And yet he decided he had to 'go through with his mission.'" NOTE: Both the Columbine and Aurora shooters also had "missions." Clearly, this highly militarized trope is very destructive.
[Dylann Roof] was given a gun by his father as a 21st birthday present in April, his uncle told Reuters [Reuters]. Of course, we don't know if that was the gun.
"Juneteenth [today] is the oldest known celebration commemorating the ending of slavery in the United States" [Juneteenth.com]. Suggested readings.
2016
Sanders
From Ready for Warren: "Why Sanders is a good fit for Warren backers" [CNN].

Crowds of 5,000 to see Sanders in Colorado [Agence France Presse]. Iowa: 800. Minnesota: 4,000. Not bad, although crowds aren't votes. And: "Sanders set a goal of raising $40-$50 million before next year's New Hampshire primary in order to be competitive."

The Sanders organizer in Atlanta, Georgia doesn't seem to understand how to organize a meetup [WaPo]. Somebody take him aside and explain that shouting and chanting are for rallies, not meetups. The Dean meetups were great. Lots of conversation and networking.

1996 Clinton Democratic strategist: "It's quite possible [Sanders will] win a primary some place and will have the momentum. He may do well in Iowa or New Hampshire. The question is, how do you deal with that? [The Clinton campaign] need to be prepared to organize and surround him on the ground and prepare a response without just going out and attacking him" [The Hill].

Sanders meets with Hillary in 1993 on single payer, as the Clinton I health care debacle played out [Politico]. Sanders brings Stephanie Woolhandler and David Himmelstein, leading advocates for single-payer health care" to meet with Hillary Clinton, who was chairing the administration's Task Force on National Health Care Reform:

They got their meeting at the White House that month, and the two doctors laid out the case for single-payer to the first lady. "She said, 'You make a convincing case, but is there any force on the face of the earth that could counter the hundreds of millions of the dollars the insurance industry would spend fighting that?'" recalled Himmelstein. "And I said, 'How about the president of the United States actually leading the American people?' and she said,

Well, it was all real enough for the people who died for lack of health care. So there's that.

Why Sanders may not be able to run in New York: "A section of state election law commonly known as Wilson-Pakula prohibits candidates from appearing on the ballot in a party's primary unless they are either enrolled members or receive the approval of the party's committee," and Sanders is not a registered Democrat [Capital New York]. I would imagine the Sanders staff are working on this, since both Teachout and Hawkins show that the base is looking for alternatives to Democratic loyalists in New York. So I'll be waiting for all the "progressive" columnists who wrote that a challenge to Clinton would be good for her campaign to pipe up and support a Sanders challenge in New York, and I'll be waiting for Clinton to explain to the New York Democratic Party Committee why the same principles that compel to support voter access for all compel her, and them, to support ballot access for a legitimate competitor for a place on the ticket.
The S.S. Clinton
"Bill Clinton had wanted [Clinton Foundation] plans to proceed for a meeting in early June in Athens, Greece, which was being spearheaded partly by Greek shipping magnate Gianna Angelopoulos. The former Greek parliamentarian and her family have donated as much as $10 million to the Clinton Foundation through their personal and foundation accounts" [Politico]. Here is the Bill Clinton – Angelopoulos – Syriza connection; not sure what to make of it. In any case, the Foundation is now only accepting foreign donations from Australia, Canada, Germany, the Netherlands, Norway and the United Kingdom. One can only hope that contributions from Australia and Canada in no way affect Clinton's position on TPP, if any, given that both countries are potential signatories.
Nooners on the primariez: "[Clinton's] Democratic opponents will not attack her character, her history, her financial decisions, her scandals. They will not go at her personally. She will emerge dinged but not damaged" [Wall Street Journal, "Hillary Will Glide Above It All]. "Republicans this cycle will likely go after each other in a personal, rough way, bloody each other, and damage the eventual nominee, while Mrs. Clinton will glide along relatively untouched." I have a sneaking fondness for Nooners, and I think she has a lot more integrity than, say, MoDo, and her picture of the two parties is interesting.
Plucky Billionaire Watch: "Scoop: 25 questions the Koch brothers want every 2016 candidate to answer" [WaPo]. For "scoop," read "access." I mean, come on. 
"The 2016 presidential field has so far divided into two camps: the very wealthy, and the less so" [Wall Street Journal, "2016 Disclosures Show Gulf Between Rich — and Not So Rich"].
Republican Establishment
Jebbie on Charleston: "I don't know what was on the mind or the heart of the man who committed these atrocious crimes" [HuffPo]. At a minimum, then, inexcusably bad staffwork; see above.

"During Bush's eight years in office, Rayonier would secure almost $100 million from the state of Florida in exchange for surrendering logging rights and property. In 2008, two years after Bush left office, Rayonier gave him a seat on its board of directors as it continued to sell property to Florida" [Business Insider]. The Bush Dynasty is quite direct about its influence peddling. The Clinton Dynasty does its influence peddling through "a ginormous and ever-evolving hairball of tangled and conflicted personal and institutional relationships."
Republican Principled Insurgents
Reuters/Ipsos poll: Walker "the clear favorite of conservative voters" [Reuters]. "While ardent conservatives only account for 1 in 10 Republican voters, they are more likely to vote in primary contests and take an active role in politics."

Walker: "Right now, America needs a champion who will fight and win for each and every citizen" [Red State]. You read that right; Walker lifted Clinton's trope! You gotta love the guy…

Rubio cancels Sarasota fundraiser "with backers saying they want to reschedule the event in the fall when more seasonal residents are in town" [Herald-Tribune].  Yes, the yacht basin is practically empty!

Ohio Governor Kasich seeks squillionaire owner, targets Rupert Murdoch [Politico].
Stats Watch
"None of the [Greek] government's bonds traded publicly last week nor derivatives insuring them" [Bloomberg].
"European markets are showing few signs of panic, even after Thursday's Eurogroup meeting ended with no deal" [Wall Street Journal, "Europe Markets Show Caution Not Contagion on Greece"].
Atlanta Fed Business Inflation Expectations, June 2015: "Inflation expectations held unchanged"  [Bloomberg].
"When Will Rates Rise?" [Bloomberg]. I think I can answer that: When rich people decide it's a bad idea to give them free money, i.e., on the 1st of Never.
Water
"New NASA Studies Show the World is Running Out of Water" [WaPo].
"[Upscale] Master-planned community at risk of losing all water within days" [Los Angeles Times]. Edwin Pattison, general manager of the Mountain House Community Services District:
"The reality is we're going to get some water supply," he said. "The question is: Is it going to be enough to maintain permanent landscaping or are we going to lose tens of millions of dollars of value that supports the aesthetics of this community?"
I think that is just the best quote ever.
Class Warfare
"The Left's great global downturn" [Capx].
News of the Wired
"The untold pirate radio story in New York" [Doc Searls Weblog].
"New Study: No, Dear, The Answer Isn't More Guns" [Wonkette]. Yes it is. The answer to any problem with guns is always more guns. 
* * *
Readers, feel free to contact me with (a) links, and even better (b) sources I should curate regularly, and (c) to find out how to send me images of plants. Vegetables are fine! Fungi are deemed to be honorary plants! See the previous Water Cooler (with plant) here. And here's today's plant (Anne):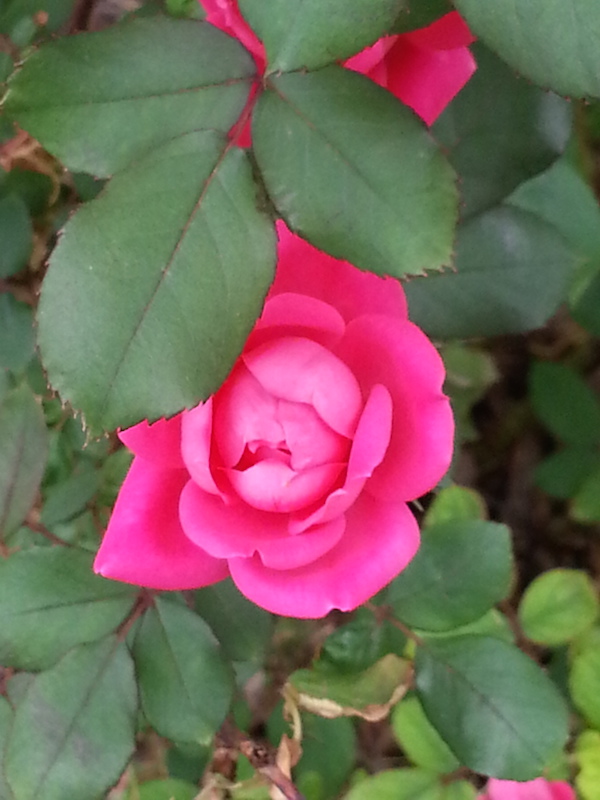 This is a rose from Anne's neighbor's garden. Nobody said you had to photograph your own plants!
If you enjoy Water Cooler, please consider tipping and click the hat. I need to keep my server up! And pay the plumber…. And the family…