By Lambert Strether of Corrente.
My view: "Loss of national sovereignty" is another way of saying "a change in the Constitutional order." That's what ISDS looks like to me, and my view is reinforced with the material from Jeff Sessions (!) on the TPP as a "living agreement" and the "Trans-Pacific Partnership Commission." (Sessions is horrible on policy, but on the sovereignty issues, I think he's got it right.) So, for major areas of what used to be called "public policy," the people of the United States would suffer a "democratic deficit" similar to that undergone by the people in the EU; and we can see how well that's worked out for them since the crash. A corollary to this view is that the TPA cloture vote Tuesday is just one skirmish in a very long war. After all, since the TPP reduces the advantages of the nation-state, as indeed it does — and be careful what you wish for, libertarians! — then why should the state not, as it were, display adaptability to the new environment? California, for example, is the world's seventh-largest economy, and the eastern core of the United States is no piker, so that's two potential non-signatories, given further changes to the Constitutional order. Great historical tides like this take awhile to play out, and it's foolish for our elites to think they can manage a change like this without crisis; but then, our elites are foolish. So the arc of history can still, and will be, bent.
Senate cloture vote Tuesday [The Hill]. "Obama and congressional Republicans have fired back by decoupling the two bills. They hope to earn a victory by convincing pro-trade Senate Democrats to back fast-track on Tuesday, with a promise to move the workers assistance program separately." Yeah, sheesh. Who wouldn't trust John Boehner and Mitch McConnell. What's wrong with you people?
"For everything to go according to plan, a dozen or so pro-trade Democrats will have to trust that a vote for TPA will be followed by the approval of Trade Adjustment Assistance for workers displaced by trade, an African trade-preferences bill and a customs-enforcement bill" [Roll Call]. Then again, these Blue Dogs and New Dems are Republicans, so why wouldn't they trust Republican leadership? Especially since they're destined for K Street after the next election anyhow, when the voters throw them out?
Clinton on TPP, the full transcript with video [Economic Populist]. Kudos to them for putting this together:
Jon: Last question and hopefully it's a simple yes or no, but I'm not that optimistic. If you were in the Senate still, would you vote for TPA when it gets there?

Hillary: At this point, probably not because it's a process vote and I don't want to say it's the same as TPP. Right now I'm focused on making sure we get trade adjustment assistance and I certainly would not vote for it unless I were absolutely confident we would get trade adjustment assistance.

Jon: Almost a yes or no, I'm impressed.
So it all depends on what the meaning of "absolute confidence" is. So Clinton gives Democratic Senators a free pass to vote No ("probably not") or Yes (since a promise of trade adjustment assistance later is a sufficient fig leaf). Clinton has been at this a long time, hasn't she?
"Corporations under ISDS can bring cases without their national government's permission, while unions and environmental groups in order to enforce the labor rights and environmental rights in these agreement have to get their government to bring the case" [International Business Times].
Boehner disciplines some, but not all, Republicans who bucked the leadership on TPP [The Hill].
Nice framing: "Why the TPP Is Worse Than Mystery Meat" [HuffPo]. "I don't know about you, but I like knowing whether my meat comes from Iowa or Uzbekistan, Montana or Mexico, Kentucky or Kenya. So do 93 percent of Americans." And country-of-origin labeling is a restraint on trade, by definition, so of course the (well-greased) ISDS system would impose massive fines on countries that tried to protect their citizens and farms with it.
U.S. Business & Industry Council, domestic manufacturers: "If the past 20 years of "free trade" deals offer any preview, TPP won't increase America's sales to third world consumers, most of whom exist on a few dollars a day and can't afford U.S. wares. However, they can flood our already import-saturated market with more goods produced at slave-labor wages" [Daily Item]. Or, in the case of Malayia, actual slave labor.
2016
"In the 2014 elections, 31,976 donors — equal to roughly one percent of one percent of the total population of the United States — accounted for an astounding $1.18 billion in disclosed political contributions at the federal level. Those big givers — what we have termed the "Political One Percent of the One Percent" — have a massively outsized impact on federal campaigns" [Sunlight Foundation]. When Occupy successfully introduced the 1% meme, a lot of us started thinking, "Wait a minute, it's really the 0.01% that runs the show." So it's nice to see some data validating these intuitions.
Sanders
Sanders cancelled Charleston visit [WaPo]. I think that's a missed opportunity a long shot can't afford.
The S.S. Clinton
Clinton to stop in Florissant, next door to Ferguson, Tuesday [Guardian].

Clinton's Roosevelt Island rollout, and the Wall Street skyline [Bill Moyers].
"Republican Presidential Candidates Distance Themselves From Donations Linked to White Nationalist" [Bloomberg].
"Jeb Bush, Marco Rubio Solidify Front-Runner Status" [Wall Street Journal]. The dynasty vs. a guy with a bio, who bought a boat.
Republican Establishment
Kasich to throw competence into the ring: "It's experience and record. Amateur hour is over" [Christian Broadcasting Network].

"Evangelical voters have a big presence in states that fall early on the nomination calendar. Mr. Bush doesn't need to dominate among evangelicals, since he appeals to a wide set of GOP voters. But he does need a solid share of evangelical votes to build a winning coalition" [Wall Street Journal, " Can Jeb Bush Win the Christian Right?"].
Republican Clown Car
Ted Cruz: "You know the great thing about the state of Iowa is, I'm pretty sure you all define gun control the same way we do in Texas — hitting what you aim at" [HuffPo]. Stay classy, Ted. I wonder if the definition in South Carolina is the same?

"Right angered by AP photo of gun pointing at Cruz" [The Hill]. Yeah, check the photo. Boy howdy, the gun's pointed right at his head! Imagine how ticked off they'd be if the that gun were pointed at a vital organ!
Green Party's Jill Stein declares [Democracy Now].
Confederate flag wrapup [WaPo].
"Faith and Freedom" Republcan candidate cattle call roundup [Politico].
GIGO: "Millennials' Political Views Don't Make Any Sense" [The Atlantic]. That's because millenials, as such, do not have political agency. So one would expect the putative views projected on to a category error would yield a GIGO result.
"How America became radicalized" [Corrente]. Crane Brinton's framework.
The Hill
Supreme Court decisions for this session live blog [SCOTUSblog]. The Court may draw out the suspense on King v. Burwell 'til Thursday.
Stats Watch
Chicago Fed National Activity Index, May 2015: "The big bounce, according to today's report, that was expected following the transitory factors of a very soft first quarter has yet to appear" [Bloomberg]. Fittingly, "the big bounce" sounds like the title of an Elmore Leonard novel. And it does because it is!
Existing home sales, May 2015: "The housing sector is lifting off, as existing home sales jumped 5.1 percent in May to a 5.35 million annual rate that hits the top end of the Econoday consensus." [Bloomberg]. "Housing is emerging as a leader for the economy, helping to offset what has been disappointment from the export hit manufacturing sector." 
Philly Fed coincident indexes, May 2015:  "[Most coincident indices are showing slower growth"  if current trends continue; the economy is expanding at the Main Street level [Econintersect]. But these stats are subject to backward revision.
New monthly publication from the New York Fed:  U.S. Economy in a Snapshot [Federal Reserve Bank of New York].
Black Injustice Tipping Point
http://www.ebony.com/news-views/white-silence-kills-9-in-charleston-503#axzz3delFKx1t
Corruption
Remember the "London Whale" scandal? Where Jippy Mo dropped a few billion playing the ponies, by gambling customer's money on exotic derivatives? [Wall Street On Parade].
[Neither the head of [the commercial bank], Ina Drew, nor the company's CEO, Jamie Dimon, were charged. Only two low-level traders, Javier Martín-Artajo and Julien Grout, were charged in the matter for hiding losses on the trades. Both of these individuals live abroad and efforts to extradite them for trial in the U.S. have thus far failed, conveniently leaving the public in the dark about how much their bosses knew.
Indeed, how con-v-e-e-e-e-e-e-n-i-e-n-t. It's possible that all the 1% are crooks. But the 1% has a Dollar Bill-Green Wall of Silence, exactly like the police have a Blue Wall of Silence.
News of the Wired
How to be the anti-Scalzi [Whatever].
Apple bricked Atrios's in-law's iPad with the latest upgrade [Eschaton]. In my experience, Apple software is getting worse and worse, and the more iOS features infest OS X, the worse OS X gets. People are starting to notice.
"Silicon Valley is a Lie" [GQ].
https://medium.com/@boopathi/it-s-the-future-7a4207e028c2
Shark tracking site [OCearch].
"It's the future" [Medium]. Must read for techies, especially after "What Is Code."
Rest in Peace, Regnad Kcin" [Firesign Theatre]. Phil Austin dead [Variety].
* * *
Readers, feel free to contact me with (a) links, and even better (b) sources I should curate regularly, and (c) to find out how to send me images of plants. Vegetables are fine! Fungi are deemed to be honorary plants! See the previous Water Cooler (with plant) here. And here's today's plant (Anne):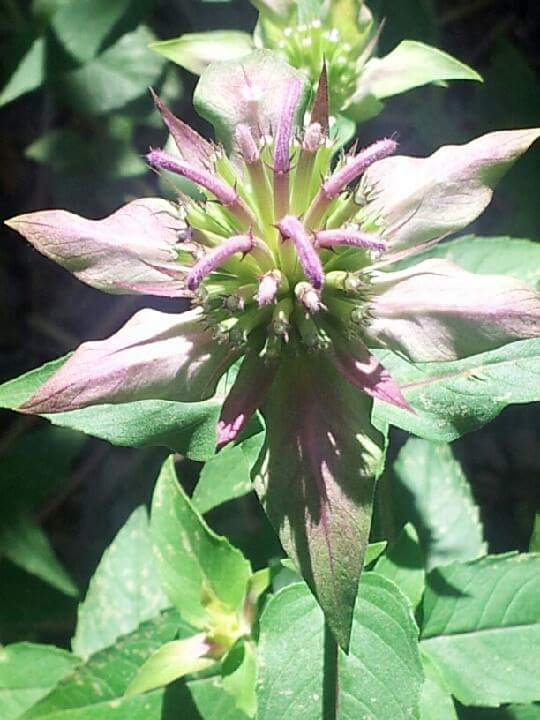 Bee balm. I think bee balm is great, even if, or rather because, it's invasive. Humming birds love it, those fantastically aggressive little dive bombers!
If you enjoy Water Cooler, please consider tipping and click the hat. I need to keep my server up! And pay the plumber…. And the family…