By Lambert Strether of Corrente.
TPP/TTIP/TiSA
Cloture vote: "The Senate voted 60-37 Tuesday to begin full-blown debate on Obama's request for 'fast track' negotiating authority. That was the exact number needed to avoid a filibuster." The pro forma vote comes later this week, followed by a House vote on Friday [KPCC]. Here are the names of the traitors (hat tip alert reader marym):
Bennet (D-CO)
Cantwell (D-WA)
Carper (D-DE)
Coons (D-DE)
Feinstein (D-CA)
Heitkamp (D-ND)
Kaine (D-VA)
McCaskill (D-MO)
Murray (D-WA)
Nelson (D-FL)
Shaheen (D-NH)
Warner (D-VA)
Wyden (D-OR)
UPDATE Cardin (D-MO)
Do feel free to call them, and let them know they'll be hounded to the ends of the earth for this vote [hums].
The Constitutional issue [Alan Morison, The Atlantic]
As it presses for the passage of TPP, the administration needs to explain how the Constitution allows the United States to agree to submit the validity of its federal, state, and local laws to three private arbitrators, with no possibility of review by any U.S. court. Otherwise, it risks securing a trade agreement that won't survive judicial scrutiny, or, even worse, which will undermine the structural protections that an independent federal judiciary was created to ensure.
So, another Supreme Court litmus test, to begin with. Since the Democrats keep yammering "ZOMG! The Supreme Court!" people should start asking them if they will only support Supreme Court nominees who support national sovereignty for the judicial branch.
2016
Sanders
New York Board of Elections: Sanders can appear on New York ballot; Wilson-Pakula does not apply [Capital New York]. I was remiss in not checking out Ballot Access News on this point, since they're the go-to source on these issues.

Overflow crowd of 5500 hear Sanders in Denver [Colorado Statesman]. Again, the overflow shows good advance work. And somebody please tell me the Greens had a table outside.
The S.S. Clinton
"Clinton has the potential to back her talk of being a fighting progressive by clearly expressing bold positions during the debates and throughout the campaign, but her maneuvering on trade does not augur well for this, which makes her prospects in the debates uncertain" [The Hill].
Republican Establishment
Emails published, show Jebbie "Provided Special Access to Lobbyists" [International Business Times].
Liberals and conservatives find common ground on Grayson Florida run (do it) [Palm Beach Post].
Stats Watch
New Home Sales, May 2015: "The lift off for housing is appearing more and more like it's straight up. New home sales rose 2.2 percent. The surge in sales is making for a strong seller's market… Lack of supply will prove to be a positive for sales prices, which however, are down in the latest report, 2.9 percent lower" [Bloomberg]. "[A] sector that can offset stubborn weakness in the manufacturing economy." A contrasting view: "The headlines say new home sales improved from last month. The rolling averages smooth out much of the uneven data produced in this series – and this month there was a decline in the rolling averages. And there was also a small decline in new home sales prices" [Econintersect]. A seller's market going "straight up" while prices decline? What kind of "liftoff" is that?
FHFA House Price Index, April 2015: "Some indications on home prices are on the strong side but not the FHFA house price index" [Bloomberg].
Redbook, week of June 20, 2015: "Growth rates in Redbook's sample remain unusually soft for this series" [Bloomberg]. Father's day is the alibi problem, and warmer weather should pick things up [whistles].
Durable Goods Orders, May 2015: "Big downward revisions to April data almost sink the latest durable goods report" [Bloomberg]. However, this series is volatile, being heavily affected by aircraft orders.
PMI Manufacturing Index Flash, June 2015: "This is the weakest reading since October 2013" [Bloomberg]. "The PMI manufacturing index has been running hot compared to other data on the sector but the sample did report a fall off in orders during May that was tied to directly to weak exports."
Richmond Fed Manufacturing Index, June 2015: "[M]ixed, which is actually positive compared to prior months" [Bloomberg].
"If you can't get out and you are afraid there are not enough new buyers to keep your ponzi/bubble going what do you do? I think the answer is you and your friends do the buying yourself" [Golem XIV]. And pay yourself a big bonus.
America the Petrostate
"The Shale Industry Could Be Swallowed By Its Own Debt" [Bloomberg]. Earthquakes, polluted water, train bombs…. All for this?
"US mid-continent seismicity linked to high-rate injection wells" [Science Daily].
Black Injustice Tipping Point
Birth of a Nation, the Battleship Potemkin of the Lost Cause [Politico].
"What This Cruel War Was Over" [Ta-Nahesi Coates, The Atlantic]. "The meaning of the Confederate flag is best discerned in the words of those who bore it." Yes, the Civil War was about slavery.
Climate
"Lifeboat ethics" (referencing The Cold Equations) as a "well-rehearsed habits of apocalypse"  [Los Angeles Review of Books]. Nice read (reviews of Neal Stepheson and Kim Stanley Robinson's newest doorstoppers) but "lifeboat ethics" just sounds like the "hard choices" so beloved in official Washington under the simple rules of neoliberalism.
"The Economics of Mad Max and Star Trek," also from [Los Angeles Review of Books].
"Climate change makes it harder to "regulate violence," according to Levy. Research by University of California Berkley Professor Solomon Hsiang and colleagues has shown links between temperature increases and aggressive behavior of all kinds and found a correlation between civil conflicts in the tropics and spikes in temperature during El Niño years" [Wilson Center]. So I guess the cooler states in New England and Cascadia will start seeing in-migration…. 
The Papal Enyclical on Climate: "But the heart of the encyclical is less an account of environmental or social destruction than a remarkable attack on the way our world runs: on the "rapidification" of modern life, on the way that economic growth and technology trump all other concerns, on a culture that can waste billions of people" [Bill McKibben, New York Review of Books]. Too Pope Francis said "rapidification" instead of "crapification."
"Society will collapse by 2040 due to catastrophic food shortages, says Foreign Office-funded study" [Independent].
Dear Old Blighty
Thanks to alert reader Steve!
"Slowly, like the proverbial frog in a saucepan, Britain is sliding towards a dictatorial rule by the state, very much along the lines of that predicted by Aldous Huxley 50 years ago" [The Ecologist]. A parade of real horribles, with lots of linky goodness.
"Conservative voters are paying £3 to become Labour supporters in bid to sway leadership race in favour of left-winger Jeremy Corbyn" [Daily Telegraph]. "The uncompromising left-winger is seen as the death knell for Labour's hopes for any future electoral success by many Tory voters." Meanwhile, labour throws Labour under the bus [New Statesman]. The rank and file, at least, under the Labour Party's new opt-in system for leadership votes.
"Why are we so certain that Jeremy Corbyn can't win?" [New Statesman]. "Are there 100,000 people on the left in Britain, who are not currently members of the Labour party, who could be persuaded to sign up to vote for Corbyn in the leadership election?" Last weeks anti-austerity march pulled 250,000, so….
Tory "Psychoactive Substances Bill" proposes to ban all "psychoactive substances" apart from a few defined exceptions [Telegraph]. Tea gets a special exemption. These clowns should read Pollan's Botany of Desire if they want to understand what psychoactive substances are, and how they work. Of course, just because the Tories are stupid doesn't prevent them from being vicious and effective, sadly.
Class Warfare
The point of democracy: "To keep powerful elites from becoming complete jackasses" [Mother Jones]. Democracy in America is in deep trouble, then….
A Tech Boom Aimed at the Few, Instead of the World [New York Times]. The real point of the "shafting economy" is to create a class of personal servants that Silicon Valley tech bros don't actually have to interact with personally.
"Grocery delivery company Instacart—one of Silicon Valley's fastest-growing upstarts in the emerging on-demand economy—is giving its army of personal shoppers the chance to become actual employees of the company" [Wired]. I hope working conditions are better than Amazon's. Sounds like the Uber case has had an effect? 
"Silicon Valley is a lie" [GQ].
"Tomorrow's Advance Man: Marc Andreessen's plan to win the future" [The New Yorker]. Absolutely as ugly as it sounds.
""We got geeks": Inside Google's ugly war against the homeless in LA" [Pando Daily].
News of the Wired
Taylor Swift muscles Apple (!) [WaPo]. One for content creators?
"JavaScript shares its ubiquity" [O'Reilly Radar].
"New website can identify birds using photos" [Phys.org].
Physicists find that "'wave-particle duality' is simply the quantum 'uncertainty principle' in disguise, reducing two mysteries to one" [Phys.org]. I thought we already knew this. Am I being stupid about phsyics?
"The top 10 mathematical achievements of the last 5ish years, maybe" [Simple City]. I read this, and it seems to be in English… Maybe some mathematically inclined readers can help?
"Mathiness in economics: Is economic theory becoming a sloppy mixture of words and symbols?" [Breugel]. "Becoming"?
* * *
Readers, feel free to contact me with (a) links, and even better (b) sources I should curate regularly, and (c) to find out how to send me images of plants. Vegetables are fine! Fungi are deemed to be honorary plants! See the previous Water Cooler (with plant) here. And here's today's plant: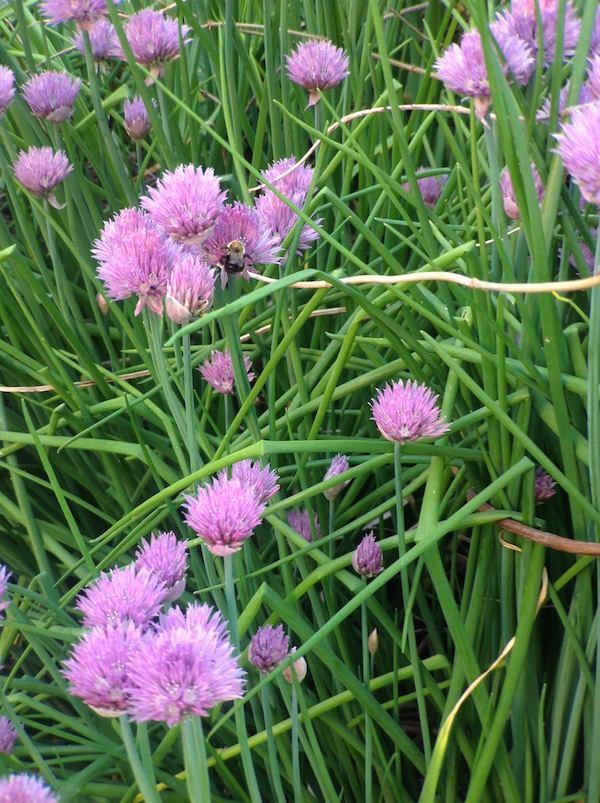 There I was, waiting for the chives to snap into focus — if you try to take pictures of flowers, you soon realize how exquisitely they have adapted to catch the slightest breeze — when suddenly a pollinator buzzed heavily into the frame! I don't see honeybees this year, or yet many wasps, but bumblebees seem to have claimed that niche.
If you enjoy Water Cooler, please consider tipping and click the hat. I need to keep my server up! And pay the plumber….