By Lambert Strether of Corrente.
TPP/TTIP/TiSA
Readers, I would like to do my little bit to hang the stinking albatross of TPP round the necks of the 14 Democrat traitors listed below. If you live in one of those districts, would you be willing to send me local links about anything especially nasty and/or corrupt that they (or their networks) do? My contact form is at the bottom of the post. For example, DiFi's husband is selling our Post Offices off to his buddies for less than market rates, the loathsome corrupt weasel; like that. And I would bet that local coverage, especially coverage that local activists can force into the papers, is better than anything that appears in the national press, or anything I will turn up in search. Thank you! Here again are the traitors  (hat tip again to alert reader marym):
Bennet (D-CO)
Cantwell (D-WA)
Cardin (D-MD) (Given a free "No" vote, but stood ready to vote "Yes."
Carper (D-DE)
Coons (D-DE)
Feinstein (D-CA)
Heitkamp (D-ND)
Kaine (D-VA)
McCaskill (D-MO)
Murray (D-WA)
Nelson (D-FL)
Shaheen (D-NH)
Warner (D-VA)
Wyden (D-OR)
Maybe we should make these people "bold-faced names," like the New York Post does, albeit with a different editorial focus. I rather like the connotation of "bold-faced."
"The Trans-Pacific Partnership agreement would be the largest single trade agreement concluded worldwide for more than a decade. It would transform world trade governance in ways that are hard to predict" [VoxEU]. Just let me slip into copy editing, more here: "transform world trade governance." Fixed it for ya.
Times manages to sum up the TPP debate without mentioning ISDS or the "living agreement" clause [New York Times]. It's fascinating to watch a news blackout happen in near-real time; remember that ISDS was raised, and often, by a powerful establishment figure: Elizabeth Warren. Yet the Times omits that subject entirely. Here's the contact form for the Times public editor.
2016
Sanders
"The Insiders: Bernie Sanders is on a roll and it is fun to watch" [WaPo].

"These days, socialism polls well among Americans because not enough remember exactly what it is" [Tyler Morning Telegraph].
The S.S. Clinton
Clinton's Florissant speech: "Hillary Clinton's 3-Word Misstep: 'All Lives Matter'" [NPR]. Or a Sister Souljah moment? If not, inexcusably poor staff work. Background here. More on the speech here.
Republican Establishment
Between Cap'n Rubio and the Bush Dynasty, bet on Bush [The Week]. Buried: "If he's selling his biography as a version of the American dream, he better have the details right." Indeed. Out of curiosity, does anybody know the name of Rubio's $80K boat, the one he bought with the $800K advance on his book from some unknown donor I would very much like to see lose their investment?
Republican Clown Car
@deray next to Santorum in the pew at service for Charleston victims [@deray].

Question for Donald Trump: "What woman do you want on the $10 bill?"

Trump: "My mother."

— Chris Moody (@moody) June 23, 2015

That's actually tactically awesome by Trump: 1) He evades the question, 2) offends no constituency, 3) gets a laugh, 4) comes out in favor of Motherhood. I so hope Trump makes it into the top-tier debate.
The Hill
Surprising move leftward by the Roberts Court [New York Times]. For some definition of "left"…
"A band of House conservatives is discussing whether to retaliate against GOP leaders for punishing rank-and-file lawmakers who voted against a procedural vote on trade earlier this month" [The Hill]. Interesting if true. I wonder if that would screw up the TAA deal… 
Stats Watch
GDP, Q1 2015: "The second revision to first-quarter GDP came in as expected, at minus 0.2 percent. Exports were near the top of the negative side" [Bloomberg]. "The heavy weather of the quarter contributed to an outright contraction in business spending (nonresidential fixed investment) and an abrupt slowing in consumer spending (personal consumption expenditures)." "Although there always will be some correlation between all economic pulse points, GDP does not measure the economic elements that directly impact the quality of life of its citizens" [Econintersect]. With lots of handy charts.
Corporate Profits, Q1 2105: "Corporate profits in the first quarter came in at $1.891 trillion, up a year-on-year 9.0 percent" [Bloomberg]. So it's all good.
Q1 income losses in mining (oil collapse) and farming (drought) [Quartz].
MBA Mortgage Applications, week of June 19, 2015: "Inched higher," "very strong" year-on-year [Bloomberg].
"European Central Bank Executive Board member Vitor Constancio said Wednesday that public debt is too high in some members of the European Monetary Union and must be brought down, arguing that primary surpluses are a crucial ingredient in achieving that aim" [Market News]. First, they came for the Greeks…. 
"France and Italy may not be able to avoid a financial crisis. Real GDP would need to increase at more than twice projected rates to stabilise and then reduce government debt-to-GDP ratios" [Satyajit Das, Financial Times, "Greek problems mask the rising risks in Italy and France"]. Following ECB's lead?
Corruption
One more ugly part of [Post Office privatization] is the incestuous relationship between the USPS, privatizers and the corporate politicians. The contract to close post offices was awarded to the CBRE [here] real estate firm whose CEO, Robert Sulenticis, is on the Staples board of directors. Richard Blum, CBRE board chair until late last year, is married to California Senator Dianne Feinstein. CBRE will make hundreds of millions from the deal" [Counter Currents]. How CBRE does business: "The inspector general's report described something akin to a shakedown, with a kickback thrown in" [David Dayen, The Intercept]. Note the bold-faced name….
Black Injustice Tipping Point
National Republican Senatorial Committee chairman evolves position on Confederate flag [Roll Call]. All good, but it we want to get serious, we'll follow the money, starting with real estate. I was horrified to discover that FDR's HOLC program — which kept people in their homes, as opposed to Obama's HAMP, but now I understand how compromised the success was! — segregated neighborhoods based on a classification system developed at the Chicago Fed. Now imagine how that policy decision affected the accumulation of wealth across generations, since most Americans' wealth, such as it is, is (or was) condensed into housing.
Climate
"NOAA Quietly Rescinds Faux El Nino" [Econintersect]. Everybody talks about the weather, but nobody does anything about it.
Imperial Collapse Watch
"Putin's Plot to Get Texas to Secede" [Politico]. "Foreign minister" for the Texas Nationalist Movement appeared last Spring at a far-right confab in St. Petersburg, Russia.
Wretched Excess Watch
"Museum of Modern Art Reveals Glenn Lowry's Whopping $2.1 Million Pay Amid Staff Protest Over Benefit Cuts" [Artnet]. Silly article. How else is Lowry going to get what he deserves?
Class Warfare
"This epic chart shows the average wage for almost every job in America" [Business Insider].
"This is your brain on poverty" [Global Citizen]. The deprivation of concrete material benefits has concrete material effects.
"Migrants Storm Trucks In Calais Port Strike" [Sky News]. Eurostar halted; continent cut off [France24]. Now resumed.
"Office Depot shareholders approve sale to Staples. With only one company left with the scale to deliver office supplies on a large scale, the FTC could see the potential of a market being cornered" [AP]. Ya think? One big corporation selling nothing but commodities. Why don't we just turn office supplies into a public utility? Sell it all out of Post Offices.
"According to the White House budget office, the expected recovery rate for defaulted Parent PLUS [student] loans is a remarkable 106 percent, a testament to Uncle Sam's unique power as a collection agency. Overall, the program is expected to return $1.23 on every dollar it lends this year" [Politico]. So, even the United States government is getting into the loan-sharking business. Idea: Sue Germany for lost profits under TTiPs ISDS system because their system of free college education means we can't do loansharking there.
"Airbnb and Uber's sharing economy is one route to dotcommunism" [Paul Mason, Guardian]. Depending on who allocates the surplus from the rental extraction, perhaps.
79-year-old Texas Minister: "I have come to believe that only my self-immolation will get the attention of anybody and perhaps inspire some to higher service" [WaPo] (complete letter).
News of the Wired
"Adobe pushes update as latest Flash bug allows a system takeover" [9to5Mac]. Yikes, for two reasons: First, you should update this plugin in your browser if you have it. Second, every time there's a Flash update, I notice users have problems with the site, so clear your browser's cache and cookies, and restart it.
"[Microsoft's Clippy] was also the product, I learned this week, of a male-dominated design process" [The Atlantic]. Microsoft did a focus group: "Most of the women thought [Clippy was] leering at them." Excellent article; read for the air bag example.
"In Defense of Being Average" [Medium]. Or, since class is graded on a power curve, being "on the long tail."
Hard to believe, but Ayn Rand typed a novel that was so bad she decided not to publish it [New Republic]. So she's an altruist after all.
Was the word "bullshit" invented by T.S. Eliot? [Language Log].
"An Illustrated Guide To Beneficial Bugs In Your Garden" [Econintersect].
* * *
Readers, feel free to contact me with (a) links, and even better (b) sources I should curate regularly, and (c) to find out how to send me images of plants. Vegetables are fine! Fungi are deemed to be honorary plants! See the previous Water Cooler (with plant) here. And here's today's plant (Joe6pac):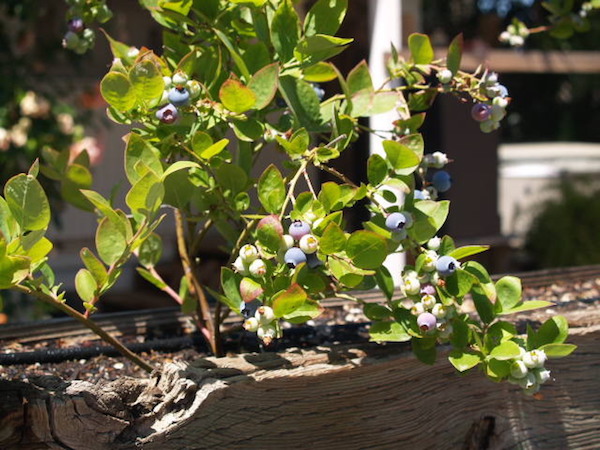 Joe's actually started weeks ago. I wanted to plant blueberries this year, but never got around to it… But if I had, my harvest would be weeks off!
If you enjoy Water Cooler, please consider tipping and click the hat. I need to keep my server up! And pay the plumber….