By Lambert Strether of Corrente.
TPP/TTIP/TiSA
"Even the 1% understand the need for collective action. They've spent decades building organizations to convert their money into political influence, while they recruited, trained, and employed talented people (as shown by the bios in the SHAME Project, creating the equivalent of Jesuits for the 1%)" [Fabius Maximus].
"Obama realized right after Republicans took control of the Senate in the fall elections that his long-stalled push to enact the TPP suddenly had new life" [Politico]. Hmm. Not before?
Bold-faced names: Democrat trade traitors; see at Corruption. Readers, more like this, please (contact form below). List of traitors; is one of them "your" "representative"?
2016
Sanders
CNN/WMUR Granite State Poll: "Among likely Democratic primary voters in the state, 43 percent said they would vote for Clinton, with 35 percent going for Sanders" [Politico].

A look at Devine Mulvey Longabaugh, the political consulting firm that advises Sanders [Mother Jones].

Sanders does have an overall plan on how to beat Clinton. As Devine explains, it goes something like this: Raise enough money to devote significant resources to building a full operation and maintaining a media presence in the early states of Iowa and New Hampshire, as well as Nevada and South Carolina. At the same time, develop a basic foundation for campaign organizations in other states, so if Sanders fares well in the initial contests, these preliminary outfits can quickly be built out. Devine and other Sanders advisers estimate they will need to raise $40-$50 million by the Iowa caucuses to be in such a position, and they claim Sanders is on track to hit that mark, mainly with thousands and thousands of low-dollar contributions.

So far, however, the Sanders campaign is looking like a one-man band. His lightweight, quick-moving little skiff (to shift metaphors) is a pleasant contrast to the massive S.S. Clinton, but ocean liners sail through storms that little skiffs can't handle. Does Sanders even have a press office? A policy director? You can't run a campaign out of a Senator's office. Real campaigns, at some point, have personnel; if enthusiastic crowds were enough, marches would have stopped the Iraq war.

"Sen. Claire McCaskill (D-TPP), a Clinton backer, launched the sharpest attack yet on Sanders on Thursday morning. Appearing on MSNBC's 'Morning Joe,' McCaskill assailed him for having 'an extreme message' and being 'unrealistic' [The Hill]. McCaskill is a TPP traitor. Not only should nobody listen to her, she should be run out of the party. It's shameful that the Clinton campaign is using her as a surrogate.

"Bernie and the Search for New Politics" [Jacobin].

By thinking institutionally and conceiving the Democratic Party as a terrain of struggle, it is evident that engagement with that party (or actors inside it) will sometimes be a valuable strategic move, depending on the particular political moment.
Clinton
Where Sanders has pulled Clinton (not very far) left, on undocumented workers and mass incarceration: "[N]either would cost the Democratic Party's donor class any money. The political test for Clinton will come in the area of economic policy, where Sanders has put out a comprehensive and, by American standards, quite radical manifesto" [The New Yorker].
Biden circles, shark-like, beneath the surface, waiting for Clinton to board the failboat [Salon]. Fix your position on discharging student loans in bankruptcy, my advice.
Republican Clown Car
"The image of Jindal as an anti-science hypocrite is largely the product of one man—Zack Kopplin, a 21-year-old history major at Rice University" [Mother Jones]. "Image"? To be fair, just because the Discovery *** cough *** Institute consulted on Jindal's "teach the controversy" law that gave the "intelligent design" crowd classroom time — and funding — is no reason to think Jindal's totally in the tank with the Agnotological Complex. Right?

Carly Fiorina redefines feminism [Medium]. "Aim high!" Like leaving Hewlett-Packard a smoking ruin [ka-ching]. Like Graham, Fiorina isn't aiming for the Presidency, but to become a permanent fixture on FOX. And that made Huckabee a wealthy man, so what's not to like?
Obergefell v. Hodges
"In historic decision, Court strikes down state bans on same-sex marriage: In Plain English" [SCOTUSblog].
"Explicitly refusing to hold off deciding the issue to see how other parts of society may deal with the rising demand for gay acceptance and legitimacy, the Court declared that two clauses in the Fourteenth Amendment mean that a "fundamental right to marry" can no longer be denied because the partners are of the same sex. It did not create a new right, but opened a long-existing one to those partners" [SCOTUSblog].
Scalia melts down [@stuartmiller159].
The Scalia dissent on gay marriage is quite something http://t.co/nu9Tf5k59C pic.twitter.com/BSEgYSLBAM

— Stuart Millar (@stuartmillar159) June 26, 2015
Stats Watch
Consumer sentiment, June 2015: "Optimism is absolutely as strong as it gets giving a major boost to consumer sentiment which jumped well beyond forecasts" [Bloomberg]. "This is a stunning report, lining up with other recent positive indications on the consumer including jobless data and yesterday's strength in income and spending, the latter including big spending on autos. The consumer is very upbeat — earning more and spending more." A bit more moderately: "The University of Michigan final Consumer Sentiment for June came in at 96.1, a small increase from the 94.6 June preliminary reading but still below the interim high of 98.1 in January. The latest survey findings were a welcome improvement following last month's interim low" [Econintersect]. And: "This is a survey, a quantification of opinion rather than facts and data. The question – does sentiment lead or truly correlate to any economic activity? Since 1990, there seems to be a loose general correlation to real household income growth."
"The Great Recession allegedly ended in June 2009, yet it has taken 6 years of wandering through the desert to finally get personal spending to surge" [Confounded Interest]. Fun blog.
"The Crucial Thing to Know About This Economy " [Wolf Street]. See the first chart on "Real GDP per capita and Historic Trends." Since the Crash, "[R]eal economic growth per-capita was minuscule."  And the political class wonders why voters are cranky.
"Trucking Tonnage Index Recovers Partially in May 2015" [Econintersect].
"China shares tank ending nation's longest-ever bull market" [Telegraph]. 8% in one day. Wheeeeee!
Jack Lew: "The Treasury Secretary also warned "Greece is going to have to make some very painful adjustments. It's going to mean difficult fiscal policies, difficult reforms" [Markets News]. It's like a law of life that people who recommend (or demand) "hard choices" are never, ever personally affected by them.
Health Care
"Obamacare has only enrolled about 40% of the subsidy eligible market in two years worth of open enrollments. That level of consumer support does not make Obamacare either financially sustainable or politically sustainable" [Health Care Policy and Market Report]. "[T]he Court just saved the Republicans from themselves."
Roberts fights back against Scalia in sharply worded footnotes [Bloomberg]. Supreme Court upholds Heritage Foundation health care plan. Obots everywhere experience simultaneous Ogasm.
Climate
"A Planetisation of Finance: The Earth as a Going Concern" [Sustainable Brands]. Not sure what to think of an article by an author who actually has " an experienced expert in … thought leadership" in his bio, but maybe there's something here.
"A New Take on the Human Factor in Recent Extreme Events'" [Jeff Masters, Weather Underground]. 
However, there's no question that sea levels have risen and global temperatures have warmed. Those unassailable facts may serve as the most direct link between climate change and extreme events, according to the Perspectives article Attribution of climate extreme events, published on Monday in Nature Climate Change.

Dáithí Stone, an attribution expert at Lawrence Berkeley National Laboratory and leader of the Weather Risk Attribution Forecast, sent me this take on the paper: "Recent studies exploring the role of greenhouse gas emissions in extreme weather events tend to be conservative by working under the 'innocent until proven guilty' paradigm, but this paper argues it would also be useful to work under the 'guilty until proven innocent' paradigm, or something in between. This is really the precautionary principle and can certainly make sense for adaptation decisions: even though residents of a coastal city might not have been measuring sea level, they may still think it wise to assume it is rising. But looking at things in the innocent-until-proven-guilty approach can be wise too, as in the Western legal systems designed to prevent witch hunts. So which paradigm is better depends on the purpose."

It remains to be seen which scientists will follow the lead of the new paper and focus more on thermodynamics (heat, moisture) and sea level rise, as opposed to circulation change.
But go on to read the science. A very measured take by Masters.
Big Brother
"The secretive nature of stingray use has begun to backfire on law enforcement, however, with states beginning to pass laws that require police to obtain a warrant before they can set up a fake cell phone tower for surveillance" [Scientific America]. And why leave this up to the states?
Corruption
Bristol Palin [Wonkette].
"[Ron Wyden D-TPP] has also been working on legislation aimed at increasing logging on federal lands in western Oregon.  While the timber industry has preferred a bill sponsored by three Oregon House members, Wyden has gained support from many timber executives who normally tend to lean toward Republicans" [Oregon Live]. And then there's this: "Wyden's wife, Nancy, is a co-owner of New York City's famous Strand Book Store, and many of his contributions came from the metropolitan area — which also happens to be the country's financial center."
He received contributions from an executive at Bain Capital, a firm co-founded by 2012 GOP presidential nominee Mitt Romney, and an executive for one of the investment funds owned by financier Steven Cohen.  The latter's company paid $1.2 billion in penalties to the Securities Exchange Commission last year for securities fraud.
Maybe somebody should go look for books on TPP at the Strand Bookstore. Just saying.
Dear Old Blighty
"Promised schemes are put on hold and others hang in the balance as track bosses admit costs have outstripped the cash available" [Sky News]. Thanks, Maggie!
Black Injustice Tipping Point
"In a 5-4 decision in [Texas Department of Housing and Community Affairs v. Inclusive Communities Project], the court preserved a legal tool that has been used for decades to bring bias lawsuits over actions that have a discriminatory effect even with no evidence of discriminatory intent" [Reuters].
Class Warfare
"Think Outside the Boss: Cooperate alternatives to the sharing economy" [Public Seminar].
News of the Wired
"The Tactical Ice Cream Unit" [Center for Tactical Magic].
"Lady dismantles ATM with bare hands to retrieve swallowed card" [Shanghaiist]. That's the spirit!
"The Reverse Turing Test: Pretending to Be a Chatbot Is Harder Than You Think" [Wired]. "No it isn't." "Yes it is."
Maryland Governor does Baltimore a favor by cancelling boondoggle Red Line [Baltimore Brew].
* * *
Readers, feel free to contact me with (a) links, and even better (b) sources I should curate regularly, and (c) to find out how to send me images of plants. Vegetables are fine! Fungi are deemed to be honorary plants! See the previous Water Cooler (with plant) here. And here's today's plant (John):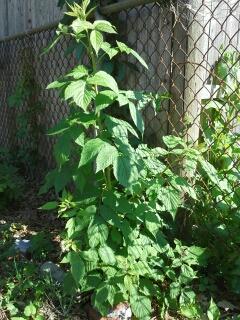 The photo is small — but I wish to encourage people! John writes:
I've decided to submit a plant picture. I've started gardening as a new hobby about a year ago and I'm still stumbling around figuring out what I'm doing. I planted four raspberry plants last spring. These were twig sized little guys. Two of them died, two more hung on until the winter. None grew much that first season before going dormant. When spring hit, I forgot about them somewhat and accidentally yanked one out.

However, the remaining plant has had tremendous growth in the first half of
this growing season and is now about 3 feet tall. I'm not sure how typical
this is, but I'm impressed with it and feel like it's worth celebrating.
Can any readers help John with his raspberries? I planted canes, and wouldn't yank one out now without gloves to protect against the prickles; I have a giant wall! And then on the tomatoes: Tomatoes (I feel) are a sort of gateway drug. They are so delicious and verdant that one wishes to branch out into growing other vegetables. However, trees are also verdant and some are delicious, too, and they provide canopy. I grew tomatoes and vegetables for five years at least before I thought about trees and planted some. But if I had thought about trees five years ago, I would have trees now. What do readers think?
If you enjoy Water Cooler, please consider tipping and click the hat. I need to keep my server up! And pay the plumber….