Greece's creditors are not pleased, and perhaps more important, the Greek government has lost one of its few remaining advocates, Jean-Claude Juncker of the European Commission. The Eurocrats are finally waking up to the degree to which the two sides have talking past each other. The implication is that it is far less likely than they had believed.
The state of play. Greece submitted two plans in response to the creditor proposal last week. One a short supplement to its 47 page proposal it sent last Monday. The new paper gave some ground on primary surplus targets (where as we noted the two sides were not far apart) and the amount to be raised from VAT (where Greece closed a bit less than half the gap). However, Greece's plans are still deemed to fall well short, in terms of detail, in terms of how the government will meet the primary surplus targets From the Wall Street Journal:
European officials quickly dismissed a Greek compromise proposal meant to help end a standoff over the country's bailout program, saying on Tuesday that the offer didn't go far enough in meeting creditors' demands…

Greece's proposal includes targets for its primary surplus—the excess of revenues over expenditures before interest payments are made—that are lower than the targets presented to Greece last week in a new proposal from the commission, the European Central Bank and the IMF, the three institutions representing Greece's creditors.

"That's nonnegotiable," an EU official said. "What's been submitted [by Greece] is not a basis for further political discussion."…

"From a technical point of view, it is still hard" to reach a deal, one European official said, pointing out that the counterproposal from Athens still lacked detail on other key areas where negotiators from the two sides don't see eye-to-eye, such as overhauls to Greece's labor market.
While this is not a formal rejection, media reports with independent sourcing all had the creditors pouring cold water on the Greek counter. The Greek government also submitted a short document on debt reduction, even though the lenders have said repeatedly that that is not part of the bailout negotiations.
More important, the creditors suspect that Greece believes it can get them to relent an do a last minute deal on debt relief only. We've remarked in the comments section, with a bit of horror and disbelief, that both Varoufakis and Tsipras have said that Greece has until June 30 to get a deal done. That's not accurate.
Any deal, even an extension of the current bailout, would require Parliamentary approvals in some countries, most importantly Germany. And the creditors expect legislation to be passed in Greece too. That mean June 14 is when timing starts getting very uncomfortable (any date after than would require the Bundestag to have an emergency session, which is not going to predispose German MPs towards Greece) and June 18 appears to be the event horizon. Moreover, even if a pact were agreed as of the 14th, the approval window is so short as to be subject to tail event risk, like unhappy minority members of legislatures using procedural tricks to throw sand in the gears and delay approval long enough so that the bailout expires before any funds release is approved. That might mean a new round of bills would have to drafted and passed, creating more chaos and potential for mishap and mischief.
Moreover, the creditors perceive that Greece has vastly overestimated its bargaining leverage. This is troublingly similar to Lehman. Dick Fuld was convinced he'd get a bailout because Bear had been rescued in March (let us not forget that Bear lost its independence, when Fuld was seeking to keep Lehman going in more or less its current form). But the backlash against the Bear rescue was huge, and the Bush Administration made clear it was not about to save another firm. Hank Paulson also conveyed the same message privately to Fuld during their frequent calls (if it were anyone other than Paulson, I'd wonder if I could trust his account, but Paulson has a history of being very direct).
Here, the Greek side appears to believe they will get a rescue as the government did in 2012. But as circumstances changed post the Bear bailout, so to have they since 2012. The ECB has implemented tons of new facilities. Mr. Market seems to have a large degree of confidence in them, since financial contagion has been limited (we pointed out that the volte fact on the IMF payment last week and Tsipras' defiant speech would be tests of investor worries. Even though stock market fell and periphery bond yields did widen, the reaction was tame compared to 2012.
Keep Talking Greece summarized the key points of a radio interview of Eurogroup chief Jeroen Dijsselbloem:
"I've heard a lot of optimism from the Greek side, and it's an underestimation of the complexity of what's being asked of them… We're not even in agreement about what still has to happen before the end of this month."
The back-and-forth was the latest document exchange between Athens and Brussels as Greece tries to break a months-long impasse and gain access to desperately needed bailout cash. The process has become numbingly familiar in recent weeks — so much so that the European Commission has even given it a name: "paperology".

But the most recent exchange differed in one vital respect: the mood of cautious optimism that has surrounded the talks in recent weeks is rapidly giving way to fear and suspicion….

Instead, officials from various institutions involved in the talks now worry that Greece's hard-left government is dangerously miscalculating. Athens, they believe, is intentionally prolonging the negotiations to the last minute in a belief that its creditors will eventually "blink" and agree to grant wholesale debt relief and new bailout cash with few strings attached.

"They do not want a deal with us; they just want debt relief," a senior official with one of Athens' bailout monitors said after reviewing Greece's latest offer.

"I don't think they will move. I think they're waiting for us to blink, and we won't," the official added. "They don't understand we're not back in 2012 where the Europeans were willing to just throw money at the problem."
So if Greece thinks it has more runway than it has, and also thinks it has more bargaining power than it does, this means much higher odds of an impasse. Mind you, we've been saying that there was no overlap between the two side's bargaining positions for months. The officialdom is beginning to see that.
As a result, Bloomberg is pegging a default as the most likely outcome. The news site moved its estimate to the "more likely" side as of the IMF payment deferral, and pushed it further in that direction today. Note it does not appear that Mr. Market is putting default odds anywhere near this high: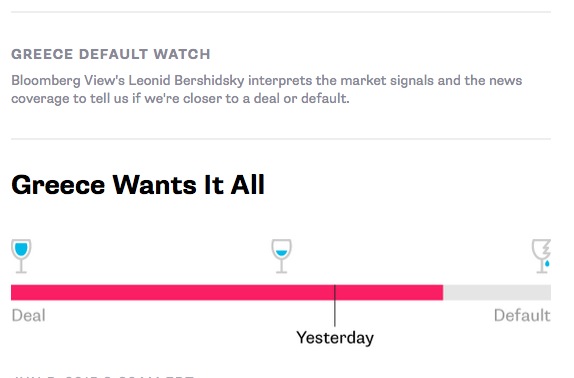 Greece has lost the European Commission. The EC has been the friendliest party to Greece since the February Eurogroup negotiations. From the Financial Times:
The darkening mood was evident at the European Commission, which has long been viewed as Athens' best ally in the stand-off. According to officials briefed on Tuesday's meeting of 29 commissioners in Strasbourg, Jean-Claude Juncker lit into the Greek government, saying Athens had "lost the European Commission".

"They failed to see the best friend of the small and medium-sized member states is the European Commission," said one official, recounting the EU president's remarks to his fellow commissioners.
Juncker said he would not attend a meeting set for this evening among Tsipras, Merkel and Hollande on the sidelines of a summit unless he saw a change in the Greek position. He and Djisselbloem suggested the session be cancelled. The European Commission just confirmed that Juncker is not meeting Tsipras tonight and it is not clear whether Hollande and Merkel will confer with Tsipras today or not.
The Greek ruling coalition may be miscalculating in other ways, specifically their exposure to hardliners. One can argue that independent of being boxed in by the Left Coalition, Tsipras' own incentives favor not giving into the creditors. If he wins what he can present as meaningful concessions from the Troika, he looks like a hero. If Greece defaults but he can persuade voters that the default was the creditors' fault, in theory he fares pretty well by having put up a valiant fight.
But that ignores what happens after Greece defaults. Assuming that financial contagion is limited, the situation becomes chaotic politically, as the creditors suddenly face a host of decisions as to what to do next (and if the markets react badly, as you'll infer from the reasoning that follows, Greece is no better and probably worse off in terms of the power dynamics).
There is a group of hardliners among the Eurozone members that are hostile to Greece, and are taking a tougher line than Germany. For purpose of convenience, we'll call them "ultras". They include Spain, Latvia, Finland, Austria and Slovakia. They want to make sure that Greece suffers visibly for its defiance since their countries swallowed the bitter austerity medicine. There are separately quite a few ultras on the ECB board, but they won't act unless they have political cover.
In a chaotic situation, people tend to gravitate around parties that come up with plans of action quickly and advocate them forcefully. That gives the ultras the potential to have influence out of proportion to their political weight. They can also sell radical action as necessary to protect the Eurozone from the existential threat of other countries of the Eurozone also departing, that it is necessary to make a Greek default as punitive as possible pour decourager les autres. That argument could carry weight with other countries and institutions which might not otherwise be punitive towards Greece.
The objective of the ultras would be to break the Greek government as quickly as possible by keeping it in the sweatbox, as in making it hard for the government to access the financial markets, making it clear a Grexit would be worse (for instance, Greece would lose EC agricultural subsidies, and seeing if other de facto sanctions would be imposed). They could also work to undermine the economy by, for instance, publicizing the risk of being in Greece if capital controls or a bank holiday were imposed (scaring off tourists would hurt tax revenues and deepen the downturn). Exporters to Greece are no doubt already nervous and would almost certainly as a matter of precaution insist on fast payment for any shipments before sending new goods. That creates further strains in the Greek economy.
The hope of the ultras and their allies of convenience would be to break the ruling coalition. Their theory would be that a few months of having Greek pensioners and government employees being paid in scrip rather than cash and having other sectors of the suffer would damage Syriza's popularity and credibility and lead citizens to vote in a more compliant regime.
Now events may not go down this path. But it does not appear that Syriza has adequately allowed for downside scenarios, not merely default, but of what a backlash from European officials might be. It would be better if I were wrong, but this could become even uglier than anyone imagines.