Is the august Wall Street Journal hinting that the "recovery" has no clothes?
I receive Wall Street Journal e-mail alerts, and this showed up in my inbox yesterday afternoon: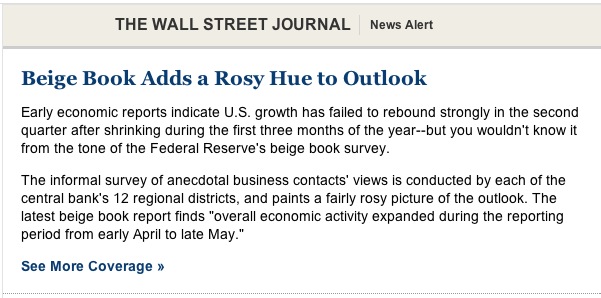 Bear in mind that Wall Street Journal news alerts flag the stories they consider to be the most important during the day. Needless to say, that means the alerts have disproportionate impact, particularly since only a portion of the recipients click through to read the underlying story.
In all my years of blogging, I can't recall a major financial news outlet, even in as mild a way as the Journal does, depicting the Fed as engaging in cheerleading in the title and opening paragraphs of a story.
And the third and fourth paragraphs of the article continue with the skeptical take on the Beige Book release:
In a speech Tuesday, Fed Board Governor Lael Brainard warned that more-optimistic growth forecasts may have overestimated the benefits to consumer spending from lower oil prices—and underestimate its hit on business investment.

That concern was shared among other forecasters trying to assess whether first-quarter economic softness was indeed transitory.
And in paragraph nine:
The report shows a disconnect with a string of weak second-quarter economic data that have prompted some economists and Fed officials to question whether recent weakness is in fact transitory.
Some of the comments also focused on what they saw as obfuscation. For instance:
What the H does "mixed" as the rate of growth in Boston mean, in comparison to growth in other cities? And "holding steady" for growth in Atlanta? Is Atlanta growing at a rate of 0.1%, 1% or 10%, or growing negatively? I understand "modest" and "slight" as adjectives describing growth rates, as well as "flat," "negative," and "robust" and "explosive." But "mixed" and "holding steady" tell me nothing except by implication that clearer adjectives could not be found.
In an interesting bit of synchronicity, this unusual spectacle of the Wall Street Journal distancing itself a tad from a Fed pronouncement follows the publication of a bizarre blog post yesterday by Jon Hilsenrath, A Letter to Stingy American Consumers. I thought it had to be a lame attempt at parody, so I didn't go after it, although Lambert did, ably. It turns out this embarrassing attempt at lightheartedly taking up the Fed's view that consumers were not doing their job by failing to spend their gas savings was not at all well received by Journal readers. From Michael Krieger:
By now, most of you have read Jon Hilsenrath's mindless, tone-deaf, idiotic attempt at humor published by the Wall Street Journal yesterday. If not, here it is: A Letter to Stingy American Consumers.

What you may not have seen, are the 174 comments published in response to the article. At least 95% of them consist of justifiable crushing criticism toward the cluelessness of this Federal Reserve apparatchik masquerading as a journalist. While I am strongly against vigilante style violence as a solution to our societal problems, the incredibly frequent calls for him and other "elites" to be strung from lampposts is certainly notable. People are very angry, and this anger will explode at some point in a very nasty way unless the status quo is discarded.
Needless to say, Krieger is not exaggerating about the tone of the comments.
As Lambert pointed out in Water Cooler, Hilsenrath felt compelled to say something today, acknowledging how many readers took issue with his piece, but very much underplaying the amount of ire.
This seems to be a zeitgeist indicator, that the fact that ordinary Americans, and even better-off ones that have seen investment income flatline thanks to QE and ZIRP, have gotten sufficiently large in number and vocal that the Managers of the Official Narrative are having to take notice. Now maybe the second quarter will be hunky dory, either on its own or by dint of continued cheerleading leading all those gun-shy consumers to start spending again. If nothing else, these articles suggest that one of the Fed's biggest assets, its credibility, is waning.